Santa Clara Briarwood El Camino Little League: Welcome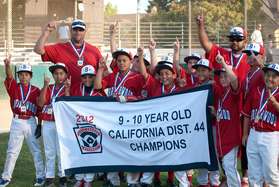 2012 DISTRICT 44 9-10 YEAR OLD ALL STAR CHAMPIONS
SANTA CLARA BRIARWOOD
EL CAMINO LITTLE LEAGUE
*** *** *** *** *** *** *** *** ***
PROUD HOME OF THE
1969 U.S. NATIONAL CHAMPIONS
*** *** *** *** *** *** *** *** ***
Machado Park
3360 Cabrillo Avenue
Santa Clara, CA 95051
(corner of Cabrillo and Fordham Drive)
Email: briarwood_baseball@yahoo.com
LIKE us on Facebook:
"Official Briarwood Little League Baseball"

NEW- Sign Up For Text Alerts
Find out first about rain outs and important League info
---
THE 2013 REGULAR SEASON IS ON!
Please check the tabs at left for the latest Briarwood news, schedules, scores, standings, homerun hitters and more!
See you at the fields and GO BRIARWOOD!!
---
Your 2013 BELL Board of Directors
President - Armando Carvajal
Vice President - Jim Greco
Treasurer - Jamie Oliveira
Player Agent - Paul Rosa
Secretary - Mike Sands
Fundraising Coordinator - Chanel Elliman
Snack Bar Coordinator - Stephanie McCollough
Safety Coordinator - Tanya Vinciale
2013 Board Appointed Member Positions
Head Umpire - Ruben Mavarro
Head Groundskeeper - Art Olmos
Head Team Mom (Majors/Minors) - Michelle Staples
Head Team Mom (Farm/T-Ball) - Michelle Simmons
Equipment Manager - Gary McCollough
Fundraising Co-Coordinator - Dawn Brown
Sponsorship/Donor Manager - Lety Dominguez
Yearbook Coordinator - Missy St. Pierre-Sands
Webmaster - Mike Sands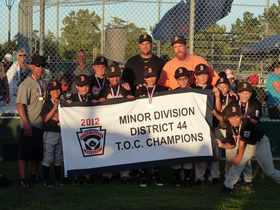 2012 DISTRICT 44 MINOR DIVISION T.O.C. CHAMPIONS
Friday, March 29
BRIARWOOD YEARBOOK!
Hello Briarwood! This is your Yearbook mom, Missy St. Pierre-Sands, asking all of our BELL families to take lots of pictures for us! Action shots, candids of coaches and players, shots of fans, we need them all. And don't wait for Closing Ceremonies -- email your best shots to me throughout the year so we can work on the pages as the season goes along. Thanks for your help in making the our League's Yearbooks great remembrances for all of us!
Email pics or links to: bellyearbookmail@gmail.com
Friday, March 29
BRIARWOOD MINOR FIELD DEDICATED TO GORDON C. BEATTY
As we all know, during this past off-season we were able to completely rebuild our League's Minor field with the help of a dedicated group of League parents and community donors and volunteers. The result is a beautiful new facility for our younger players and a great opportunity to recognize and celebrate an important figure in our League's rich history.
To that end, the League held a brief ceremony at 8:30am on Saturday, March 30, 2013 to dedicate the new Minor field to Gordon C. Beatty, a long-time coach and supporter of Briarwood Little League. Among his many accomplishments, in 1969 Coach Beatty helped to lead the Briarwood Little League All-Stars to the U.S. National Championship, and then on to the final round of the Little League World Series against Taichung Little League from Taiwan. (The Manager of that 1969 Championship All-Star team was Bob Northern, to whom our Major field is dedicated.)
Coach Beatty passed away peacefully at his home on March 6, 2012. Ever Briarwood supporters, Coach Beatty's family asked for contributions to our League in lieu of flowers for his memorial service. Additional background on Coach Beatty and his life can be found here: http://memorialwebsites.legacy.com/PapaBeatty/homepage.aspx
Our sincere thanks to Coach Beatty's family, friends and former players, along with all of the Briarwood players, coaches and parents, who joined us for this important event!
Friday, February 15
MAJORS AND MINORS Coaches Email Or Call All Game Scores In! Home Run Hitters too!
Email:
msands@fenwick.com
Voicemail:
650-335-7279
Text:
408-839-7996