Brazos Valley Juniors: Welcome
Brazos Valley Juniors
Brazos Valley Juniors, also known as BVJ, is a USAV club volleyball program serving Junior Olympic volleyball players in the Brazos Valley area. Brazos Valley Juniors is a non-profit 501(c)(3) club and is based out of Bryan-College Station, Texas. The club strives to provide quality volleyball training and competition, to female athletes from 10-18 years of age in Bryan, College Station and all surrounding cities.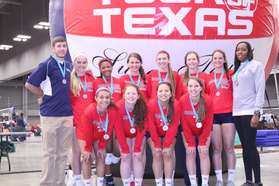 Bronze Medal for 16 National!
Sunday, January 4
Starting the New Year with Hardware!
14 National Earns Silver Medal!
Nine BVJ teams traveled to Austin for the first weekend of the 2015 to compete in the Tour of Texas Warm-Up Tournament. Lots of great play by all of our teams, highlighted by a Silver Medal in 14 Open by 14 National and a Bronze Medal in 16 Open by 16 National.
T-Shirts, Sweatshirts, and Mizuno Merchandise
For anyone interested in buying Brazos Valley Juniors t-shirts, sweatshirts, etc we will have all this merchandise available for sale by completing an order form and turning it in, with payment, by December 10th. Any order received after that date will be added to the second and final order which is due on January 14th.
Order form is available on this website by clicking on Handouts (our traditional logo is the logo at the top of our web page). The "new" logo is pictured as a handout under the order form). You must deliver or mail the form, with payment, to BVJ at 4600 Double Eagle, College Station, TX 77845
For Mizuno merchandise, we order frequently during the season and we maintain a small inventory of kneepads, navy spandex, and Mizuno crew socks, so just contact us anytime that you need any of those items. Please use the Mizuno order form and include payment so that we can process the order.
BVJ Patriot Developmental League
Brazos Valley Juniors Patriot Developmental League
REGISTRATION OPENS ON DECEMBER 10!
What: Brazos Valley Juniors (BVJ) will provide quality instruction and weekly competition in an environment that will introduce young players to the fundamentals of volleyball. Each week will have an hour of skill training followed by an hour of competition. The Patriot (Developmental) League will be limited to 32 players.

Each week will have a primary focus, but can/will also practice additional skills. Schedule is:
Week 1: Passing
Week 2: Serving
Week 3: Serve Receive
Week 4: Setting
Week 5: Hitting
Week 6: Defense
Week 7: Attacking Strategy
Week 8: Putting it All Together

Why: As enthusiasm grows for volleyball in the Brazos Valley, more and more girls are looking for opportunities to learn the game. We believe that a low pressure, skill based training program will introduce girls to the great sport of volleyball in a way that will give them a strong foundation for future instruction and competition.

Who: The League is primarily structured for 4th and 5th graders. Girls in 5th grade are strongly encouraged to try out for BVJ's travel teams as their first priority.

When: The Monday sessions will begin on January 26 and will continue for 8 weeks ending on March 30. (no sessions on President's day or Spring Break). Sessions will be from 6:45-8:45 pm.

Where: Davila Middle School (First 5 weeks) Rudder High School (last 3 weeks)

Cost: $285, if paid in full by January 10. $325 beginning January 11, if space is available.

Includes: USAV Registration, Indvidual Volleyball, Gym Rental, Coaches Salary, 1 Mizuno DryFit Jersey, 1 Pair of Mizuno Spandex, 1 Pair Mizuno Kneepads, 1 Pair of Mizuno Crew Socks, 1 Mizuno SakPak, 1 BVJ Hoody

How: Register at www:eteamz.com/brazosvalleyjuniors beginning December 10th. There are no tryouts involved for this league.

Additional Opportunity: BVJ will invite 8-9 players from the Developmental League to participate in the Lone Star Classic on April 18 and 19 in Dallas, Texas as Brazos Valley 11 National. Those players will incur an additional cost to cover additional practice sessions (April 6, 12, and 13) and tournament expense.

Sunday, August 17
BVJ Players Recognized by Lonestar Volleyball.com