Brazos Valley Juniors: Welcome
Brazos Valley Juniors
Brazos Valley Juniors, also known as BVJ, is a USAV club volleyball program serving Junior Olympic volleyball players in the Brazos Valley area. Brazos Valley Juniors is a non-profit 501(c)(3) club and is based out of Bryan-College Station, Texas. The club strives to provide quality volleyball training and competition, to female athletes from 10-18 years of age in Bryan, College Station and all surrounding cities.
Sunday, May 24
Brazos Valley Juniors Players Selected for National Stage!
Several Brazos Valley Juniors players were selected, after tryouts held all over the country, to participate in USA High Performance camps, which is the base structure for the USA National team. Congratulations to Emily Hubacek, 16 National (Bryan High) who has been invited to Colorado Springs to participate in the A-2 camp. Also, kudos to Emily Edwards, 14 National, (will attend A&M Consolidated), Natalie Martin, 14 National (will attend College Station High School), for being selected to attend A-3 Camps and Coco Gillette, 13 National, (will attend Brazos Christian School) who was selected to attend the Future Select National Skills Program.
Also, the Lone Star Region has announced their High Performance teams and McKenzie Dimery (A&M Consolidated High School and 15 National) has been selected to represent our region on the Youth A1 team and Emily Edwards, Natalie Martin, both from 14 National, and Makenzie Mendez (Caldwell High School and 15 National) have been selected to represent the Region on the Select A2 Lone Star High Performance team at the USA High Performance Championships to be held in July in DesMoines, Iowa.
Congratulations and Good Luck to each of you!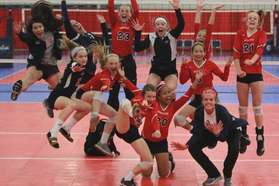 13 National Celebrates Their Bid!
Tuesday, April 28
Going to Nationals!!
BVJ's First Ever 18's Team to Earn a Bid to Nationals!
What a season! Brazos Valley 13 National, 14 National, 16 National, and 18 National have all earned bids to Nationals and will travel to New Orleans in late June to play in the USA Volleyball Junior National Championships. Less than 5% of the club volleyball teams, nationwide, qualify for this prestigious event. It is quite an accomplishment! Our teams will compete in the American Division and will represent our club and our community with great pride!
Congratulations to all the players, coaches, and families of these teams!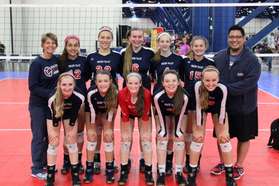 14 National After Bid Match!
Interested in Coaching for the 2015-2016 Season?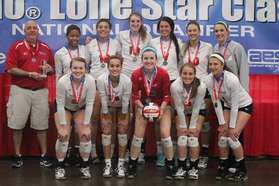 18's are Silver Medalists!
Sunday, April 19
Great News from Lone Star Classic!
Two full and great weekends at Lonestar Classic ended with our Brazos Valley 18 National team finishing second in the 18 American Division after a very impressive weekend, prepping them for the Regional Championships in two weeks! Other terrific news from Lone Star Classic is that our 14 National team played for a bid in 14 USA, falling to the tournament champion and finished 4th overall. BVJ 16 National, had a great tournament finishing 5th in 16 USA and Brazos Valley 13 National won the Silver bracket on Sunday with some quality play on the weekend.All of our BVJ teams played hard and had good times!
Also, Brazos Valley 11 National had their volleyball debut (after 4 team practices) with an exciting experience in Dallas. The team had their first Ace, their first OPA, their first kill, and their first win, along with many other highlights!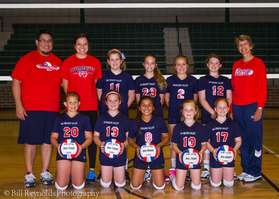 BVJ 11 National Debut!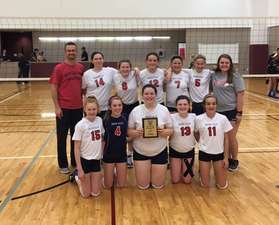 13 National Wins Gold!
Saturday, April 4
Brazos Valley 13 National Wins Lone Star Warm-Up!
Brazos Valley 13 National won the Gold Medal after going undefeated at the Lone Star Warm-Up tournament in Austin.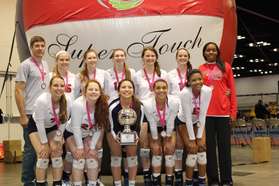 Headed to Nationals!
Thursday, March 26
16 National! Champions at MEQ Earn Bid to Nationals!
Brazos Valley 16 National won the MEQ in Indianpolis this past weekend! The team went undefeated through the tournament and by being the best in the 125 team field earned a bid to the Junior National Championships to be held in New Orleans in late June. Congratulations!
Saturday, March 28
Becky Blakney Commits to Wharton!
Congratulations to Becky Blakney from Brazos Valley 18 National and Giddings High School. Becky has committed to play volleybal next year at Wharton Community College. Becky is a force at the net and a great teammate! We wish the best for her!
Wednesday, March 18
Top Sophomores Recognized!
Congratulations to 3 of our top sophomores that have received National recognition for their outstanding high school seasons in 2014. Allison Vaughan just missed the Soph 79 being named to the Highest Honorable Mention List. Tamaira Armstrong and Blaire Smith were named to the Elite Honorable Mention list.
All three players were significant contributors for their high school teams and received several Post Season Awards for their talented play.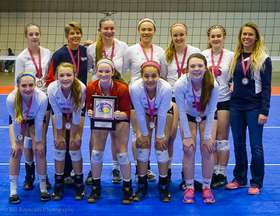 14 National Wins Silver Medal!
Silver Medal for 14 National at Mid East Qualifier!
Congratulations to Brazos Valley 14 National, who finished second in a field of 95 teams at the Mid East Qualifier in St. Louis. The team didn't drop a set through the 3 day tournament until the Championship match where they fell to a strong Dynasty team from Kansas City Missouri in a 3 set match. The team was 9-1 on the weekend and came home with silver medals!
12 National also had a great tournament finishing 9th overall and advancing to the Gold Bracket and 13 National and 15 National both finished in the top half of the field.
Good Luck to our older teams as they compete at MEQ in Indianapolis this weekend.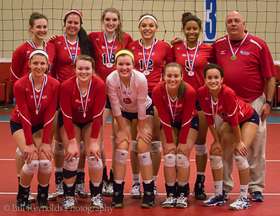 18 National Takes First!
Sunday, March 1
BVJ Teams at the Top!
As we head into March, several BVJ teams were in action this weekend. Brazos Valley 18 National cruised through the Spike Sport Classic to take the Gold Medal. Brazos Valley 14 National was undefeated at the Tour of Texas Finals to win their bracket. Brazos Valley 13 National finished second at the Willowbrook Classic, Brazos Valley 16 Mizuno finished second at the Skyline Classic and Brazos Valley 15 National finished third at the FAST Tournament in Houston.
Congratulations to our BVJ Teams!
Winners at ATX Showcase!
Congratulations to Brazos Valley 16 National who finished in 1st place at the ATX Showcase on 16 Open in Austin. A shout out also to 14 National who finished third in 14 Open and 14 Mizuno who finished third in 14 Club.
Tuesday, February 10
First Ever Patriot League!
Brazos Valley Juniors is having a blast with our first ever Patriot League. 22 energetic and spunky young volleyball players are learning the fundamentals and having fun on Monday nights this spring!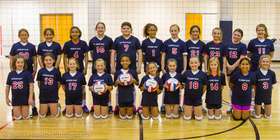 2015 Patriot League!
BVJ Patriot Developmental League
Brazos Valley Juniors Patriot Developmental League
REGISTRATION OPENS ON DECEMBER 10!
What: Brazos Valley Juniors (BVJ) will provide quality instruction and weekly competition in an environment that will introduce young players to the fundamentals of volleyball. Each week will have an hour of skill training followed by an hour of competition. The Patriot (Developmental) League will be limited to 32 players.

Each week will have a primary focus, but can/will also practice additional skills. Schedule is:
Week 1: Passing
Week 2: Serving
Week 3: Serve Receive
Week 4: Setting
Week 5: Hitting
Week 6: Defense
Week 7: Attacking Strategy
Week 8: Putting it All Together

Why: As enthusiasm grows for volleyball in the Brazos Valley, more and more girls are looking for opportunities to learn the game. We believe that a low pressure, skill based training program will introduce girls to the great sport of volleyball in a way that will give them a strong foundation for future instruction and competition.

Who: The League is primarily structured for 4th and 5th graders. Girls in 5th grade are strongly encouraged to try out for BVJ's travel teams as their first priority.

When: The Monday sessions will begin on January 26 and will continue for 8 weeks ending on March 30. (no sessions on President's day or Spring Break). Sessions will be from 6:45-8:45 pm.

Where: Davila Middle School (First 5 weeks) Rudder High School (last 3 weeks)

Cost: $285, if paid in full by January 10. $325 beginning January 11, if space is available.

Includes: USAV Registration, Indvidual Volleyball, Gym Rental, Coaches Salary, 1 Mizuno DryFit Jersey, 1 Pair of Mizuno Spandex, 1 Pair Mizuno Kneepads, 1 Pair of Mizuno Crew Socks, 1 Mizuno SakPak, 1 BVJ Hoody

How: Register at www:eteamz.com/brazosvalleyjuniors beginning December 10th. There are no tryouts involved for this league.

Additional Opportunity: BVJ will invite 8-9 players from the Developmental League to participate in the Lone Star Classic on April 18 and 19 in Dallas, Texas as Brazos Valley 11 National. Those players will incur an additional cost to cover additional practice sessions (April 6, 12, and 13) and tournament expense.