Brazos Valley Juniors: Welcome
Brazos Valley Juniors
Brazos Valley Juniors, also known as BVJ, is a USAV club volleyball program serving Junior Olympic volleyball players in the Brazos Valley area. Brazos Valley Juniors is a non-profit 501(c)(3) club and is based out of Bryan-College Station, Texas. The club strives to provide quality volleyball training and competition, to female athletes from 10-18 years of age in Bryan, College Station and all surrounding cities.
Friday, May 17
Kimberly Steen Commits!
Kimberly Steen, 18 Mizuno, from Brenham Christian High School has committed to play volleyball at Seminole State College in Seminole, Oklahoma! What an exciting opportunity! We look forward to following her successful college playing career and wish her much luck and happiness!
Monday, April 29
Congratulations on a Terrific Season!
Congratulations to all of our Brazos Valley Juniors teams for a fine season in 2013! Our 16 teams represented our community well and everybody improved their volleyball skills and knowledge. We had many tournament victories including two National Qualifier wins!
We look forward to 14 Mizuno and 15 Mizuno representing Brazos Valley Juniors in grand style at the USAV Junior Nationals at the beginning of July!
Check this website by the end of June for tryout dates for next year and remember to "like" the BVJ Facebook page so that you will be up to date on all news and happenings!
Tuesday, April 23
Great Success at Lone Star Classic
Brazos Valley 17 Mizuno led the way at the second weekend of the Lone Star Classic in Dallas by going undefeated until the championship match. What a great tournament! The team finished second and captured the silver medals with tremendous team effort. Brazos Valley 16 Mizuno finished a very impressive fifth place in their field and both teams will be in the hunt for a bid to Nationals at next weekend's Regional Championships! Brazos Valley 18 Mizuno won the bronze bracket on Sunday and both Brazos Valley 16 Red and 12 Mizuno both won their brackets on Sunday.
All Brazos Valley Juniors teams will compete in the Lone Star Regional Championships on April 27-28 as we conclude our regular season! Good Luck to all the teams!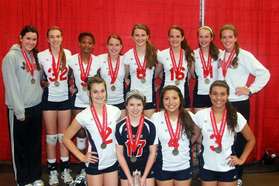 14 Mizuno is Amazing!
Monday, April 15
Medals and More at Lone Star Classic!
Lone Star Classic was held in Dallas for the 13's-15's this past weekend and much success was earned by BVJ teams! The highlight was that 14 Mizuno won their second bid to the Junior National Championships this summer by winning the bronze medal in the 14 USA Division. 14 Red also had a terrific weekend going undefeated until the championship match in the 14 Select Division and proudly left for home with silver medals! The other solid accomplishment was by 13 Mizuno who finished 9th in the 124 team field for their second top ten finish at a National Qualifier this season!
Good luck to our 16's-18's teams next weekend and if you like to look at great action and celebration photos, make sure you are checking out our Brazos Valley Juniors Facebook page on a regular basis!
Tuesday, April 9
Nicole DeHaven Commits!
Congratulations to Nicole DeHaven, 18 Mizuno, Iola High School, that has committed to play volleyball next year at East Texas Baptist University in Marshall, Texas. Nicole is a talented setter and hitter and a great teammate. She will be a valuable addition to East Texas!
Monday, April 1
Gold Bids at Big South!
Wow! We thought it was called Big South, but for Brazos Valley Juniors it was "Bid South" on Sunday in Atlanta! It was a great weekend of volleyball and it was highlighted by Brazos Valley 14 Mizuno and Brazos Valley 15 Mizuno both WINNING the Big South National Qualifier and earning a trip to the USA Junior National Championships. The prestigious tournament will be held in Dallas, Texas in the summer of 2013 and BVJ will be well represented!
Other outstanding accomplishments were that both 13 Mizuno and 17 Mizuno finished 5th in the Gold bracket. An interesting note is that both teams were knocked out by the team that went on to win the tournament.
12 Mizuno won the Silver bracket to finish 11th overall and 16 Navy finished 3rd in the Silver bracket.
16 Mizuno did a fine job competing in the tough Open division and 18 Mizuno and 16 Red both had some great matches.
Congratulations to all of our players, coaches and their families that represented Brazos Valley Juniors in a first class way at the Big South National Qualifier!
Friday, February 15
Brazos Valley Players Named as Top Freshmen in America!
PrepVolleyball.com has posted their Frosh 59 list of best Varsity playing freshmen in America. Brazos Valley Juniors is well represented on this prestigious list!
Congratulations to Abby Royall, Caldwell High School and Madison Smith, Rudder High School, for being named to FROSH 59! Wow!!! Both girls are on BVJ 15 Mizuno.
Also recognized as Highest Honorable Mention are two additional athletes from 15 Mizuno: Sarah Hancock, College Station High School, and Karsen Ross, Lexington High School.
The information posted by Prep Volleyball reads as follows:
FROSH 59!
Abby Royall, 5-10 OH/MB, Caldwell (Texas) – District 18-3A MVP, Royall was second on her 21-10 team in kills (253) and third in digs (234). A front row force who excels at hitting and blocking, Royall also has exceptional ball control for a young player.

Madison Smith, 5-6 Libero, Rudder (Bryan, Texas) – Smith earned District 18-4A newcomer of the year accolades. She was the third-ranked freshman in Texas and fifth-ranked freshman in the nation in digs per set (according to Max Preps). Smith finished with 602 digs (district-best 5.52 per set) and passed a 2.41 on a 3.0 scale on 752 serve receptions (94.3 percent efficiency). She also had 58 aces.
Highest Honorable Mention
Sarah Hancock, 5-9 OH, College Station (Texas) – First Team All-District and her team's offensive MVP, Hancock not only recorded 319 kills (2.9 per game) to lead her team, her 352 digs were only five off the team lead and she was second in aces with 60 as well.
Karsen Ross, 5-6 S, Lexington (Texas) – Ross helped Lexington to a 27-6 record and a spot in the regional quarterfinals. Ross, the district setter MVP, finished the year with 782 assists, 166 digs, 68 kills and 50 aces. "Karsen stepped up this season by leading our team as the starting setter," coach Amanda Player said. "She is very knowledgeable about the game and is an outstanding kid on and off the court. Not only is she a great setter, but is very skilled defensively. I know the school and coaches look forward to what she can accomplish during the rest of her high school career."
Remember that all Brazos Valley Juniors families, as a part of our All-In affliation with Prep Volleyball have a free membership to Prep Volleyball. (Login info was sent earlier in the season) There is lots of great content on the site. Check it out if you haven't had the opportunity yet!