Brazos Valley Juniors: Welcome
Brazos Valley Juniors
Brazos Valley Juniors, also known as BVJ, is a USAV club volleyball program serving Junior Olympic volleyball players in the Brazos Valley area. Brazos Valley Juniors is a non-profit 501(c)(3) club and is based out of Bryan-College Station, Texas. The club strives to provide quality volleyball training and competition, to female athletes from 10-18 years of age in Bryan, College Station and all surrounding cities.
Sunday, March 2
14 Impact Has A GREAT Day!
Congratulations to 14 Impact who went undefeated in the third stop of the Houston Power League! The team has improved tremendously this season! Keep up the great work!
Friday, February 28
USA Today Starts the Day with BVJ Athletes!
Now this is cool! Top volleyball players around the country are being featured by USA Today in their "Breakfast Buzz" and two of our athletes have enjoyed the national exposure.
Tamaira Armstrong, 15 National and a Freshman at Rudder High School and Amanda Gooch, 18 National and a Junior at Iola High School are two great choices of outstanding student athletes. Check out the links!
http://socialhub.usatodayhss.com/social-hub/the-breakfast-buzz/item/1496-the-breakfast-buzz-introducing-tamaira-armstrong
http://socialhub.usatodayhss.com/social-hub/the-breakfast-buzz/item/1532-the-breakfast-buzz-introducing-amanda-gooch
Saturday, February 22
18 National Wins Bracket at Houston Shoot Out!
Brazos Valley 18 National had a great day at the Houston Shoot Out playing terrific defense and going undefeated through the day, without dropping a set! Congrats!
18 National Goes Undefeated!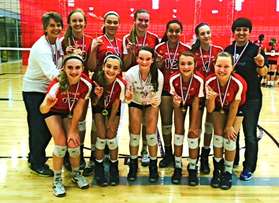 13 National Wins Gold!
Monday, February 17
BVJ 13's Excel at ATX Showcase
13 National capped an undefeated weekend by winning the Gold Medal in 13 Open at the ATX Showcase in Austin over President's Day weekend. The team played outstanding all weekend! 13 Mizuno and 16 Mizuno also had great finishes on the weekend they were the victors of the Silver bracket in 13 and 16 Club. 15 Mizuno finished 5th in 15 Club only dropping one match at the tournament.
Tuesday, February 11
Lauren Loehr Makes Commitment!
Lauren Loehr, from our 18 National team and Caldwell High School, has made a commitment to play for the highly ranked, Blinn Bucanneers! Blinn has been tremendously successful in recent years and Lauren will help them to continue to be successful! Lauren started her playing career with BVJ on 12 Navy and it has been a pleasure to watch her grow up into the fine player and fine young lady that she is!
Tuesday, February 11
Top Freshmen in the Country!
America's premier Volleyball website, PrepVolleyball.com has named their Freshman 59 List for the 2013 High School season. It recognizes the best Varsity playing Freshmen in the country! Congratulations to Blaire Smith, Burton High School and Allison Vaughan, Rudder High School and Brazos Valley 15 National for both being named to this exclusive list! Congratulations also Kaitlyn Robinson, Leon High School and Brazos Valley 16 National that was named as Highest Honorable Mention and to Tamaira Armstrong, Rudder High School and 15 National, as she was recognized as Special Mention. This is an outstanding accomplishment by these four players. Please go to Prepvolleyball.com to read additional information about this honor!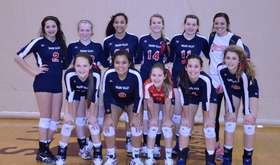 14 National Captures Silver Medal!
Sunday, February 9
14 National Medals At Aggieland!
Many of our BVJ teams were in action at the only hometown tournament of the season. The Aggieland Classic is hosted by the Texas A&M Women's club team as their primary fundraiser for the year. Brazos Valley 14 National had a great day finishing 2nd in the 20 team field! 14 Mizuno finished right behind them, placing 3rd! 13 Mizuno and 14 Premier advanced to bracket play and finished 5th overall.
Sunday, February 9
BVJ 15 National is Awesome!
Tuesday, January 21
First Team All State!
Congratulations to Madison Smith, sophomore at Rudder High School and on our 16 National team and to Amanda Gooch, junior at Iola High School on our 18 National team! They were both named to the Texas Sportswriters First Team All State Volleyball team for the 2013 High School Season. Madison was named 4A First Team Libero and Amanda was named 1A First Team Middle Blocker.
Also recognized were: Abby Royall, sophomore at Caldwell High, named 3A second team and Kaitlyn Robinson, freshman at Leon High, named to the 1AThird team.
Honorable Mention Recognition went to: 4A Setter, Freshman Allison Vaughan at Rudder High, 3A Middle, Sophomore Mary Pettibon from College Station High, 3A Setter, Senior, Lauren Loehr from Caldwell High, 2A Setter, Sophomore Karsen Ross from Lexington High and 1A Middle, Senior, Shelby Williamson from Iola High.
Click on the title of this article to review the entire list!
Monday, January 13
All-Brazos Valley Teams Dominated by BVJ Players!
The All-Brazos Valley Volleyball Team was announced on Sunday by the Eagle Newspaper, celebrating the accomplishments and great play of area players in the 2013 High School season. Two thirds of the 21 girls recognized on the three Honorary teams prepared for their school seasons by playing volleyball with BVJ in 2013. Special congratulations to Amanda Gooch, junior at Iola High School, Abby Royall, sophomore at Caldwell High, Mary Pettibon, sophomore at College Station High, and Allison Vaughan, freshman at Rudder High as they were named to the All Brazos Valley First Team. Click on the title of this article to review the Honorary teams.
Friday, July 5
Wow! BVJ 14's and 15's Both Win Medals at Nationals!