Brazos Valley Juniors: Welcome
Brazos Valley Juniors
Brazos Valley Juniors, also known as BVJ, is a USAV club volleyball program serving Junior Olympic volleyball players in the Brazos Valley area. Brazos Valley Juniors is a non-profit 501(c)(3) club and is based out of Bryan-College Station, Texas. The club strives to provide quality volleyball training and competition, to female athletes from 10-18 years of age in Bryan, College Station and all surrounding cities.
Tuesday, September 5
NEW WEBSITE!
Effective, September 6th, 2017, we have moved our website to www.brazosvalleyjuniors.com
Please visit us at our new site to register for Tryouts, Small Group Training, PreTryout clinics and for additional information about our club.
Monday, August 28
Brazos Valley Juniors Tryouts for 2018 Club Season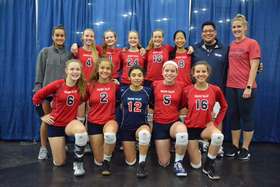 13 National is Awesome!
It's a Wrap!
14 National Loves Their Support Chain!
Brazos Valley Juniors concluded the regular season with a great showing at Lone Star Regionals in Houston. Brazos Valley 11 National completed a tremendous season by finishing 5th in the Region. BVJ 12 Mizuno won the Silver bracket as did BVJ 17 National. BVJ 12 Premier also played great and showed outstanding improvement from the beginning of the season.
In the first weekend of Regionals, competition was outstanding and BVJ 13 National won the Silver Bracket, losing only their cross match all weekend in a thrilling contest that ended 20-18 in the deciding third set. 16 Mizuno earned a strong 9th place finish in the gold bracket and 14 National was one win short of the gold bracket, dropping the match to the eventual Regional Champion.
Overall, it was a wondeful regular season with remarkable improvement for the teams and the individual players. Congratulations to all of our players, coaches and families!
We look forward to our 14 National, 15 National, and 16 National teams participating in the USAV National Championships in Minneapolis in late June.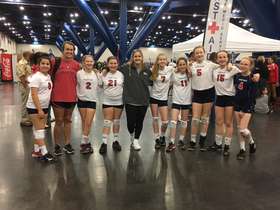 12 Mizuno Celebrates a Great Season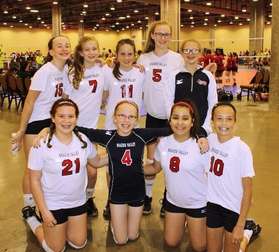 BVJ 12 Miz Wins Bronze Bracket at Lone Star
Wednesday, April 19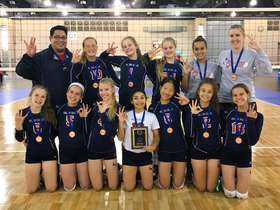 13 National Claims Bronze in Philly!
Tuesday, April 11
It's National Qualifier Season!
BVJ 15 National is a Great Team!
BVJ Teams have been representing our community and our club in fine style the last three weekends playing in Philadelphia, Kansas City, Atlanta, Orlando, and Dallas! For the 8th consecutive year, we have had a team medal at a National Qualifier. This is a great accomplishment! This year, our 13 National team lost in the semi-finals at NEQ, to the eventual champion, to win bronze medals.
Other great accomplishments are: 16 National finished 5th at Disney, falling to the eventual tournament champion. 14 National finished 9th at Lone Star Classic and 17th at Big South going 15-2 over the two weekends. 15 National finished 9th at Show Me in Kansas City and 17th at Big South losing only to the tournament champion in the Cross Match. The team was 14-2 over the two weekends. 12 National finished 9th at Disney. Although they had three losses, they came to the 1st, 2nd and 3rd place finishers in the tournament! 17 National also had a successful showing at Disney tournament, winning their flight and winning 4 straight matches.
In Dallas, for LSC #2, our 16 National team lost a heartbreaker in the Gold bracket, 15-13 to finish 9th overall, dropping only that match during the weekend. 12 Mizuno won the bronze bracket in their division!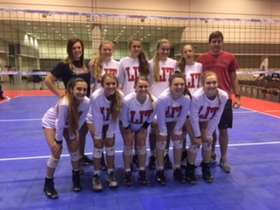 16 National Finishes 5th at Disney!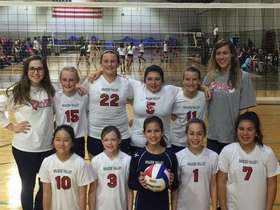 12 Premier Finishes First!
Monday, March 27
BVJ Excels at Power League Championships!
14 Premier Has an Undefeated Day!
Brazos Valley Juniors had incredible results at the Houston Power League Championships this past weekend. Playing in different sites all over the city, our highlights were as follows:
11 National: 3rd Overall (17 teams)
12 National: 7th Overall (57 teams)
13 National: 5th Overall (91 teams)
13 Mizuno: 7th Overall (91 teams)
14 National: 4th Overall (94 teams)
Also finishing the final round of Power League on a strong note were: 12 Premier, 14 Premier, and 15 Premier all had an undefeated day and 12 Mizuno also finished 1st in their pool by winning the tiebreaker.
Congratulations to all the players and coaches!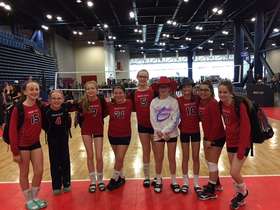 BVJ 12 Mizuno Enjoying Cross Court Classic!
Monday, March 20
Cross Court Classic Highlights
BVJ had quite a few teams participating at the Cross Court Classic at the George R. Brown Convention Center this past weekend. It's so exciting to see girls skills continuing to improve!
Highlights on the weekend were BVJ 13 Mizuno and BVJ 16 National both finishing 3rd overall in the Elite Division. BVJ 11 National finished 5th overall in their very competitive field.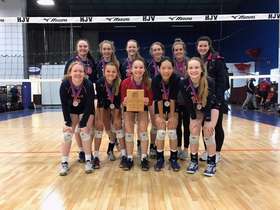 BVJ 15 National Wins Lone Star Championship Series!
Sunday, March 12
Soaring Into Spring Break!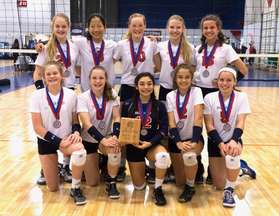 BVJ 13 National Finishes Second!
Brazos Valley Juniors dominated the field at the Lone Star Championship Series Finals in Houston! BVJ 15 National never dropped a set in winning the two day tournament and taking home the gold medals going 6-0 on the weekend. BVJ 13 National (4-1) continues to impress and finished second, only losing in the championship match to Austin Juniors 13 Mizuno and BVJ 14 National had a terrific weekend (5-1) losing in the semis to the tournament champ, but bounced back to win the bronze medal to conclude a terrific weekend for Brazos Valley Juniors!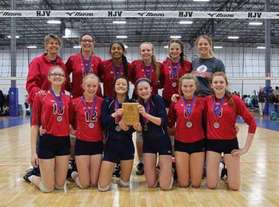 BVJ 14 National Finishes Third!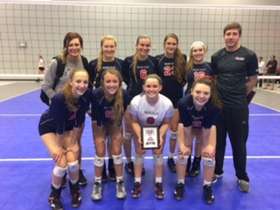 16 National Finishes Second!
Sunday, March 5
Another Great Saturday!
Brazos Valley 16 National finished in 2nd place at the Skyline Tournament in Houston on Saturday, and Brazos Valley 16 Mizuno finished in 3rd place at their tournament after winning their pool. Congrats!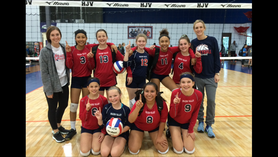 BVJ 12 National Wins All Day!
Monday, February 27
Lots of Wins for BVJ at Houston Power League!
The third round of the Houston Power League was held this past weekend and BVJ teams had great success! Brazos Valley 12 National and 13 Mizuno both finished undefeated on the day! Brazos Valley 14 National finished 6th overall in the Houston Power League gold bracket and we had several teams have winning days. 11 National, 12 Mizuno, 12 Premier, 14 Mizuno and 15 Mizuno all finished second for the day and continue to improve!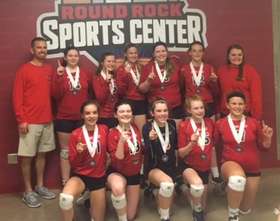 BVJ 13 Mizuno Wins Again!
Sunday, February 19
BVJ 13 Mizuno Wins ATX Showcase!
Brazos Valley 13 Mizuno continued their terrific season by going undefeated (7-0) at the ATX Showcase President's Day weekend. The team was the best in the 32 team field! 12 National also had a great tournament going 4-1 during the weekend.
Wednesday, February 15
Outstanding Original Quote!
What others call mulish stubbornness is what we call dogged determination. What others call chasing a lost cause is what we call relentless pursuit. What others call an unhealthy obsession is what we call an ardent passion. What others call volleyball is what we call our favorite sport. ---Amy Hu, BVJ 15 National and College Station High School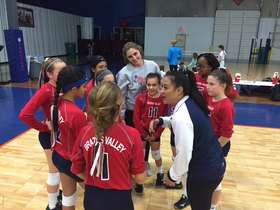 BVJ 11 National is BEST in Houston Power League
Sunday, January 29
Power League Success in Round 2!
14 Premier Has an Undefeated Day!
Five Brazos Valley Junior teams finished in First place in Round 2 of the Houston Power League!
11 National was BEST in the field! Winning their pool and then winning in the Championship match. 13 National, 13 Mizuno, 14 Premier and 15 Mizuno all finished in first on the day. 13 Mizuno and 15 Mizuno remain undefeated after two rounds of Power League play!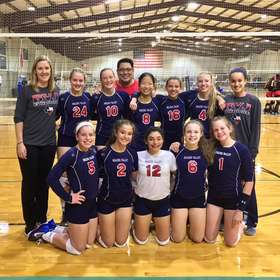 BVJ 13 National Headed to Division 1
Wednesday, January 18
BVJ 13 Mizuno Wins!
Thursday, December 29
Two BVJ Athletes Selected for USAV Holiday Camp
Congratulations to two of our BVJ athletes that were selected to attend the prestigious USA Volleyball Holiday Camp in Colorado Springs. For 5 days over the winter break, Kate Georgiades (BVJ 15 National and College Station High School) and Coco Gillett (BVJ 15 National and Bryan High School) are playing and training with many of the top players in the country. The girls were invited to the Holiday camp based on their High Performance tryout last spring and then their performance at the camps that they attended this summer. It is quite the honor to be invited to attend the camp.
2017 Season Kicks Off With Lots of Medals!
BVJ Patriot Developmental League
Brazos Valley Juniors Patriot Developmental League
REGISTRATION OPENS ON DECEMBER 19!
What: Brazos Valley Juniors (BVJ) will provide quality instruction and weekly competition in an environment that will introduce young players to the fundamentals of volleyball. Each week will have 60-90 minutes of skill training followed by 30-60 minutes of competition. The Patriot (Developmental) League will be limited to 28 players.

Each week will have a primary focus, but can/will also practice additional skills. Schedule is:
Week 1: Passing
Week 2: Serving
Week 3: Serve Receive
Week 4: Setting
Week 5: Hitting
Week 6: Defense
Week 7: Attacking Strategy
Week 8: Putting it All Together

Why: As enthusiasm grows for volleyball in the Brazos Valley, more and more girls are looking for opportunities to learn the game. We believe that a low pressure, skill based training program will introduce girls to the great sport of volleyball in a way that will give them a strong foundation for future instruction and competition.

Who: The League is primarily structured for 4th and 5th graders but 3rd and 6th graders can also enroll.
When: The Monday sessions will begin on January 23 and will continue for 8 weeks ending on March 27. (no sessions on President's day or Spring Break). Sessions will be from 6:30-8:30 pm.
Where: Area Schools (specific locations posted as we get closer)
Cost: $175, if paid in full by January 19 at 11:00 pm. The cost is $200 beginning January 19 at 11:01 pm, if space is available.
Includes: Gym Rental, Training, 1 BVJ DryFit Shirt
How: Register at www:eteamz.com/brazosvalleyjuniors beginning December 19th. (Click on the Player Registration tab and then click on Patriot League Registration button). There are no tryouts involved for this league.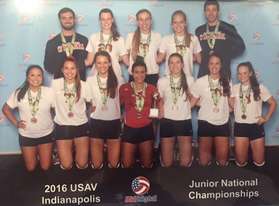 Bronze Medal at Nationals!
Saturday, July 2
BVJ 17 National Wins Bronze Medal at Nationals!
Brazos Valley Juniors 17 National won the Bronze Medal at the USA Volleyball Junior National Championships! What a great accomplishment for a tremendous team! We are so proud of you!
Emily Hubacek Commits to Texas A&M-Corpus!