Brazos Valley Juniors: Welcome
Brazos Valley Juniors
Brazos Valley Juniors, also known as BVJ, is a USAV club volleyball program serving Junior Olympic volleyball players in the Brazos Valley area. Brazos Valley Juniors is a non-profit 501(c)(3) club and is based out of Bryan-College Station, Texas. The club strives to provide quality volleyball training and competition, to female athletes from 10-18 years of age in Bryan, College Station and all surrounding cities.
T-Shirts, Sweatshirts, and Mizuno Merchandise
For anyone interested in buying Brazos Valley Juniors t-shirts, sweatshirts, etc we will have all this merchandise available for sale by completing an order form and turning it in, with payment, by December 7th at 10:30 pm. Any order received after that date will be added to the second and final order which is due on January 11th.
Order form is available on this website by clicking on Handouts (our traditional logo is the logo at the top of our web page). The "new" logo is the logo that is pictured in the PDF file below the order form). You must deliver or mail the form, with payment, to BVJ at 4600 Double Eagle, College Station, TX 77845.
For Mizuno merchandise, we order frequently during the season and we maintain a small inventory of kneepads, navy spandex, and Mizuno crew socks, so just contact us anytime that you need any of those items. Please use the Mizuno order form and include payment so that we can process the order.
Iola is the 2A State Champion!
UPDATE! Iola captured the 2A State Championship with a gritty and determined performance against Archer City. Iola won 3-1 and Landry Wagner was named MVP of the State Championship match! Congratulations!
-----------------------------------------------------------------------------------------------------------------------
Good Luck to the the Iola Bulldogs as they have reached the Final Four of the UIL State Volleyball Championships and will compete this weekend in Garland.
Congratulations to Tatum and Taylor Nevill and Landry Wagner who have led their team to a number 1 State Ranking and the Regional Championship.
Good Luck to Iola!! We're pulling for you!
BVJ Patriot Developmental League
Brazos Valley Juniors Patriot Developmental League
REGISTRATION OPENS ON DECEMBER 15!
What: Brazos Valley Juniors (BVJ) will provide quality instruction and weekly competition in an environment that will introduce young players to the fundamentals of volleyball. Each week will have 60-90 minutes of skill training followed by 30-60 minutes of competition. The Patriot (Developmental) League will be limited to 28 players.

Each week will have a primary focus, but can/will also practice additional skills. Schedule is:
Week 1: Passing
Week 2: Serving
Week 3: Serve Receive
Week 4: Setting
Week 5: Hitting
Week 6: Defense
Week 7: Attacking Strategy
Week 8: Putting it All Together

Why: As enthusiasm grows for volleyball in the Brazos Valley, more and more girls are looking for opportunities to learn the game. We believe that a low pressure, skill based training program will introduce girls to the great sport of volleyball in a way that will give them a strong foundation for future instruction and competition.

Who: The League is primarily structured for 4th and 5th graders.
When: The Monday sessions will begin on January 23 and will continue for 8 weeks ending on March 27. (no sessions on President's day or Spring Break). Sessions will be from 6:30-8:30 pm.
Where: Area Schools (specific locations posted as we get closer)
Cost: $175, if paid in full by January 17 at 11:00 pm. The cost is $200 beginning January 17 at 11:01 pm, if space is available.This is also the date/time that we will allow 6th graders to enroll, if space is available.
Includes: Gym Rental, Training, 1 BVJ DryFit Shirt
How: Register at www:eteamz.com/brazosvalleyjuniors beginning December 15th. (Click on the Patriot League Registration button). There are no tryouts involved for this league.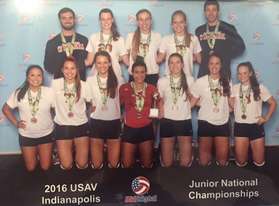 Bronze Medal at Nationals!
Saturday, July 2
BVJ 17 National Wins Bronze Medal at Nationals!
Brazos Valley Juniors 17 National won the Bronze Medal at the USA Volleyball Junior National Championships! What a great accomplishment for a tremendous team! We are so proud of you!
Emily Hubacek Commits to Texas A&M-Corpus!
Monday, January 4
Gold is a Great Color!