Brazos Valley Juniors: Welcome
Brazos Valley Juniors
Brazos Valley Juniors, also known as BVJ, is a USAV club volleyball program serving Junior Olympic volleyball players in the Brazos Valley area. Brazos Valley Juniors is a non-profit 501(c)(3) club and is based out of Bryan-College Station, Texas. The club strives to provide quality volleyball training and competition, to female athletes from 10-18 years of age in Bryan, College Station and all surrounding cities.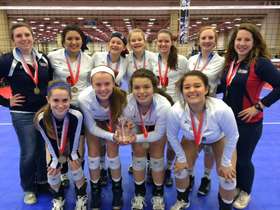 14 Premier Wins Bronze Medal at LSC!
Monday, April 14
Great News from Lone Star Classic!
Congratulations to all our teams that participated at the Lone Star Classic this weekend! What a terrific weekend of volleyball! Brazos Valley 14 Premier took home the bronze medal for finishing third in the 14 Select Field!
Brazos Valley 15 Mizuno finished 5th in the 180 team 15 American Field and Brazos Valley 13 National finished 5th in the 160 team 13 American field. Both teams went undefeated, before falling to the eventual champs of their respective tournaments.
Looking forward to more great play at next weekends' Lone Star Classic!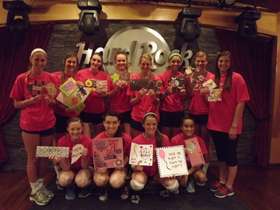 18 National Shows Off their Handmade Cards for Cancer Patients!
Monday, April 7
News from Big South!
Nine Brazos Valley Junior teams adventured to Atlanta for the largest National Qualifier in the country and there were many highlights! One unique highlight was that our Staff and Tryout Director, Kristin Goodman, sang the National anthem to kick off the Big South Tournament. Her beautiful voice covered the convention center!
16 National made the top half of 16 Open, with a thrilling first day and just missed the gold pools with great play on Day two. 15 National, competing in the USA Division made the gold and dropped a tough 3 set match to Ocala Power who ended up being the tournament champion. 13 National went undefeated before losing in the quarter finals to finish 5th in the 100 team field. 15 Mizuno had an outstanding record of 8-1, losing only their challenge match, and went on to win the Silver bracket. 18 Mizuno (affectionately nicknamed 18 Gumbo for the weekend, because of the combination of different age players) was the crowd favorite for having the guts and the heart to compete in the oldest age group level. 12 National, 14 National, 18 National and 16 Mizuno all also represented BVJ in a great way!
Our teams enjoyed being together on and off the court, eating out together, visiting area attractions like the Coca-Cola Museum and the Atlanta aquarium, and 13 National and 18 National spent some of their free time making cards for Cancer patients to donate to the Dig Pink booth. What a great gift!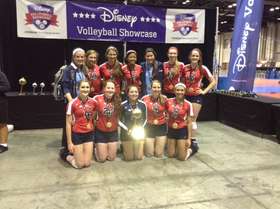 15 National WINS Disney Qualifier!
Sunday, March 30
From Mickey to Minnesota!
A giant congratulations to Brazos Valley 15 National! The team tore through the Disney Showcase National Qualifier, going 10-0 and never dropped a set in the three day tournament. By winning the tournament, the team earned a bid to the USA Junior National Championships to be held in Minneapolis, Minnesota June 25-28. Congratulations to the team, their coaches and their families! What a tremendous accomplishment!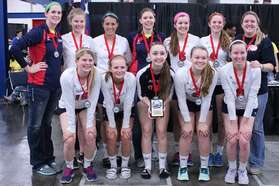 16 National Wins Silver Medal!
Sunday, March 23
Success at Cross Court!
12 National Wins Bronze Bracket!
Many Brazos Valley Juniors teams participated at the giant Cross Court Classic. The tournament has grown to be the largest non National qualifier event in the state of Texas! Highlights on the weekend were 13 National went undefeated in the 32 team Elite field to win the Gold! 16 National finished second in 16 Open, 18 National finished fifth in the 18's Division and 12 National won their Bronze Division in the 12's field. Congratulations!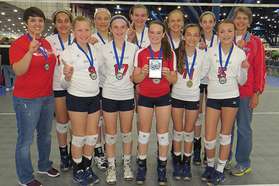 13 National Wins Cross Court Classic!
Prep Volleyball Recognizes America's Top Sophomores!
PrepVolleyball has announced their annual Soph 79 list based on High School Varsity Achievement and Brazos Valley Juniors is proud of several girls on our 16 National team that were recognized. Congratulations to the following Listed as Highest Honorable Mention is Libero Madison Smith, from Rudder High. Named as Elite Honorable Mention were College Station's Middle Blocker, Mary Pettibon, Lexington's setter/outside hitter Karsen Ross and Caldwell's Outside hitter, Abby Royall. Also, named to the list as Special Mention was College Station's outside hitter, Sarah Hancock.
Brazos Valley Juniors salutes each of you and your fine high school accomplishments!
Monday, March 10
14 Mizuno Wins!
Congratulations to Brazos Valley 14 Mizuno! They won the 30 team Skyline Classic going undefeated and proving that they were best in the field!
14 Mizuno Are the Champs!
Sunday, March 2
14 Impact Has A GREAT Day!
Congratulations to 14 Impact who went undefeated in the third stop of the Houston Power League! The team has improved tremendously this season! Keep up the great work!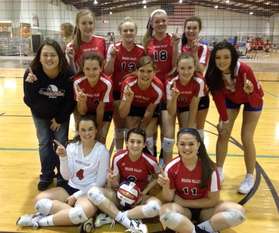 14 Impact Wins!
Friday, February 28
USA Today Starts the Day with BVJ Athletes!
Now this is cool! Top volleyball players around the country are being featured by USA Today in their "Breakfast Buzz" and two of our athletes have enjoyed the national exposure.
Tamaira Armstrong, 15 National and a Freshman at Rudder High School and Amanda Gooch, 18 National and a Junior at Iola High School and Emily Hubacek, 15 National, and a freshman at Bryan High are three great choices of outstanding student athletes. Check out the links!
http://socialhub.usatodayhss.com/social-hub/the-breakfast-buzz/item/1496-the-breakfast-buzz-introducing-tamaira-armstrong
http://socialhub.usatodayhss.com/social-hub/the-breakfast-buzz/item/1532-the-breakfast-buzz-introducing-am
http://socialhub.usatodayhss.com/social-hub/the-breakfast-buzz/item/1653-the-breakfast-buzz-introducing-emily-hubacek
Saturday, February 22
18 National Wins Bracket at Houston Shoot Out!
Brazos Valley 18 National had a great day at the Houston Shoot Out playing terrific defense and going undefeated through the day, without dropping a set! Congrats!
Monday, February 17
BVJ 13's Excel at ATX Showcase
Tuesday, February 11
Lauren Loehr Makes Commitment!
Tuesday, February 11
Top Freshmen in the Country!
Friday, July 5
Wow! BVJ 14's and 15's Both Win Medals at Nationals!