Brazoria Ballers Elite: News
Tuesday, April 30
Jaleen Smith Signs with the University of New Hampshire
It's official. Jaleen Smith 6-4 G (Brazosport 2013) has signed a national letter of intent to play basketball for the University of New Hampshire Wildcats. This is a great day in Brazoria Ballers Elite history!!!
Jaleen started playing with us as an unraked sophomore. He trained hard in our Brazoria Ballers Elite Skills Academy as well as with local high school coaches. Over time he got better and played his way to a local ranking by
rcssports.com
(Houston) then later a state wide ranking by
texashoops.com
(Texas).
He began getting recruited during his junior year. I have personally recieved calls from. Weber State, Arkansas State, The Citadel, Arkansas Fort Smith, Abilene Christian, Texas Southern, Southern, Texas A&M Corpus Christi, Sam Houston State, Southeastern Louisiana, Texas Pan American, and New Hampshire. During his recruitment process.
Smith, a 6-foot-4, 190-pound point guard from Brazosport High School, had a phenomenal senior year at BHS. He averaged 19.3 points per game and dished out 5.8 assists per game while coming down with 7.5 rebounds per game. Smith was tabbed a Texas Association of Basketball Coaches All-Region member and a 4-A All-State selection. The two-time First Team All-Conference member was also named the conference Defensive Player of the Year and the county MVP, as voted by sports writers. He was selected to play in the North-South Texas All-Star Game in San Antonio and in the Houston Association of Basketball Coaches All-Star Game.
New Hampshire Head Coach Bill Herrion said the following "Jaleen's a versatile perimeter player who can play all three perimeter spots,"He is a very good athlete with length, which will help him both offensively and defensively. Once his body gets stronger physically, he has a chance to be a really good player."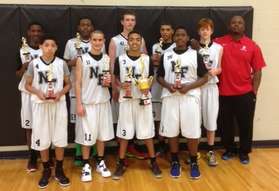 H-Town Classic Champs
Tuesday, April 30
No Fear wins Platinum Division of the H-Town Classic during D1 Live Period!
The Brazoria Ballers-No Fear team is made up of players in seventh, eighth and ninth-grade from Freeport, Lake Jackson and Angleton. They won the H-town Classic Platinum Division with wins over some of the top teams from across the state.
"This is one of the most prestigious basketball tournaments in the country, and it speaks volumes about our kids because a team from our area has never won this tournament," said head coach Robert Griggs. "It's a live event, which means college coaches flock to the gym to watch the older divisions. The platinum division is for the teams that went undefeated in pool play, so we played the cream of the crop to win the event."
No Fear was led by Chris Rossow, a 5'7 point guard from Freeport as well as post players Hunter Quick (6'5 from Lake Jackson), Kevin Davis (6'1 from Angleton) and wing Angel Trevino (5'11 from Freeport). Rossow averaged 18.4 points per game to go with 3.6 assists, while both Davis (10.8 ppg., 7.4 reb.) and Quick (8.6 ppg., 7 reb.) dominated down low. Defensive stopper Trevino went for 14.8 points, 5.4 rebounds and 3 steals per contest.
"I think as a whole, we played well, but the point guard position with Rossow was unbelievable," Griggs said. "I think he was one of the top three players in our age division. Davis and Quick teamed up to be a two-headed monster holding down the middle. Angel is an awesome ninth-grader who plays with us when the tournaments allow a grade exception, meaning you can play with one player who is a grade older."
Other team members who contributed in the tournament include: Lake Jackson's Cole Armstrong, Trey Burnett, Ty Griggs and Sa'vion Myles as well as Angleton's BJ Foster.
No Fear will play in a couple more tournaments in Houston before hitting the road for games in New Orleans and Las Vegas.
The No Fear program was started by Griggs in 2005 and its alumni from the area include DJ Griggs (Long Island University), Quandre Diggs (University of Texas), Shai Fields (Weber State) and Ed'Marques Batties (Middle Tennesse State). No Fear merged with the Brazoria Ballers in 2013.
article written by Russell Burnett
Wednesday, March 13
Brazoria Ballers Elite Players Earn Post Season Awards
The Brazoria Ballers Elite Basketball Foundation has been in existence since May 2005. Since it began there have only been five select basketball seasons due to coach Frank Watson's accepting a coaching position with the Men's Basketball team at the University of Houston from 2006-2009. Those five select basketball teams produced 30 college athletes. This season the Brazoria Ballers racked up post season awards in several categories.
Seniors Khory Ross 6-6 G/F (Brazosport) and Jaleen Smith 6-4 G (Brazosport) earned Texas Association of Basketball Coaches Class 4A All-State & All-Region honors after leading their team to a Regional Tournament appearance and 29-6 overall season record. Both are being recruited by Division one college teams to play basketball and will be signing scholarships in May.
The Brazoria Ballers Elite players dominated the local district awards. Khory Ross earned District 23-4A Offensive Player of the Year and Jaleen Smith received the District Defensive Player of the Year award. Junior Spencer Seman 6-0 G (Danbury) was also named Defensive Player of the year for District 29-2A.
Malik Smalls 6-0 G (Angleton) and Tennarrance Johnson 5-10 G (Brazosport), were both voted on to the District 23-4A 1st team along with Tra'Vaughn Woods 6-4 F (Brazosport) who is currently injured but will rejoin the Ballers once he gets healthy. Brazoria Ballers Alumni player Daniel Stolte 6-5 F (Danbury) also earned 1st Team honors for District 29-2A this season. Kendal Phillips 6-0 G (Angleton) made the District 23-4A second team this season along with Brazoria Ballers Alum Jordan Jackson 5-11 (Brazosport).
My vision of the Brazoria Ballers Elite Basketball Foundation is to create a coalition of local youth basketball teams in the Brazoria County Area that are willing to work together under one name to promote our best basketball talent and earn college scholarships! Our local talent is good enough to earn a sneaker sponsorship and give players the ability to play AAU basketball for free and travel all over the country without joining up with a Houston sponsored team. Past players along with this year's crop of talent have produced several post season awards and I hope to continue and enhance a tradition of excellence within the Brazoria Ballers Elite organization for years to come.
Thursday, March 7
Brazoria Ballers-No Fear shine at exposure camps.
Hunter Quick and Waydale Jones shine at John Lucas 60/60 Camp
One of the Goals of the John Lucas 60/60 Camp is to find players that have the potential to play the game at a very high level, and to do that, Coach Lucas takes a no-nosense approach to teaching the game, stressing the need, even at a very young age, to work hard and to learn the fundamental skills of the game.
One-hundred and thirty players from all over the country attend the 60/60 camp. Hunter Quick 6-4 C/PF (Lake Jackson 2018), and Waydale Jones 6-1 SG/SF (Angleton 2017) were listed among the top 25 players who attend the event.
Hunter Quick went up against one of the best bigs in the camp 6ft-7in 8th grader Landon Badgley from Arlington,Tx. Hunter had 20pts/ 8reb/ 3blk in the game and really impressed coaches with his skills. Other players who attended the camp were Trey Burnett, Chris Rossow, and Cole Armstrong. Great Job No Fear you are getting exposure at a young age that will really help your recruitment.
Kevin Davis and Savion Miles make the All-Star Team at the 2nd Annual Gulf Coast Middle School Showcase
Kevin Davis 6-2 PF (Angleton 2017) and Savion Myles 5-5 PG (Lake Jackson 2017) led their camp team the Clippers to a first place finish in the showcase tournament. They both made the All-Star team and recieved grades and scouting reports from the event which were published by state and local recruiting services texashoops.com and rcssports.com.
The 2nd Annual Gulf Coast Middle School Showcase is a great opportunity for 6th, 7th and 8th graders in the Greater Houston Area to get a jump start on exposure and make a name for themselves in front of a live film crew from www.seemeplay.net. Jim Hicks from www.rcssports.com was at the event and spoke to the participants about the importance of rankings and the recruiting process as a whole. Larry Shepherd of www.seemeplay.net conducted a recruiting workshop for the parents. Frank L. Watson of www.brazoriaballers.com is the event founder and director as well as the lead evaluator of talent at the showcase. A showcase highlight film of top plays will be posted on YouTube within the next two weeks.
Saturday, February 16
John Lucas Presidents Day Tournament (Feb 16-17)
Pool Play (2-1)
W Brazoria Ballers-No Fear 74 Pearland Bulldogs 51
BB: C.Rossow 24p/3a, K.Davis 12p/6r, W.Jones 12p/3r, T.Burnett 11p, B.Foster 8p/8s, H.Quick 4p/10r, C.Armstrong 3p/3a
W Brazoria Ballers-No Fear 74 San Antonio's Finest 53
BB: T.Griggs 14p, W.Jones 13p/5r/4a, K.Davis 12p/6r, C.Rossow 11p/5r/5a, B.Foster 10p/3s, H.Quick 8p/3r, T.Burnett 3p/4r, C.Armstrong 2
L Houston Defenders Select 89 Brazoria Ballers-No Fear 82
BB: W.Jones 23p/4r, C.Rossow 13p/5a, H.Quick 11p/8r/2b, K.Davis 10p/9r, T.Griggs 10, B.Foster 6, C.Armstrong 4, T.Burnett 3
Thursday, February 14
Brazoria Ballers Elite Alumni Accomplishments
The Brazoria Ballers Elite are proud to have produced thirty college athletes from five select basktball teams since May 2005. View the complete list at our site college athletes tab. Below are the accomplishments of a few Brazoria Ballers Alumni.
Cory Tellis 5-9 PG (Clear Brook 2006) University of Houston
Tellis played for Tom Penders at the University of Houston. He earned his Bachelor's Degree and is currently working for Baseline Sports Management in Dallas, Texas. Tellis is also pursuing a professional basketball contract oversees.
Josh Waddy 6-0 PG (Brazosport 2011) University of Texas-Dallas
Earned first team All-District and-All County honors as well as Brazoria County Defensive MVP as a senior at Brazosport High School. Josh is currently a sophomore guard at the University of Texas-Dallas majoring in Mechanical Engineering.
Anthony Hargrove 6-0 PG (El Campo 2006) McClellan JC/ Concordia
Named District 24-4A Offensive Player of the Year and Wharton County MVP. Hargrove is 5th all time in the national record books for three point field goals made (474) and 2nd in three point field goals attempted (1,414). He had a successful playing carrer at McClellan Junior College and Concordia University and is currently seeking a contract to play basketball oversees.
D.J. Griggs 6-0 PG (Brazosport 2012) Long Island University
Griggs is ranked #43 in the state record book in points (2590) scored over his four year varsity carrer at Brazosport High School. He was ranked among the top players in the nation at #117 his senior year by rivals.com . D.J. is currently a freshman guard at Long Island University in Brooklyn, New York.
Drew Sellers 6-7 PF (Brazoswood 2008) Coastal Bend JC/ Sam Houston State
Drew was ranked #66 in the state by texashoops.com and accepted a full scholarship to Coast Bend Junior College. He later transfered to Sam Houston State University were he earned his degree in December of 2012.
Travis Pflughaupt 6-8 PF (El Campo 2008) Minnesota Lutheran/ Schreiner University
Travis earned All-District and All-County honors as a senior at El Campo High School. After high school he attend Minnesota Lutheran Bible School then later transfered to Schreiner University. He was named ASC player of the year averaging a double double of 17.2 points and a league high 10.2 rebounds per game. Schriner qualified for the ASC tournament for the first time in school history due to his outstanding play on the court.