Bowie Step Teams: Welcome
Welcome to the home of the Souljahs!!!!
The James Bowie High School Boys, Girls and Coed Step Teams (Bowie Souljahs, Lady Souljahs, Cadets) under the direction of All-Star Head Coach Christopher Caldwell and Lady Souljahs Coach Doris Morehead are renowned throughout the State of Texas for their complex choreography and high-energy performances.
For the past 16 years, the Bowie Step Teams have been ranked among the elite throughout Texas and are usually considered the teams to beat. This past season (2015) the Bowie Souljahs dazzled the competition with their engaging Secret Agents" themed performance and won 1st Place for the second year in a row at the NSA National Championship. In 2012 "Lady Souljahs" electrified the crowd at the 2012 NSSA National Championship and the Lady Souljahs won first place two consecutive years in the face of excellent competitors. Both teams won the TSTA League /State Championship (2015) and received a bid to compete at the NSA National Championship (2016). This brings a total of 12 District Championships, 11 State Championships and 4 National Championship to the Bowie Step Teams in the last 11 years. The Bowie Step Team program is one of the most outstanding programs in the country.

The Lady Souljahs and Bowie Souljahs choreography is done by Step Masters Darius Simmons, and Brandon Johnson,
James Bowie High School
Step Teams
2101 Highbank Dr
Arlington, TX 76018
coach@bowiesteppers.com
Tuesday, March 15
Lamar Show Photo Album
Show Results
Girls 2nd Place
Boys 1st Place
Friday, February 5
Click here to Pay Any Step Team Fees
After clicking on the above link, click the Athletics button and then scroll down to BHS Steppers and continue with payment process.
Thursday, January 28
Parent Information Update Form
Parents please update your contact information for the team records.
Thursday, January 28
Lady Souljahs Win at LD Bell Step Show
Congratulations to the Lady Souljahs who won 1st Place at the LD Bell Step Show on January 23, 2016.
Friday, December 11
National Championship 2016
The NSA will hold its Annual National Stepping Championship in Memphis, TN, on April 7-9, 2016. Both the Bowie Step Teams will be competing to win their 3rd National title. Details regarding the competition including Hotel information will be made available within a few weeks. Visit the
TSTA Website
for more details.
Thursday, September 17
Tryout Results
Congratulations to the New Lady Souljahs 2015-16
1. Tayo Ladipo 2. LaDestiny Davis 3. Adrianna Malone 4. Jasmine Green 5. Jordan Wells 5. Lexi Pyatt 6. Jalynn Clark 7. Kennedy Frazier 8. Myka Johnson 9. Destiny Hopkins 10. Daniyah Killins 11. Tierra Thompson 12. Alexia Ross 13. Naysia Dildy 14. Santana Edwards 15. Felisha Echols
Continuing Lady Souljahs
1. Chiztere Ezibengaya 2. Diamonique Anderson 3. Anjulie Morehead 4. Ester Mampaka 5. Brittany Sanders 6. Chloe St. Johns 7. Maureen Eregie 8. Kayla Atkinson
Congratulations New Bowie Souljahs
1. Joel Lopez 2. Danny Thompson 3. Stanton Smith
Continuing Bowie Souljahs
1. Taurin Wenze Lewis 2. Amondre Meankins 3. Devin Gaut 4. Camron Ciggs 5. Monterey Stubblefield 6. Jordan Davis 7. Andre Smith 8. Deron Jackson 9. Tiera Hicks
Thursday, September 10
STEP TEAM TRYOUTS
Tryouts/Clinic for the Bowie Step Teams will be held in the Bowie Cafeteria from Monday, September 14, 2015 through Thursday, September 17, 2015. The Clinic times are 3:00PM to 5:00PM each day. See Mr. Caldwell in Room 611 for details.
Thursday, May 21
Step Team Summer Practice
Friday, May 15
Congratulations to 2015 Step Team Trainees
The following students have advanced to the 2nd Tier of the Bowie Step Team Tryout Process.
ID #
467528
354421
281071
301513
415325
455061
390746
433622
410108
293412
465542
415561
370337
346214
410108
Continuing Members
Amondre Meankins
Devin Gaut
Taurin Wenze-Lewis
Camron Ciggs
Tere Ezibengaya
Anjulie Morehead
Kayla Atkinson
Brittany Sanders
Esther Mampaka
Diamonique Anderson
Monday, April 27
BOWIE STEP TEAM TRYOUTS
Tryouts for the Bowie Step Teams will be held May 14, 15, 18, and 19. The first three days are learning clinics. Participants will be taught the routine that they will tryout with on May 19, 2015. There will be a parent meeting on May 20, 2015 in the Little Theater at 7PM. Any student trying out will need to have parents attend the parent meeting.
Friday, April 24
Bowie Souljahs Wins Nationals Again
Over the weekend, the Bowie Souljahs competed in the NSA National Championship in Daytona Beach, FL. The Souljahs performed a funny version of an episode of the Mission Impossible TV Series. Several of the rival coaches admitted that this year they were not going to underestimate the Bowie Souljahs like they did last year.
This was very evident because the rival teams were EXTREMELY hard to beat. The Souljahs dazzled the audience with their complex choreography and carved out a victory. Congratulations to the Bowie Souljahs.
Sunday, March 22
Bowie Souljahs and Lady Souljahs Win State Championship
Daydrick and Shamara Norris Present Trophy
Last night the Bowie Step Teams competed in the Texas Step Team Association's State Championship at Duncanville High School. Only teams that qualified could compete in this final competition. Both the girls and the boys teams put on a great competition and scored enough points to maintain their lead that they had amassed all season. The boys and girls haven't won the State Championship in the same season since 2010. Congratulations to the State Champs.
Sunday, March 22
Souljahs and Lady Souljahs win State Title 2015
See above.
Wednesday, February 25
Lady Souljahs Win 1st Place at HYPE Competition
Wednesday, February 25
Bowie Souljahs Win TSTA District Championship
On Saturday, February 21, 2015 the Bowie Souljahs competed in the TSTA District Championship (District 2). The Souljahs destroyed the competition and won first place. The Souljahs also crushed the competition in the first ever TSTA Step Battle hosted by the HYPE Divas. The Souljahs are currently ranked number one in the Texas Step Team Association.
Monday, January 19
Arlington Mega Stomp Fest
Tickets are on Sale Now!
See Mr. Caldwell or Mrs. Morehead for tickets.
Call 214-392-2251
Sunday, January 25
Boys Team wins at Desoto with 4 Steppers
Congratulations to our Boys Team. They pulled off a sensational win at Desoto High School last night and won the competition. Currently, the Souljahs are ranked number one in the League. Great Job guys!!!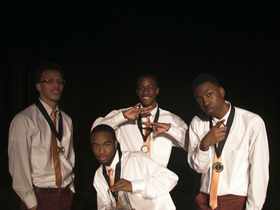 1st Place Desoto Step Show
Friday, September 19
Congratulations to New Members!!!!
Congratulations to the new Step Team Members!
Kadejah Haynes
Brittany Sanders
Kayla Taylor
Kayla Atkinson
America Moralis
CeCe VanPelt
Esther Mamyosa
Dasha Warfield
Jasmine Echols
Keiarah Benjamin
Chirstina Hicks
Cheick Mbol
Sabastian Dorsett
Laniesha Lee
Brodrick Smith
Davin Whiteman
Ellington Watson
Camron Ciggs
David Rodriguez
Bao Nguyen
Friday, August 22
Step Team Tryouts
Tryouts for the Bowie Step Teams will be held September 15 through September 18 at 3PM in the Cafeteria. Anyone interested in participating must tryout. See Mr. Caldwell in room 611 for an application.
What to bring?
You must wear athletic shoes, athletic shorts and an athletic top.
Monday, May 19
Congratulations to the 2014-15 Step Team Members
The following students tried out and made the Step Team on Friday, May 16, 2014. These students will be part of the 2014-15 Step Teams for Arlington ISD and Bowie High School.
Liana Bellamy Janae Hogan Kami Tisdale Taurin Wenze-Lewis J. Daniel Caldwell Donovan Short Ellington Watson Stanley Raymond David Rodriguez (District Team) Savanah Jackson (District Team) Anjulie Morehead Precious Kwaramba (District Team) Bao Hoang Cameron Ciggs Tayo Ladipo Miyah Folk (District Team) N'stausha Crisp (District Team) Tyaria Hicks (District Team) Keiara Benjamin Shountavia Wright Chizitere Ebengaya Amondre Meankins Devin Gaut
Thursday, May 8
2014-15 Step Team Tryouts
CLICK HERE
Tuesday, April 15
BOWIE SOULJAHS WIN NATIONALS 2014
Over the weekend, the Bowie Souljahs competed in the NSSA National Championship in Wheeling, IL (Chicago). The Souljahs performed a very funny version of the Wizard of OZ. Several of the judges admitted that based on the teams initial appearance (
team was in character-Dorothy, Tinman, Lion and Scarecrow
) they had underestimated them. Judge 9 said "
Coach Caldwell I have never seen a boys team do that. You guys had my attention the entire time. I was totally engrossed in the performance and your precision was unbelievable
." The Souljahs intially started performing to a COLD reception from the crowd and now we know the judges were cold as well. However, as the team continued with their routine, everyone warmed up and the Souljahs finished with a standing ovation and 1st Place in the Boys Division. Congratulations to the Bowie Souljahs!!
Thursday, March 27
Bowie Souljahs Turn Things up a Navarro
On Wednesday, March 26, 2014, the Bowie Souljahs competed in the Battle of the Steppers Competition at Navarro College in Corsicana, TX. The Souljahs put on their absolute best performance of the year. The crowd was completely turned up by the Souljahs performance. At one point, the crowd had become so elated during the team's performance that the judges had to cover their ears. It was a performance to remember. The Souljahs receive first place and a cash prize. Congrats.
Sunday, February 16
Souljahs Place 2nd at District Championship
The Bowie Souljahs placed 2nd at the District Championship on February 15, 2014.
Wednesday, December 18
Lady Souljahs 3rd Place at Ma'at Step Show
On December 14, 2013 the Bowie Step Teams competed in the Ma'at "Step or Get Stepped on" Step Show. The Lady Souljahs performed notably with a 3rd place showing. However, the Bowie Souljahs once again regulated the competition and received 1st place. Congrats to the Bowie Step Teams.
Wednesday, December 18
Winter Break Practice
Step Team practice for the Winter Break will be held on December 28 through January 4.
12PM-3PM
Check the GroupMe App for changes.
Monday, November 18
BOWIE SOULJAHS CRUSH THE COMPETITION AT STOMPZILLA
On Saturday, November 16, 2013, the Bowie Souljahs competed in the 7th Annual Stompzilla Step Competition at Garland High School. The Souljahs sat and watched the competition---one team after another. Since the Souljahs were the 11th team to perform, they had the opportunity to watch a lot of really good teams perform. However in the end, the Souljahs rallied together and performed a routine that can best be described as "chilling." Mr. Caldwell said "OMG, I haven't seen the boys perform like this in years. I can see now that they are determined to win the National Championship."
On December 7, the Souljahs will have to face another battle at Rowlett High School. Congratulations! and Good luck!
Tuesday, November 5
Souljahs Placed 2nd at AASO Competition
On Saturday, November 2, 2013 the African American Student Organization at TCC hosted their 2nd Annual Step Show. The competition was filled with teams wanting to use this as a pre-season performance to work out problems with their show routines. The Bowie Souljahs placed 2nd in the competition but will need to work on several key elements of their performance in order to win the State Competition this year.
Saturday, October 26
Bowie Step Teams Attend TSTA Fall Step Camp
Thursday, September 19
Congratulations to Our New Team Members
Congratulations to the following students who scored high enough to earn a spot on the Bowie Step Teams.
Laurin Williams
Vanessa Reyes
Tkira Mason
Laurin Butler
Ireti Olagoroye
Jewel Askie
Khristien Norvell
Kearra Porter
Folake Odunsi
Quentin Yancy
Chris French
A parent meeting is scheduled for October 2, 2013 at 7PM.
Friday, September 13
NO PRACTICE Monday, September 16, 2013
The Step Teams will not practice on Monday, September 16, 2013. Please let your team mates know.
Do not
come to my room after school
Thursday, September 5
2013-2014 Step Team Tryouts
Tryouts for the Bowie Boys and Girls Step Teams will be held in the school's cafeteria from 3PM until 4:45PM beginning Monday, September 9, thru Thursday, September 12, 2013. Please see Mr. Caldwell in room 611 for details.
Saturday, July 27
SUMMER PRACTICE DATES
Summer Practice will begin on August 19, 2013 at 3PM in the Cafeteria.
Tuesday, April 23
A Solid Second Place
The Lady Souljahs competed at the Music City Step Fest in Nashville, TN (National Championship) against teams from across the nation. The Lady Souljahs put on a fabulous show and wowed the crowd with their high energy routines. However, in the end the Lady Souljahs were 1st runner ups. This was a painful loss because the ladies lost by one point. This was the Lady Souljahs 3rd Appearance at the National Championship and it was their first loss. The Lady Souljahs also won second place in the Texas Step Team Association's State Championship held in Houston, TX. Congratulatons to the Lady Souljahs.
Tuesday, February 19
SOULJAHS WIN DISTRICT CHAMPIONSHIP
On Saturday, February 16, 2013 at Hutchenson Junior High School, the Bowie Souljahs competed in the District Championship. The Souljahs were ranked second going into the competition but dazzled with the crowd with their high energy performance and precision stepping and swept the competition off its feet and won first place. The Bowie Souljahs will now advance to the State and National Championships. The State Championship is April 6, 2013 in Houston, TX and the National Championship is March 16, 2013 in Nashville, TN. This will be their first trip to Nationals and their 6th trip to State. The Team currently holds 4 State Titles.
Tuesday, February 19
OPEN STEP PROGRAM AT BOWIE
Through Century 21 a new program for Bowie students is being offered. Open Step--this program will allow students to learn some of the best step routines in the Nation. The program will be offered from Tuesday through Thursday at 3:15pm until 4:15pm. in the cafeteria or the 600 cross hall. Students will be taught by the Bowie Souljahs and Lady Souljahs step team members. There is no fee and students are not required to join the Step Team. However, students will be required to exit the building immediately after the Open Step Sessions. Stop by after school and see Mr. Caldwell in room 611 for more details.
Monday, January 21
BOWIE SOULJAHS WIN ARLINGTON MLK SHOW AND TRIMBLE TECH SHOW
The auditorium at Arlington High School can seat 1,200 people. On Saturday you would have been lucky to find a place to stand. Supporters packed the place to watch as some 28 step teams from across the Arlington school district shook, shivered, shimmied and strutted their stuff in a spirited competition that's part of the city's annual Martin Luther King Jr. celebration. The Bowie Souljahs, a state powerhouse, won first place in the high school category Superintendent Marcelo Cavazos was on hand to watch it all, and he noted the value of the extracurricular activity. "This is a way for students to stay engaged at school in a different way," he said. "It lets them demonstrate their talents, and it brings the entire community together from schools across the district."
Read more here: http://www.star-telegram.com/2013/01/21/4563201/arlington-students-show-talents.html#storylink=cpy
On Saturday, January 19, 2013 the Bowie Souljahs also competed in the Trimble Tech High School Step Show. The Souljahs wowed the crowd and won firsst place as well.
Friday, December 14
TEAMS COMPLETE SOCK DRIVE
Hannah's Socks is a non-profit organization focused on providing clothing necessities to the less fortunate. Hannah's Socks collects donated materials in the form of men's, women's and children's socks and undergarments, then leverages partnerships with local shelters for distribution to both the homeless and to victims of domestic violence. In addition, they support programs serving under-privileged children. Hannah's Socks firmly believes that in a country as prosperous as the United States, no man, woman or child should want for something as basic as a warm pair of socks.
Michael Seaton, a former member of the Boys Step Team (2009-10) also shared the vision and goals of the non-profit organization. He developed a plan for the Step Teams to help out Hannah's Socks by placing boxes throughout Bowie High School. The sock drive officially ended on December 12, 2012. Prior to Wednesday December 12, the sock drive had resulted in only 8 pairs of socks being collected. However, thanks to Bowie's Project Soar Coordinator, Mrs. Jackson, who through Project Soar donated 258 pairs of socks to the Step Team's Sock Drive--the teams managed to come out on top.
Wednesday, December 5
Arlington East Step Show
The Arlington East Step Show will be held at Bowie High School on December 15, 2012 at 5:30PM in the Auditorium. Tickets are $5 pre-sale and $10 at the door.
Bowie Show 2012 AD by Mr. Caldwell
Monday, December 3
SOULJAHS WIN GRAND CHAMPION AT ROWLETT
On Saturday, December 1, 2012 the Bowie Souljahs Step Team competed in the Rowlett High School Step Invitational. The Souljahs performed their infamous Boys Scouts comedy and precision routine which propelled them to the top to win the Grand Champion Award (highest score of all teams boys, girls and coed) and a $500 Cash prize.
Monday, November 19
Bowie Souljahs Make a Dramatic Return to the Stage.
On Saturday, November 17, 2012 the Bowie Souljahs openend the season at the 6th Annual Garland Step Show. This was a very important show as the Souljahs had not competed in over a year and a half. The team consists of brand new members who have never stepped for the Souljahs before. Mr. Caldwell stated that he had never experienced this and didn't know what to think. "I have always had guys carryover to the next year but this year I didn't have that because we didn't have a boys team last year. It was a real learning experience working with a brand new team." The Souljahs really excited the crowd and the judges as well because they took 1st Place in the Boys division. Congratulations to the Bowie Souljahs.
Thursday, August 30
2012 FALL TRYOUTS
Step Team tryouts will be held in the Cafeteria on Tuesday, September 4, 2012 through Friday, September 7, 2012 from 3:15PM until 4:45PM. Students wishing to tryout must wear athletic shoes and comfortable shorts. For more details see Mr. Caldwell in Room 611.
Tuesday, April 17
LADY SOULJAHS WIN NSSA NATIONAL TITLE 2ND YEAR IN A ROW
CLICK HERE FOR ARTICLE ON TSTA WEBSITE
Tuesday, September 6
Pay Step Team Dues Here!
Sunday, May 22
NBC 5 Features National Championship Team-The Lady Souljahs
Tuesday, May 17
LADY SOULJAHS IN THE NEWS
CLICK ON THE LINK BELOW TO SEE THE ARTICLE ON THE LADY SOULJAHS
Readers please keep in mind that some of the information is inaccurate but overall it is a good article. I see how the celebrities feel when they are misquoted or misunderstood.
Sunday, April 10
LADY SOULJAHS WIN NATIONAL CHAMPIONSHIP
On Saturday, April 9, 2011 at the Belmont University Curb Event Center in Nashville, TN; the Lady Souljahs of Bowie High School destroyed the hopes and dreams of teams from across the country. The California team is still in SHOCK. The Lady Souljahs who put together some of the best step routines that we have seen them do all year, seemed as though they were on fire. It was one of the most intense performances of the year. The competing teams all dropped their heads as the Lady Souljahs ended their performance. The Lady Souljahs also used one of the most elaborate themes we have ever seen from a Bowie Step Team. Coach Morehead stated "We weren't going to use our good stuff at home. So we sacrificed a few shows in preparation for Nationals" It was one heck of a night as teams from across the country competed to become the supreme champion for the 2011-12 season. Coach Caldwell said that he was "elated by the victory" of the four time state championship team who can now add a National title to their belt.
Coaches Demond Halsey, and Josh Boone worked with the Lady Souljahs to prepare for this competition as well. They were all excited for the Lady Souljahs. Coaches Caldwell and Morehead also wanted to acknowledge everyone in their camp that help the Lady Souljahs get to Nationals. They are as follows:
Asst Coach Darius Simmons-Show Development
Asst Coach Jonathan Nute-Precision Speacilist
Jamilah Redic, Team Commander
Christinay Richardson, Sub Commander
Demond Halsey, Training Coach
Josh Boone, Training Coach
We are also proud of two of our other member teams that traveled to Nashville as well, LD Bell (G Phi Smooth) and MacArthur High (MA'AT Steppers). They both placed second in their divisions. Congratulations to all our teams.
Friday, April 8
LADY SOULJAHS TRAVEL TO NATIONAL COMPETITION
The Lady Souljahs are currently in route to Nashville, TN to compete in the NSSA National Championship on April 9, 2011 at 6PM at Belmont University. Good Luck to the Lady Souljahs.
Wednesday, March 9
BOWIE SOULJAHS 1ST PLACE AGAIN
On Saturday, March 5, 2011 the Martin High School Divas, Debonair Men and Diplomats hosted the 13th Annual Martin Step Extraganza. The competition was filled with just about every TSTA team in the DFW area. Many teams were in new divisions. Both Garland and Eastern Hills High Schools were in the coed division because the competition had a coed division. Most teams put on a great performance. The Bowie Cadets did not place in this competition.
The Bowie Souljahs destroyed all competition and won 1st place in their division and the Lady Souljahs were mesmerized by the Mesmerizing Ladies of LD Bell and received 2nd place. Congratulations to our teams.
COED DIVISION
1st Place, Garland High School 2nd Place, Ma'At Steppers of MacArthur High School 3rd Place, Eastern Hills High School
Girls Division
1st Place, The Mesmerizing Ladies of LD BELL 2nd Place, The Lady Souljahs of Bowie High School 3rd Place, The Ladies of Rowlett High School
Boys Division
1st Place, The Bowie Souljahs
2nd Place, G Phi Smooth of LD Bell 3rd Place, North Crowley High