Bordentown Little League Baseball/Softball: Welcome
Welcome to the Bordentown Little League website!
Our goals are to introduce and instruct the fundamentals of Baseball and Softball, to do so in a safe and educational manner, to encourage and enable spending time together with family and friends, and most importantly to have fun.
BLL is a regional league accepting players from Bordentown City, Bordentown Township, Fieldsboro, Springfield, Mansfield and Chesterfield, and all parts of the Township of North Hanover, north of Monmouth Road (Route 537). If you are unsure of the boundary, please use the interactive map tool to confirm.
---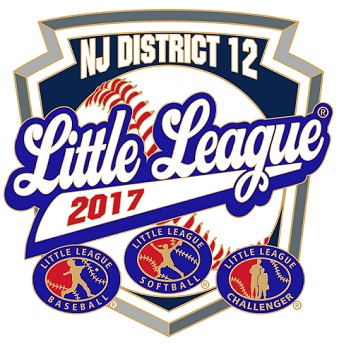 BLL is a Member of NJ District 12. Home to some of the most competitive baseball and softball in the State, and indeed, the country. Year in and year out baseball and softball programs vie for State championships and in recent years District 12 has fielded teams in the Eastern Region Finals, Williamsport, Pennsylvania Little League Baseball World Series and Portland, Oregon Little League Softball World Series.
Member Leagues also include: CRANBURY-PLAINSBORO, EAST WINDSOR PAL, EWING, FLORENCE, FLORENCE GIRLS SOFTBALL, HTRBA, LAWRENCE, MILLSTONE ROOSEVELT, NOTTINGHAM, PRINCETON, ROBBINSVILLE, SIX-ELEVEN, SUNNYBRAE, WEST END, & WEST WINDSOR.
---
Friday, December 1
NEW BAT STANDARDS
Little League® International has assembled an online resource page dedicated to baseball bat information, that includes the latest bat information, current Little League Baseball rules and regulations governing bats, definition of terms, the moratorium on the use of composite bats, and a series of frequently asked questions, with answers and licensed bat lists.
Please note that as of January 1, 2018, the new USA Baseball Bat Standard will be implemented. Little League-approved baseball bats that are approved for use for the 2017 season will no longer be acceptable for use in any Little League game or activity starting on January 1, 2018. For more information on the USABat standard and a complete list of bats approved through the USABat Standard, visit usabat.com.
Note: Softball Bats
The composite moratorium only applies to baseball bats with 2 1/4 inch barrels. It DOES NOT apply to any divisions of Little League Softball. Also, there is no list of approved softball bats. In softball, the bat only needs to meet the specifications of Rule 1.10 for a softball bat.
Rule 1.10 - Softball The bat must be a softball bat which meets Little League specifications and standards as noted in this rule. It shall be a smooth, rounded stick and made of wood or a material tested and proved acceptable to Little League standards. The bat shall be no more than 33 inches (34 inches for Junior/Senior League) in length, not more than two and one-quarter (2¼) inches in diameter, and if wood, not less than fifteen-sixteenth (15/16) inches in diameter (7/8 inch for bats less than 30 inches) at its smallest part. Non-wood bats shall be printed with a BPF (bat performance factor) of 1.20. Bats may be taped or fitted with a sleeve for a distance not exceeding 16 inches from the small end. Colored bats are acceptable. A non-wood bat must have a grip of cork, tape or composition material, and must extend a minimum of 10 inches from the small end. Slippery tape or similar material is prohibited. An illegal or altered bat must be removed.
Note: Tee Ball Bats
Starting on January 1, 2018, all Tee Ball bats in the Little League Baseball® Tee Ball program must feature the USA Baseball mark and accompanying text. Tee Ball bats that were produced and/or purchased prior to the implementation of the new standard can be certified using an Approved Tee Ball Sticker (available September 1, 2017) via the USA Baseball Tee Ball Sticker Program for use with approved Tee Ball baseballs for Little League play. Tee Ball bats for Little League Softball® Tee Ball programs must follow the Little League Softball Official Regulations, Playing Rules, and Policies.
Interactive Boundary Map
Please follow the link to the attached Boundary Map tool to determine if your home falls within the boundaries of our Little League. Under Little League rules, your child is also eligible to play in the Little League whose boundaries contain the School which your child attends.