Bordentown Little League Baseball/Softball: Welcome
Welcome to the Bordentown Little League website!
Our goals are to introduce and instruct the fundamentals of Baseball and Softball, to do so in a safe and educational manner, to encourage and enable spending time together with family and friends, and most importantly to have fun.
Wednesday, November 11
Registration for Spring 2016 Softball and Baseball is now OPEN!
We are again offering a discount for EARLY REGISTRATION and the ability to make up to four (4) monthly payments (when using a credit card) to spread out your registration costs and go a little easier on your cash flow during the Holidays.
Register before December 31st to take advantage of our EARLY REGISTRATION DISCOUNT

January 31 is final day to register before LATE REGISTRATION begins, which includes a $25 late fee and no guaranteed spot on a team.
Sunday, February 7
2016 Player Evaluation Dates
Tuesday, December 8
2016 Pitching and Hitting Clinics
Tuesday, December 8
2016 Fundamentals and Catching Clinics
Sunday, December 6
Junior League Baseball Division Returns!
BLL is proud to announce Junior League Baseball is returning to our fields in the Spring 2016.
Little League's Junior League Division is a program for 13 and 14 year old boys, who will play their games on the "big field" – a conventional baseball field with a 60-foot, 6-inch pitching distance and 90-foot base paths.
This division will play its games in an interleague format – against teams from neighboring Districts. At the end of the regular season, a District team may be rostered and entered into the Junior League International Tournament, which culminates at the Junior League World Series in Taylor, MI.
Together with our existing Intermediate Division, played on a field with a 50-foot pitching distance and 70-foot base paths, the addition of a Junior League Division provides another opportunity for our 13 year old players after they graduate from the Majors Division and extends their Little League career to age 14.
HOW TO SIGN-UP:
1. CHECK YOUR BIRTHDATE - Make sure your birthdate falls within the ranges on the chart below.
2. MAKE SURE YOU LIVE WITHIN OUR BOUNDARIES - Use our Interactive Boundary Map Tool to determine if you live within our boundaries.
3. REGISTER ONLINE - Use our Online Registration Tool to register for the Spring 2016 season.
Wednesday, April 8
VolunteerSpot
Fulfill your volunteer obligation to the League by scheduling your Snack Stand hours online TODAY! Click the link above or visit our Facebook page and click the SIGN UP button embedded in our Cover Photo at the top of the page.
Tuesday, August 18
STATE CHAMPS!
The Bordentown 11yr old All-Stars are State Champions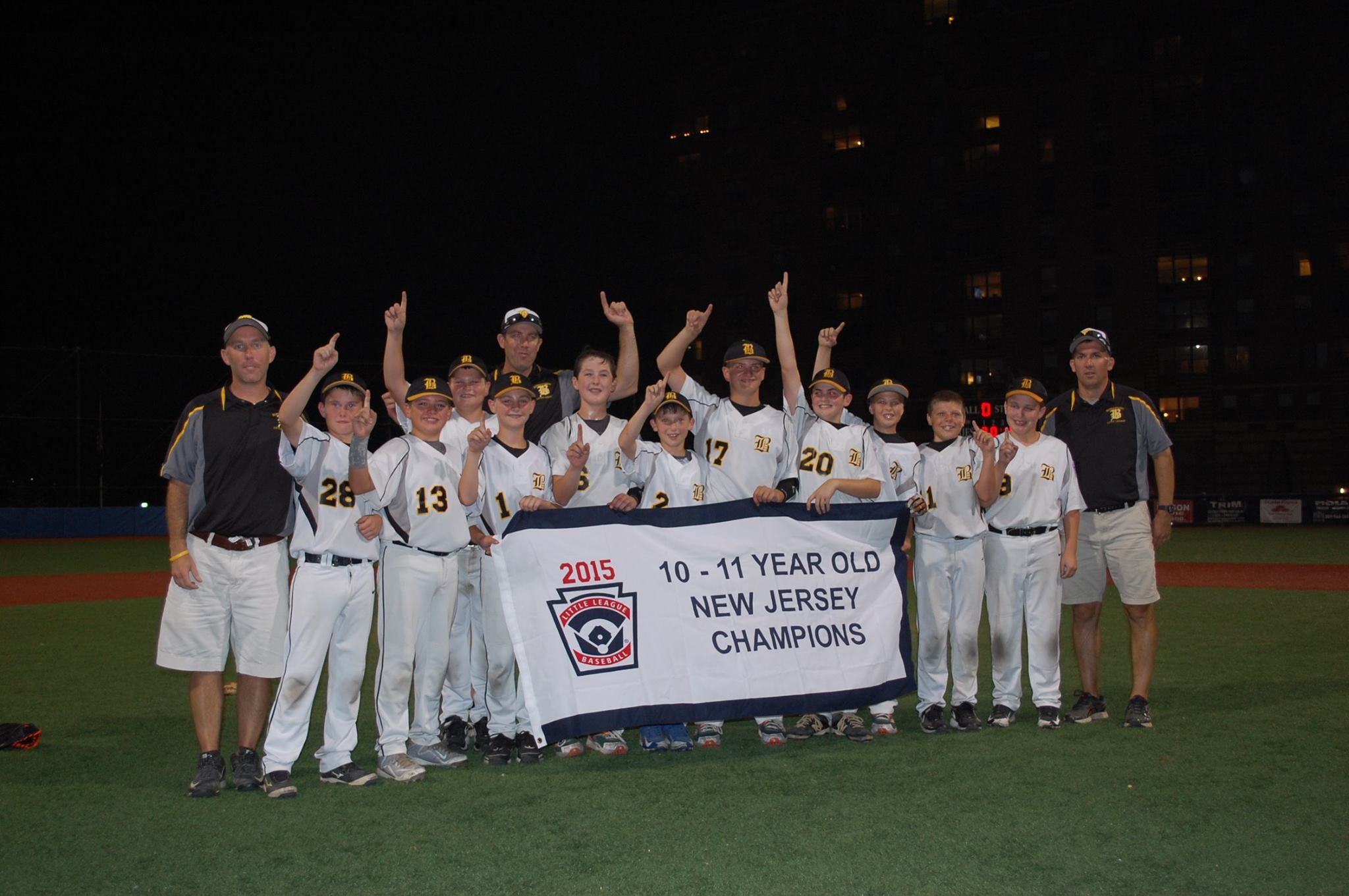 The 11yr old team had a record of 18-3 through 4 tournaments en route to capturing the state title.
Thursday, November 27
Interactive Boundary Map
Please follow the link to the attached Boundary Map tool to determine if your home falls within the boundaries of our Little League. Under Little League rules, your child is also eligible to play in the Little League whose boundaries contain the School which your child attends.