Bordentown Little League Baseball/Softball: Welcome
Upcoming Events
Date
Event
Time
Location
Thu 4/13
Picture Day!
TBA
Batting Cage
Mon 4/24
Board Meeting
8:00 PM - 10:00 PM
Carslake
Welcome to the Bordentown Little League website!
Our goals are to introduce and instruct the fundamentals of Baseball and Softball, to do so in a safe and educational manner, to encourage and enable spending time together with family and friends, and most importantly to have fun.
BLL is a regional league accepting players from Bordentown City, Bordentown Township, Fieldsboro, Springfield, Mansfield and Chesterfield, and all parts of the Township of North Hanover, north of Monmouth Road (Route 537). If you are unsure if you are unsure of the boundary, please use the interactive map tool to confirm.
---
VOLUNTEER SPOT IS UP AND RUNNING! SIGN UP HERE!
STANDARD VOLUNTEER OBLIGATION
Pre-season Field Duty – February through April service period – one occurrence
In-Season Field Prep – April through June service period – two games – 2 hours
Snack Stand Service – April through June service period – two games – 4 hours
$150 Work Bond check per Player (Team Managers will collect prior to uniform distribution)
If ALL eight (8) hours of volunteer service ARE performed, checks will NOT be cashed
If ALL eight (8) hours of volunteer service are NOT performed, checks WILL be cashed
---
SAVE WITH MODELL'S SPORTING GOODS
& SUPPORT BORDENTOWN LITTLE LEAGUE
---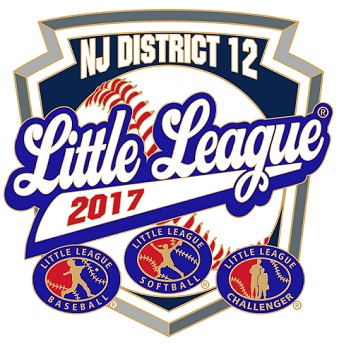 BLL is a Member of NJ District 12. Home to some of the most competitive baseball and softball in the State, and indeed, the country. Year in and year out baseball and softball programs vie for State championships and in recent years District 12 has fielded teams in the Eastern Region Finals, Williamsport, Pennsylvania Little League Baseball World Series and Portland, Oregon Little League Softball World Series.
Member Leagues also include: CRANBURY-PLAINSBORO, EAST WINDSOR PAL, EWING, FLORENCE, FLORENCE GIRLS SOFTBALL, HTRBA, LAWRENCE, MILLSTONE ROOSEVELT, NOTTINGHAM, PRINCETON, ROBBINSVILLE, SIX-ELEVEN, SUNNYBRAE, WEST END, & WEST WINDSOR.
---
21st Annual Coaching Clinic
Sunday, March 26, 2017
District 12 Baseball and Softball Coaching Clinic
Presented by the Presidents of NJ District 12
For all first time coaches, tee-ball and coach pitch programs, parents and veterans!
And experienced softball managers and coaches.
Robbinsville High School
155 Robbinsville Edinburg Road
---
District 12 Safety Clinics
Certification for every Little League Manager and Coach required by Little League Baseball every three years. All teams must have at least one certified coach at all games.
Two Safety Clinics to choose from:
Thursday, March 23rd 6:00pm @ HTRBA Little League Batting Cage
Joshua S. Horstein, MD, Trenton Orthopedic Group, PA
Tuesday, March 28th 6:00pm @ West Windsor Fire House
Michael A. Palmer, MD, Princetopn Orthopedic Associates, PA
Interactive Boundary Map
Please follow the link to the attached Boundary Map tool to determine if your home falls within the boundaries of our Little League. Under Little League rules, your child is also eligible to play in the Little League whose boundaries contain the School which your child attends.