Bonita Springs Little League: Welcome
New leadership, but concession director still needed
At the Sept. 4th general membership meeting, Dan Lang was elected president of Bonita Springs Little League and Al Frere was elected vice president. Both Dan and Al are longtime Little League volunteers and coaches. Their terms last one year.

However, we have a major role that remains open: concession director. We need an individual, or team of individuals, willing to manage the operation, from organizing volunteers and monitoring inventory to counting cash and handling customers. Please email us at bonitaspringsll@yahoo.com if you're interested in helping.
---
Fall ball
Bonita Springs Little League teams with San Carlos Little League for fall ball. Please check San Carlos' website or Facebook page for registration forms and information about the fall season. Our signups will start later this fall in preparation for the spring season.
---
District 18 champions!
The 9- and 10-year-old baseball all-star team, managed by J.J. Black, captured the District 18 title on June 24 by defeating LaBelle 22-0. Congratulations boys!
---
Concession stand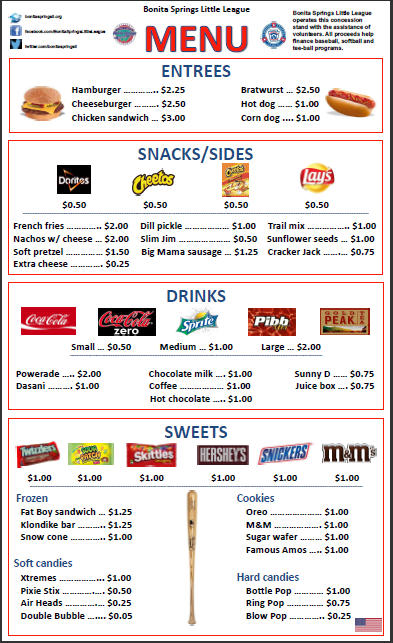 At some point last season (or perhaps every day), you stopped by the concession stand for a snack, meal or drink. Running a concession stand is like running a restaurant -- you need staff to handle customers, conduct inventory, test new products and track finances. Please take time to says thanks to Roger, Linda, Judy, Brian and George, who spend most of their weeknights and Saturdays managing the operation. It indeed is a business, but they don't see a dime in return.
All revenue generated at the concession stand is combined with registration fees to pay utility bills and purchase uniforms, balls, catcher's gear, helmets, insurance and other equipment.
---
Sponsors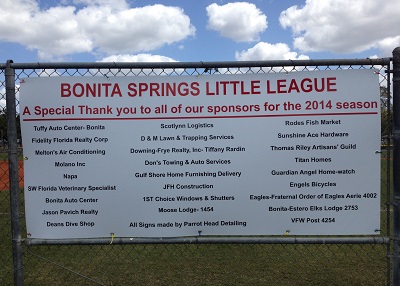 When you walk toward the ballfields, please take a second to locate the sponsors' sign on the first base fence of Field 1. This lists all of our wonderful business partners who have contributed to Bonita Springs Little League this season.
The league cannot support itself on registration fees alone, so please take note of their generosity the next time you're in the market for a new home, tools, auto repairs or other services they provide. They support us, so let's support them.
---
Batting Cages
If you haven't yet ventured down the left field line of Field 3, please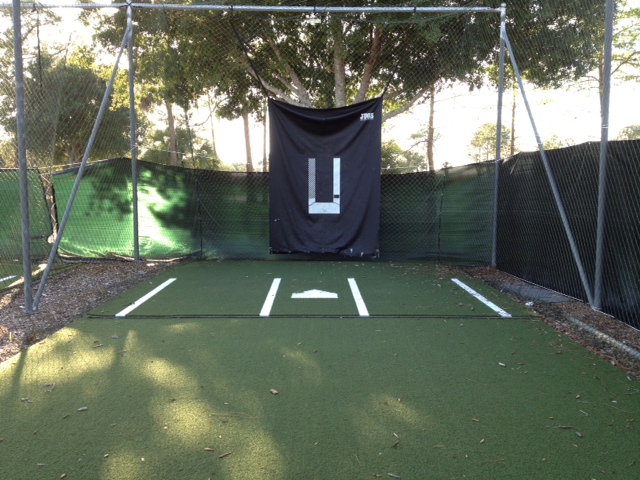 check out the new surface of our batting cages. They are available at any time for teams and players (daylight hours only). We ask that children/players do not wear metal spikes in the cages to protect the new turf.
Do you have any suggestions on major projects to give our complex a facelift? Please let us know.
---
Equipment Update

Managers/coaches: Please see BSLL equipment manager Don Adams if you need any catcher's gear, balls, helmets or other items.
Also, the orange bases are intended for use by all tee-ball teams. If any coaches have these rubber bases in their possession, please return them to the equipment room.
---
District Little League Website
Please visit the Florida District 18 Little League website for more information about baseball and softball teams playing in Southwest Florida. The website is fld18.com.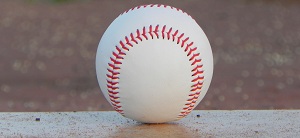 ---
Call for Volunteers
Bonita Springs Little League is run entirely by volunteers. We need your help to pull off another great season. Please contact one of our current board members for more information.
Managers/coaches: You must complete a volunteer application and sign the code of conduct form to be considered. Click on the "Handouts" tab on the left, and scroll to the bottom. Click on "Volunteer information."
Board members: A board of directors oversees Bonita Springs Little League. BSLL has no paid employees, and we are looking for dedicated volunteers to ensure our children have a fun, safe and well-managed baseball and softball season.
Concession stand: Parents will be asked to volunteer in the concession stand during games. Each team in every division will be assigned dates and times.
---
Connect with us
---