Bonita Springs Little League: Welcome
Jamboree Weekend 2016
ATTENTION ALL:
Jamboree Games
Friday February 19, 2016 7:00 pm
Tigers VS Panthers Field 1
Cougars VS Wildcats Field 3
Bobcats VS Lions Field 4
Saturday February 20,2016
Field 1
Lake Monsters VS Drillers 9:45-10:45
Cyclone VS Miracles 11:15-12:15
Warriors VS Hammerheads 12:45-1:45
Braves VS Cubs 2:30-4:00
Cubs VS Rockies 4:30-6:00
Field 2
Red Sox's VS Yankees 4:00-6:00
Field 3
Hawks VS Owls 9:00-10:00
Muckdogs VS Eagles 10:30-11:30
Owls VS Rays 12:00-1:00
Gators VS Bulldogs 1:30-2:30
Blue Jays VS Cardinals 3:30-5:00
Field 4
Barracuda VS Pink Panthers 12:15-1:15
Makos VS The Force 2:45-4:15
Crushers VS Makos 4:45-6:15
---
Pictures Day Schedule
Friday February 19,2016
5:00 PM Tigers
5:20 PM Cougars
5:40 PM Wildcats
6:00 PM Bobcats
6:20 PM Lions
640 PM Panthers
Saturday February 20, 2016
8:00 Hawks Minor A 8:20 Owls Minor A
8:40 Lake Monsters Minor AA 9:00 Drillers Minor AA
9:20 Muckdogs MinorA 9:40 Eagles Minor A
10:00 Cyclones MinorAA 10:20 Miracles Minor AA
10:40 Rays Minor A 11:00 Barracudas Minor SB
11:20 Pink Panthers Minor AA 11:40 Warriors Minor AA
12:00 Hammerheads Minor AA 12:20 Gators Minor A
12:40 Bulldogs Minor A 1:00 Braves Major BB
1:20 Cubs Major BB 1:40 Makos Major SB
2:00 The Force Major SB 2:20 Blue Jays Major BB
2:40 Cardinals Major BB 3:00 Rockies Major BB
3:20 Yankees SR BB 3:40 Red Sox's SR BB
4:00 Crushers Major SB
If you haven't already, please head over to our Facebook page and give us a like!
www.facebook.com/bonitaspringslittleleague
---
Registration times and important dates
Please see the calender for dates of future registration sessions, player evalations and an outline of the 2016 spring season of Bonita Springs Little League.
To register, we need a birth certificate, three proofs of residency (utility bills, voter ID, homestead exemption, etc) and your payment in full. We accept cash, checks or credit cards. All registration documents are located under the "handouts"
_________________________________________________________________________________________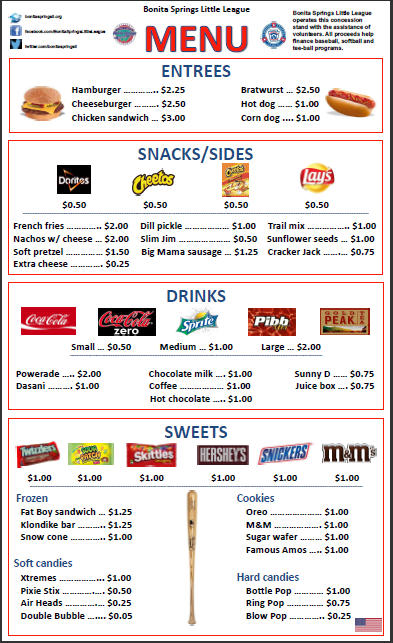 At some point last season (or perhaps every day), you stopped by the concession stand for a snack, meal or drink. Running a concession stand is like running a restaurant -- you need staff to handle customers, conduct inventory, test new products and track finances. Please take time to says thanks to everyone that volunteers their weeknights and Saturdays managing the operation. It indeed is a business, but they don't see a dime in return.
All revenue generated at the concession stand is combined with registration fees to pay utility bills and purchase uniforms, balls, catcher's gear, helmets, insurance and other equipment.
---
Sponsors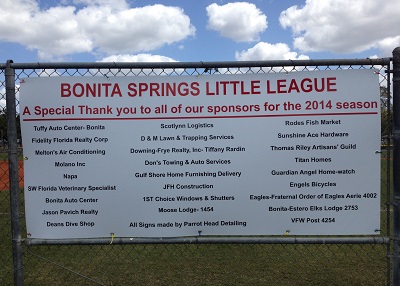 When you walk toward the ballfields, please take a second to locate the sponsors' sign on the first base fence of Field 1. This lists all of our wonderful business partners who have contributed to Bonita Springs Little League this season.
The league cannot support itself on registration fees alone, so please take note of their generosity the next time you're in the market for a new home, tools, auto repairs or other services they provide. They support us, so let's support them.
---
Batting Cages
If you haven't yet ventured down the left field line of Field 3, please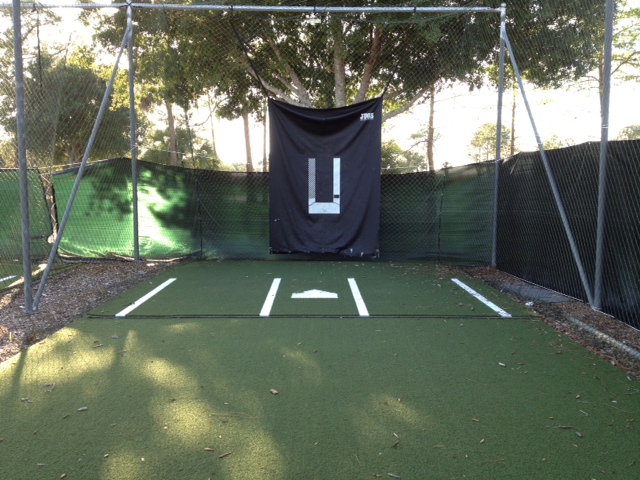 check out our batting cages. They are available at any time for teams and players, and now that we have lighting, you can practice in the evenings as well. We ask that children/players do not wear metal spikes in the cages to protect the new turf.
Do you have any suggestions on major projects to give our complex a facelift? Please let us know.
---
Equipment Update

Managers/coaches: Please see BSLL equipment manager Carlos Estrada if you need any catcher's gear, balls, helmets or other items.
Also, the orange bases are intended for use by all tee-ball teams. If any coaches have these rubber bases in their possession, please return them to the equipment room.
---
District Little League Website
Please visit the Florida District 18 Little League website for more information about baseball and softball teams playing in Southwest Florida. The website is fld18.com.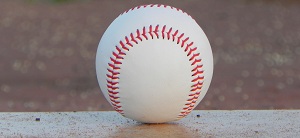 ---
Call for Volunteers
Bonita Springs Little League is run entirely by volunteers. We need your help to pull off another great season. Please contact one of our current board members for more information.
Managers/coaches: You must complete a volunteer application and sign the code of conduct form to be considered. Click on the "Handouts" tab on the left, and scroll to the bottom. Click on "Volunteer information."
Board members: A board of directors oversees Bonita Springs Little League. BSLL has no paid employees, and we are looking for dedicated volunteers to ensure our children have a fun, safe and well-managed baseball and softball season.
Concession stand: Parents will be asked to volunteer in the concession stand during games. Each team in every division will be assigned dates and times.
---
Connect with us
---
Saturday, November 21
Bonita Springs Little League
Tuesday, February 9
Thank You to all of our Team Sponsors
Bonita Springs Little League Board of Directors, Parents and Player would like to thank our 2016 team sponsors.......
T-Ball
Tigers Papa Bill's Stars
Cougars Distinctive Window Tinting
Wildcats Jet's Pizza Bonita Springs
Panthers Sons of the American Legion
Bobcats Advocare PD Cash
Lions Elite Cabinetry A Design Studio
Minor Machine Pitch
Hawks Battista Farms
Owls Naples Dodge Chrysler Jeep Ram and Mazda
Muck dogs Activo Sports Medicine and Physical Therapy Inc
Eagles Whaley's Air Conditioning
Rays Donnie Dumps
Gators Coastal Landscape Supply of Bonita Springs LLC
Bulldogs American Legion Riders
Minor Player Pitch
Hammerhead
Drillers American Legion Auxiliary
Cyclones American Legion Post 303
Miracles Beverly Hills Window Tinting
Warriors Collier County Car Care
Lake Monsters Save-a-lot of Lehigh
Minor Softball
Pink Panthers Ashmore & Associates
Barracudas Buffalo Chips
Major Baseball
Cubs Courage. Effort. Victory.
Cardinals Titan Homes
Blue Jays The Diamond District LLC
Rockies Farmer Mike's U-Pick
Braves Southern Trappers
Major Softball
Crushers Shikany's
The Force Cutters Choice
Makos Sunshine Ace Hardware
SR Baseball
Red Sox's YPN of Bonita Springs-Estero Association of REALTOES
Yankees Blue Sky Solutions of S.W. FLA LLC