Boerne Little League: Welcome
Pitch Counts: Baseball Managers please update your pitch counts after each game to ensure proper eligiblity of your pitchers. Official pitch counts must be signed off at the end of each game by both Managers. If you have questions concerning the pitch counts and the rest time lines, please contact either David Green or Josh Flora.
Score Keepers: Need help figuring out how to correctly run a scorebook? Check out the Handouts Page for a brief Score Keepers Guide
*Regular Season: Basic Rules Regarding Pitch Count (Junior Division and Below)
If a pitcher reaches the limit imposed above for his/her league age while facing a batter, the pitcher may continue to pitch until any one of the following conditions occurs:
1. That batter reaches base;
2. That batter is put out;
3. The third out is made to complete the half-inning.
Pitchers league age 14 and under must adhere to the following rest requirements:
• If a player pitches 66 or more pitches in a day, four (4) calendar days of rest must be observed.
• If a player pitches 51 - 65 pitches in a day, three (3) calendar days of rest must be observed.
• If a player pitches 36 - 50 pitches in a day, two (2) calendar days of rest must be observed.
• If a player pitches 21 - 35 pitches in a day, one (1) calendar days of rest must be observed.
• If a player pitches 1-20 pitches in a day, no (0) calendar day of rest is required.
• A player may not pitch in more than one game in a day.
Note 1: The official rest period begins at 12:00 Midnight of the date the game was played
Note 2: A pitcher who delivers 41 or more pitches in a game cannot play the position of catcher for the remainder of that day.
Note 3: A catcher who catches in 4 innings or more cannot play the position of Pitcher for the remainder of that day.
*For all rules and regulations please see 2015 Little League Rule Book.
Check out our Facebook page at: http://www.facebook.com/boernelittleleague
Parents and Players, Little League International has recently made a modification to the Baseball Division Age charts to make the Little League World Series more competitive in the 11-12 year old grouping without adding 13 year olds to the pool of players for that division. This has shuffled the age groups in the younger divisions a bit. We have been added the updated age charts to the Handouts page to help you determine which division your son or daughter will be registered for this spring season. Each chart is specific to Baseball or Softball.
To keep up with the new dates, we are modifying the following age grouping of each baseball division as follows:
Tee Ball: 4-7
Minors Coach Pitch: 7-9
Minors Kid Pitch: 9-11
Majors: 10-12
Juniors: 13-14
Seniors: 15-16
These modifications will give each registrant the option to choose which division they believe their player will safely be capable to participate in. On the date of tryouts, each player will be evaluated to determine if they will better be served at the lower or higher age division. For example a 8 year old, who is registered for Kid Pitch who may not quite be ready can be placed back down in Coach Pitch as needed based on ability.
BYAA and Little League International
Parents & Players, What a great season we had this fall! I hope that all of you had fun and are looking forward to next season as much as I am. To all of our Volunteers, I know that I speak for the all of us on the board when I say thank you to each and every one of you for your diligent efforts in making this season the very best that it can be for our kids. Your work to make the league as fun and as safe as possible for our players is an incredible testament for all of our future generations of ball players and their families. In keeping with that endeavor to provide the greatest opportunity for safe and exciting play, BYAA has chosen to re-establish our organization with Little League International and as of Spring 2015 will no longer be a part of the PONY Baseball/Softball system.
Boundaries
Boerne Little League boundaries currently match the Boerne Independent School District boundaries. All participants whose residence or the physical location of the school where they attend classes (public or private) is within the leagues boundaries are eligible to play in Boerne Little League.
A map of the boundary is posted under the handouts tab.
Also those players or siblings of players who played in BYAA in the 2014 baseball/softball year are eligible. Any individual/family who played in the BYAA program in the past year who is not currently residing in the BISD boundries have been afforded the opportunity to be "grandfathered" into the Boerne Little League organization. Those individuals and their families will continue to be allowed to participate in BLL activities.
Thank you,
Joshua Flora
Boerne Little League Vice President
League and Team Sponsors can donate online here.
Boerne Little League Leagues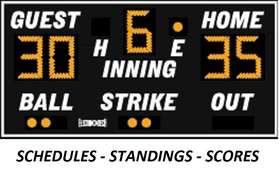 Click the image above to check out the Schedule, Standings and enter Scores
Scorekeepers: Once on the Schedules screen, click "Scorekeeper Login" to enter your assigned credentials.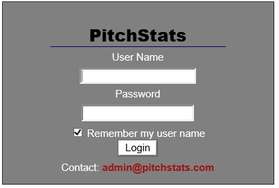 Click the image above to enter or verify your pitching stats.
Friday, April 10
UPDATE: Picture Day Team Schedules
Parents and Players, please review the attached Team Schedule to find your time slot. Please remember that there are alot of teams taking photos and trying to get to games shortly there after. Please be ready to take photos at your slotted time.
Handout:
Picture Day Team Schedules
Sponsorship Opportunities
Boerne Little League (BLL), is dedicated to building character, skills and loyalty in the local area youth by providing fun, safe and competitive baseball and softball programs.
In order to be successful, BLL requires a tremendous amount of local community support. While volunteers donating countless hours of time are a core element of the league, the continued operation of our league is possible only through the financial backing of our community.
BLL tax-deductible donations help offset the costs of equipment, player insurance, adequate umpire training, operational expenses, and assists with supplementing participation fees.
Benefits of Being a Sponsor: Your support ensures our area youth are provided a positive baseball or softball experience. As an individual or local business involved with BLL, you are recognized for your goodwill and support of youth baseball. For less than the price of a full-page ad in a magazine, you can broadcast your message, every day, to the hundreds of people who visit the BLL fields.
Click on any of the following links to get started:
Team Sponsorship (one season)
* Please remember your sponsorship supports all of the BLL program. We will work to match your child with the team you sponsor, but this is not always possible. Team sponsorships must be finalized by 3/2/15 for the Spring season in order to insure uniform placement.
Sign Sponsorships
Northrup Park Outfield 3'x8' (Annual) - $500

Northrup Park 1st/3rd Baseline 2'x5' (Annual) - $400

Northrup Park Field Naming Rights (3 year agreement) - $5000 (Includes 3'x5' sign at entrance and 4'x6' sign at scorekeeper stand)

Combo Package - (sponsor a team plus baseline sign) - $650

League Sponsor - Bower Field (outfield sign for one year) - $550
Web Sponsorships
Annual Rotating Banner with link - $500
* All sign and team sponsors are listed with a link on the sponsor page
Donations Welcome
For those of you who do not need or want to sponsor a specific team or signage, please feel free to donate to Boerne Little League whatever you may be comfortable with. Boerne Little League is an all volunteer organization and your donations help us insure that we are able to provide an opportunity for the great boys and girls of our community not only to grow in baseball or softball, but to grow as citizens within the community.
Handout:
Sponsorship Opportunities