Midwest Blazers Scout Team: Blazer News
Friday, June 27
Former Blazers Selected in the 2008 MLB Draft
The Midwest Blazers would like to congratulate the following players on their selections in the 2008 MLB first year player draft:
Brett Jacobson RHP Vanderbilt U- Detroit Tigers (Round 4)

Michael Harrington OF College of Charleston- Minnesota Twins (Round 13)

Tyler Wilson RHP Armuchee HS- Boston Red Sox (Round 13)

David Cales RHP St Xavier U- Chicago Cubs (Round 24)

Alex Hale RHP Richmond U- Boston Red Sox (Round 30)

Joe DeBernardis IF Lake Zurich HS- Florida Marlins (Round 38)

Kyle Stroup RHP Grant HS- Boston Red Sox (Round 50)
The talent and hard work of these players allowed them to gain the ultimate opportunity to play professional baseball. We wish them luck in whatever their future plans may be.
This now brings the total of Blazer alumni selected in the draft to 32 in 7 years.
Tuesday, February 13
Blazers Off to College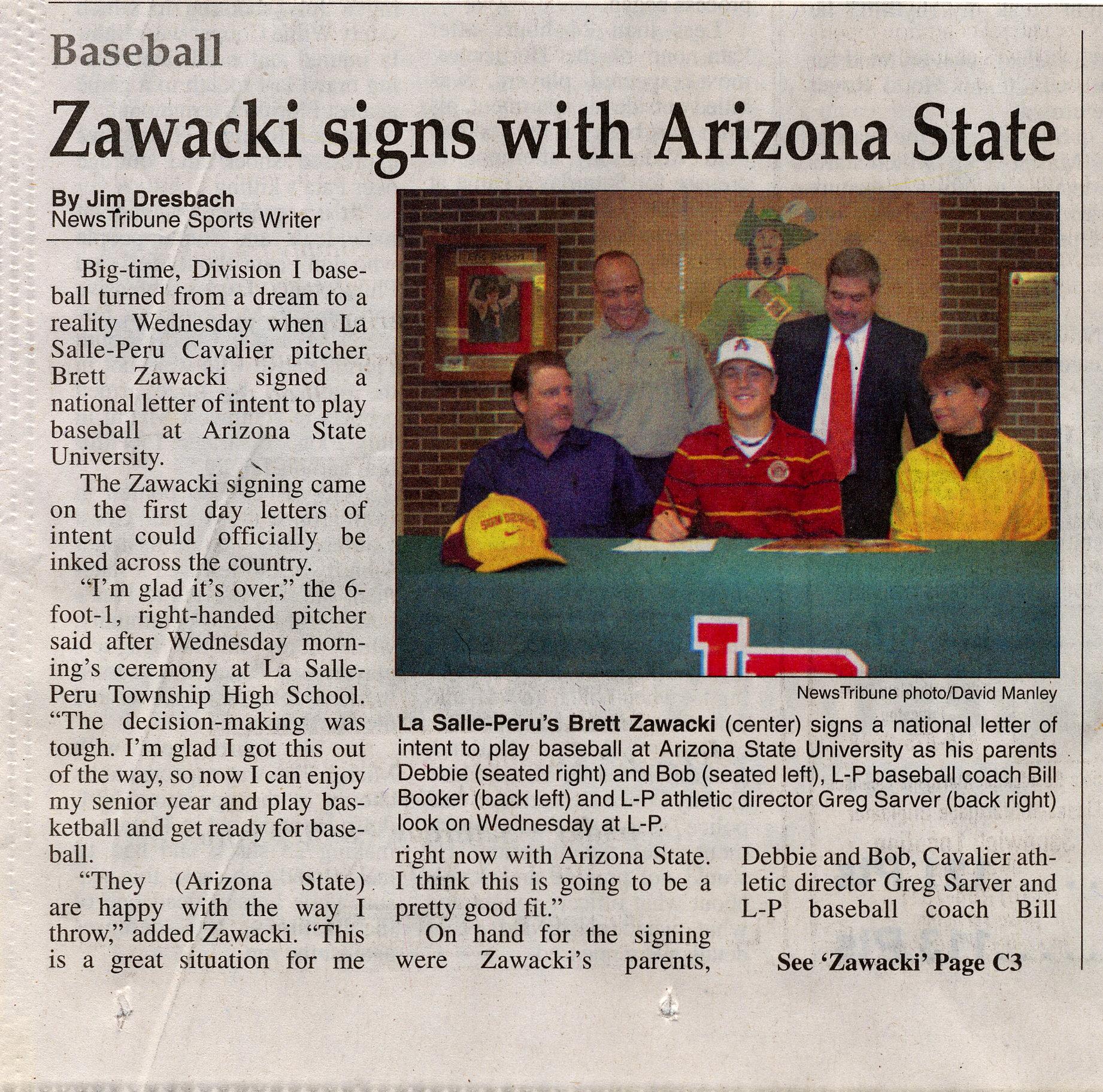 Brett Zawacki signs with ASU!
Congrats to the following current or former Midwest Blazers who have signed or committed to a school for next season:


Kyle Nelson RHP---Illinois State


Cody Scarpetta RHP---Creighton


Brett Zawacki RHP---Arizona State


DJ LaMahieu IF---LSU


Kevin Lee C---Iowa


Nick Rice LHP---Southern Illinois


Nic Jensen LHP---Iowa


Mike Recchia RHP---Eastern Illinois


Nick Bergeman IF/OF---Iowa Central CC


Brett Sweger OF---Kirkwood CC


Brett Suchy OF---DePauw University


Jon Gulbransen LHP/1B---Valparaiso


Kurtis Muller OF---Iowa


Congrats from the whole Blazer family! You guys earned it!
More to come...
Monday, August 21
Butler Excels in 1st Year of Pro Ball
Former Blazer Tony Butler has started the year with a bang. Butler has dominated at 2 levels this season (Rookie and A ball) and threw 5 no hit innings in a recent start.
The Everett Aqua Sox are Tony's current team. They are the A-ball team for the Seattle Mariners and recently did a nice article on Tony.
To go to the article click the headline above.
The Blazers family is very proud of Tony and wishes him the best of luck in his quest to make it to the big leagues.
Tuesday, June 6
Congrats to Blazers Draft Picks!
Congrats to the following Blazer players who were selected in the MLB Draft:

   *Tony Butler LHP Oak Creek HS (WI)- 3rd Round Seattle Mariners (81st pick)
   *Brandon Magee RHP Bradley University (Sheboygan, WI)- 4th Round Toronto Blue Jays (120th pick)
   *Ryan Rohlinger SS/3B Oklahoma University (West Bend, WI)- 6th Round SF Giants (176th pick)
   *Ryan Wherle SS/3B Nebraska University (Omaha, NE)- 18th Round Cincinnati Reds (534th pick)
   *Chris Roberts OF Oshkosh West HS (WI)- 27th Round Cleveland Indians (821st pick)
*Ben Ihde 1B Neenah HS (WI)- 34th Round Cincinnati Reds (1014th pick)
   *Wes Munson SS Fond du Lac HS (WI)- 37th Round Milwaukee Brewers (1112nd pick)
   *Mike Pericht C Providence Catholic HS (IL) 47th Round Houston Astros (1411st pick)
The 8 picks in the draft is the most in Blazer history!  Way to go fellas!!

Thursday, July 28
Tony Butler Leads Oak Creek HS to 3rd straight summer State Championship!!
Blazer LHP, Tony Butler led his Oak Creek teammates to the promised land for the 3rd straight year. Butler, a 2006 grad has dominated on the hill in the state tournament the past 3 summers. He now has not allowed an earned run in 19 innings at state.
In his first start Butler worked 5 scoreless innings and was reportedly 86-88 mph on the gun while touching 90 a few times. He was also in the 74-76 mph range with his breaking ball. Truly a big game performer, Tony came back in the championship game and recorded 2 innings to preserve the win including a dominating 7th inning that went 1-2-3.
Our Congrats to Tony, his teammates and coaches on a tremendous accomplishment!!!
Rote becomes Blazers 5th Professional !!!
Ryan Rote signed a professional contract with the Chicago White Sox rookie league affiliate
Great Falls White Sox.
Rote was drafted in the 5th round of the June draft by the White Sox out of Vanderbilt University. Rote becomes the 5th Blazer Alumni to sign a professional contract.
***
An interesting note: 3 current Blazer Alumni (Ben Stanczyk, Chris Nowak, and Ryan Rote) in professional baseball were members of the same Blazers club that finished tied for 9th in the 17&under AAU National Championship in 2001.
***
Blazers Draft Re-Cap...
We were again fortunate to have 4 former Blazers selected in the MLB Draft this past June. This puts our total of drafted alumni to 13 in just over 5 years of existence.
This Year's Draftees are:
Ryan Rote 5th Round (155 overall) White Sox
Brett Jacobson 11th Round (321 overall) Diamondbacks
Ryan Rohlinger 21st Round (650 overall) Cardinals
Jason Brock 39th Round (1171 overall) Pirates
We are again proud of all of our distinguished Alumni!
New Look Blazers....
As you know we have recently changed our name to better reflect our mission and goals as a club. With our new name change we have decided to update our logo and uniforms. We have recruited the help of a professional graphic artist, Patrick Ebert. You will begin to notice Partick's awesome work here on our site as well as on our new hats and uniforms.
Patrick not only did a great job with our logos he has a vast baseball background and love for the game. For those of you that don't already know Patrick is a MLB draft expert and contributes weekly columns to Perfect Game's website "Crack of the Bat". Patrick also does the draft coverage for BrewerFan.net.
Please help us thank Patrick for donating his services and check out his columns at PG's
Crack of the Bat
and at
Brewer Fan.net.
The List Grows- 11 Blazers now have choosen a school
The Midwest Blazers Scout Team wish to extend congratulations to our college bound players. This is a tremendous accomplishment for these 11 young men and their families and we look forward to getting more players signed in the future.
The players who signed were:
Each Players' name is linked to the site of his future college.
Friday, June 4
Blazer Alumni-Post Season Honors:

Many of our Alumni received post season recognition and are currently competing in some of the top summer leagues around the country.  The following players were recognized by their respective conferences or by national awards.
Ryan Zink RHP Fr University of Illinois Chicago-
Baseball America All-Freshman 2nd team
Louisville Slugger Freshman All-American
All-Horizion League 1st team and Newcomer team
Ben Stanczyk RHP/IF Jr University of Wisconsin Milwaukee-

All-Horizion League 1st Team Pitcher and IF
Horizon League Player of the Year
Horizon League Pitcher of the Year
Ryan Rohlinger IF Soph University of Oklahoma-
All-Big 12 Conference Honorable Mention
All-Big 12 Commissioners Academic Honor Roll
Ryan Rote RHP Jr Vanderbilt University-
All-SEC Academic Honor Roll
Chris Nowak IF Jr University of South Carolina-Spartanburg
All-Peach Belt Conference 1st Team IF
All-South Atlantic Region 1st Team IF
Each highlighted link takes you to an article about each players accomplishments.  Congratulations to all of our Alumni who continue to make us proud.

Tony Harper
Tuesday, June 29
4 Blazers Sign Pro Contracts


Former Blazer Tony Harper became the first Blazer Alumni to sign a professional contract when he signed with the LA Dodgers following his season at Frank Phillips JC.  Terms of the contract were not disclosed.
Harper was assigned to the Gulf Coast Dodgers rookie league club in Vero Beach, FL.  To follow Tony's progress click his name above.



Another former Blazer, Chris Nowak signed a contract with the Tampa Bay Devils Rays after being drafted in the 19th round out of USC-Spartanburg this June.
Nowak has been assigned to the New York-Penn league (Single-A) Hudson Valley Renegades in Wappingers Falls, NY.




Blazer Alumni Erik Cordier signed with the Kansas City Royals after being selected in the 2nd round out of Southern Door High School (WI).
Cordier has been assigned to the Arizona League (Rookie) AZL Royals in Surprise, AZ.



Blazer Alumni Ben Stanczyk signed with the Milwaukee Brewers after going undrafted out of UW-Milwaukee this past year. Stanczyk was the Horizion League's Pitcher and Player of the Year for 2004. Ben had been playing in the Northwoods league for the LaCrosse Loggers when Milwaukee signed him to a free agent contrat.
Stanczyk has been assigned to the Pioneer League (Advanced Rookie) Helena Brewers in Helena, Montana.


These players represent our first four alumni to sign!  We are immensely proud of these young men and wish the best to them and their families in this exciting time!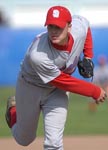 Erik Cordier
Check out our Photo Album section
Please take a minute and check out our new Photo Album section on our site. The photos are from our various trips around the country. The Album section has recently been improved and updated. All the Albums now contain thumbnailed pictures for faster loading times. In addition a new
California
album has been added. Click the headline above or the link at the left (Photo Albums) to check them out now.
Friday, May 30
3 Blazers Taken in MLB Draft!!
Blazer
Tony Harper
was the first Wisconsin HS player taken in this year's MLB First Year Player Draft. The catcher from Oak Creek HS was selected 14 rounds higher than the first Wisconsin player in last year's draft (John Vandenburg 25th).
Cal Stanke
a RHP from Menasha St. Mary's Central was selected by the Philadelphia Philles in the 44th round. Cal will lead his team into the state tournament this weekend.
Ryan Zink
a RHP from Madison Lafollette was taken in the 47th round by the Milwaukee Brewers.
Congratulations to Tony, Cal, and Ryan and their families and all the other Blazers who share in this honnor today!