Admin

Last updated

02-25-15 12:41 AM

Buffaloes

Al Quintana

303-908-5540

Littleton, Colorado

80128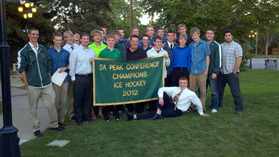 2012 5A PEAK CONFERENCE CHAMPIONS
Sunday, June 17
Welcome to the Bishop Machebeuf Varsity Hockey website. This site is dedicated to the former Bishop Machebeuf Varsity High School Hockey Teams .

Bishop Machebeuf has competed in the Metro-Conference and the Foothills Conference and now competes in the PIKES PEAK Conference along with Pueblo County, Air Academy, Heritage, Cheyenne Mountain, Liberty, Rampart, Pine Creek, Coronado, Fountain Valley, Palmer, Doherty, Valor and Lewis-Palmer. This site is in place to honor the past Bishop Machebeuf Varsity Team players. The Varsity Team was the Aspen Regional Champions in 2005 and advanced to the "FROZEN FOUR" at the Colorado Springs World Arena. In 2006, the Buff's were Co-Champions of the Metro-Conference and in 2009, the Varsity Team won the Colorado Springs Regional and advanced to the "Frozen Four" once again, posting a team best 18 win , 3 loss record on the way. In 2012, BishopMachebeuf won the Peak Conference record with a 12-2 conference record and hosted the Littleton Regional as the Peak Conference #1 seed in the Colorado State Playoffs.
The Bishop Machebeuf Buffalos recorded 156 wins, 73 losses and 3 ties under Coach Al Quintana.
Congratulations Buff's It was an honor and a privilege to have known and coached some of the best hockey players I have ever met.

Al Quintana
Coach

QMAN9702@MSN.COM