Allegany Campers Football: JV & Freshmen 2013
2012 ALLEGANY JUNIOR VARSITY TEAM
Monday, August 20
CAMPER JV TEAM LISTS THEIR 2012 FOOTBALL SCHEDULE
2012 JV ROSTER
Left to right;
First Row: 21-Chistopher Stosick 66-Cleb Cornwell 58-Doninic DeStefano 86-Timmy Barnhart 77-Corey Livengood 69-Robbie Harding 65-Joey King 67-Jonathan Wilson and 23-Blake Milburn.
Second Row: 84- Schuyler Howell 32-Aaron Lancaster 78-Daniel Thompson 74-Lucas Smearman 72-Travis Thompson 82-Aaron Ross 7-Trevor Evix 79-Austin Reid and 2-Tristan Jenkins.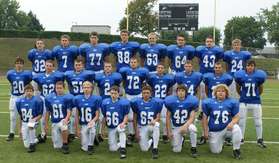 "LIL BLUE" CAMPERS FOR 2012
Monday, August 20
"LIL BLUE" FOOTBALL SCHEDULE FOR 2012
2012 FRESHMEN ROSTER
Left to right;
Row 1: 84-Chanz Markl 61-Tyler O'Baker 16-Caleb Collette 66-Jacob Lancaster 65-Alex Rumgay 42-Brad Winter 76-Cody Linn
Row 2: 20-Noah Dicken 62-Thomas Dorsey 51-Wyatt Stankan 2-Caleb Sivic 72-Chad Morgan 22-Tyler Eirich 14-Brenten Miller 23-Darrian King 71-Damon Middleton.
Row 3: 32-Jordan Patterson 7-Carson Imes 77-Chase DeWitt 88-Darick Kerns 63-Hunter Wilhelm 64-Christopher Keller 43-Bryson Shepherd and 24-Brnden Dougherty.
GO JV & FRESHMEN BLUE FOR 2012
Monday, September 10
"BABY BLUE" STARTS OUT THE SWEEP ON THE NIGHT!
"Lil Blue"
COMING THROUGH!
The Allegany freshman football team opened the season with a 34-6 win over Fort Hill Tuesday night at Greenway Avenue Stadium.

Darrian King scored three touchdowns for the Campers, two on passes from Carson Imes, covering 43 yards and 22 yards. His first touchdown was a 79-yard kickoff return.

Imes was 4 for 5 passing for 79 yards and the two scores. Luke Stegmeyer scored on a three-yard run, while Bryson Shepherd, who rushed for 70 yards on five carries, scored on a 32-yard run. Imes ran for a two-point conversion and Darick Kerns kicked two extra points.

King and Brad Winter were the defensive standouts for Alco (1-0), which will play Monday, Sept. 17, at Northern.
Monday, September 10
CAMPER JV's PICK-UP WHERE FRESHMEN LEFT OF...WIN!!!
IT WAS A "BLUE NIGHT"
AT GREENWAY!
Blake Milburn scored a pair of touchdowns to lead the Allegany junior varsity to a 20-0 win over Fort Hill Tuesday at Greenway Avenue Stadium.

Milburn scored on a 53-yard run in the third quarter for the Campers, and a two-yard run in the fourth quarter, before tacking on the two-point conversion. Trevor Evix scored on a one-yard run in the first quarter for the first score of the game.

Joey Miller recovered two fumbles for Fort Hill.
MILBURN SCORES 3 TD's
Wednesday, September 19
JV CAMPERS SECOND HALF BURY THE MINERS
2nd HALF SCORES
DEFEAT THE MT RIDGE MINERS
Allegany's Blake Milburn rushed for 249 yards and scored three touchdowns Monday during a 46-8 victory at Mountain Ridge.

Milburn's total came as part of 372 total rushing yards that Allegany piled up. Chris Stosick added 96 yards and one touchdown on the ground, and Aaron Lancaster threw in a touchdown run of his own.

Robbie Harding led the Campers on defense by recording 10 tackles and retuning an interception for a touchdown. Stosick had a team-high 12 tackles, while Hunter Wilhelm added 10.

The score was tied at 8-8 at halftime after each team had a touchdown in the first quarter. Allegany pulled away in the second half by scoring 22 points in the third quarter and adding 16 more in the fourth.

Ty Brooks accounted for the Miners' touchdown with a long run in the opening quarter.
OFFENSE AND DEFENSE!
Thursday, September 27
ALCO FRESHMEN COME UP SHORT VS. NORTHERN GARRETT
Aaron Rodeheaver ran for 162 yards and two touchdowns for Northern in a 17-6 victory over Alegany at Northern.
Allegany's lone score come in the second on a 2 yard run by Bryson Sheppard. The kick missed to make it 6-0. Jake Vernon then kicked a 21 yard field goal for Northern to make it 6-3 at the half.
Rodeheaver started the second half with a 4 yard touchdown run to give Northern the 10-6 lead. Rodeheaver ran one in from 37 yards in the fourth to put the game away for the Huskies. Kyle Beard added 105 rushing yards on offense. He recorded 11 tackles, two fumbles recoveries and a forced fumble on defense. Also, Jake Vernon tackled nine and Brady Bitinger picked off two passes.
For the Campers, Carson Imes had an interception and Wyatt Stankan and Darian King each recovered a fumble.
Thursday, September 27
LITTLE CAMPERS BURY THE MINERS IN FRESHMEN ACTION
Darrion King finished with 143 yards and had two touchdowns on only four carries as Allegany pulled away from Mountain Ridge for a win at Greenway Avenue Stadium.
King scored the first points of the evening on a 45 yard run in the first quarter, and added a 68 yarder in the third. Carson Imes had a two yard run in the second quarter, and Tyler Eirich scored the first of two touchdowns with a 11 yarder.
Brendan Doughtery increased the score to 28-0 with a 16 yard run before halftime.
Eirich opened scoring in the second half with a five yard run, and Hunter Wilhelm recorded the final points for the Campers by recording a safety later in the third.
Mountain Ridge got into the scorebord on Moore's 22 yard touchdown in the fourth quarter.
Thursday, October 4
ALCO JUNIOR VARSITY SHOOTS DOWN THE FALCONS
Blake Milburn scored two touchdowns and a two-point conversion and rushed for 80 yards to lead the Allegany junior varsity football team past Frankfort, 28-14, Monday at Frankfort.
Milburn scored in the first quarter and in the third, while Anthony Ross took in a 60-yard pass from Trevor Evix in the third to allow Alco to extend its 8-6 halftime lead to 22-6 entering the fourth. Ross finished with 112 yards receiving.
Chris Stosick scored Allegany's final touchdown in the fourth quarter, while Schuyler Howell ran for a two-point conversion. The Campers finished with 183 yards rushing and 150 passing for 333 total. Dominic Destefano, Aaron Lancaster, Stosick and Hunter Wilhelm were the Alco defensive standouts.
Frankfort, which rushed for 190 yards, was led by Noah Bible, who scored both touchdowns and gained 109 yards on the ground. Trent Lloyd ran for a two-point conversion.
Thursday, October 4
ALLEGANY FRESHMEN FOLLOW SUIT AND SMASH THE FALCONS
Darrian King scored four touchdowns, Carson Imes passed for three and Darick Kerns scored two to lead the Allegany freshman football team over Frankfort, 47-13, Monday at Frankfort.
King, who rushed for 41 yards on three carries, scored on a 28-yard pass from Imes, a 72-yard punt return, a 32-yard run and a three-yard run. Imes also hit Kerns on TD passes of 32 and three yards and Kerns kicked five extra points.
Brendan Dougherty scored on a 24-yard run for the Campers, while Imes was 7-for-7 passing for 97 yards and an interception. Bryson Shepherd stood out defensively.
Jacob Kessell scored both Frankfort touchdowns on runs for 30 and 35 yards. Danny James kicked an extra point.
BLAKE MILBURN SCORES VS SOUTHERN
Wednesday, October 10
CAMPER JV's RAM IT TO SOUTHERN GARRETT
OFFENSE WIN GAMES...
DEFENSE WINS CHAMPIONSHIPS!
Blake Milburn scored three touchdowns and rushed for 117 yards in Allegany's 36-0 win over Southern Garrett in junior varsity action at Greenway.
The Capers had a total of 282 rushing yards, getting 102 from Chris Stosick togo along with Milburn's 117. Allegany added 55 yards passing for a total of 337 yards.
Aaron Lancater scored the first touchdown for the Campers in the opening quarter. Milburn added two touchdowns in the second quarter and then a third during the fourth, and Stosick added a TD on the ground.
Robbie Harding, Stosick and Hunter Wilhelm led the Allegany defense in the shutout.
Thursday, October 25
"LIL BLUE" TAKES THE MOUNTAIN OUT OF THE RIDGE!
"LIL BLUE"
DESTROYS THE MINERS!
Carson Imes threw for two touchdowns and scored a third, and Bryson Shepherd and Tyler Eirich reached the end zone twice to power Allegany to a 42-14 win over Mountain Ridge in freshman football Monday at Mountain Ridge.

Shepherd scored first, on a 68-yard run, in the first quarter.

The Campers (5-2)?broke the game open with a 28-point second period, with Tyler Eirich beginning the scoring spree with a 6-yard run. Shepherd had a 24-yard touchdown run, and Imes had a 64-yard TD pass to Brenten Miller and a 24-yarder to Eirich that made it 36-0 at the half.

Carson Imes dashed 68 yards for a touchdown in the third quarter, Allegany's only one of the second half.

Mountain Ridge (3-4)?got on the board later in the third quarter on a 55-yard run by Lucas Lowry. Hayden Lindsey had a 5-yard touchdown run in the fourth.

Imes finished 7 of 8 passing for 156 yards, Shepherd ran five times for 107 yards, Miller had two catches for 66 yards and Eirich two catches for 51 yards to lead the Allegany offense. Brad?Winter and Thomas Dorsey stood out on defense.

Allegany will host Fort Hill on Little Homecoming on Monday at 5 o'clock at Greenway Avenue Stadium.
Thursday, October 25
ALCO'S JV's SWEEP THE MINERS IN FROSTBURG!
532 YARDS OF OFFENSE
MILBURN RUNS FOR 271 ALONE!
Blake Milburn ran for 271 yards and three touchdowns as Allegany overpowered Mountain Ridge 54-18 in junior varsity football Monday night at Greenway Avenue Stadium.

The Campers ran wild most of the night and finished with 532 yards of offense, with 517 coming on the ground. Tied 12-12 after the first quarter, Allegany scored 30 points in the second quarter and led 42-12 at halftime.

Mountain Ridge led 6-0 and 12-6 early. Tyler Redman ran for a touchdown for the Miners, and after Milburn quickly tied it with a 78-yard run, Brett Ishler caught a touchdown pass from Austin Trenum to give Mountain Ridge a 12-6 lead.

But it was all Allegany from there, as the Campers outscored the Miners 48-6.

Aaron Lancaster tied it 12-12 with a 15-yard run. Milburn ran for two touchdowns and Lancaster and Chris Stosick one in the second quarter. Stosick's covered 66 yards.

Stosick, who finished with 171 yards rushing, scored two more touchdowns in the second half. Cody Bradley threw a TD
?
pass to Brady Folk for the Miners.


Schuyler Howell, Lucas Smearman, Hunter Wilhelm and Stosick were defensive standouts for Allegany (5-2), which hosts Fort Hill on Monday, at 7 p.m., in their Little Homecoming game at Greenway.