Allegany Campers Football: Welcome
CAMPERS BEGIN THEIR 88TH YEAR OF FOOTBALL!
ALLEGANY CAMPERS FOOTBALL
THE GREATEST GAME IN TOWN!
Football is the greatest team game in all of sports. Why, because there are approximately 100 players on a team, and you must have an offensive team, a defensive team and of course special teams. Plus people to play in case of injury or adversity.
Players and coaches must always be on the same page in unity with one another to ensure victory. You must set personalities aside and bring each players character to the forefront for the good of the team. Here are the key words; I, me and mine, change to we, us and ours.
The law of the jungle is as old and as true as the sky, and that the wolf that keeps it may prosper, but the wolf that must break it must die. As the creeper that curdles the tree trunk, the law will run forward and back and the strength of the pack is the wolf and the strength of the wolf is the pack.
Remember,
A TEAM TOGETHER IS A WINNING TEAM!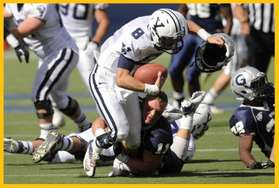 WHERE TO YOU THINK YOU'RE GOING!
Wednesday, March 19
CAMPERS DUSTIN WHARTON IS AT IT AGAIN!
DUSTIN WHARTON
WOW's THEM AT COMBINE!
Senior linebacker Dustin Wharton (LaVale, Md./Allegany,) has made a habit of standing out during his four years career on the Hilltop. Whether it has been his record breaking exploits in the weight room or the display of power and speed on the field, teammates, coaches and opponents have noticed his playmaking capability. So it comes as little surprise that Wharton's performance at the BSN Collegiate Showcase's 2014 National Scouting Combine has begun to earn him attention, as he looks to move to the next level.
At the combine, Wharton, who set national powerlifting records as a teen, showed his strength, completing 30 reps in the 225 pound bench press, more than all but one linebacker and three linemen in a group of over 80 professional football hopefuls.
Wharton showed off his speed with the fastest 40 yard dash time at the combine, finishing in 4.47. He also proved one of the most agile, turning in a 4.06 in the shuttle, the third best time, behind a pair of cornerbacks. He put his explosiveness on display with a 40' vertical leap, tied for third in the entire field, while his 10-5 broad jump was the second best at the combine.
"Dustin has been the hardest working athlete I have ever had the pleasure of coaching," Sports Performance Coach Carl Johnson said. "His attitude and work ethic has been infectious and inspired everyone else to become stronger and more consistent in their training. I wasn't surprised on his combine stats, because those are the numbers he's been putting up for the last three years. He has demonstrated that strength is the key ingredient to being a more explosive faster and powerful athlete."
Wharton has also provided the on-field credentials during his career on the Hilltop. The 2013 Preseason Patriot League Defensive Player of the Year is also a two-time Patriot League First Team selection, while moving into third place in career tackles (280) during his senior season. His versatility on the field has allowed the Hoyas' coaches to move the 6-0, 216 pound athlete between outside linebacker, safety and defensive end.
"I've never coached a more versatile, more explosive athlete than
Dustin Wharton
," said Georgetown Head Football Coach
Rob Sgarlata
, who served as the Hoyas' defensive coordinator through Wharton's career. "Goal line he played safety, first and second down he'd play linebacker and third down he would rush the passer. He has an unparalleled work ethic and just as a person, the work he's done in this community has been tremendous."
But his impressive combine performance may have created enough of a stir to help Wharton get to the next level, wherever teams eventually want to play move him on the field.
"To be honest I am not too sure what position teams want me to play at the next level," Wharton said. "I've heard safety, nickel, linebacker, etc., so I just feel I have to be prepared for anything; which hasn't been too different with all the positions I played here at Georgetown. But, I have heard all great things and some definite interest that hopefully develops more as I continue this process. I am just trying to take it one step at a time, be teachable and coachable, while taking care of the stuff that I can take control" His impressive combine performance comes as a result of years of hard work. Growing up in a competitive family and having a passion for the weight room instilled in him from his father, Tim and older brother Tyler, a former fullback at Towson, Wharton's strength and work ethic are well-documented. Though it has been put on display more than ever, as he has had to ramp up his training regimen while taking 18 credits in the classroom during his final semester. Though he has not let fatigue creep in, using the competitive aspects of the combine to push him to higher heights.
"My training has been harder and more efficient than ever, and I have been giving it everything I have to show the numbers that I am capable of producing," Wharton said. "I think when you're out there and you got all of these competitors out there, it does give a little extra adrenaline to you. And me, being the competitor I am, I want to show that I am the best." After his impressive showing, Wharton has attracted more attention, but feels like his work is far from done. He will participate in a Pro-Day at Towson on April 7 for another opportunity to show professional scouts what he is capable of doing. Until then, Wharton will continue to train and prepare for an opportunity to play at the next level.
"I think working out for the Georgetown season, I kind of knew what to expect, how to train, and things like that," Wharton said. "But for the professional level, I feel I have to be ready for anything. I am training in different ways than I ever have before--focusing in on speed, explosiveness, and flexibility. Strength Coach Carl Johnson and my speed coach Justin Kavanaugh have been crucial parts to my training and I feel especially confident with their expertise. It's also great working out with other guys that are in the same situation as I am, ultimately, trying to make a name for themselves.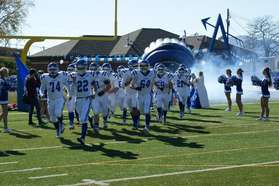 HOMECOMING 2013 PHOTOS...ENJOY!
Tuesday, November 12
HOMECOMING PHOTOS BY THE BIG BLUE REVIEW
HOMECOMING
PHOTOS BY THE BIG BLUE REVIEW
Camper fans, players, coaches, alumi or anybody else for that matter.
The Big Blue Review was at the Homecoming game and took over 400 photos of "the happening place" on Saturday. The photos are a wide range of shots of almost everything homecoming.
These pictures are open to everyone and are available to everyone who wants to copy them.
Simply click on the headline above...or simply look to the left side of the site and click on albums and them Homecoming 2013 to view all the shots.
I hope you enjoy them and come back often to see them all.
E N J O Y !
HAVE A SUGGESTION, COMMENT OR CORRECTION?
As you know, this is a web site dedication the Allegany Camper Football Tradition. It takes a great deal of work to compile all of this information, stats, pictures and other items of interest for all you Allegany Camper Football Fans.
That is why the
BIG BLUE REVIEW
would like you, the vistiors to the site to comment, suggest or if you have any corrections to the site, to please contact the web master at;
jailer@atlanticbb.net
. I will gladly get back to you as soon as possible and correct any mistakes or problems as soon as possible. Thank you for visiting the BIG BLUE REVIEW and please come back often.

COME JOIN THE GRID IRON CLUB AND HELP OUT THE CAMPER FOOTBALL TEAM
Thursday, September 28
THE ALLEGANY CAMPERS GRID IRON CLUB
BETTER THAN SITTING AT HOME!
Want to help out?
Want to get involved?
IT'S EASY!
Simply contact me at; jailer@atlanticbb.net or Tammy Shook,President of the Grid Iron Club @ tammy@willetts.com.
The Grid Iron is always looking for volunteers and Camper fans to help out with all kinds of things. Give us a call and see what you can do.
THANKS ALCO GRID IRON CLUB!
Friday, June 15
WHERE ARE THEY NOW
ARE YOU AN ALLEGANY FOOTBALL ALUMNI?
Where have you been? What are you doing?

The Big Blue Review has started a new section simply titled, "Where are they now." The section is dedicated to those of us that have been a Camper. This is a area where former players are on display. Let us know what you are doing these days.

If you have someone in mind, simply send the Big Blue Review a picture or two and a small writeup and the Review will get it on the site for all to see.

To send your items, email the web master at jailer@atlanticbb.net .

Lets all get together and tell the world Where they all are now!
Look to the left of the site and click on; "Once they wore the Blue," and see some of Allegany footballs best.