Allegany Campers Football: Welcome
Wednesday, July 19
92nd Year of BIG BLUE FOOTBALL!
CHAMPIONS
Great emphasis is placed every year on the championship. Whether it's a city championship, a region or a state championship, there is only one champion or co-champion.
When you think of a champion, a champion is conditioned for the task supreme, confident in coaching, courageous when the going gets rough, champions never say enough, hard to meet the games bad breaks, have the edge to know just what it takes, hands that work through thick and thin, honest champions play to win.
Ambitious to develop now - Abilities that god endowed - Aiming high to meet the test - A champion wants to be the best. - Marked and watched where ever he goes - Model traits he has to show - The other men he must defeat - Modest in the victor's seat. - Practice practice, ever on the move - Plugging daily to improve. - Perfection that he will never see - Perilous chance that will never be.
WILLIAMSPORT LOST TO LIBERTY 17-6
Saturday, September 16
WILDCATS ARE COMING TO GREENWAY SATURDAY EVENING
A familiar but not a regular opponent for the Campers will be in Cumberland next Saturday evening at 5 p.m. The Williamsport Wildcats from Washington County, Williamsport, MD., are up next for the Big Blue.
The Campers have played the Wildcats before...but not much. In fact, only 3 times. The latest contest between the two teams was in 2012 where Allegany dominated and handed the Cats a 51-15 loss.
Williamsport is currently 2-1 on the 2017 season. They lost last week to Liberty 17-6 in a close ball game throughout. It seems as though the Cats are have turnover problems that they have to correct before coming to Cumberland.
The Wildcats are a Maryland class 2A team that plays in the Monocacy Valley Athletic League. The Cats have been on average a 500% team for the last 8 years with only one season with 6 wins or better.
As stated earlier, the Cats will be in Cumberland for a Saturday...late afternoon game at 5 p.m. The Wildcats played Liberty last Friday night. The following is the sports writeup from that game.
Liberty vs. Williamsport:
Late in Friday night's game, when a sideline pass by Jakob Ball slipped cleanly through the fingers of a Williamsport receiver and bounced in the direction of Tim Small, the Wildcats' coach booted it the other way in disgust, demonstrating footwork that suggested his background was in soccer, not football.
In Liberty's 17-6 victory, there was plenty for Small to be unhappy about.
On a night when the Wildcats (2-1) gained more yards both on the ground and through the air, they were done in by mistakes — four costly turnovers and a half-dozen dropped passes. Liberty (2-1) didn't commit a turnover.
"That was a pretty darn good football team," Small said of Liberty. "We wanted to be more explosive on offense this week. We had our chances, but we just couldn't finish. We gotta get back to work."
Liberty senior quarterback Nolan Karfonta completed 11 of 21 passes for 160 yards and two touchdowns, including a dagger in the fourth quarter when Williamsport was still alive.
After Liberty sustained a holding call and faced a third-and-13, Karfonta reared back and fired a game-clinching 43-yard scoring pass to wide-open Nick Loppatto for a 17-0 lead with 7:14 left.
"It was an evenly-matched game," said Liberty coach Larry Luthe. "It just seemed like we made one more big play than they did."
Ball completed 17 of 36 passes for 207 yards. The senior also rushed 10 times for 48 yards. But the Lions picked off three of his passes.
The most costly mistake, however, came in the first quarter when Kavon Carter fumbled a punt that was recovered by Tanner Parrott at the Williamsport 41. Karfonta followed with a 36-yard strike to sophomore Peyton Scheufele. Then on third-and-goal, Karfonta rolled right and threw back across the field for a touchdown to senior Blaine Roach.
Late in the half, opportunistic Liberty again got field position in Williamsport territory when it stuffed the Wildcats on fourth-and-1 at midfield. Seven plays later, sophomore Sean Disbrow booted a 32-yard field goal for a 10-0 lead.
With the exception of a few breakdowns, there was no finding fault with the Williamsport defense. The Wildcats were especially tough against the run, as they limited the Lions to 38 yards on 31 rushes.
The unit was led by linemen Tayquon Johnson (two sacks, four tackles for loss), Jaylend Williams (three TFLs) and E.J. Ross (two TFLs).
But luck wasn't on the side of the Wildcats. On a corner blitz, when Bret Artz got a big blindside hit on Karfonta on a third-and-12 play, the Liberty quarterback threw a flutter ball that one of his receivers came down with for 14 yards and a first down.
"I thought that was pretty indicative of the way the night went for us," Small said. *Three plays later, Karfonta delivered the decisive touchdown pass.
"Our defense was out there just a little too long," Small said.
For all the good work the Williamsport defense did, the offense couldn't take advantage. Carter, a 1,000-yard rusher last year, carried just five times for 16 yards, though he caught four passes for 51 yards.
"Our game plan required that we knew where No. 1 was on every play," Luthe said. "They do a good job trying to move him around and get him the ball in different places. We were just fortunate to bottle him up and not allow him to take one to the house."
Williamsport's lone score came out of desperation with 6:06 left. On a play that covered 52 yards, Ball threw a bomb to Jeremy Snow, who came down with the ball but fumbled it before he crossed the goal line. Lincoln Ball recovered in the end zone for the Wildcats.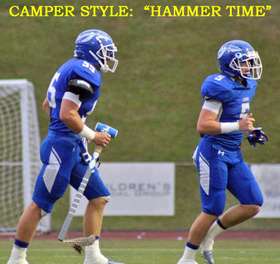 KARSON ROBINETTE: 4 TD's AND 208 YDS RUSHING
Saturday, September 16
CAMPERS ROUT MINERS AT GREENWAY
On a beautiful evening in Cumberland, the Mt. Ridge Miners came to play some football, but for the second consecutive week only came away with another heartbreaking...lopsided loss. In a game that opened up with both teams moving the ball and even had a competitive 1st quarter, the bottom seemed to fall out from under the Miners.
Last year at this time Allegany beat Mountain Ridge 38-0 in Frostburg. This year, there was the same outcome, but with a different score and at a different place. Allegany topped Mountain Ridge 63-7 late Friday evening.
The Campers started off with a 35 yard touchdown run by RJ Buford on their first drive. That was answered by Mountain Ridge when quarterback Alec Deremer fired a 14 yard touchdown pass to Tre Smith to even the score at 7 with 3:08 left in first quarter. It took only 15 seconds to change all of that.
The Miner's kicked off to Allegany leading to a punt return by Alco's Elisha Llewellyn giving them the lead. Llewellyn's run was followed by an interception for a 22 yard touchdown by Hunter Harris making the score 21-7 Allegany to start the second quarter. The clock ended the first quarter and the game changed dramatically.
Allegany's Karson Robinette changed his jersey number for the night and changed the entire game in the second quarter. Robinette ran for 189 yards, picked off a pass and scored four touchdowns in the second quarter. After changing his jersey number to 95 due to the old #4 being badly torn in the Dunbar game, Robinette decided to go with the high number to be...different. Robinette finished the game with 208 yards rushing.
In the second half the Miners came out with a new attitude trying to put some more points on the board. The Miners kicked off and the Campers answered right away by running the ball back for a touchdown making it 56-7. Later in the third quarter, Allegany's Rashaad Wingate ran the ball in for a 14 yard touchdown making the final score 63-7.
The Camper offensive line again came to life opening large holes for the Blue and White running backs and keeping the Miners from getting close to QB Bratten all evening. On the defensive side of the ball, the linemen just tighteded up their chin straps and decided to smother the Mt. Ridge running game for the rest of the night while the linebackers, corners and safety just denied the Miners from any aerial attack for the rest of the game.
For the Miners, Alec Deremer was 7/13 for 95 passing yards. Catches were made by Brant Hughes, Tre Smith, and Tristan Pinto. Mountain Ridge rushed for 58 yards on 33 carries. Tristan Pinto led the team with 50 yards on 18 carries. The Miners also combined for 113 yards on kickoff returns with help from Bryson Sivic, Jared Horsemen, and Colby Fleming. Multiple tackles for Mountain Ridge were made by Kory Hunter and Marcus Folk and Christian Welch for Allegany.
Wednesday, August 9
ALLEGANY HAS A DECENT SCHEDULE FOR 2017