Allegany Campers Football: Welcome
Wednesday, July 19
92nd Year of BIG BLUE FOOTBALL!
CHAMPIONS
Great emphasis is placed every year on the championship. Whether it's a city championship, a region or a state championship, there is only one champion or co-champion.
When you think of a champion, a champion is conditioned for the task supreme, confident in coaching, courageous when the going gets rough, champions never say enough, hard to meet the games bad breaks, have the edge to know just what it takes, hands that work through thick and thin, honest champions play to win.
Ambitious to develop now - Abilities that god endowed - Aiming high to meet the test - A champion wants to be the best. - Marked and watched where ever he goes - Model traits he has to show - The other men he must defeat - Modest in the victor's seat. - Practice practice, ever on the move - Plugging daily to improve. - Perfection that he will never see - Perilous chance that will never be.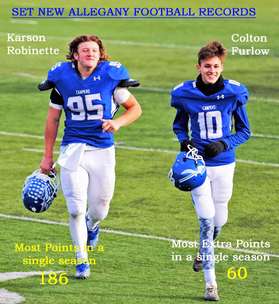 THE BIG BLUE NATION IS VERY PROUD OF OUR BOYS
Tuesday, November 14
SOMETHING VERY SPECIAL HAPPENED AT THE BOONSBORO GAME
All of the Camper fans that attended the 1A Semi-final game with Boonsboro, witnessed something that never happens to often.
At the 7:05 mark in the third quarter, Karson Robinette scored his second touchdown of the game and as usual, Kicker Colton Furlow promptly followed up with the good extra point kick.
Well…it is now known that both Robinette and Furlow broke two Allegany High School football records with those two plays in the same scoring series. Now is that unheard of or what? That alone may never happen again in Cumberland or the State of Maryland.
Karson Robinette continued his rampage of the 2017 season as he scored twice on a 30 yard run and the last a 28 yard run for the school record of 186 points in a single season and added to his school record of touchdowns in a season to 31. This also increases Robinette's 2017 stats to 200 carries for 1,923 yards and 31 touchdown. Now folks…that is some great numbers.
The record breaks another Allegany great Jeff Link's 2005 State Championship season record of 185 points. Link scored 24 touchdowns, kicked 38 extra points and one memorable field goal against Berkeley Springs to win that game 6-3 to stay undefeated and all his points in 14 games.
To top it all off, Karson has done all of these fantastic things without the benefit of kicking extra points, running for a two point conversion or running back a kickoff-punt return for any points. Also Karson has done it all in 11 games. It came as a result of bone busting, cloud of dust and look out here I come running all season.
Generally by the third quarter, most teams' linebackers or defensive backs are more likely to get of Karson's way verses attempt a tackle. And with those numbers and his crushing running style…who could blame them.
Then there is this little fellow name Colton Furlow. A 149 lb. 5' 10" blade of grass kicker.
Colton became a member of the football team early in the 2017 season. He promptly became a very consistent and reliable kicker with such success that he broke Allegany kicking legend John Carpenters 2009 record of 59 of 64 PAT's.
"Coleton's a good story because he came after our first scrimmage and said, 'I notice you don't kick extra points. Why? And I said, 'because we don't have a consistent extra-point kicker," Hansel recalled. "And he said, 'Well, I can kick. Can I try out?"
"I said, 'Sure.' And he came out and set the school record. I'm proud of that kid. He's only a junior and his leg is getting stronger."
Now doesn't that sound like a movie plot? It could be the new version of Rudy! *Colton so far in 2017 has kicked 60 of 63 extra points in just 11 games.
As for John Carpenter, he went on to play college football at William and Mary in Williamsburg, Virginia and was well known for his consistency and accuracy as he was at Allegany.
As stated earlier, this may never happen again with two records broken on the same play. It is something both these young men should be extremely proud of and the rest of the Allegany Football Nation will remember for a long time.
Sunday, November 12
CAMPERS RUN WARRIORS INTO THE GROUND IN SEMI FINAL ACTION
BATTLE OF THE WARRIORS
WENT ALLEGANY'S WAY
Allegany football treated the Boonsboro Warriors much like they did in thier first meeting with a convincing 49-7 win at Greenway.
The Campers just ran the ball all day as the Warriors had no answer to the inside/outside attack of the Blue and White. Not a single pass was launched by Allegany all afternoon as QB Austin Miller guided the offense with presision and control.
The Campers move on into the second round of the Maryland 1A West Region playoffs with yet another meeting with cross town rival Fort Hill.
Clayton Anders' estimate was off a bit.
"Allegany usually runs the ball 85 percent of the time," Boonsboro's football coach said earlier in the week. "With their quarterback situation, they will probably change a little and be more like 90 percent.
If this was The Price is Right, it would have been a good bid. It was close without going over.
The Campers devoted 100 percent of their offense to the ground game.
It was the third time in last three seasons that Allegany has defeated Boonsboro in the region semifinals. The Campers edged the Warriors in 2015 and 2016 by a total of four points, both in overtime.
"We had a tough time," Anders said. "We had no answer for their wide stuff — the buck sweep and the power sweep. We couldn't get the edge set. We didn't get off blocks. (Allegany) is good at what they do."
Allegany made no qualms about its intentions.
The Campers lost their top two quarterbacks — Cameron Bratton with a fractured ankle and Jakson Bauer with a broken collarbone — during last week's loss to Fort Hill. The playoff quarterback duties fell to Austin Miller.
"Austin had gotten some time in at quarterback last year as a backup, and honestly, we didn't change the offense at all for him," said Allegany coach Bryan Hansel. "I thought he was calm. He responded well. You look at a quarterback coming in in a rainy, muddy practice week, who didn't get a lot of full-speed reps, and we didn't bobble any handoffs. We only bobbled one snap (out of 44). I was impressed with him."
All Miller needed to do was turn and hand the ball to fullback Karson Robinette and tailback Elisha Llewellyn and let them do the rest.
Robinette powered to 155 yards and two touchdowns, and Llwellyn worked the edges for 141 yards and a pair of sweeping scores — all coming in the middle of the game — to knock Boonsboro out. "Our plan was simple," said Allegany coach Bryan Hansel. "We wanted to run away from No. 54 (6-foot-4, 303-pound tackle Nick Kidwell). Our offensive line came out and we got more physical on the other side of the line."
The Campers big men up front — Parker Preaskorn, Braxton Mongold, Thomas Preaskorn, Trevaughn Taylor and Wyatt Love — ruled the line of scrimmage most of the day, with lots of crushing blocks on the corners that sprung the backs for big gains.
Allegany ran away from Boonsboro from the start. RJ Buford got the running game started with a pair of TD sweeps of his own — a 27-yarder with 2:02 left in the first quarter, and a 5-yarder with 7:11 left in the half — to give the Campers a 14-0 lead.
Boonsboro showed some life on its next possession as quarterback Josh DeRocher launched a pass that Jake Humbel ran under at the 25 and turned into a 56-yard TD. Ben Burgan added the extra point and the Warriors were in the game at 14-7 with 5:14 left in the half.
The Warriors found a way to contain Allegany momentarily. They got to Robinette and forced two fumbles — recovering one — but the success didn't last long.
"We did better on the fullback calls against Robinette, but we had a tough time with the wide stuff," Anders said.
Robinette finally cracked through with a 29-yard scoring burst up the middle to give Allegany a 21-7 lead with 3:04 left in the half. Llewellyn ripped of a 17-yard TD sweep 44 seconds before intermission, and suddenly Boonsboro was down 28-7 at the half.
Robinette broke the school's single-season scoring record after a 28-yard touchdown run in the third quarter. A few seconds later, Coleton Furlow broke the school's single-season record for extra-point kicks, making it 42-7.
"Coleton's a good story because he came after our first scrimmage and said, 'I notice you don't kick extra points. Why?' And I said, 'because we don't have a consistent extra-point kicker," Hansel recalled. "And he said, 'Well, I can kick. Can I try out?"
"I said, 'Sure.' And he came out and set the school record. I'm proud of that kid. He's only a junior and his leg is getting stronger."
"Karson, I could talk all day about. He's the best player I've been around," said Hansel. "We ask a lot out of him. We ask him to carry the ball 22, 24 times a game, and be one of our best defensive players. People question whether he can go four quarters. When you're relied on so heavily on offense and defense, it's hard to go all four quarters. He does it every week."
The defense turned in one of its better performances, too, limiting Boonsboro (7-4) to eight first downs and 206 yards. Two plays, a 56-yard touchdown pass in the first half and a 45-yard run late in the second, accounted for nearly half of the Warriors' total offense.
Llewellyn ignited the second half by taking the second play after the kickoff to the house on a 43-yard sweep to extend the Campers' lead to 35-7.
"We talked about adjustments at the half and they scored immediately on the things we had been working on," Anders said. "Some days the adjustments work and some days they don't." Robinette added a 28-yard burst with 7:12 remaining in the third quarter to turn on the running clock with a 42-7 lead.
Boonsboro nearly stopped the clock with a fourth-down pass into the end zone to Max Crist at the end of the third quarter, but the play was ruled incomplete.
Allegany put the finishing touches on the game with a 34-yard TD sweep by Rashad Wingate in the fourth quarter.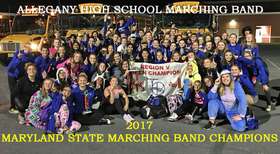 CONGRATULATIONS ALLEGANY HIGH SCHOOL MARCHING BAND
Wednesday, November 1
ALLEGANY MARCHING BAND COMES WITHIN A HAIR OF WINNING IT ALL!
SHE IS THE LEADER OF THE PACK
For those of you are really out there and have no idea what is going on at Allegany High School...here is the eye opening event that you sorely need.
In case you haven't heard, the Allegany High School marching band is the number one high school band in the State of Maryland...BAR NONE!
This season alone the band was undefeated in local events with an average of 88.82 for performance. You may also not have noticed that the band has won 18 consecutive years various chapter championships along with 12 Maryland State Championships. The Bands Color Guard is equally talented as they too have won 8 consecutive chapter championships.
The Band is 6-0 on the 2017 season winning Best Visual, Best Music and Best Color Guard at every event they entered.
So here is one last thing you didn't know...The Allegany High School Band, under the direction of Larry Jackson, finished runner-up in Group 3 at the Atlantic Coast Championships held at Hershey Stadium last weekend with a score of 96.65, just .35 points shy of first place.
The group had the highest visual score, and the Allegany Color Guard won Best Color Guard, which was their fourth ACC color guard award in the last five years.
Allegany's band competes in Open Class, the highest level of competition in the Tournament of Bands.
The group also finished the year as the number one ranked marching band in the State of Maryland.
Now you know it all. We here at Allegany love our award winning marching band and so should the people of Cumberland, Maryland. They have been a champion for the last 18 seasons and never seem to get the credit they deserve. So for all of you football fans that read this page...consider yourself informed.
Congratulations
Allegany High School Marching Band.
Maryland State Champion Marching Band.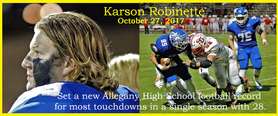 CONGRATULATIONS KARSON ROBINETTE
Tuesday, October 31
CAMPERS RUNNING BACK KARSON ROBINETTE BREAKS SCHOOL RECORD
I can assure you that in August of 2017 nobody was thinking of anything other than making it through the two a day practices and surviving the heat of summer.
And even though you knew your team was pretty good and could win some if not all your games this year, you could never predict what or who was going to do what for the season.
Well Campers fans, here we are at the end of week 9 of the season and anticipating homecoming week and look what all the Campers have done so far. 8-1 on the season, defeating one of the state's best teams from Baltimore and just playing good football all around. The Campers have also scored a lot of points this season, and one of the main reasons is Fullback Karson Robinette.
Right from the beginning in the Dunbar game, Karson started on his trek to score points as he ran through the Poets and ended with several touchdowns and over 200 yards for the game.
Well we all know that stuff happens every now and then, however, it happens over and over again. Throughout the 2017 season Karson has bullied his way through opposing defenses gaining yards left and right and of course the ultimate goal of touchdowns.
At one point in the season Karson was getting 200 plus yards a game and for several games in a row scoring 4 touchdowns a game and everybody was saying; "Boy that kid can run and score TD's." We all knew he was doing pretty well, but come last Friday night verses the Southern Rams some of Karson Robinette's accomplishments were revealed to the Camper fans at that game.
Karson's third touchdown in the game resulted in the setting of a new Allegany High School football single season scoring record of 28 touchdowns and 168 points. This eclipsed the record previously held by Dustin Wharton who scored 27 touchdowns and 162 points for a single year. Now that is a pretty good season.
However, Jeff Link's Allegany points scoring record is 185 points in a single season. Link had an amazing career at Allegany in 2005 scoring 24 touchdowns and kicking 38 PAT points and a field goal in that season. Karson does not have any kicking, running 2 point goals or field goals this season...which makes this school record even more amazing.
Karson is only 17 points away from that record as well with a minimum of 3 games left in the Camper 2017 season to go.
When you stop and think about it all, imagine all the players who came before Karson who played at Allegany. Think about Earle "Lefty" Bruce, Michael Fields, Eric Taylor, Jeff Link, Jake Twigg, Tyler and Dustin Wharton, Jim Gaffney, Danny Porter and Danny Darr… just to name a few of the great running backs from the past.
Karson Robinette has set the bar higher than all those greats previously mentioned, and he still has at least three more games left in the 2017 season. I am sure the Big Blue Nation is very proud of Karson as he represents all of us at Campobello.
Monday, September 25
ALLEGANY HIGH SCHOOL LAST SEASON T SHIRTS NOW ON SALE
As the last year for Allegany High School on Sedgwick Street comes to and end, what a better way to remember the "Ole Lady," then to have a shirt that says it all.
Come June, 2018, the Sedgwich Street school will close to students to move on to their brand new school on Hay Stack Mountain in Cumberland. For those of you who don't know where that is, it is the same sight as the former Sacred Heart Hospital was before being torn down two years ago.
This will end a 92 year run for our Old Friend and "Home of Champions."
If you would like one of these "once in a lifetime" T-Shirts, simply come to a football home game at Greenway Stadium and see and purchase a shirt.
You won't regret it...but will aways remember it.
Wednesday, August 9
ALLEGANY HAS A DECENT SCHEDULE FOR 2017