Allegany Campers Football: Welcome
Tuesday, July 14
90th YEAR OF HIGH SCHOOL FOOTBALL AT CAMPOBELLO
CHAMPIONS
Great emphasis is placed every year on the championship. Whether it's a city championship, a region or a state championship, there is only one champion or co-champion.
When you think of a champion, a champion is conditioned for the task supreme, confident in coaching, courageous when the going gets rough, champions never say enough, hard to meet the games bad breaks, have the edge to know just what it takes, hands that work through thick and thin, honest champions play to win.
Ambitious to develop now - Abilities that god endowed - Aiming high to meet the test - A champion wants to be the best. - Marked and watched where ever he goes - Model traits he has to show - The other men he must defeat - Modest in the victor's seat. - Practice practice, ever on the move - Plugging daily to improve. - Perfection that he will never see - Perilous chance that will never be.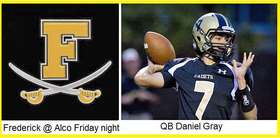 LAST PLAYED IN 1983!
Sunday, October 4
AN ALCO PAST REQULAR OPPONENT FREDERICK COMES TO GREENWAY
This week is a blast from the past for the Alco faithful who have been around for awhile and remember Allegany and the Frederick Cadets playing football together.
Frederick and Allegany go way back to the beginning of the CVAL or Cumberland Valley Athletic League. Frederick was a charter member and the Campers and Fort Hill came into the league a short tme later.
Frederick is classfied as a 3A school from Frederick, MD. It is not to be confused with Frederick Douglas high of Baltimore County.
The Campers and Cadets have played many times before starting in 1956 for the first one and last played each other in 1983 where Allegany won 45-14 under then Jim Refosco.
With all their bad luck over the years, Frederick has had some success through the years. Did you know Frederick has won several Maryland state football championships? Well they have in 1915, 1952 and 1968 repectfully. Frederick is also the home of NFL great running back Chuck Foreman who was a player most of if not his entire career with the Minnisota Vikings. Both the Campers and Sentinels should remember Mr. Foreman personally.
However, the Frederick Cadets of late have not had much success on the football field. Since 2010 - 2014, the Cadets have only won 16 game and lost 34. Their best year of those listed was 2012 when they were a respectful 7-3 for the season.
This season, the Cadets are a Senior heavy team, but so far with the same results. So far in this season the Cadets are 1-4 on the season.
Game summary of last weeks Middletown vs Frederick game:
As they do in postgame huddles after each win, Middletown football players chanted, "What time is it? Knight time!" They then unleashed a collective roar that nearly drowned out Boston's "More Than A Feeling," which was blaring over the stadium sound system. "It felt great," Knights senior running back James Early said. "Because we haven't been able to do that in three weeks."
Middletown snapped its three-game losing streak Friday in dominant fashion, racing to a 44-point lead by halftime en route to a 50-14 victory over Frederick.
It was the first win for Middletown (2-3) since the season opener over North Carroll. What was it like during that stretch? "We've had to stay together, stay strong, We've done that," Middletown junior defensive end Tyler Clemmer said. "We believe in ourselves. We're like family." "Three straight, that hurt a lot," Early said. "But we worked really hard in practice. It felt great to go out there and score some points."
When Early scored on a 5-yard run with 9:15 left in the second quarter, giving the Knights a 37-0 lead, his team had already scored more points than the combined total of its previous three games. Running through huge holes created by their line, Early and Anthony Orsini led a ground attack that routinely ripped off double-digit gains. Early rushed for 88 yards and one touchdown on 10 carries, while Orsini had 70 yards and two touchdowns on six carries. Neither one got a carry in the second half, when the Knights gave other backs work. By then, the rain had picked up.
During the first half of Friday's game, which started at 5:30 in hopes that harsher weather could be avoided, the biggest obstacle was strong wind. An airborne, open umbrella soared in front of the press box and appeared to go out of the stadium. Unlike the unlucky spectator who lost that umbrella, Early didn't mind the weather. "It wasn't comfortable, but it was kind of fun," he said. "It's like classic football, grind-it-out football." His lineman did plenty of the grinding. "The big guys were the ones that were doing the work," Early said.
Quarterback Matt Evich scored on touchdown runs of 8 and 12 yards, while Adam Bain and Marquis Lauer each had one rushing touchdown.
The Knights were just as dominant on defense, holding Frederick to minus-14 yards in the first half. They also got a safety when a snap sailed over the Frederick punter's head and out of the end zone. The Knights often busted into Frederick's backfield and delivered punishing hits. Garrett Johnson had 2.5 tackles for loss, while Clemmer and Jace Denham each had two. "Early on, we came out with the mentality that we were going to just protect our home, protect our castle," Clemmer said.
Knights coach Kevin Lynott praised all facets of Middletown's game, pointing out that even his punt team (little used early in the game) performed the difficult task of getting off decent kicks in the strong win. "I'm happy about tonight. We're growing as a team," Lynott said. "There's no explanation for anything except we're striving to get better and we got a win tonight and we're pleased it was a nice team win.
" Frederick (1-4) eliminated the running clock by getting rushing touchdowns from Demarcus Core and John Cruz (who had a nice 18-yarder) in the third quarter. "We challenged them and they rose to the occasion," Frederick coach Kevin Pirri said. "It's unfortunate it came so late."
The Big Blue Review says;
Frederick has had some hard knocks in the past few years. They seem to have a hard time getting started in games and when they do...its to late to do anything about it. The last time the Cadets played in Cumberland, Greenway stadium was grass and by this time of the year...a usually mud hole!
Allegany should be able to get to the outside corners and pass when needed to keep the ball and run the clock. However, the Campers can not take the Cadets lightly as they just might come to Cumberland and put up a fight as well. The Campers defense will have to defend against a hard running backfield and contain the somewhat speedy quarterback in this one.
Hopefully this Friday night will be a dryer one then last week. The game starts at 7 p.m. and I hope to see my Camper friends at the stadium.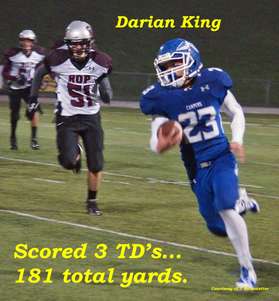 BIG NIGHT FOR DARION KING!
Saturday, October 3
NASTY...RAINY NIGHT AT GREENWAY LEADS TO A CAMPER SHUTOUT!
CAMPERS
RAM IT TO SILVER OAK!
Darian King scored three touchdowns during Allegany's seven-touchdown first half, and Carson Imes threw a pair of TD passes as Allegany routed Silver Oak Academy 49-0 on a cold, rainy Friday night at Greenway Avenue Stadium.
The Campers (4-1) bounced back from their first loss in convincing fashion, and with a 28-point second quarter, enjoyed a 42-0 halftime lead. King, who went over the 100-yard mark in rushing in the first quarter, finished with 17 carries and 181 yards, all in the first half.
After an exchange of possessions to start the game, the Campers took advantage of a poor Silver Oak punt snap and needed only three plays to get on the scoreboard. After a 19-yard run by King, Tyler Eirich scored on a two-yard dive and the first of seven Tattum Logsdon extra-point kicks made it 7-0 with 6:29 left in the quarter.
The Campers lost a fumble on their next series, but then scored on five straight possessions in building the commanding halftime spread. The first came on a 40-yard run by King late in the first quarter that capped a five-play, 73-yard drive and gave King 126 yards on his first 10 carries. The touchdown came one play after he had broken free for a 21-yard gain.
After a Silver Oak punt, the Campers scored on the first play of the second quarter when Imes hit Brendon Dougherty on a 43-yard strike to make it 21-0.
The first of two Karson Robinette fumble recoveries set up the next score less than two minutes later. The recovery gave Alco the ball at the Silver Oak five, and on second down, Imes tossed to King for five yards and a 28-0 lead. The second-quarter scoring surge was only halfway done, however.
It resumed after an interception by Tyler Eirich at the Rams' 40, and seven plays later, King reached the end zone on a nine-yard run with 6:21 to go in the half.
Robinette's second fumble recovery kept the ball in Silver Oak territory, and after two unsportsmanlike penalties on the Rams put the ball inside the 10, Eirich scored on a five-yard run with just over four minutes to go, making it 42-0.
The final two quarters were played with a running clock due to the mercy rule. Elisha Llewellyn, who intercepted a pair of passes in the second half, had the only touchdown after halftime. The Campers finished with 291 yards of offense, with 240 coming on the ground.
The defense held Silver Oak to only 97 yards and came up with three interceptions and three fumble recoveries.
Wednesday, July 8
ALLEGANY CAMPERS VARSITY FOOTBALL SCHEDULE

WHAT TO EXPECT FOR 2015
Monday, July 13
INTERESTING INFORMATION ON CAMPER 2015 OPPONENTS.
CAMPERS 2015
AN OUTLINE FOR THE UPCOMING SEASON!
This is a quick set of notes for the Camper football fans as to what the 2015 Camper football schedule is all about. A couple of new teams this year and some interesting history with some of our old foes.
HARFORD TECH:
Harford is from Bel Air, Maryland and are rated as a Maryland class 2A school with 782 students. The head coach is Dave Duetsch and their mascot is Cobras. Their colors are Black, gold and white.
This is a new team for the Campers as 2015 will be the first ever appearance for the Cobras to Cumberland and Greenway Avenue Stadium. Last year the Cobras were 3-7 and return 11 seniors for 2015 season.
CHESTNUT RIDGE:
From New Paris, Pennsylvania with the mascot the Lions. The Lions were 10-3 for 2014 with a first round playoff appearance. Head coach is Max Shoemaker with team colors of Blue and gold. The Lions have 11 returned seniors for 2015 and is rated at a class 1A school with 610 students.
MT. RIDGE:
From Frostburg, Maryland and a Maryland class 2A School. Their colors are Black, yellow, white and red. Their mascot is a Miner with a 2-8 record for 2014. The Miners will have 12 seniors returning however, had a whopping 23 graduate. The head coach for the Miners will again be Roy DeVore.
KEYSER:
From Keyser, West Virginia and is considered a Maryland class 1A school. Mascot is the Golden Tornado as the team finished with a respectful 7-4 in 2014. Keyser have 11 seniors returning this season with 9 graduating. Head coach is Sean Biser. The Campers and Tornado have had quite the series lately as the Tornado have won 21-10 in 14, 13-12 in 13 and the Campers won in 2012…14-12.
SILVER OAK ACADEMY:
This is the third year in a row for the Campers to play this team with a 2-0 record. Head coach is Kevin McLeon and the team is from Keymar, Maryland. Silver Oak is considered a class 1A school. Silver Oak had a 6-6 season in 2014 as they played several unsanctioned games. Silver Oak lost 16 seniors from last year's team with 6 returning players.
FREDERICK:
This is the first time since 1983 that the Campers have played the Cadets. The overall record has the Campers enjoying a 18-3-1 record against them. The Cadets were 2-8 in 2014. Their colors are Black and Gold. The Frederick Cadets are from Frederick, Maryland and are a class 3A school with 1074 students. The Cadets head coach is Don Duman and lost 22 seniors from the 2014 team.
CAPTITOL CHRISTIAN ACADEMY:
Another new team on the Camper schedule for 2015. Allegany has not played the Warriors ever. Colors for the Warriors are Royal Blue and white. Head coach is Chuck Thompson who are from Landover, Maryland. A class 1A school was 11-2 for the 2014 season. One of their losses was to Fort Hill 56-16 at Greenway in 2014. A good pick up for Allegany who have to travel to Capitol Christion in 2015.
BRUNSWICK:
Believe it or not, this will be the first regular season game that the Campers and Railroaders have ever played. The Railroaders have played the Campers in the 1A West championship game at Greenway in 2005, 35-6 and that is it. The Railroaders colors are Garnet and gold with the head coach being Patt Foster.
The Roaders were 4-6 in 2014 and lost 14 seniors to graduation with 7 returning and is considered a class 1A school with 542 students.
FORT HILL:
What can be said for the Sentinels? The two consecutive year, undefeated State Champions are again a big favorite to do it again. The Sentinels lost quite a few seniors, but as always, seem to replace those with bigger and better people year after year. One of the most successful football teams in the State of Maryland is once again geared for another good season.
HAVE A SUGGESTION, COMMENT OR CORRECTION?
As you know, this is a web site dedication the Allegany Camper Football Tradition. It takes a great deal of work to compile all of this information, stats, pictures and other items of interest for all you Allegany Camper Football Fans.
That is why the
BIG BLUE REVIEW
would like you, the vistiors to the site to comment, suggest or if you have any corrections to the site, to please contact the web master at;
jailermanredheadgary@outlook.com
. I will gladly get back to you as soon as possible and correct any mistakes or problems as soon as possible. Thank you for visiting the BIG BLUE REVIEW and please come back often.

COME JOIN THE GRID IRON CLUB AND HELP OUT THE CAMPER FOOTBALL TEAM
Thursday, September 28
THE ALLEGANY CAMPERS GRID IRON CLUB
BETTER THAN SITTING AT HOME!
Want to help out?
Want to get involved?
IT'S EASY!
Simply contact me at; jailermanredheadgary@outlook.com or Terri Offutt, Allegany Grid Iron Club at AlleganyGridiron@gmail.com.
The Grid Iron is always looking for volunteers and Camper fans to help out with all kinds of things. Give us a call and see what you can do.
THANKS ALCO GRID IRON CLUB!
Friday, June 15
WHERE ARE THEY NOW
ARE YOU AN ALLEGANY FOOTBALL ALUMNI?
Where have you been? What are you doing?

The Big Blue Review has started a new section simply titled, "Where are they now." The section is dedicated to those of us that have been a Camper. This is a area where former players are on display. Let us know what you are doing these days.

If you have someone in mind, simply send the Big Blue Review a picture or two and a small writeup and the Review will get it on the site for all to see.

To send your items, email the web master at jailer@atlanticbb.net .

Lets all get together and tell the world Where they all are now!
Look to the left of the site and click on; "Once they wore the Blue," and see some of Allegany footballs best.