Allegany Campers Football: Welcome
Tuesday, July 14
90th YEAR OF HIGH SCHOOL FOOTBALL AT CAMPOBELLO
CHAMPIONS
Great emphasis is placed every year on the championship. Whether it's a city championship, a region or a state championship, there is only one champion or co-champion.
When you think of a champion, a champion is conditioned for the task supreme, confident in coaching, courageous when the going gets rough, champions never say enough, hard to meet the games bad breaks, have the edge to know just what it takes, hands that work through thick and thin, honest champions play to win.
Ambitious to develop now - Abilities that god endowed - Aiming high to meet the test - A champion wants to be the best. - Marked and watched where ever he goes - Model traits he has to show - The other men he must defeat - Modest in the victor's seat. - Practice practice, ever on the move - Plugging daily to improve. - Perfection that he will never see - Perilous chance that will never be.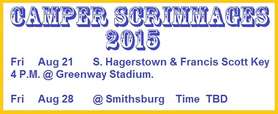 COME OUT AND SEE THE 2015 CAMPERS
Monday, August 3
CAMPERS REVEAL 2015 SCRIMMAGE SCHEDULE
Camper fans; here is your first shot at seeing the 2015 version of Allegany Campers football.
There will be two sets of scrimmages...1 will be at Greenway on August 21 with South Hagerstown and Francis Scott Key at 4 p.m. These were the two teams that Allegany traveled to last year in Hagerstown. Last year was a good hard scrimmage as South had a great team and looks to be very good again this year. FSK were also pretty good.
The second scrimmage will be at Smithsburg which is not a long distance away, so most all you fans can go to that one too. The time for this one has not been determined yet, so visit the Big Blue Review often to see the update.
Hope to see you all at both scrimmages.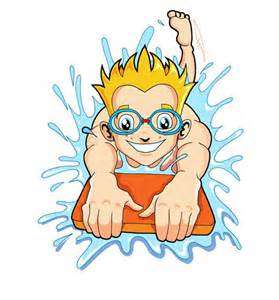 COME ON OUT AND HAVE SOME FUN SWIMMING
Wednesday, July 8
2015 PRE-SEASON SWIM PARTY AT LAVALE POOL
SWIM PARTY!
Another annual event for the Allegany football team is the PRE-SEASON swim party.
Again this year, the party will be held at the LaVale Swim Club in LaVale. The party will begin at 8 p.m. at the pool and fun is on the menu for all who attend.
This a great time for all the football players...varsity, JV and freshmen, coaches and player family to come and get together to kick off another great football season for the Allegany Campers football teams.
Come out and swim, talk to the coaches, meet the other players and just plain have some fun. Don't forget your swim suits and come hungry...as there will be lots to eat for all who attend.
HOPE TO SEE YOU ALL THERE
COME OUT AND HAVE SOME FUN!
Wednesday, July 8
ALLEGANY CAMPERS VARSITY FOOTBALL SCHEDULE

WHAT TO EXPECT FOR 2015
Monday, July 13
INTERESTING INFORMATION ON CAMPER 2015 OPPONENTS.
CAMPERS 2015
AN OUTLINE FOR THE UPCOMING SEASON!
This is a quick set of notes for the Camper football fans as to what the 2015 Camper football schedule is all about. A couple of new teams this year and some interesting history with some of our old foes.
HARFORD TECH:
Harford is from Bel Air, Maryland and are rated as a Maryland class 2A school with 782 students. The head coach is Dave Duetsch and their mascot is Cobras. Their colors are Black, gold and white.
This is a new team for the Campers as 2015 will be the first ever appearance for the Cobras to Cumberland and Greenway Avenue Stadium. Last year the Cobras were 3-7 and return 11 seniors for 2015 season.
CHESTNUT RIDGE:
From New Paris, Pennsylvania with the mascot the Lions. The Lions were 10-3 for 2014 with a first round playoff appearance. Head coach is Max Shoemaker with team colors of Blue and gold. The Lions have 11 returned seniors for 2015 and is rated at a class 1A school with 610 students.
MT. RIDGE:
From Frostburg, Maryland and a Maryland class 2A School. Their colors are Black, yellow, white and red. Their mascot is a Miner with a 2-8 record for 2014. The Miners will have 12 seniors returning however, had a whopping 23 graduate. The head coach for the Miners will again be Roy DeVore.
KEYSER:
From Keyser, West Virginia and is considered a Maryland class 1A school. Mascot is the Golden Tornado as the team finished with a respectful 7-4 in 2014. Keyser have 11 seniors returning this season with 9 graduating. Head coach is Sean Biser. The Campers and Tornado have had quite the series lately as the Tornado have won 21-10 in 14, 13-12 in 13 and the Campers won in 2012…14-12.
SILVER OAK ACADEMY:
This is the third year in a row for the Campers to play this team with a 2-0 record. Head coach is Kevin McLeon and the team is from Keymar, Maryland. Silver Oak is considered a class 1A school. Silver Oak had a 6-6 season in 2014 as they played several unsanctioned games. Silver Oak lost 16 seniors from last year's team with 6 returning players.
FREDERICK:
This is the first time since 1983 that the Campers have played the Cadets. The overall record has the Campers enjoying a 18-3-1 record against them. The Cadets were 2-8 in 2014. Their colors are Black and Gold. The Frederick Cadets are from Frederick, Maryland and are a class 3A school with 1074 students. The Cadets head coach is Don Duman and lost 22 seniors from the 2014 team.
CAPTITOL CHRISTIAN ACADEMY:
Another new team on the Camper schedule for 2015. Allegany has not played the Warriors ever. Colors for the Warriors are Royal Blue and white. Head coach is Chuck Thompson who are from Landover, Maryland. A class 1A school was 11-2 for the 2014 season. One of their losses was to Fort Hill 56-16 at Greenway in 2014. A good pick up for Allegany who have to travel to Capitol Christion in 2015.
BRUNSWICK:
Believe it or not, this will be the first regular season game that the Campers and Railroaders have ever played. The Railroaders have played the Campers in the 1A West championship game at Greenway in 2005, 35-6 and that is it. The Railroaders colors are Garnet and gold with the head coach being Patt Foster.
The Roaders were 4-6 in 2014 and lost 14 seniors to graduation with 7 returning and is considered a class 1A school with 542 students.
FORT HILL:
What can be said for the Sentinels? The two consecutive year, undefeated State Champions are again a big favorite to do it again. The Sentinels lost quite a few seniors, but as always, seem to replace those with bigger and better people year after year. One of the most successful football teams in the State of Maryland is once again geared for another good season.
HAVE A SUGGESTION, COMMENT OR CORRECTION?
As you know, this is a web site dedication the Allegany Camper Football Tradition. It takes a great deal of work to compile all of this information, stats, pictures and other items of interest for all you Allegany Camper Football Fans.
That is why the
BIG BLUE REVIEW
would like you, the vistiors to the site to comment, suggest or if you have any corrections to the site, to please contact the web master at;
jailermanredheadgary@outlook.com
. I will gladly get back to you as soon as possible and correct any mistakes or problems as soon as possible. Thank you for visiting the BIG BLUE REVIEW and please come back often.

COME JOIN THE GRID IRON CLUB AND HELP OUT THE CAMPER FOOTBALL TEAM
Thursday, September 28
THE ALLEGANY CAMPERS GRID IRON CLUB
BETTER THAN SITTING AT HOME!
Want to help out?
Want to get involved?
IT'S EASY!
Simply contact me at; jailermanredheadgary@outlook.com or Terri Offutt, Allegany Grid Iron Club at AlleganyGridiron@gmail.com.
The Grid Iron is always looking for volunteers and Camper fans to help out with all kinds of things. Give us a call and see what you can do.
THANKS ALCO GRID IRON CLUB!
Friday, June 15
WHERE ARE THEY NOW
ARE YOU AN ALLEGANY FOOTBALL ALUMNI?
Where have you been? What are you doing?

The Big Blue Review has started a new section simply titled, "Where are they now." The section is dedicated to those of us that have been a Camper. This is a area where former players are on display. Let us know what you are doing these days.

If you have someone in mind, simply send the Big Blue Review a picture or two and a small writeup and the Review will get it on the site for all to see.

To send your items, email the web master at jailer@atlanticbb.net .

Lets all get together and tell the world Where they all are now!
Look to the left of the site and click on; "Once they wore the Blue," and see some of Allegany footballs best.