Allegany Campers Football: Welcome
CAMPERS BEGIN THEIR 88TH YEAR OF FOOTBALL!
ALLEGANY CAMPERS FOOTBALL
THE GREATEST GAME IN TOWN!
Football is the greatest team game in all of sports. Why, because there are approximately 100 players on a team, and you must have an offensive team, a defensive team and of course special teams. Plus people to play in case of injury or adversity.
Players and coaches must always be on the same page in unity with one another to ensure victory. You must set personalities aside and bring each players character to the forefront for the good of the team. Here are the key words; I, me and mine, change to we, us and ours.
The law of the jungle is as old and as true as the sky, and that the wolf that keeps it may prosper, but the wolf that must break it must die. As the creeper that curdles the tree trunk, the law will run forward and back and the strength of the pack is the wolf and the strength of the wolf is the pack.
Remember,
A TEAM TOGETHER IS A WINNING TEAM!
Saturday, September 20
CAMPERS WAKE UP...DOMINATE MINERS IN FROSTBURG!
Wholly smokes! was that the same Camper team from last week vs. Chestnut Ridge? What a turnaround!
Oh my...what a difference a week of adjustments make. The Campers came out on fire in Frostburg and demonstrated the talent they have on both sides of the ball.
Allegany found out, and so did Mountain Ridge Friday night as the Campers jumped all over the Miners in the early going and cruised to a 45-12 victory.
Kirk Robinette, Blake Milburn and Darian King scored two touchdowns, Hunter Wilhelm blocked a punt and the Campers played on Mountain Ridge's side of the field all night long in an impressive performance from start to finish.
A week ago against Chestnut Ridge, the Campers found themselves down 21-0 before some of the home fans had spread their blankets on the stadium bleachers. A week later, the Campers scored three minutes into the game, were up 20-0 in the first quarter, had no turnovers and committed only two penalties over the first three quarters.
"I'm real pleased with the way they played. They played with a lot of intensity,'' said Allegany coach Tom Preaskorn."After last week, one of two things were going to happen: either they were going to bounce back, or they were going to fold. "They showed a lot of heart, and I?thought they showed a lot of heart last week when they were down 21 and didn't give up and came back with 14 points. This team has a lot of heart and they're just going to get better as the season progresses and they get experience."
This weeks practices at ALCO must of been intence! Mt. Ridge coming off a huge win over Hedgesville was the odds on favorite by local sports guessers in a close win for the Miners.
The Campers however, decided that enough was enough and came out to play at thier potential for the entire game.
Robinette ran nine times for 95 yards and King seven times for 69 yards for Allegany (2-1).
Michael Strietbeck threw two touchdown passes for Mountain Ridge (1-2), which had crushed Hedgesville 57-14 a week ago. Allegany scored touchdowns on its first four possessions and five of its first six, turning a game some believed would be a lot closer. Mountain Ridge coach Roy DeVore was one of them.
"I was surprised, too,'' he said of the lopsided outcome. "I thought we'd play better. I thought we were ready to play at the beginning of the game. Obviously, we weren't. They were up for the game more than we were."
The Campers didn't pile up the yardage because they worked on a short field much of the night. The average starting point of their six first-half possessions was the Mountain Ridge 39. Allegany went 56 yards in six plays on the first drive of the game, highlighted by a 33-yard run by Milburn and ending on a three-yard run by Robinette.
Five plays later, Hunter Wilhelm blocked a Russell Beeman punt and the Campers took over at the Miners 26. Carson Imes hit King for a 15-yard gain on fourth-and-10 from the 16, and Milburn plunged into the end zone to make it 14-0 with 5:11 left in the quarter.
"We established that first drive, got some confidence and from there just built on it," said Preaskorn. "The blocked punt was huge. It gave us momentum and confidence, and then they started playing extremely well and got sort of the jitters out."
Tyler Eirich's interception and 22-yard return three plays later led to another quick score, this one a four-yard run by King that made it 20-0 with 2:49 left in the period. A sack by Wilhelm and Devin Blowe and a 23-yard punt return by King led to a seven-yard TD?run by Milburn that stretched the lead to 28-0 five seconds into the second period.
Mountain Ridge?had just five yards of offense in the first quarter, and things got worse in the second when RaShawn Johnson, after running six times for 51 yards, left with a left knee injury.
DeVore was uncertain of the extent of the injury immediately after the game. The Miners scored later on that drive on a perfect 25-yard strike from Strietbeck to Zach Hager in the corner of the end zone, making it 28-6 with 7:33 left in the half. Allegany answered with 1:54 left in the half, setting up shop at the Mountain Ridge 28 after a short punt.
King ran 20 yards, and after an offsides penalty, scored on a four-yard run to make it 35-6 at the half.
The second half was a little less intensce, but still total control by the Campers!
Robinette turned a fumbled pitch deep in the backfield on fourth-and-two early in the third quarter into a 25-yard run, then scored on a three-yard run on a fourth down four plays later, and Tattum Logsdon booted a 36-yard field goal for the largest lead, 45-6.
Strietbeck hit Ty Brooks on an eight-yard pass to cap a 90-yard scoring drive in the fourth for the Miners. Brooks had a 46-yard run during the drive.
Brooks led the Mountain Ridge offense with 19 carries and 86 yards, and Dalton Jefferies eight tackles and a blocked kick on the defense.
Hopefully...the Blue and White will continue this output of excellent play next Friday night at Greenway as they face the always tough Golden Tornado from keyser. This should be a good game...see you all there!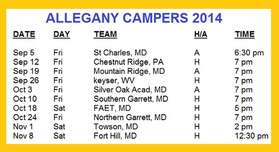 ALLEGANY FOOTBALL SCHEDULE UPDATED
Saturday, July 12
ALLEGANY CAMPERS 2014 FOOTBALL SCHEDULE!
"IF YOU ARE NOT PREPARED
TO PUT THE TEAM FIRST...
TURN AROUND!"
Thursday, August 14
ALLEGANY'S 2014 FOOTBALL SCHEDULE AT A GLANCE
HERE WE GO
CAMPERS!
St. Charles High school
St. Charles High School is under construction and is scheduled to open to students in time for the fall 2014 school year at a location adjacent to the Regency Furniture Stadium off of Piney Church Road. It has state-rated capacity for 1,600 students, sits on a 99-acre site donated by The St. Charles Companies and will encompass about 269,000 square feet of learning space on four floors with 72 teaching stations. The school will serve as an anchor in the steadily growing planned community of St. Charles and will offer opportunities to students and the community that include environmental and natural resource management, technology, and current issues related to these fields of study. St. Charles High School will be the first high school opened in Charles County since North Point in 2005 and is the 7th high school in Charles County.
Athletic features include a football stadium with an eight-lane track; bleacher seating for 1,500 home/500 visitors; 14 fields including football, baseball, softball, soccer, field hockey and lacrosse – enough so that each team has a practice and varsity field, and eight tennis courts. The football stadium is directly behind the school itself.
The school mascot is the Spartans with their colors being Kelly Green, Navy Blue and White. The Campers will travel to St. Charles for the first game of the season on September 5 for a 7 p.m. game.
Camper fans…don't overlook the Spartans as a new start up football program. St. Charles is a new school that will be redistricted as far as student population. Whereas, St. Charles will probably get some of the athletes from the likes of Calvert and the other school from the Southern Maryland Athletic Association which means the Spartans will be a little more to handle than most.
Chestnut Ridge, PA
Make plans to see this game at the stadium this year. Chestnut Ridge will come to Cumberland the week before to play Fort Hill at Greenway and turn around again the following week to visit Allegany as well. The Ridge gave both local schools a close game last year.
Fort Hill pulled out their game in the finals minutes of the game with a 21-17 win, whereas Alco lost an even closer game with a 21-16 loss.
Make no mistake, Chestnut Ridge will come to play. They have sort of had Allegany's number lately. The Campers won at the Ridge two years ago. However, gone is the outstanding QB that Chestnut had as well as their outstanding running back. The Lions have always had a very good running game, but lately with QB Beau Bouch at the helm, passing has also hurt the Campers. Should be another good game and a good test for the Campers in game 2.
Mt. Ridge Miners
What can we say about the Miners? Who would have thought last year the Miners would come to Cumberland and dismantle the Campers at Greenway…but they did. The Miners have lost several of their leaders in the trenches and some of the talent at running back. However…they are the Miners of Frostburg and a local rival of the Campers.
This game will be in Frostburg and as usual a hard hitting contest. Hopefully, the Campers will not overlook the Miners in 2014 and go to Miner Field and take care of business.
Keyser Golden Tornado
Last years close game with the Tornado was somewhat of a surprise to many, but the Campers went to Keyser to play football that night. If only a couple of turnover would of gone the other way and so on and so on. The Campers could have won that game and probably should of. However it was not to be for the Blue and White on that night.
This year the Golden Tornado come to Greenway for a September 26 game at 7 p.m. Allegany will have to jump on them early and not let up to get this, the longest rivalry game in the area with an 88 year consecutive rivalry between the local teams.
Silver Oak Academy
Another first for the Campers as we travel to Keymar, Maryland to take on Silver Oak Academy. Make no mistake here fans, Silver Oak is a school for Juveniles that have had brushes with the law and are one step away from visiting one of Maryland many prisons. The Academy is considered a last resort for many of these young men who play football.
Keymar is located just north East of Frederick, Maryland and not a bad drive for Camper fans. This is the same team that Fort Hill just kills in football for the last several years.
If you are going to this game, go early because I am sure there are not if any bleachers for sitting on the visitor side…so bringing a folding chair is recommended.
Southern Garrett Rams
This year the Rams will travel to Greenway in a Friday night game. The Rams have struggled in the last few years, but always seem to give the Campers a good, hard fought football game.
Coach Bosley is again back at the helm of the Rams team for the third time. Coach Bosley has inspired many very good Rams teams of the past and looks to do the same for them again.
MATHS…Maryland Academy of Technical and Health Sciences
What can you say about MATHS? They always have good athletes and always come to play football. The Campers have played MATHS for several consecutive seasons now and have won them all going away. The Campers however, cannot let down their guard as MATHS is the type of team with could sneak up on you and beat you if you play sloppy and with a "we can beat these guys" attitude.
This is another home game for the Campers…however this is a Saturday afternoon at 1 p.m. game at Greenway. attitude. however this is a Saturday afternoon at 1 p.m. game at Greenway.
Northern Garrett Huskies
Another longtime rival, the Huskies as do the Southern Garrett Rams come to play. Northern brings their game to every game. The Huskie problems of the past has been their numbers. Northern is a team that always gives the Campers a very good game until the Blue and White just starts to outmuscle or outnumber them in the course of the game. This is another Friday night game at Greenway for the Campers.
Towson
Towson came to Cumberland to play Allegany last season. They are considered a Maryland 3A classification. Last year's game was very competitive and it took the Campers until the late third quarter to put them away. Towson is another of those teams with multiple talent. They love to play at Greenway and will be looking for another good game against the Campers.
Fort Hill
Not much more can be said for the Sentinels. They are the reigning 1A State Champions and are looking to run the table again in 2014. The Campers gave them a great homecoming game for 1 half, then the Sentinel speed and power running took over. This could be another run for the 1A west game between the two teams which as usual leads to another game the next week or two for the region championship.
Although the Sentinels are not as loaded with talent as they were last season, the Fort Hill football team is again regrouping for another great season.
HAVE A SUGGESTION, COMMENT OR CORRECTION?
As you know, this is a web site dedication the Allegany Camper Football Tradition. It takes a great deal of work to compile all of this information, stats, pictures and other items of interest for all you Allegany Camper Football Fans.
That is why the
BIG BLUE REVIEW
would like you, the vistiors to the site to comment, suggest or if you have any corrections to the site, to please contact the web master at;
jailermanredheadgary@outlook.com
. I will gladly get back to you as soon as possible and correct any mistakes or problems as soon as possible. Thank you for visiting the BIG BLUE REVIEW and please come back often.

COME JOIN THE GRID IRON CLUB AND HELP OUT THE CAMPER FOOTBALL TEAM
Thursday, September 28
THE ALLEGANY CAMPERS GRID IRON CLUB
BETTER THAN SITTING AT HOME!
Want to help out?
Want to get involved?
IT'S EASY!
Simply contact me at; jailermanredheadgary@outlook.com or Terri Offutt, Allegany Grid Iron Club at AlleganyGridiron@gmail.com.
The Grid Iron is always looking for volunteers and Camper fans to help out with all kinds of things. Give us a call and see what you can do.
THANKS ALCO GRID IRON CLUB!
Friday, June 15
WHERE ARE THEY NOW
ARE YOU AN ALLEGANY FOOTBALL ALUMNI?
Where have you been? What are you doing?

The Big Blue Review has started a new section simply titled, "Where are they now." The section is dedicated to those of us that have been a Camper. This is a area where former players are on display. Let us know what you are doing these days.

If you have someone in mind, simply send the Big Blue Review a picture or two and a small writeup and the Review will get it on the site for all to see.

To send your items, email the web master at jailer@atlanticbb.net .

Lets all get together and tell the world Where they all are now!
Look to the left of the site and click on; "Once they wore the Blue," and see some of Allegany footballs best.