Allegany Campers Football: Welcome
CAMPERS BEGIN THEIR 87 YEAR OF FOOTBALL!
CAMPER FOOTBALL PLAYER TRAITS!
It is always nice to have talented football players that are big, fast and strong. But whenever we think of the many players who have played at Allegany we think of the following;
Intelligence – it is easier to talk and coach someone who understands and can carry out those ideas. Someone who has the capacity to learn, understand and carry out that he has been taught.
Toughness – A player who like to hit and be hit. One who when knocked down, gets up and goes again, will always be ready for the big game, that is certainly the next game but most certainly the Fort Hill game.
Hard worker – Does whatever it takes to win a championship, always willing to spend time to improve his short comings and continue to improve his best areas.
Positive attitude – He believes in his team and they are number 1. When that four foot putt comes up, he is the one that wants to take that putt and nails it hard.
Dependable – Is always ready 5 minutes before time, always ahead of everyone and doing the job assigned.
Ambition – Always strives to get ahead and is always willing to do more than his fair share.
Championships are won with players of these qualities, not just talented football players.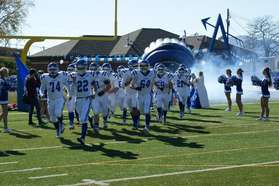 HOMECOMING 2013 PHOTOS...ENJOY!
Tuesday, November 12
HOMECOMING PHOTOS BY THE BIG BLUE REVIEW
HOMECOMING
PHOTOS BY THE BIG BLUE REVIEW
Camper fans, players, coaches, alumi or anybody else for that matter.
The Big Blue Review was at the Homecoming game and took over 400 photos of "the happening place" on Saturday. The photos are a wide range of shots of almost everything homecoming.
These pictures are open to everyone and are available to everyone who wants to copy them.
Simply click on the headline above...or simply look to the left side of the site and click on albums and them Homecoming 2013 to view all the shots.
I hope you enjoy them and come back often to see them all.
E N J O Y !
HAVE A SUGGESTION, COMMENT OR CORRECTION?
As you know, this is a web site dedication the Allegany Camper Football Tradition. It takes a great deal of work to compile all of this information, stats, pictures and other items of interest for all you Allegany Camper Football Fans.
That is why the
BIG BLUE REVIEW
would like you, the vistiors to the site to comment, suggest or if you have any corrections to the site, to please contact the web master at;
jailer@atlanticbb.net
. I will gladly get back to you as soon as possible and correct any mistakes or problems as soon as possible. Thank you for visiting the BIG BLUE REVIEW and please come back often.

COME JOIN THE GRID IRON CLUB AND HELP OUT THE CAMPER FOOTBALL TEAM
Thursday, September 28
THE ALLEGANY CAMPERS GRID IRON CLUB
BETTER THAN SITTING AT HOME!
Want to help out?
Want to get involved?
IT'S EASY!
Simply contact me at; jailer@atlanticbb.net or Tammy Shook,President of the Grid Iron Club @ tammy@willetts.com.
The Grid Iron is always looking for volunteers and Camper fans to help out with all kinds of things. Give us a call and see what you can do.
THANKS ALCO GRID IRON CLUB!
Friday, June 15
WHERE ARE THEY NOW
ARE YOU AN ALLEGANY FOOTBALL ALUMNI?
Where have you been? What are you doing?

The Big Blue Review has started a new section simply titled, "Where are they now." The section is dedicated to those of us that have been a Camper. This is a area where former players are on display. Let us know what you are doing these days.

If you have someone in mind, simply send the Big Blue Review a picture or two and a small writeup and the Review will get it on the site for all to see.

To send your items, email the web master at jailer@atlanticbb.net .

Lets all get together and tell the world Where they all are now!
Look to the left of the site and click on; "Once they wore the Blue," and see some of Allegany footballs best.
Sunday, November 3
CAMPERS COME TO LIFE WITH A BIG WIN OVER TOWSON
"A BIG WIN!"
SEASON WAS ON THE LINE
A game that had the players on edge. A game that the Blue and White needed to stay in the running for playoff contention. Such was the case at Greenway Stadium when the Campers took on the 3A Towson Generals from Baltimore County.
Allegany's best offensive players during the first half was a punter and the defense, but the Campers' offense built momentum during the second half to pull away from Towson and keep their playoff hopes alive with a 35-6 win Saturday at Greenway Avenue Stadium.

The Campers still have some say in their possible postseason appearance, as a win over Fort Hill in Saturday's Homecoming will lock up the fourth spot in the Maryland 1A West Region, but Allegany (5-4) can potentially make the cut if they lose to the Sentinels and North Carroll can beat Manchester Valley.

The fans that showed up Saturday afternoon were treated to a little bit of everything but offense, seeing rain, wind, and sun during the first half, but only 118 combined yards. Allegany punter Nate Condor booted a 62-yard punt with the wind at his back that set the Campers up for their first touchdown, and was also only 10 yards shorter than the 72 the Allegany offense picked up in the first half. Towson, running out of the bunched, single-wing formation, was even more out of sync than the Campers by putting up only 46 yards over the first 24 minutes.

Despite the inconsistencies on offense, the Campers built a 14-0 lead before halftime by getting an eight-yard run from Kirk Robinette and a one-yard sneak from Trenton Eirich, who is back after missing a game with concussion-like symptoms.

Robinette's touchdown came on Allegany's third possession, but was the first that didn't end in a three-and-out. In fact, it only lasted two plays as Condor's punt pinned the Generals at their own two, forcing Towson to punt from its own end zone and Darion Lopez returned the short kick to the 15. Robinette went for seven yards on the first play and then the final eight on the second to give Allegany a 7-0 lead after Condor's extra point.

Towson had picked up two first downs and was moving the ball with the run on its first drive, but went to the air around midfield and Allegany's Jordan Shook intercepted the first of two passes to stop one of the Generals' best drives of the day.

The Campers got their second touchdown on another short field set up by another great punt by Condor. This time the punt traveled only 36 yards, but was downed at the Towson eight and put the Generals into another punt from their end zone. After a 14-yard kick, Allegany took over at the 24 and Eirich finished the drive on the fifth play with a sneak from the one.
Sunday, November 3
IT WAS ALL CAMPERS IN THE SECOND HALF WITH THE GENERALS
A HALF TIME
A D J U S T M E N T!
It was obvious that the Campers fine tuned their game plan at halftime as they rolled out of the locker room with a new found sence that they need to get things done, and get them done they did!
Both teams picked up the pace in the second half as Allegany added 223 more yards to finish with 295 and Towson gained 199 to end the afternoon at 245.
That didn't appear to be the case for the Campers initially as they fumbled and lost possession on their first play of the half, then fumbled and recovered, but got called for holding on their second play. Eirich got his team out of the hole with a keeper around the end for 14 yards, and Robinette picked up the first down on the next play. Two plays later Allegany had a 21-0 lead with 3:09 left in the third when Robinette when 59 yards.
Robinette finished with 132 yards on 16 carries.
The final two Allegany touchdowns came through the air in the fourth quarter. Lopez recovered a Towson fumble and Dalton Golliday had a 38-yard run to build towards an 11-yard touchdown pass from Eirich to Wade McGee. Trevor Evix threw to Derrick Hickle for an eight-yard score a few minutes later to give Allegany a 35-6 lead.
Towson, coached by former Fort Hill player Chad Knippenberg, scored with 7:33 remaining in the fourth quarter on a 16-yard run by Ronje Wright. Wright had over half of Towson's 245 yards rushing with 146 on 29 carries.
"I?think we are peaking at the right time,"?said Allegany coach Tom Preaskorn. "I thought the players had a lot more enthusiasm out there today and it seemed like we were able to play better in all aspects. We are a couple turnovers or penalties away from being undefeated or having only one loss, so the players need to realize how good they can play, but that we need to keep getting better at cutting those turnovers and penalties."
Tuesday, October 29
FORMER ALLEGANY FOOTBALL GREAT DUSTIN WHARTON'S GEORGETOWN VIDEO
CAMPER FANS!
Most of us remember former Allegany football player Dustion Wharton who has moved on to play college football at Georgetown University.
Georgetown has produced a video all about Dustin, his beliefs and thoughts about his college career and his life in general.
This is a very nice video about a very nice young man.
Click on the web link above by clicking on the headline.
CONGRATULATIONS DUSTION!
COME ON FANS...HELP US OUT WITH A DONATION!
Saturday, July 20
2013 CAMPERS WILL HAVE A NEW TUNNEL RUN-THROUGH!
"A NEW TUNNEL"
IS COMING TO GREENWAY FOR 2013!
For all you old timers that have been to all Camper football game since "Rocks were just Sand," then you will be glad to know that the Camper football team will have a new run-through for the boys in blue for 2013.
If you remember, the Campers have had run-throughs of those hung on the goal posts, stretched out banners, lines of cheerleaders and the latest has been the wonderful T-pee that most all fans enjoy.
Well...for 2013, the Campers will upgrade to an even better idea as they add a new run-though along with the T-pee to bring out Campers out to play football.
The Allegany Grid Iron club has made arrangements with a company to manufacture the new run-through to be delivered by the end of August 2013.
The cost for the entire item is $7,000 dollars in which half is already paid for. However, the entire item needs to be paid for before delivery in August.
The Grid Iron is asking anyone that would like to donate to the run-through fund to please do so with any amount you can afford by contacting;
Tammy Shook @ tlshook@gmail.com
or @ 240-727-0926
to donate your contribution. As you can see by the photo above, this run-through is of quality design and construction and will last for years.
With that being said, the Grid Iron Club would like to recognize and thank Mr. Gary Kimble for personally donating $1,000 dollars for the purchase of the run-through. We sincerely appreciate your donation and thank you for your support!
So come on Camper Fans...help out the Grid Iron Club and the football team by donating to the fund to pay for our new run-through. Any donation is appreciated and as always...we thank you for your support.
"GO BIG BLUE!"