Allegany Campers Football: Welcome
Tuesday, August 7
A NEED SCHOOL AND A NEW BEGINNING
WILLING TO FIGHT!
A young Camper football player in his teens sat musing one day on the banks of the Potomac River. A young preacher chanced to pass that way and the young man said to him, "Good Father, what shall I do to succeed in football, to win the State Championship?"
The preacher answered, "Follow me," and he waded forthwith into the deeper part of the Potomac. The water grew deeper and deeper, but the preacher led on and the boy followed until the water reached his chin. As he turned to go back, the preacher seized him by the hair of his head and held him at arm's length under the water with all his strength. Finally, when it seemed he would drown, with a mighty effort he broke away and made his way to shore.
After the player ceased gasping, the preacher said to him, "Young man, what did you want while you were held under the water?"
"Air, air," the player replied. Then the preacher said, "Young man, when you desire the State Championship as much and are willing to fight for it as hard as you fought for air, nothing can keep you from that State Championship."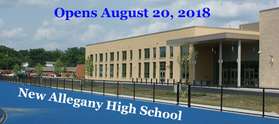 THE NEW AND IMPROVED ALLEGANY HIGH SCHOOL, CUMBERLAND, MD.
Tuesday, August 7
HAIL TO ALLEGANY AND THE END OF AN ERA
Toby Eirich, a 1976 graduate of Allegany High School as well as a former Babst Award winner, is Field Experience Coordinator and PDS Coordinator at Frostburg State University, his alma mater. He retired from teaching and administration for Allegany County Public Schools, having also coached football, basketball and baseball at Allegany High. His teams won three Maryland state championships — one in basketball and two in baseball.
The tradition was well underway when the "new gymnasium" opened at Allegany High School on Dec. 12, 1959. Allegany High defeated Frederick High 51-48 in the inaugural game at Campobello. I was not in attendance that night, as I was only 20 months old, but soon I would be a regular in the "new gymnasium."
Coach Bill Bowers had built a dynasty, having amassed a lifetime record of 567-166 and 11 state championships. He was a legend. Anyone who knew him, or played for him, speaks with great admiration. My father was cut by Coach Bowers from the varsity basketball team, and to this day, when he speaks of Coach Bowers, there is reverence in his tone; a respect that he passed down to me.
It is the same type of admiration and respect that Coach Bill Hahn generated at Fort Hill, another coach that my father paid homage to through the years. There are many remarkable coaches that achieved great success in our community. These two gentlemen have been universally worshipped and respected by both sides of town. That, in itself, is a tremendous feat.
Most children of my generation grew up cherishing the thought of playing in the Turkey Day game. Realize that in the 1960s and early '70s, there was no such thing as a Homecoming game. I was a little different than most, as my dream was to play basketball at Allegany.
The Allegany gymnasium was such a great venue for high school basketball. I was in awe of the building. To me, it was our Boston Garden, or as I told my players at Allegany many years later, the "Mecca" of high school basketball in the state of Maryland.
The memories, so many, are both glorious and gut-wrenching. From the time I was 5 years old, my dad would take me to the games at Campobello. My first memories were of the Steve Vandenberg-Chet Payne led state champion Allegany Campers. Steve was my idol and probably the greatest basketball player to wear a uniform in our community. He earned a basketball scholarship to Duke University, the only "Dukie" I ever rooted for.
My dad and I would arrive early before the J.V. game to get our seats, which were about three rows down from the top at center court. I had my paper and pencil so I could keep score of every individual on the Allegany roster. I would always look to the balcony to see if the bleachers were pulled out. That was the barometer for the size of the crowd they were anticipating. Mrs. Wolford would be seated below at courtside in row one at mid court.
The gym would be full, the balcony would be packed, the windows would be sweating, and it would be hot, very hot. My mom would bundle me in layers of clothing and by the end of the J.V. game, I would be stripped down to my white T-shirt. The "Alco Men" would be seated under the basket at the scoreboard end of the gym, dressed in blue V-neck sweaters chanting, "Lets go, Alco!" and "Hail, Alco!" It gave me chills.
For those of a younger generation, "Hail, Alco" permitted a young person, like myself, to chant, "Hell no" (of course with the permission of my father). The Arrowettes would entertain at halftime, extending from baseline to baseline performing their famous high-kick routine. What an exhilarating atmosphere.
My childhood was filled with the tradition of Allegany basketball. There were so many outstanding players in the era including Steve Vandenberg, Gary Rymer, Jim Walton, Mark Moderacki, Rick Stouffer, Jim Spangler, Bill Armstrong, and the fearless Tommy Green, to name a few.
There were many great seasons of dominance led by Coach Chet Payne and Coach Jim Thompson, my coach and mentor, winning nine of 11 WMIL championships from 1960-1971 including two state championships. Coach Payne's Campers won two state championships in the early '60s. Years later, I had the pleasure of playing for Coach Thompson. He taught me a great deal of basketball and didn't hesitate to motivate me at halftime if I needed, what you might call, a little tender loving care.
As part of any tradition there are always difficult defeats. Fort Hill's Buddy Orndorff hit a halfcourt shot to beat Allegany in the 1967-68 season. I was not a happy Camper that night! There was also the dominance of the Bishop Walsh Spartans that same season, led by Coach Rick Harris, Glenn Cross, Rick Scaletta, Bobby Kenney, George Geatz and Kevin Mattingly.
We should not forget Paul Green's Fort Hill Sentinels, led by one of the greatest athletes I ever saw, Mark Manges. Mark's football career may have overshadowed his superb basketball skills, but what a magnificent player he was. Mark was a bonafide Division I basketball player recruited by Coach "Lefty" Driesell at the University of Maryland, who will be honored with a long overdue induction into the National Basketball Hall of Fame.
Of course, if you are going to talk about the greatest athlete I ever saw you have to include Greg Hare. Greg quarterbacked Ohio State University to the Rose Bowl under the legendary Woody Hayes. And by the way, Greg was an outstanding basketball player. As far as being "THE GOAT" Greg and Mark are 1A and 1B. It is a subject that has been debated many times.
Allegany High School was also the site of the Alhambra Catholic Invitational Tournament, a magnificent sporting event this community has hosted for many years. To those of a younger generation, you have no idea what you missed. My friend and former colleague, Joe Carter, may not publicly admit this but the ACITs at Allegany were the "glory days" of the tournament.
Joe has done a tremendous job with the tournament for many years. We were competitors in the coaching ranks for many years. I always told Joe he should stop yelling at those officials, as it could affect his long-term health. Yes, Joe, I am smiling. I am glad you are well.
Huge crowds poured into the gymnasium, and it was electric. From my junior high school years, until the time the tournament was moved to Frostburg State University, I was seated under the scoreboard in awe of the amount of basketball talent that was on display on a yearly basis.
Some of the best players of the '60s and '70s played in the ACIT including Austin Carr, Sammy Puckett, Adrian Dantley, Bill Langloh, Bernard Rencher, Donald "Duck" Williams, Kenny Carr and "Hawkeye" Whitney. Many of these players went on to play in major programs including Notre Dame, Maryland, Virginia and N.C. State. On Saturdays, we could tune into Raycom Sports for the broadcasts of the Atlantic Coast Conference and follow their careers with Jim Thacker and Billy Packer behind the mic.
The most scintillating performance I ever witnessed at the ACIT was that of "Jo Jo" Hunter of Mackin High School. His three-day performance in 1975 was legendary. His game was highlighted by a picture perfect jump shot that elevated him above any defender. The fingertip release of his jumper was perfection. Jo Jo played at Maryland before transferring to the University of Colorado.
The most dominant player was DeMatha's Adrian Dantley. I watched him physically demoralize opponents for three straight years under the direction of the legendary Morgan Wootten.
My personal ACIT experience occurred in 1976. Coach Jim Thompson stopped Jerry Washington and me in the hallway at Allegany and offered us a job working at the ACIT. Jerry, my teammate and friend, and I were hired to sweep the floors at halftime of every ACIT game in 1976. We jumped at the chance and were even paid to do the job. Our years of sneaking through the varsity locker room to avoid buying a ticket were over!
By all accounts, Jerry and I performed flawlessly for all three nights. They were the cleanest, shiniest floors in ACIT history. *As I look back, my dreams came true to play and also coach in this historic venue. My brothers, Todd and Tedd, have been able to be part of the greatest rivalry in the state of Maryland and a part of history by squaring off as the head coaches at Fort Hill and Allegany. My father was proud of his sons competing in this rivalry. My poor mother, however, sat with her head in her hands, a nervous wreck. Her only happiness during those years was when the games ended.
I wish I could go back and experience my childhood again. The ironic part of my childhood was the '60s and early '70s were such a tumultuous time in our nation's history. The Vietnam War, the fight for civil rights for all Americans dominated our TV screens. The community we grew up in insulated us from these dramatic events. There was no ESPN, no cell phones, no computers and no video games. There were chain nets on the rims at Constitution Park and you could find a pickup basketball game at almost any time of the day. It was a wonderful time to be a kid.
Poetically, the Campers' final game at the "new gymnasium" at Allegany High School was against Fort Hill on Monday, Feb. 26, 2018. It was a winner-take-all game to advance in the playoffs. The irony is that anyone who has ever participated in an Allegany-Fort Hill game, in any sport, knows that in this rivalry, they are all winner-take-all games.
I missed the first game at Allegany High Gymnasium, but I was in attendance at many over the years. It has been nearly 60 years of basketball in this historic building. The memories are so many, I can't believe the end is here. The relationships built and the bonds formed will last a lifetime. *I miss it already.