Birmingham Industrial Baseball League: League News
Thursday, March 16
Birmingham Industrial League Legend Cleophus Brown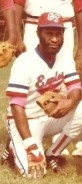 Cleophus Brown at East Thomas
The Birmingham Industrial League family lost another legend on Tuesday, March 14, 2017 when it learned about the passing of Cleophus Brown. Prior to their entry into the Birmingham Industrial League in 1967, former members of the team at Birmingport had been well exposed to the playing skills of Cleophus. At times, the team thought they were living in a dream world. Schedule a game with the neighborhood team at Bradford and Cleo was there. Try playing Village Springs and Cleo was there. Try again at Brownsprings and Cleo was there. After his brief stint in the Negro League, Cleo was a much sought after player by teams inside the Industrial League. In those days, most Industrial League teams refused to play a non-Industrial League team unless it was on their off day and only if the non-Industrial League team was willing to play at the Industrial League team's home field. There were a few exceptions to that position, notably Woodward, Pullman, Pipe Shop, and Alden. However, two of the above teams – Woodward and Pipe Shop – would only travel if they could convince one player to travel with them. That player was Cleophus Brown. The manager at Pipe Shop, nicknamed "Pee Wee" would only go if he could get one of his players, nicknamed "Belly", to convince his friend Cleo to travel with them. Then the manager at Woodward, Joe Allen (nicknamed "Joe Brickyard") would only travel if he could convince Cleo and "Belly" to travel with his team. Cleo's teammate at Woodward, Oliver Ferguson ("Son Ferguson") remembers him as a great first baseman. The team at Pullman would travel only because pitching standout B.G. Stephens had friends who worked at Birmingport. The team at Alden was made up of ready travelers because many of its players were former high school friends with players on the team at Birmingport. Through all of its pre-Industrial League years, members of the team at Birmingport had only fond memories of Cleophus Brown. He had a reputation for being a complete gentleman, outstanding competitor, and all around good sport. Upon entry into the Industrial League, there he was again – Cleophus Brown. Up against him one year at Ensley 1489, most contact with him was during his long-time stay with the East Thomas Eagles. With a reputation as a smooth and skilled first baseman, Cleo could also hit but the thing that most never got to see him do was pitch. Cleo could pitch, not chunk, but only when he wanted to. He loved playing first base. Cleo continued to play with the team at East Thomas until his early sixties and could still outplay many younger players. With a deep love of the game and most unselfish attitude, Cleo agreed to step aside and allow younger players to step into the starting lineup. Teammate Don Pugh remembers Cleo for his friendship, knowledge of the game, and ready willingness to help any player with their game. Manager Clarence "Jake" Swain remembers Cleo as a teammate on the team at Connors Steel, then as a member of the team at East Thomas. Jake remembers him as a true friend, mentor, and all around great man. Cleo retired from the team in 1996 at the age of sixty-two (62). Jake remembers Cleo coming to him to volunteer stepping aside to allow a young upcoming first baseball a chance to play in a starting role. Such an attitude is totally consistent with the goals and approach of the Birmingham Industrial League. Allowing young players to play under, beside, and against more experienced players is a hallmark of the Industrial League. Seeing his face at games will be greatly missed by Birmingham Industrial League fans. Rest in peace Cleophus.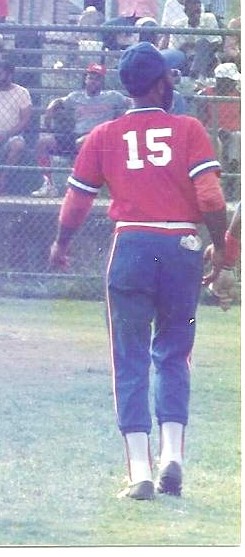 Cleophus - that confident strut
Tuesday, August 9
Blue Sox 2016 BIBL League Champions
The Blue Sox are the 2016 League Champions for the Birmingham Industrial Baseball League. After taking a year off from this league as the Centre Blue Sox, the organization regrouped to reenter the League as simply the Blue Sox. Their reentry was serious, well focused and, despite a shaky first game start, unwavering throughout the regular season and post season. Many eyes were focused on the prior year's champions, Butler Bombers (2015), Buck Village Stars (2014), and Birmingham Cardinals (2013) as the major players for 2016. They continued to demonstrate that the road to a championship in this league still had to go through them. However, a pre-season review of each of the eight (8) team's rosters led us to comment to one fan on day one that the Blue Sox were for real and the one to beat in 2016. They lost their opening day game against the Butler Bombers with an ugly display on defense. In our way of thinking, we always toss each team's first three (3) games as being the way to project their chances for success in this league. We keep going back to the names on rosters and, where provided, their primary positions. The Sox appeared to have a clear advantage in pitching and dependable offense. After three (3) games, the true rosters began to separate themselves from the roster "wish lists". The game was then on for 2016. In the pre-season blind schedule draw, the Sox drew the most difficult schedule with a three-game series with the Butler Bombers and another three-game series with the Birmingham Cardinals. The Sox persevered, taking 2 out of three against the Bombers and 3 out of 3 against the Cardinals. However, even this accomplishment was no guarantee of success against those two opponents or any other in a back-to-back best two out of three series. Forget it! The Sox plowed on, taking two straight in round 2 of the 2016 playoff, then two straight in the 2016 championship series against the Birmingham Cardinals. The Sox got outstanding pitching performances from Austin Carpenter (0.00 ERA) and Brandon Reynolds (2.33 ERA) with each going a full nine innings in each game. The 2-day offense for the Sox was led by Myles Cordell who had two homers, Darius Rudolph who was this year's batting champion, and Jo Jo Bynum who was named the series MVP. Despite their 2-0 series sweep, the offensive and pitching performances of the two teams was not as overpowering as one might think, except for the Cardinals' early pitching performance on day 2. The Cardinals' Derrick Sanders led all series batters with a cool 1.000 batting average. The Cardinals also received outstanding pitching performances from Jeremy Peterson (1.00 ERA) on day 1 and Darryl Dunbar (2.70 ERA) in relief on day 2. Peterson led all pitchers with a cool 0.88 WHIP, making him the most difficult to get on base against. Our hats go off for each of the 2016 championship series opponents. However, we must give our highest salute to the Blue Sox, the 2016 BIBL League champions. The number of Bullseye teams has just grown to four (4). Congratulations to the management staff of the 2016 Blue Sox. What's next?
Tuesday, August 9
Birmingham Cardinals 2016 Championship Runner-Up
The 2016 Birmingham Cardinals failed in their bid to add another championship trophy to their many championship trophies this year. They dropped two straight games to the top seeded Blue Sox by scores of 4-3 and 14-4. The Cardinals had held on to the number one and two spots up until the last three weeks of the regular season. They lost one game per week during those final three weeks, starting with a loss to the Buck Village Stars followed by a loss to the Butler Bombers, and ending with a loss to the Blue Sox. It was an amazing 2016 run for the Cardinals who decided to add a squadron of very young players to go along with only three (3) more experienced returning players. They managed to hold on to third place for a chance to move into the championship series. To get that far, however, required them to go through the 2015 champion Butler Bombers in a best 2 out of 3 second round playoff. They took two of the three games and were fairly confident in their chances for another championship. To reach that mark meant that they had to overcome yet another major hurdle. Their opponent would be the top ranked Blue Sox, to whom they had already lost 3 of 3 games to during the regular season. They elected to give the ball to young Jeremy Peterson in game 1, knowing that he would need to be on his best game going up against the Blue Sox and starter Austin Carpenter. Peterson did not disappoint his manager or Cardinal fans, allowing only one earned run in nine innings of work, allowing just 5 hits and earning him an impressive 1.00 ERA with a 0.88 WHIP. The Cardinals defense, however, disappointed Cardinals management and fans with six critical errors including three in the very first inning. While Peterson did not disappoint, neither did Austin Carpenter on the other side. He allowed just eight hits but no earned runs for another impressive 0.00 ERA and 1.44 WHIP in nine innings of work. Game two was another story. The Cardinals chose to go with a left-handed starter against a Blue Sox lineup filled with hard hitting right-handed batters. The Sox scored ten of their 14 runs in the first three innings and the rest was history. Right handers Darryl Dunbar was inserted in relief, allowing 2 earned runs in the fourth inning but silencing the Sox for the remainder of the game. Despite a disappointing series in terms of wins for the Cardinals, the numbers paint a more encouraging picture. The Cardinals managed to record 19 hits in the two games versus 17 hit for the Blue Sox. Their offense was led by Derrick Sanders II who finished with a cool 1.00 batting average, followed by Anthony Housley (.625) and Jimmie Holifield Jr. (.333). The Cardinals finished the series with 9 errors versus 6 for the Sox. It will be up to Cardinal management and fans to explain the final outcome. Perhaps a stat to be considered might be the fact that the Sox swiped 10 of 11 (91%) attempted stolen bases. The Cardinals also finished with 18 men left on base. Despite everything, the Cardinals accomplishments in 2016 have earned our tip of the hat for a great season. The 2016 season was just another season. There will be a 2017 season. Congratulations to the management and entire Cardinal organization.
Tuesday, July 19
Blue Sox 2016 Regular Season Champions
The regular season for the Birmingham Industrial Baseball League came to an official close on Sunday, July 17, 2016. After a season long first place battle between the Butler Bombers, Birmingham Cardinals, and Blue Sox, the Blue Sox emerged on Sunday as the clear first place team and 2016 Regular Season Champion. Prior to the start of the weekend, the Sox and Bombers had drawn clear of the Cardinals and entered the weekend in a tie for first place, with two games left to play against one another. The Bombers only needed to win one (1) of the two games to clinch first place, whereas the Sox had to win both in order to clinch. The Sox defied most odds and won both games, 10-6 and 17-12. This brought to a close what many will say was an exciting 2016 regular season. A majority of the top six (6) teams had already demonstrated that they were capable of defeating any of the other teams. This leads us to anticipate an exciting post season of playoff games. Anyone can emerge as the 2016 League champion, the highest award recognized by the Birmingham Industrial Baseball League. Name that champion now at your own risk of embarrassment. There are just too many sleepers in this playoff to make any prediction. The Sox ended their regular season with 14-2 record and will enter the playoff as the number one (1) seeded team. The final seeding of teams will be as follows: #1 Blue Sox, #2 Butler Bombers, #3 Birmingham Cardinals, #4 Buck Village Stars, #5 Bessemer Black Sox, #6 Gadsden City Raiders. The Birmingham Industrial Baseball League extends a big congratulations to the management and players of the Blue Sox on becoming the 2016 Regular Season Champions and the League's first new Regular Season Champion in the past eleven (11) years.
Tuesday, July 19
Darius Rudolph is 2016 Batting Champion
For the second season in a row, Darius Rudolph has captured the 2016 batting championship, ending this season with a .536 batting average that included nine (9) doubles, two (2) triples, and five (5) home runs. Darius earned this recognition last year as a member of the Gadsden City Raiders squad. He led the race from day one this year and never dropped below .500 during the regular season. He is a member of the Blue Sox potent 3-4-5 punch: Darius Rudolph-Kevin Covington-Kenny Akin. No member of this group has dropped below a high .400 average during the season. Darius was in a class of his own this season, finishing with fifty-six (56) plate appearances and a batting average of .500 or more. His nearest challenger was teammate Kevin Covington, who finished with a .491 average. Congratulations again Darius Rudolph on becoming the Birmingham Industrial League's 2016 regular season batting champion.
Monday, July 4
You Call It As You See It
Assuming there are no weather related game cancellations, the 2016 post season playoff is only nineteen (19) days away. This year's playoff holds promise for being the absolute most exciting one that Industrial League fans have witnessed in quite some time. The second round and championship series should be some real thrillers. In fact, we will not be surprised if both series were to go their full term. The 2015 League champion Butler Bombers still hold the key to any opponents that aspire to become the 2016 League champions. The Bombers are currently in a first place tie with the Blue Sox with two (2) games left to be played against that same opponent. The key for the Bombers is to control the three (3) game series with the Blue Sox in order to enter the playoff as the number 1 seed. The Bombers also have a third game remaining with the Hooper City Royals. The Blue Sox, on the other hand, also have three games remaining. However, two of those games are against the Butler Bombers and one against the Birmingham Cardinals. There is no room for major missteps on either the part of the Bombers or Blue Sox. A major misstep could land either team as a 1, 2, or 3 seed going into the playoff. The Birmingham Cardinals must win both of their two remaining games, then watch the Bombers and Blue Sox do battle. Their remaining games are against the Hooper City Royals and Blue Sox. A number 2 seed is still a possibility for the Cardinals. The number four (4) spot in the standings is also an interesting one. The Buck Village Stars and Bessemer Black Sox are currently tied for fourth place with the two going head to head on Saturday, July 9. This is basically a play for home field advantage during the first round of the playoff. Regardless of the outcome, one of them will face the #1 seed during the second round of the playoff in a best of three (3) series. The 2016 regular season is coming to an end just as we had imagined because of the 3-game series matchups. On May 17, 2016, we posed eight (8) questions. We respond to those questions now: (a) Can the Butler Bombers repeat their 2015 performance? Answer: Yes, but making it too uncomfortable for Bombers fans. (b) Are the Gadsden Raiders for real this year? Answer: No. Shocked Buck Village earlier in the season, but crippled by internal discord and a "losers limp". Maybe they will get it together for next year. (c) Can the Buck Village Stars repeat their usual slow start and come on strong after their third game? Answer: Amazingly, this team has managed to stay relatively close despite practicing in their dreams and not on the field and playing guess who's coming to dinner at games. Still capable of surprising. (d) Can the Blue Sox end their season as a top tier team? Answer: Yes, hungry for this but cannot expect the Bombers and Cardinals to feed that hunger with a silver spoon. (e) Can a young regrouped Birmingham Cardinals team send everyone running for cover? Answer: As the saying goes, "it ain't over 'til it's over". This team has the personnel to get the job done. (f) Can the Hooper City Royals surprise anyone this year? Answer: They did not. Chicken Little says "the sky is falling, the sky is falling". No, the sky has fallen. A major regrouping for 2017 would not come as a surprise to us. (g) Can the Bessemer Black Sox knock off at least two (2) so-called top tier teams this year? Answer: They already have with a win against the Butler Bombers and Blue Sox. This team is potentially dangerous but also likes to play guess who's coming to dinner. (h) Can the Leeds Pirates shake up the League with a win this season? Answer: We'll be John Brown, they did it with 2 wins this season. Let's get ready to rumble, starting July 23, 2016.
Thursday, May 26
Game On
Week three (3) of the 2016 regular season will feature the current top four (4) teams in all out battles. Each will have an opportunity to take a giant step forward in this year's race. On the other hand, someone will take a step backward, setting the stage for a takeover by a fifth or sixth place team. The first featured game will be on Saturday when the Birmingham Cardinals invade Bessemer to take on the Black Sox at Hard School Field. Both teams are currently tied for second place. Elsewhere, the Gadsden City Raiders (3rd) will travel to Ensley Park to take on the League leading Butler Bombers. The Raiders have been the League's upset specialists (both wins over Buck Village) over the past four (4) years. Can the Raiders do it again or will the Butler Bombers do what they have done thus far, swat them await like noisy insects? On Sunday, the top four will cross up. The Birmingham Cardinals will play host to the Butler Bombers at Ensley Park, while the Gadsden City Raiders play host to the Bessemer Black Sox at Green Pastures Park in Gadsden, Alabama. In other weekend action, the Blue Sox and Buck Village Stars will play crossover games too, with both playing the Hooper City Royals and Leeds Pirates. The Cardinals, Blue Sox, and Stars are currently sporting an unflattering record: 36, 33, and 44 team strikeouts in four (4) games, respectively. Equally unflattering are their 26, 37, and 34 men left on base in four games, respectively. Anyway, this should be another exciting weekend of Industrial League baseball.
Tuesday, May 17
The Season Has Started
Week one is now behind us and we were able to get through without any cancellations or forfeits. The weather is threatening scheduled contests for the upcoming weekend, particularly those scheduled for Saturday. With one weekend gone, some team fans were left wondering about their team's chances to mount a serious bid for a post season playoff spot. Such a concern at this point is far too early. With eight (8) teams playing a sixteen (16) game regular season, each team will play a three (3) game series with two opponents. All other matchups will only be two (2) games. A strange thing happened in the blind schedule draw this year. Both the matchups and scheduled playing dates set us up for a most interesting regular season. Each game played on this past Saturday was just the first of three (3) games to be played by those teams. Likewise, each of the games played on Sunday was the first of three (3) games to be played by those teams. A key question for those teams will be how well they handle their three (3) game series. The next five (5) scheduled games will be involving opponents that will only face one another twice during the regular season. Of these games, not more than three will be critical matchups. For anyone who thinks they already know how things will end up this season, go ahead with your predictions. Before doing so, answer these questions: (a) Can the Butler Bombers repeat their 2015 performance? (b) Are the Gadsden Raiders for real this year? (c) Can the Buck Village Stars repeat their usual slow start and come on strong after their third game. (d) Can the Blue Sox end their season as a top tier team? (e) Can a young regrouped Birmingham Cardinals team send everyone running for cover? (f) Can the Hooper City Royals surprise anyone this year? (g) Can the Bessemer Black Sox knock off at least two (2) so-called top tier teams this year? (h) Can the Leeds Pirates shake up the league with a win this season?
Thursday, October 1
Remembering Leroy Givan
The Birmingham Industrial Baseball League family was saddened to learn of the passing of Leroy Givan on Monday, September 28, 2015. Leroy was an outstanding player who spent all of his 20+ Industrial League playing career with the Alden Cardinals. He is remembered by many for his speed and ability to accelerate to an unbelievable speed from a casual walking start. Funeral services for Leroy have been set for 12:00 noon on Saturday, October 3, 2015 at Mt. Moriah Baptist Church in Pratt City. Our condolences go out to Leroy's family.
Tuesday, August 11
Butler Bombers 2015 League Champions
The Butler Bombers are the Birmingham Industrial Baseball League's 2015 champions. They were also undefeated regular season champions. This accomplishment writes a new chapter for the Bombers and the League. Eleven (11) years in the making, the Bombers were finally able to put all of the right pieces together. Going back in time, the last championship team from the Ensley community was in the early 2000s under the management of Oscar "Butler" Williams. At that time, the team was known as the Ensley Stars. Butler had managed at Stockham and Ensley and had compiled several League championships. He retired from baseball prior to his passing in 2005. Since 2003, championships in this league have been dominated by Clarence "Jake" Swain and later, Milton Taylor (operating one team under different names) and Steve Bradford and Augustus James at Buck Village. There have been only two champions in this league during the past eleven (11) years. Following Oscar "Butler" Williams' passing, his sons, Oscar Jr., Richmond (Ricky), and other family members made a commitment to carry on in the footsteps of "Butler". They wanted more championships for the team playing on the field named Oscar Butler Williams Field. With son Ricky having two sons who had learned about their grandfather's reputation, it was an easy decision for Ricky to take over as manager of a team. Oscar Jr. took on the role as general manager and has been able to generate the much needed financial support for the team. They decided on a new name for the team, Butler Bombers (Ballin' Butler Bombers). They soon realized that the caliber of players that their father managed had retired from baseball. They also realized that managing a team was much easier for their father with players like Otis Thornton, Sam Ashford, Bob Veale, Charles Calhoun, Henry Brown, Shayne Carnes, Jack Meyers, and Herb Bradberry. With players like these, he only needed to place them on the field and let them play. Four (4) of the above mentioned players has already played minor league ball before playing under Oscar Sr. Bob Veale was even a former major league player. Well, Oscar Sr.'s name and reputation was not going to be enough to get the sons a championship team. The eleven year journey has been a rough one for the sons. Players who were not very dependable, committed, light on talent, and poor attitude infected plagued the brothers. They kept getting rid of what they did not need in order to make room for what they did need, but it oftentimes led to more of the same types of players. During the eleven year journey (including 2015), the teams made only three (3) bids at a championship. Fed up with the status quo, the team added former industrial league manager, Rod Walls, to the coaching staff in 2014. Several players migrated to the Bombers upon Walls' arrival. The team played for their second championship that year but went down in a 0-3 sweep by the Buck Village Stars. Back to the drawing board, management continued recruiting during the off season. Then in 2015, the Bombers added Malcolm McCary as pitching coach and another former industrial league manager in the person of Don Ervin. Base coach Maurice Green was moved to player/coach. These moves appear to have done the trick. Changes in player demeanor, attitude, and focus, were noticeable to most of us. The Bombers swept through the second round of the playoffs, going 2-0 against a much improved Bessemer Black Sox team. Then, they won 2 of 3 three against the Buck Village Stars. They finished the championship series with a .269 batting average, led by Ryan Lewis (.500), Michael Thomas (.385), DaQuan Johnson (.308), Jarvis Williams (.308), and big game hero Terrell Franklin (.250). Of 25 runs allowed during the series, only 14 were earned. Their greatest weaknesses during the series were the 21 base on balls allowed, 16 stolen base allowed, and uncharacteristic 9 total errors (including WP, PB, and fielding) in the final game. The biggest surprise might be the fact that they stole only 3 bases during the series despite leading the league with 71 stolen bases during the regular season. Congratulations manager Ricky Williams, Oscar Williams, players, and management team of the Butler Bombers for a job well done. A third bullseye has been established.
Tuesday, August 11
Terrell Franklin MVP
When Terrell (TJ) Franklin stepped onto the field in the deciding game of the 2015 BIBL Championship series, he probably had a vision of only a good game for himself, his team, and a championship win. The actual ending was understandably the last thing on his mind. Young TJ has been used as an infielder, outfielder, and relief pitcher with an ERA of under 1 in 2015. He was the Butler Bomber's leading batter in 2015 with a .451 batting average. Coming into Sunday's game against the 2014 League champion Buck Village Stars, he had been kept pretty much in check with only 2 hits in 11 at bats. He had also not made a relief appearance in the series. He finally made a relief appearance in the bottom of the eighth inning with the score tied 7-7. He gave up 2 unearned runs in that inning, which allowed the Stars to go ahead 9-7. He held the Stars scoreless in the top of the ninth and this set the stage for the bottom of the ninth TJ show. He had tripled on his first at bat, made to look bad on a Steven Becker curve ball his second time around, and then popped out on his third and fourth at bats. In the bottom of the ninth, with one out and runners on first and second, TJ showed why he was the team's leading batter. Becker's first pitch fast ball was parked by TJ over the center field fence, giving the Bombers a 10-9 win and the 2015 championship. Winning walk-off hits are not too uncommon. However, winning walk-off homeruns are rare at any level of baseball. Because of his ninth inning heroics, TJ was named the championship series Most Valuable Player. Congratulations Terrell (TJ) Franklin.
Tuesday, August 11
Buck Village Stars 2015 Championship Runner Up
The Buck Village Stars finished the 2015 regular season in second place and held on to be runner-up in the championship series. Returning from their 2014 championship season, the Stars along with the Birmingham Cardinals were predicted to be the only route for any team to become the 2015 League champions. For the past eleven (11) years, any team with ambitions of becoming League champion had to go through both teams. The Stars and Cardinals have been the only League champions during that eleven (11) year span. The Butler Bombers broke through this year, which should make for some future truly exciting seasons. The Stars ended the regular season with a team .369 batting average. Poor defense plagued the Stars and most teams in this league. The championship series proved to be no different for the Stars. Six (6) of the twenty-eight runs allowed were unearned. Like their championship competitors, they committed nine (9) combined errors in the final game of the series. In fact, the overall championship series stats between the two teams were so close that it took TJ Franklin's ninth inning shocker to separate them. They stranded 28 runners on base during the three games, while the Bombers were chasing them with 22 stranded runners. The Stars finished the series with a .211 batting average. Their brightest offensive spot came from recent high school grad, Jordan Smith (.333), Lionel Galloway (.333) and Anthony Jones (.308). Their leading regular season batters, Brandon Heard (.500) and Eric Johnson (.311) finished the series with .200 and .083 averages, respectively. With less than a stellar performance during the series, the Stars team is made up of seasoned veterans with a few youth sprinkled in the mix. They know how to lose just as they know how to win. They understand that losing is not the end of the world. We have no doubt that they will return next year with a meaner resolve. We also have no doubt that they will appreciate sharing that big bullseye with two other teams rather than one. Congratulations Steve Bradford, Gus James, players, and coaches on a successful 2015 season.
Tuesday, July 21
Butler Bombers Seek to Take All
The 2015 regular season champion Butler Bombers will be looking to take care of some unfinished business from 2014. As with last season, they will enter the 2015 playoffs as the only undefeated team in this league. We have not been able to find anyone who can remember the last time a team went undefeated during the regular season. The Bombers did some fine tuning for this season and it has paid off handsomely. Their defense has been 95% flawless and the offense has grown stronger. If there is one thing that everyone knows, it is that the opponent's defense must be equally flawless. When they hit the ball, they run as though they are running for their life. When they get on base, they are still running. Aside from hitting (often times late in the game), their all-out running attitude forces many opponents to commit fielding errors. If you cannot field it cleanly, throw it with accuracy and a lot of zip on it, you may as well eat it. This will be one fun group to watch in the playoffs. They have earned a bye in the first round and will be waiting to meet either the Bessemer Black Sox or Hooper City Royals in the second round. The championship series is, perhaps, the most anticipated part of the playoffs. Last year, the Birmingham Cardinals entered the playoffs as the 2 seed with the Buck Village Stars earning the 3 seed. The Stars managed to defeat the Cardinals in the second round to advance to the championship series. This year, their seeding is reversed and the Cardinals hope to turn the table on the Stars. Before this can happen, the Cardinals must get past the Gadsden City Raiders in the first round. Fans may think they have seem every team enough to accurately predict the final outcomes, but hold your horses. Short series can yield some surprising results. If you feel confident in your predictions, go to our Handout section and check out the Potential Playoff Matchups.
Tuesday, July 21
Rudolph Takes Batting Title
Darius Rudolph of the Gadsden City Raiders has captured the title of 2015 League Batting Champion with a .568 average. He is in great company, following 2012-2014 champions Joe Williams (Buck Village Stars), Kevin Covington (Centre Blue Sox), and Will Sykes (Birmingham Cardinals). Darius was ranked sixth at the mid-season mark behind then leader Maurice Dailey of the Birmingham Cardinals. He remained steady after the break while Dailey cooled off somewhat to finish second behind Rudolph. He Carried a .625 average up until his last two games of the regular season. He also finishes the regular season tied with Dailey and Sykes for the most homeruns (4). He and his teammates will square off in the first round of the 2015 playoffs against Dailey and his teammates. Congratulations Darius and good luck to all in the upcoming playoff series.
Sunday, May 10
Bessemer Black Sox at Gadsden City Raiders
In what can only be described as a wild and exciting game, the Bessemer Black Sox managed to come back from 12-0 then 13-3 deficit to defeat the Gadsden City Raiders by a final score of 15-14 on Saturday, May 9, 2015. The Sox took the final lead in the top half of the ninth (9) inning. The Raiders threatened in the bottom half of the inning, but failed to deliver that needed knockout punch. Trailing by a score of 12-0 after three innings, we were ready to leave this game feeling sure of a Raider victory. However, we all know that baseball is a strange game, a strange mental game. Saturday's game was a clear example of persistency winning out over complacency. The Raiders lulled themselves to sleep with the huge early lead. The sox were flat, due in large part to the number of runs allowed by passed balls. Sorry, but the flu could have surrounded home plate and not be caught. One could see the early toll that the passed balls were having on the team. It may have even contributed to the complacency that developed on the Raiders' side. Sox manager, Charles White, finally decided to make a change behind the plate and on the mound. The passed balls ceased and reliever
David Lacey
froze the Raiders, allowing only one (1) unearned run after his entry into the game. Then reliever E J Johnson sealed the deal. The change in battery gave the Sox new life and you could see the change in body language (our never-ending observation). The Sox kept on chipping away at the Raider lead until
E J Johnson
delivered a big three run opposite field blast high up into the trees in right field to make the score 13-11. The body language on the Raider side clearly changed. This change led to two late inning errors that actually gave the Sox the final lead that they needed. In short, this contest should have given both teams a great and true lesson: up or down, always compete until the last out is recorded. Saturday was Saturday and tomorrow will be tomorrow. However, there was some impressive talent on display on Saturday and neither of their teams should be projected as a sure win for any other team in this league this year. The Raiders will travel to Hooper City on Saturday, May 16, 2015 then play host to the Leeds Pirates on Sunday. The Sox will play host to the Birmingham Cardinals on Saturday then travel across town to face the Butler Bombers on Sunday.
Thursday, April 30
OPENING DAY IS SATURDAY, MAY 9, 2015
Roosevelt Young, BIBL President
The Birmingham Industrial Baseball League will open its 2015 regular season on Saturday, May 9, 2015 with seven (7) teams going head to head for a sixteen (16) game regular season. The League will be idle on Sunday, May 10, 2015 in honor of Mother's Day. Thereafter, the regular season will continue with a Saturday and Sunday game. The regular starting time for weekend games will be 3:30 PM. Teams have been given the option, when mutually agreed upon, to play their game(s) as a weeknight game. Any schedule changes will be posted on the League's website. The goal of each team in the League is to be crowned 2015 League Champion. The 2014 League champion Buck Village Stars will return and try for a repeat. Some teams had a disappointing end to their 2014 season and are already lining up to sing a popular song, "I gotta clean up what I messed up." Opening day rosters will be complete by Wednesday, May 6, 2015. The League opens with a fewer number of teams than in the past several years. However, sometimes a step backward is necessary in order to move forward. At this point, we are fairly optimistic that the League will rebound with a ten (10) team lineup in 2016. We are also anticipating a competitive 2015 season. Once the opening rosters are complete, this site will announce its pick for "upset specialists" in 2015. Our postings this season will focus less on team performances and more on noteworthy individual player performance. On the other hand, we will continue to poke fun at any ridiculous actions by managers and teams. Finally, we hope that individual managers, players and teams will remember that they are there to have fun and be competitive. So, play your game and not the name. Keep the game on your mind and your mind on the game. Good luck.
Sunday, August 10
BUCK VILLAGE STARS 2014 LEAGUE CHAMPIONS
Buck Village Management with Roosevelt Young, League President
The Buck Village Stars recorded their second League Championship during the last three years with a resounding blowout of the Butler Bombers on Saturday, June 9, 2014.

The Stars outscored their opponent in the three day series by a score of 61-11.

Off to a disappointing start for the season, several of the Stars' injured players were able to appear in time for the post season.

The Stars reconfirmed our contention since the opening of this website that the only established road to a championship in this league has been via Stars or Cardinals highway.

Over the past three seasons, there has been an attempt to create new highways, Butler and Hooper City Highways.

However, hell deep sinkholes quickly halted all traffic.

The Stars combined their .369 batting average with a stingy 1.92 era from their pitchers to send the Bombers packing in three straight games.

This was done despite having lost to the same team three times during the regular season.

The series demonstrated just how different a series is to the regular season. In short, the Bombers were unable to compete in any phase of the series.

Brian Knuckles managed to edge out teammates Joe Williams, Darrell Parks, and Gadsden's Wykio Carter, Birmingham Cardinals' Jorrell Johnson and Derrick Sanders, and Bessemer Bombers' E.J. Johnson for the title of 2014 Homerun King.

Knuckles was also named MVP for the 2014 Championship Series.

Starting on day one of the series, Stars starters Chad Miller (13 K), Steven Becker (5 K), and Nathan Bland (9 K) managed to squeeze Bombers batters like imaginary rabies infected boa constrictors.

The Bombers were held to just three (3) hits in the final game of the series.

The Stars also beat the Bombers at their own running game, stealing nine (9) bases to the Bombers's five (5).

As with an earlier regular season experience for the Bombers, the veteran Stars pulled up alongside them, looked them in the eye and said "go for what you know".

Again, management did not have enough personal experience to help them and that giveaway body language took over.

The vets then uttered, "just watch, this is what you are trying to do."

This league is grateful to youths and veterans who take up a home here.

There must never be any disrespect between the two.

After all, "just because a prune looks old and wrinkle does not mean it is not tasty."

Too, just because a seed is just barely in the ground does not mean that it will not grow into something great.

Feeling silly about now, so GOOD DAY!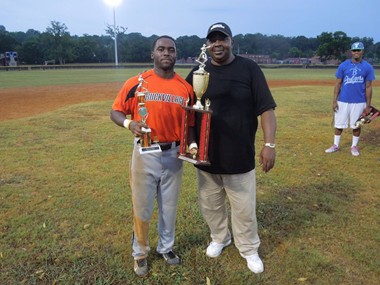 Brian Knuckles & League President Roosevelt Young
Sunday, August 10
WILL SYKES NAMED 2014 LEAGUE BATTING CHAMPION
Will Sykes, Birmingham Cardinals Outfielder
Will Sykes is the 2014 BATTING CHAMPION in the Birmingham Industrial Baseball League.
Will is an outfielder on the regular season co-champion Birmingham Cardinals baseball team.
In 72 plate appearances, he led his team in runs scored with 33, with 16 singles , 5 doubles, 1 triple, and 2 home runs.
He ended the regular season with a .500 batting average, .662 OBP, .771 SLG, and 1.433 OPS. He fought off his nearest challengers, Wykio Carter (Gadsden), teammate Jimmie Holifield Jr, Brandon Williams (Buck Village), and teammate Derrick Sanders for the award. A trophy was presented in his name at the final game of the 2014 championship series.
A second "BIG STICK" trophy was presented for Will for ending the regular season with a batting average that was .500 or higher. Congratulations Will and we look forward to your return in 2015.
Sunday, August 10
BLOCKER TAKES HOME A BIG STICK AWARD
Josh Blocker receives Big Stick trophy from League President
One of two "BIG STICK" trophies awarded this season was to Josh Blocker of the Butler Bombers.

Josh finished the regular season with a .514 batting average to qualify him for the trophy.

However, he was not able to appear in enough games to get the plate appearances needed to qualify him for the batting championship.

In 45 plate appearances, Josh recorded 12 singles, 3 doubles, 2 triples, and 1 home run.

He also had 5 stolen bases during the regular season.

Congratulations Josh and we look forward to seeing you play next season.
Saturday, July 19
ROUND 2 STARTS SUNDAY, JULY 20, 2014
The Birmingham Industrial League's 2014 post season continues on Sunday, when it enters round 2 of the playoffs.

Round 1 was less than exciting, bordering on comatose, with no surprise results.

In the first of two games scheduled on Saturday, a young West End Dodgers team failed to compete against the Centre Blue Sox after having lost both games in their head-to-head meetings this season.

Final score 9-0.

In the second game, dubbed the "energizer bunny special", the Buck Village Stars just kept on scoring and scoring and scoring against the Gadsden City Hit Squad.

The squad called the game off, trailing 26-1, with enough innings remaining to play a 3-inning old timers' game.

In fact, a few old-timer substitutes may not have been such a bad idea.
The excitement should pick up during round 2, featuring no surprise teams.

In fact, fans should not be surprised if both contests go the full three games in the best 2 out of 3 series.

On Sunday, the 1 seed Butler Bombers will play host to the 4 seed Centre Blue Sox at Ensley.

The Sox are assured a home game next Saturday at Windom Ball Field in Centre, Alabama.

Closer to downtown, the 2 seed Birmingham Cardinals will host the 3 seed Buck Village Stars at Parker High School Baseball Park.

The Stars will get their home game next Saturday at Willie Mays Park in Fairfield, Alabama.

Both games are scheduled to start at 3:30 PM.

This league will be proud to have either of the four (4) teams in the 2014 championship series.

We have no preferred winner because, borrowing from

Snoop Dog, "we don't love them teams".

So,

get out and support your favorite team(s).
Sunday, July 13
NEW DAY
In the final game of the Birmingham Industrial League's regular season, the Buck Village Stars defeated the Centre Blue Sox in what should be described as a playoff prep game.

The final score was 14-8.

The League's regular season ended with co-champions, Butler Bombers and Birmingham Cardinals, both 15-1.

The post season begins on Saturday, July 19, 2014.

Final seeding for the 2014 playoffs:
1.
Butler Bombers
2.
Birmingham Cardinals
3.
Buck Village Stars
4. C
entre Blue Sox
5.
West End Dodgers
6.
Gadsden City Hit Squad.
By finishing their regular seasons as co-champions, the Butler Bombers and Birmingham Cardinals have earned a bye during the first round of the six team playoffs.

In the first round, the Buck Village Stars will host the Gadsden City Hit Squad at Willie Mays Park in Fairfield on Saturday, July 19, 2014.

The winner will advance to the second round and take on the 2 seed, Birmingham Cardinals, on Sunday, July 20, 2014 at Parker High School Baseball Park.

Also in the first round, the Centre Blue Sox will host the West End Dodgers at Windom Ball Field in Centre on Saturday.

The winner in that contest will advance to the second round and take on the 1 seed, Butler Bombers, on Sunday at Ensley Park.

The second round will be a best 2 out of 3 event.

Seeds 1 and 2 will only host games 1 and 3 of that event. The final round 2 winners will meet for the championship series, which will be a best 3 out of 5 contest. The location for the 2014 championship series is yet to be decided.
The Industrial League wishes to thank the managers and players who participated in League games this year.

We were thrilled at the number of high school and college players who showed an interest in competing in this league. We would also like to thank the parents who signed minor waivers for their high school sons to play in this league.
Tuesday, May 27
TIME FOR ONE #1
As we approach the end of this month, what better way to start the month of June than with a single number one team?

That will be the case on Saturday when the League's two remaining number one teams collide.

The 2013 League champion Birmingham Cardinals will play host to the Butler Bombers at Parker High School Baseball Park.

This will be the first of two meetings between these two in 2014.

While this should be a good one for fans to witness, it is expected to be the start of the real heat for the regular season.

Waiting in the wings for whatever happens is an awakened Buck Village Stars team.

You might agree with us that, up until this point, either League pitching has been in a coma, or no one has told some team defenses that the Easter egg hunt is over, or a combination of both.

Even with that said, there are many sluggers this year that could care less about anyone on the mound. When #2 meets #1, will this be a game of small ball and running or lasers and long balls?

We believe the real season will begin this coming Saturday.

Elsewhere on Saturday, an impressive looking East Jefferson Vulcan team will travel and take on the Gadsden City Hit Squad.

A struggling Centre Blue Sox will travel to take on the Bessemer Bombers.

However, do not be deceived by the recent struggles of the Sox.

This is still a dangerous team and will be heard from during the remainder of this season.

Saturday's schedule will be completed when the West End Dodgers take on the Buck Village Stars.

Good luck to all of our teams.
Sunday, May 11
LAWDY, LAWDY, LAWDY!!!
"Man, let's hide this thing"
Do you remember when the baseball park at Fairfield was known as 66th Street Park?

Some of you may be too young.

Do you remember the last time the home team at 66th Street Park had to forfeit a game?

You may be too young to remember.

We baby-boomers must be too young to remember.

Do you remember when the name of 66th Street Park was changed to Willie Mays Park?

Some of you may be too young to remember.

Do you remember the last time the home team at Willie Mays Park had to forfeit a game?

You may be too young to remember.

The boomers are getting younger by the minute because we do not remember that either.

Listen to the voices: "I want my family name back.

I want my family name back."

The multi-year Industrial League champions shocked the community when they were forced to forfeit an opening day game to perennial champions, Birmingham Cardinals.

Known as the Buck Village Stars, the village buckled when the team was unable to place nine (9) men on the field.

Village please!!!

We have all heard about the injured players on this team, but all of them?

Village please!!!

Old JC was beside himself and I know FR is busting concrete blocks.

Can anyone define Roster?

We don't know about you, but until someone shows up, we see a wish list.

Yes, we said it!!!
Anytime this League opens up the regular season of play, we always ignore the first three (3) games, win or lose.

After three, we are ready to call it like we "sees" it.

This was all posted in fun, but if the Buck Village Stars do not get it together, we'll be back".
Sunday, March 2
Givan Solid
Young Juan Givan is holding his own as a first year player at Lawson State Community College.  After 15 games, Juan leads the team in runs scored with 11.  He is one of only three players with 8 or more at bats with a batting average of .300 or higher.  His average is .308 with 12 hits, 1 double, 1 triple, and 4 runs batted in.  His OBP and SLG numbers are .386 and .385, respectively.  The team's AVG/OBP/SLG are .257/.370/.328.  Following his graduation from high school in 2012, Juan has spent his past 2 years playing with the Butler Bombers in the Birmingham Industrial Baseball League.  He was the 12th leading batter in the Industrial League in 2013.  Congratulations Juan.
We are constantly looking for performance reports on Industrial League players who may be enrolled in college.  We will post more reports as they become available.
Sunday, March 2
Johnson Named to 2014 SIAC Preseason All-Conference Team
Jorrell "JJ" Johnson has been named to the 2014 SIAC preseason all-conference team as announced by Lemoyne-Owen College. The college senior is a first baseman who batted .423 with 6 doubles, 2 triples and 1 homerun in 2013 at Lemoyne-Owen. JJ's playing time in the Birmingham Industrial League has included stints with the West End Dodgers and last year, with the Butler Bombers. Congratulations JJ.
Monday, August 26
JIMMY WILLIAMS 2013 MOST VALUABLE PLAYER
Jimmy Williams (LHP) Birmingham Cardinals
Jimmy Williams was selected as the Most Valuable Player for the 2013 League championship series. A stalwart on the mound for the Cardinals over the past several years, he was an excellent choice for this year's award. Williams appeared in each of the quick three games needed by to Cardinals to win the 2013 championship. He appeared as a starter in two of those three games, earning a 2.65 earned run average. He pitched a complete game in the series opener, holding the Hooper City Royals to just five (5) hits. He was inserted as the designated hitter in game two, getting two hits in three at bats (.667). Cardinals manager Milton Taylor tapped him again as the starter in game three, and the rest is history. He pitched eight complete innings, allowing just nine hits while striking out eight Royals batters. His series pitching totals were as follow:
· Innings pitched – 17
· Batters faced – 71 (17 above the minimum)
· Earned runs – 5
· Hits allowed – 14
· Strikeouts – 16
· Base on Balls – 3
· ERA – 2.65
· WHIP – 1.00
Monday, August 26
2013 FHIBL AWARDS
(l-r) Brandon Williams, Tyrus Moss, Jo Jo Bynum
The Fred Horn Industrial League handed out six (6) awards on Saturday, following the game. Four awards were given to teams and two to players. Coupled with four awards issued earlier by this website, total awards for 2013 came to four for teams and six for players. Awards given on Saturday were: (1) Birmingham Cardinals ? 2013 League Champions; (2) Hooper City Royals ? 2013 Championship Series runner-up; (3) Birmingham Cardinals ? regular season champions; (4) Buck Village Stars ? regular season championship runner-up; (5) Jimmy Williams ? 2013 championship series Most Valuable Player; and (6) Kevin Covington ? 2013 League Batting Champion. With improved documentation, the number of player awards is expected to increase significantly in 2014. Congratulations go out to all 2013 award recipients and to members of the 300 Club.
Saturday, August 24
BIRMINGHAM CARDINALS ADD ANOTHER CHAMPIONSHIP TROPHY TO THEIR COLLECTION
Cardinal Manager Milton Taylor Gets His Champagne Shower
The Birmingham Cardinals completed their 3-game sweep of the Hooper City Royals to reclaim their place as the champions of the Fred Horn Industrial Baseball League.  The Cardinals scored a convincing 16-7 victory on Saturday.  They were not without help as the Royals committed ten (10) errors on the day.  Surprising to some of us was the fact that the Royals drastically reduced their 2012 championship bases on balls but, at the same time, drastically increased their errors this series.  Cardinal starter, Jimmy Williams, held the Royals to three earned runs on nine hits while striking out eight batters in eight innings of work.  His performance during the series earned him the 2013 championship series Most Valuable Player Award.  Derrick Sanders picked up another two hits in three at bats on Sunday.  The first-year pickup led all cardinal batters in the series with an impressive .667 batting average.  Complete team batting and pitching stats for the series are posted for your review.
We have always stated that the road to the championship in this league is either via Cardinals Highway or Stars Highway.  The Royals tried Stars Highway in 2012 while Cardinals Highway was down for repairs.  Stars Highway denied them entry.  Their attempt to use Cardinals Highway this year was even worse.  Yet, they are the only team to try and get through either highway in the past several years.  With the talent that is available to them, we are sure that this will not be their last trip.  So Royals:  winners never quit and quitters never win.  To the Cardinals:  with the talent that you have, you did exactly what you were expected to do.  If you had not, we can just imagine you trying to run for the border.  Congratulations – well done.
Sunday, August 25
HOOPER CITY ROYALS: 2013 CHAMIONSHIP SERIES RUNNER-UP
Hooper City Royals are 2013 Series Runner-up
The Hooper City Royals received their second consecutive championship series runner-up trophy on Saturday. The Royals lost the series 0-3 to the Birmingham Cardinals. They finished their regular season with a 12-4 record and were only two games out of the first place spot. They were 2-0 in their 2013 playoff series against the Buck Village Stars. General Manager, Harry Addie, had hoped for and spoken about an undefeated season for the Royals this year. However, as most teams will attest, an undefeated season is not easy to come by in this league. We urge the Royals to consider a wider rotation of starting pitchers for 2014. As the saying goes, "familiarity breeds contempt". This appears to hold especially true for amateur baseball. Congratulations Royals for a great season.
Monday, August 19
CARDINALS TAKE GAME 2 OF CHAMPIONSHIP SERIES
The Birmingham Cardinals moved one step closer on Sunday to being crowned League champions for 2013. With their backs pinned to the wall now, the Hooper City Royals are just one game away from another disappointing end to what has been another great season for them. If they are to capture their first League championship, they will now need to win three (3) consecutive games over a group of experienced winners. The Cardinals plastered the Royals on Sunday in a 17-3 game. The Royals did their part to help the Cardinals by demonstrating just what you do not do when you want to win. The Royals could not hit, catch, nor throw on Sunday. Cardinal lefthander Michael Montgomery held the Royals to just 7 hits over nine complete innings of work. Montgomery added nine (9) strikeouts to his performance. The Cardinals offense put up 17 runs with 16 hits and still managed to strand 14 runners on base. The Cardinal offense was led by first year Cardinal Derrick Sanders, who recorded 4 hits in 5 at bats plus a stolen base. Both Sanders and Montgomery were teammates at Alabama State University this year. Jimmie Holifield, Jr. added to the Cardinals offense with 5 RBIs in just five innings of playing time. Royal's starter Chad Miller sustained the loss. Brian Knuckles and Josh Godfrey had 2 hits each for the Royals. The Royals left 10 men on base in nine innings. Team management has to be pleased that walks have not plagued them as much as it has in the past. However, pitches out of the strike zone have found way onto the bats of the Cardinals. The Royals are a talented team that can still make a real contest out of this series. Whether or not they will do that remains to be seen. Series action continues on Saturday, August 24, 2013 at Ensley Park.
Saturday, August 17
CARDINALS WIN CHAMPIONSHIP SERIES OPENER 6-3
The Birmingham Cardinals managed to mount a seventh inning 5-run rally to come back from a 3-1 deficit against the Hooper City Royals on Saturday. Royals starter, Josh Godfrey, had limited the Cardinals to only six (6) hits through six innings of work. However, Cardinals ace, Jimmie Williams managed one better, limiting the Royals to just five (5) for the entire game. The crafty lefty struck out eight Royals batters which allowed much needed time for Cardinals offensive reinforcements to arrive. Williams must have been feeling his Wheaties, as this was his first nine inning game this season. The Cardinals ended the game with eleven (11) hits, including a first inning homer by Rumiko Forrester. The Cardinals win came despite having stranded ten (10) runners on base. There will surely be a rematch between today's starting pitchers before this series ends. Game 2 starts tomorrow at 3:30 P.M. at Ensley Park.
Sunday, August 4
SOX AND ROYALS ADVANCE TO ROUND 2
The Centre Blue Sox settled a season old score by defeating the Butler Bombers to advance to the second round of the 2013 playoffs. The Sox soundly defeated the Bombers by a final score of
13-7 at Ensley Park on Saturday. Except for the first two innings, the Bombers never mounted a serious threat during the game. Kevin Covington and Nico McElrath homered for the Sox. Horrendous fielding and base running compounded the problems for the Bombers. The Sox open game 1 of the second round when they face off against the regular season champion Birmingham Cardinals at Pioneer Field on Sunday. This series should be a most interesting one to watch.
The Gadsden City Hit Squad surprised everyone when they were forced to forfeit their first round game to the Hooper City Royals 9-0. Unfortunately, the Squad was unable to place nine (9) men on the field for the game. The Royals will now open game 1 of the second round with a showdown against the defending League champions, Buck Village Stars, at Willie Mays Park on Sunday. The Royals were the runner-up in the 2012 championship series. This contest should be another exciting one to watch.
In a three game maximum series like the second round, as predicted in an earlier article, we expect both series to go the full three games.
Monday, August 5
ROUND 2: THE FINAL COUNTDOWN
The opening day of the second round playoff series was both exciting and puzzling. The contest between the Birmingham Cardinals and Centre Blue Sox was a close see-saw battle until the bitter end. The Cardinals emerged victorious with a score of 9-6. The lead in this game changed sides no less than four times during the game. In the end, a two (2) homerun game for Cardinals outfielder, Wil Sykes, sealed the offensive end of the deal for his team. Sykes homered in his first at bat and, again, in the eighth to give the Cardinals some much needed breathing room. Cardinal starter Jimmie Williams went seven complete innings, then had help from reliever Reggie Moore and a save from reliever Sean Montgomery. Perhaps, the defensive gem of the game came from rightfielder Derrick Sanders. His late inning catch surely prevented the ever-threatening Blue Sox from clearing the base paths late in the game to retake the lead. Corey Collum homered for the Sox with a blistering shot over the left field fence. After seeing these two teams go at it, no one should be surprised if this series goes three games. The Cardinals ended the regular season with team batting average of .376, including 16 homeruns lead by Rumiko Forrester (5). The Sox ended their regular season with a .367 average including a whopping 33 homeruns led by Nico McElrath (11). Action continues Saturday, August 10 when the Cardinals travel to Windom Field in Centre, Alabama.
On the other side of the round 2 series, the Hooper City Royals stunned the Buck Village Stars faithful with a good old fashioned 14-10 spanking. Reports from the game indicate the Stars never really mounted a serious threat to the Royals. Royals shortstop Randy Jones hit the only homerun in that game. Royals starter Chad Miller picked up the win with relief help from Josh Godfrey. The Royals ended their regular season with a .352 team batting average, including 16 homeruns led by Brian Knuckles (5). The Stars ended their regular season with a .308 average including 11 homeruns led by Joe Williams (3). Behind their performance on Saturday, one has to wonder if the Stars will rebound. Outside observers have noted that this looks like the same set up from the 2012 championship series between these two teams. Action continues Saturday, August 10 at Sam Hairston Sr. Park in Hooper City.
Friday, August 16
2013 WEBSITE AWARD: BIG STICK
2013 marks the second full year of existence for this website. In our first step toward an annual special recognition program, we are pleased to announce the awarding of four (4) trophies to outstanding players in the Fred Horn Industrial Baseball League. The 2013 trophies are what we are calling "Big Stick" trophies. Three (3) of the trophies are awarded to the only batters in this league to record a batting average of .500 or higher. Recipients of these trophies are: Kevin Covington .553 (Centre Blue Sox), Kyle Mayo .525 (Gadsden City Hit Squad), and Shawn Covington .514 (Centre Blue Sox). In 2012, only Joe Williams (.532) of the Buck Village Stars received this trophy. The fourth Big Stick trophy is being awarded to the only batter to record double digit home runs during the season. The recipient of this trophy is Nico McElrath of the Centre Blue Sox. Nico recorded 11 regular season homers plus 2 more during the 2013 playoff series. A fall junior at Tennessee Temple, we are especially proud of what he has been able to accomplish in this league. Nico finished the regular season with a .462 batting average. Congratulations to all of our 2013 website trophy recipients.
Friday, February 22
PLAYER PROFILE: JIMMY WILLIAMS
Jimmy Williams, LHP Birmingham Cardinals
The Fred Horn Industrial Baseball League is proud to begin this profile series on players in this league with past ties to major league baseball. Having these players in this league enhances the basic philosophy behind the present day industrial league. Young players will do well to take a serious look at the industrial leagues approach to developing young talent. Smart horse players know that three (3) year old horses that begin to successfully compete against older and more experienced horses are a strong bet to wipe out the competition when returned to their own age group. We believe the same holds true for young baseball players. This belief appears to be substantiated by the performance of some of our players during their 2013 college season. Young players playing alongside and against older, more experienced players, including many with past professional experience, can have their moment of truth. Many will rise to this challenge, while others will have to face another reality. We urge each of our young players and their parents to take full advantage of this unique opportunity.
Heading the list of our experienced players is Jimmy Williams of the Birmingham Cardinals. The 6'7" left handed pitcher recorded a twenty-one (21) year stint in the professional ranks, including four (4) years at the major league ranks with the Cleveland Indians. Jimmy was drafted by the Los Angeles Dodgers in the 10th round of the 1984 MLB Amateur Draft out of Choctaw County High School. In addition to his time in the major league ranks, Jimmy spent nine (9) years at the AAA level, three (3) at AA, and Three (3) at A. At age 47, the tall guy can still pitch when he, and only, he wants to pitch. A small bird tells us that 2013 just might be a year that will not be kind to batters who have to face this guy.
Others to follow in this series are:
1. Gary Banks (5th round draft - Chicago Cubs) (2000) (Bessemer Bombers)
2. Shayne Carnes (24th round draft - Philadelphia Phillies) (1998) (Butler Bombers)
3. Tommy Worthy (39th round draft - Philadelphia Phillies) (1996) (Centre Blue Sox)
4. Rodney "Shawn" Covington (39th round draft - Texas Rangers) (Centre Blue Sox)
5. Kevin Covington (45th round draft - Toronto Blue Jays) (1996) (Centre Blue Sox)
Monday, May 13
PITCHERS WANT TO RULE - BLUE SOX 8, HIT SQUAD 1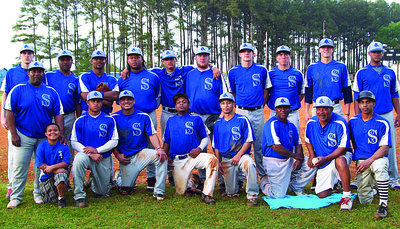 2013 Centre Blue Sox
As predicted earlier, pitching appears to be the dominant force in this league in 2013. We believe the days of the big blow outs are gone. In the contest between the Centre Blue Sox and Gadsden City Hit Squad, fans witnessed a 1-1 ball game up until the 7th inning. Sox pitchers, Jade Boatfield and Malcolm Brooks combined to strike out sixteen (16) members of the Hit Squad. The Squad failed to live up to their name, managing to get only four (4) hits in the game. For seven innings, the Sox team had nothing to boast about as Hit Squad starter, David Hinton, limited the sox to only 1 run in six innings of work. The squad's bullpen failed to hold the Sox down and the wheels came off in the seventh inning with the Sox scoring 5 runs. A three-run homer by Myles Cordell of the Blue Sox was the only homer in the game. Both squads are deep in pitching, so expect to hear more from the two teams. An interesting battle is on tap for the upcoming weekend when the Blue Sox travel to play the Hooper City Royals. Both teams are deep in pitching and both have guys who can hit the ball. Expect a big crowd for this game as the "go get your glove" gang is sure to be on the scene.
Player stats for these two teams are already posted on each team's site. Stats from all other contests will be up for viewing Thursday evening.
Sunday, June 2
SHOULDERS ARE TURNING
After three weekends dominated by game blowouts, play in the industrial league is about to get very hot. Two upsets over the weekend have some observers wondering just how things might end up this season. In a very evenly matched contest on Saturday, the league leading Butler Bombers won in a 10-inning squeaker over the Centre Blue Sox, 7-6, at Ensley Park. On Sunday, the Bessemer Blues won in an upset over the Birmingham Cardinals, who were tied for first place going into that game. Final score: 11-10. Danny Barnes hit two homers for the Blues. Barnes had already hit two homeruns on Saturday. D J Milhouse also hit two homeruns for the Cardinals. Elsewhere, the Hooper City Royals scored an eleventh inning upset over a hot Gadsden City Hit Squad. Brian Knuckles' eleventh inning solo homerun proved to be the heroics the struggling Royals
have been needing.

Josh Godfrey pitched a complete game for the win.

The Hit Squads star pitcher from a week ago, Chris Franklin, turned in another sterling performance.

The 25 year old struck out 17 Royals batters and also added two homeruns of his own in a losing effort.

Final score:

Royals 4, Hit Squad 3.

The Bessemer Bombers showed new signs of life on Sunday in a narrow loss to the first place Butler Bombers.

Final Score:

Butler Bombers 9, Bessemer Bombers 8.

The Centre Blue Sox had no trouble in putting away the West End Dodgers by a score of 13-1.

The Buck Village Stars and Leeds Pirates were idle on Sunday.

First place Butler will get their first real test during the next fourteen days.

They will face last year's league champions, Buck Village Stars, on Wednesday night at Ensley Park.

Four days later (June 9), they have to contend with a recharged Hooper City Royals squad in another game at Ensley Park.

Just six days following that (June 15), they will meet the Buck Village Stars in a rematch at Willie Mays Park.

Then, the very next day, the Bombers must get by manager Clifton Sanders and his Bessemer Blues team.

This observer seriously doubts whether or not the Bombers pitching staff can hold off this type of challenge.

As if the Butler Bombers are the only one caught in a major challenge, the Birmingham Cardinals have a challenge of their own just ahead.

On Saturday (June 8), the Gadsden City Hit Squad comes to Pioneer Field.

On Sunday (June 9), the Cardinals will have to be on guard for their most ever-menacing rival, Bessemer Bombers.

The Bombers have been known to pull off an upset over the Cardinals in past years.

Game attendance is up this year and fans will have plenty to talk about in the upcoming weeks.
Monday, July 1
THE BOATFIELD STORY
Jesse (Red) Boatfield
In the early 1950's there was a young man by the name of Jesse "Red" Boatfield who had a true love for the game of baseball. A love so great that he played until after he was by many standards, "too old". Red played for an independent league and the current Centre Babe Ruth field was their "home" field. Red was a third baseman and pitcher and even hit a the first home run in his league at a new field in Guntersville.
In the late 50's, Boatfield married and started a family. He traded in his glove over a coach's jersey. During this time he and a local businessman in Centre organized a Babe Ruth League for 13-15 year olds. This was of great reward to him because he had three sons, all of which played. He worked his job by day and by evening; his dedication was to his players. Two years after starting the league Reds team won the sub-district all-star tournament and advanced to the state. The state tourney was held in Selma, Alabama. Centre was the only team to have African Americans on their team. There were 8 teams total. This created a problem for the tournament committee. They were not going to allow the 2 African American boys to play. Mr. Boatfield informed them that these boys helped them win to get to this level. "They all play or we all go home." He said. He even took a stand with the hotel manager of the same sort. "They all swim in the hotel pool, or no one does." Needless to say after a lengthy meeting with the tournament committee, the entire team played, coming in second place in the state. Centre, Alabama made history in Selma in 1969! When asked about facing the evils of racism, Red said simply "I just did the right thing."
With his health failing Red decided to retire from coaching and simply enjoy his boys playing. They played independent ball with the Centre A's and the Centre Blue Sox. He never missed many games. Red's sons David was the first from Cherokee County to sign a baseball scholarship with Jacksonville STATE University and went on to be the inducted into the Cherokee County Hall of Fame. Red wasn't here to see that, but his sprit and legend lives on in the lives of each player he ever coached.
Written by Faye Kilgore Boatfield.
Sunday, July 28
2013 PLAYOFF SEEDINGS
Here are the seedings for the 2013 playoffs, scheduled to begin Saturday, Ausust 3, 2013:
1 Birmingham Cardinals
2 Buck Village Stars
3 Hooper City Royals
4 Butler Bombers
5 Centre Blue Sox
6 Gadsden Hit Squad
Wednesday, July 31
PLAYOFF ON THIS COMING WEEKEND
The 2013 playoffs are scheduled to start on Saturday, August 3, 2013. While this year's playoff is fourteen (14) days late in starting, the matchups hold promise for a most exciting series.
The number 3 seed, Hooper City Royals, will play host to the number 6 seed Gadsden City Hit Squad at Sam Hairston Sr. Park on Saturday. The two teams played only once during the regular season. In that contest, the Royals managed to win the game on an eleventh inning homerun off the bat of Brian Knuckles. This was done despite an eighteen strike game by Hit Squad ace, Chris Franklin. The winner of Saturday's game will move on to play number 2 seeded Buck Village Stars on Sunday in what will be a best two out of three series. This series will likely go the full distance.
Number 4 seed Butler Bombers will also play host to number 5 seed Centre Blue Sox on Saturday. These two met three times during the regular season with the Bombers taking the series 3-0. However, make no mistake about this game as the two are quite evenly matched. The Bombers outscored the Sox 29-24 in the three games, with the Sox yielding 21 unearned runs per the game sheets turned in to this site. The Sox can play a solid defensive game, but the speed of the Butler Bombers can create havoc for any opponent. Both teams are expected to be on their best game Saturday. The two reminds us of a couple of tropical storms in the same area of the ocean. One is sure to become a hurricane Saturday evening, then turn its sight on Cardinal City for a meeting with the number 1 seed Birmingham Cardinals on Sunday. The Sox were 0-2 versus the Cardinals during the regular season. However, a meeting between the Cardinals and Bombers would be a first for 2013. The rematch of the Cardinals and Sox could be an offensive slugfest. On the other hand, the Cardinals-Bombers meeting could be a slugfest and/or Easter egg hunt. There will be no shame in the Bombers game, they can fly and know it. Regardless of the Sunday matchup, the series is also likely to go the full distance.