Birmingham Industrial Baseball League: Welcome
Fred Horn Industrial Baseball League
Donations Received: $ 0
$0
$ 1,000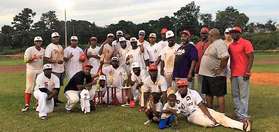 Birmingham Cardinals - 2017 BIBL Champions
Congratulations Birmingham Cardinals, 2017 Birmingham Industrial Baseball League Champions.
The 90-day countdown to the start of the 2018 Regular season is now on.
2/18/2018 Updates:
(1) Regular Season play starts Saturday, May 19, 2018.
(2) Daylight Savings Time starts Sunday, March 11, 2018.
(3) Spring starts Tuesday, March 20, 2018.
2/13/2018 Updates:
(1) The new league team, previously announced as the Oxford Blue Jays, will be officially known as the Anniston Blue Jays. Home games for the Blue Jays will be played at Anniston High School Baseball Field.
(2) Home games for the Birmingham Cardinals will be played on Pioneer Field at Jefferson State.
Unity