Birmingham Industrial Baseball League: Welcome
Fred Horn Industrial Baseball League
Donations Received: $ 0
$0
$ 1,000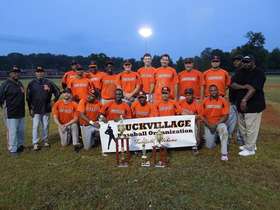 Buck Village Stars 2014 League Champions
2015 Regular Season Game Schedule
The 2015 regular season schedule will be posted here on or before Friday, May 1, 2015. The regular season is scheduled to open on Saturday, May 9, 2015. No games will be scheduled for Mother's Day on Sunday, May 10, 2015.
Urgent Message
Players interested in or plannning to be included on the 2015 West End Dodgers roster are urged to contact Phil Plump as soon as possible.
The new BIBL Player Contract/Release is now posted in the HANDOUT section.