Birmingham Industrial Baseball League: Welcome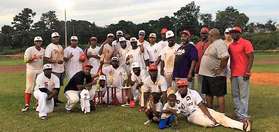 Birmingham Cardinals - 2017 BIBL Champions
Congratulations Birmingham Cardinals, 2017 Birmingham Industrial Baseball League Champions.
Post Season Update
Birmingham Industrial League welcomes the Druid City Dragons into the league next season 2018.
The League also looks forward to the return of the Hooper City Royals in 2018.
Teams interested in joining the Industrial League family should make their intentions Known ASAP. Last minute additions will not be accepted in 2018. Official Entry Application posted in HANDOUTS. Please print as needed.
Upcoming Events
Date
Event
Time
Location
Tue 11/14
Fall/Winter Meeting #2
6:30 PM - 7:30 PM
Ensley Park Recreation Center