Buffalo Grove Girls Feeder Basketball: Welcome
Welcome to the informational website for the Buffalo Grove High School Girls Feeder Basketball Program. This site will be the sole source for all individual team and program information, including practice and game schedules. Therefore, we suggest that you save this address in your favorites and check it reguarly and often for any additions, changes and news.
Please express our "THANKS" to all of our generous sponsors by your personal and referred patronization of these local businesses.
---
Thursday, February 19
7th and 8th Grader Practice is CANCELED for TONIGHT (2/19/15)
Due to the extreme cold weather, practice for the 7th and 8th grade girls has been canceled as a result of not having access to the buildings. Enjoy your evening off!!
Thursday, February 19
St. Viator from 2/1/15 Games Rescheduled
The make-up games (rescheduled from 2/1) vs. St. Viator (6th, 7th and 8th) will be as follows: Sunday 2/22 @ Buffalo Grove High School 4:00pm - 7th grade 5:00pm - 8th grade Tuesday 2/24 @ St. Viator 6th grade - Still awaiting tip time details from St. Viator
The games schedule/calendar on the site has been updated to reflect this.
Wednesday, February 18
2015 BG Girls Feeder Recognition Evening - March 11th
The annual end of season recognition event is on Wednesday March 11th, 7:00pm-8:30pm in the cafe at Buffalo Grove HS. We will begin the evening with a dessert bar, and then move into our program.
Monday, February 9
6th Grade Wins 2015 Deerfield Jr. Warriors Girls Feeder Tournament!!!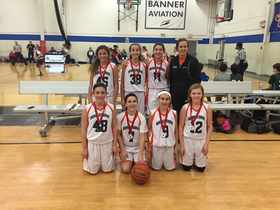 February 8, 2015
Congratulations to the 6th Graders who won the Deerfield Jr. Warriors Girls Feeder Tournament this past weekend at Joy of the Game!!!
https://twitter.com/jgrisingstars/status/564572432875663362/photo/1
Great job by all of the players and coaches this weekend!!!
GO BISON!!!