Buffalo Grove Girls Feeder Basketball: Welcome
Welcome to the informational website for the Buffalo Grove High School Girls Feeder Basketball Program. This site will be the sole source for all individual team and program information, including practice and game schedules. Therefore, we suggest that you save this address in your favorites and check it reguarly and often for any additions, changes and news.
Please express our "THANKS" to all of our generous sponsors by your personal and referred patronization of these local businesses.
---
Wednesday, March 5
NIGFBA End of Season Tournament Info
Here's the published schedule for the first two games of each grade level. Results of these games will determine bracket play games on Sat-Sun.
Schedules could change so double check on the league tournament website:
http://www.nigfba.com/end-of-season-tournament-details
All games are at:
Libertyville Sports Complex
1950 N. Highway 45, Libertyville IL 60048
(corner of Peterson Road & Route 45)
Phone: (847) 367-1502
5th Grade
3/14 @ 8:45pm Orange
3/15 @ 11:15am Orange?Tan
6th Grade
3/11 @ 6:45pm Green
3/15 @ 8:30am Blue
7th Grade
3/14 @ 7:30pm Green
3/15 @ 3:15pm Yellow
8th Grade
3/12 @ 5:30pm Yellow
3/14 @ 7:30pm Red
*Color denotes court
Sunday, February 9
8th Grade @ Northwestern University
Monday, January 13
5th Grade Wins Libertyville Showdown Championship!
Congratulations to the 5th Grade Girls for their tournament Championship at the 2014 Libertyville Showdown!!!
Wednesday, January 8
7th Grade Wins Elmhurst Airborne Roundball Winter Classic!!!
Congratulations to the 7th Grade Girls for their Elmhurst Airborne Roundball Winter Classic Tournament Championship!!!
Wednesday, December 11
5th and 6th grades win Palatine Tip-Off Tourney
Congratulations go out to both the 5th and 6th Grade teams for their Palatine Tip-off Tournament Championships!!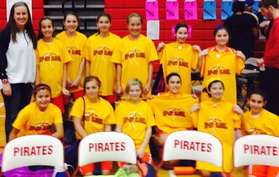 5th Grade Champs!