Buffalo Grove Girls Feeder Basketball: Welcome
Welcome to the informational website for the Buffalo Grove High School Girls Feeder Basketball Program. This site will be the sole source for all individual team and program information, including practice and game schedules. Therefore, we suggest that you save this address in your favorites and check it reguarly and often for any additions, changes and news.
Please express our "THANKS" to all of our generous sponsors by your personal and referred patronization of these local businesses.
---
Wednesday, August 27
2014-15 Registration
Registration for the 2014-15 season is coming soon! Check back for online registration & forms.
Sunday, February 9
8th Grade @ Northwestern University
Monday, January 13
5th Grade Wins Libertyville Showdown Championship!
Congratulations to the 5th Grade Girls for their tournament Championship at the 2014 Libertyville Showdown!!!
Wednesday, January 8
7th Grade Wins Elmhurst Airborne Roundball Winter Classic!!!
Congratulations to the 7th Grade Girls for their Elmhurst Airborne Roundball Winter Classic Tournament Championship!!!
Wednesday, December 11
5th and 6th grades win Palatine Tip-Off Tourney
Congratulations go out to both the 5th and 6th Grade teams for their Palatine Tip-off Tournament Championships!!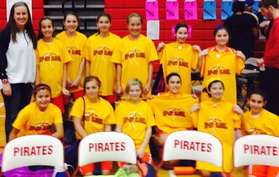 5th Grade Champs!