2003 MYSA / Chevy Cup State Tournament News
Bandits Rule! 2003 Chevy Cup
The Bandits made it to MYSA State tournament as one of 5 girls teams from the Burnsville Fire Soccer Club.

Our first game was against a scrappy team from Detroit Lakes. We were a little nervous in our first state appearance but ultimately we settled down to play our game and score two goals to beat Detroit Lakes. Detroit Lakes made it interesting at times with shots on goal but all were saved by our keepers. Final 2-0 for the Bandits.

Our second game, against Three Rivers Soccer (Elk River), proved very interesting. These two teams were very evenly matched and went scoreless for most of the game. Eventually, the Bandits scored off a free kick during the last few minutes of the game. Final 1-0 Bandits

In our third game, against Chaska-Chanhassen, we were very lethargic in the first half and could not mount any kind of a sustained attack. Chaska scored once before half time. In an unexpected twist of timekeeping by the refs, the half ended 5 minutes early but the refs realized the error and resumed the half by allowing 4 minutes of play before the true half time break. In the second half we came out fired up and played one of the best halves of soccer from our season. We scored once to tie the game. Final 1-1

Emotions were running very high for the fourth game as we realized we had a chance to advance to the state finals if we could beat the Blackhawks, and Detroit Lakes would beat or tie Chaska. (The Detroit Lakes/Chaska game was going on right behind us so we could keep tabs.)
Bandits scored first on a beautiful pass and finish. We were playing very aggressively and had numerous other opportunities but were not able to capitalize. (Meanwhile Detroit Lakes & Chaska remained tied.)
In the second half the Blackhawks put on pressure which we turned away until the last 5 minutes when they scored twice to take the lead. We switched to 4 forwards after they tied the score, but the Bandits were not able to put the ball in the net.
Final 1-2, Bandits lose. (Chaska scored in the last minute to beat Detroit Lakes, so even if we would have beat the Blackhawks, Chaska would go to the finals.)

I was very impressed by our full game effort. These Bandits certainly understood the significance of the game and the skills of the opposing team.

Thanks for all your great effort. 2 wins, a tie, & a loss was a very good result for our first state tournament appearance.

Thanks also for your good sportsmanship with the other teams and refs.

GO BANDITS !

Ken Reis



Video Highlights to come.....


Watch this space!

Monday, July 21


Bandits Win South District Playoffs! Bound For State!



2003 South District Champions!
If the Bandits were superstitious their magic number would be 3. In the district playdowns for state, we scored 3 goals in each of three games to win the district championship. In addition 3 teams from Burnsville playing at the same site (Lakeville) won the right to go to state next weekend (11's-12's-13's) and if you add up the age designations and divide by 3 you get 12 which is our age! Scary!

Bandits first game was against Farmington, who unfortunately only had eleven players due to other conflicts. They played valiantly but in the end we wore them down with our tough play and sheer numbers. Final score 3-0 for the Bandits.

Our second game was against Eagan (4th place team in league). Again we controlled the play and Eagan had very few opportunities -- the ones they did have were scary, however. Final was Bandits 3 to Eagan 0.

The third and final game was the most nerve wracking for players and fans. For me the nerves started when my car would not start in my garage. Thanks to Eike's I made it to the game in plenty of time.

We had been battling Prior Lake indoors and out for the last year. We knew they would play well but were beatable, but we all were nervous nonetheless.

Prior Lake scored first on a nice rebound of a loose ball in front of the net. But as has been the trademark of the Bandits this year we never quit and we put in 2 quick goals to lead 2-1 at half time. The second goal came a few seconds before time expired in the first half.

Prior Lake put on lots of pressure in the second half but we were up to challenge by putting on pressure of our own. We scored a third goal to give that additional cushion. Prior Lake did not give up and a missed shot, and a couple of great saves by Lindsey kept Prior Lake from scoring. Final score 3 for the Bandits 1 for Prior Lake. Sweet!

After the final game, those who could went out for pizza to celebrate. HOORAY!

At an early team meeting we set 3 objectives for the team for the season:
1. Win the league (we came in second by one point)
2. If we did not win the league, to get enough points to go to C1 next year (WE DID)
3. If we did not win the league, to win districts to get to state (WE DID).

Now for the 4th objective: TO WIN STATE and get the chance to shave Ken's hair.

GO FOR IT BANDITS!!!

Ken



Fun Filled Week At USA Cup!



Bandits At USA Cup Picnic
As usual the USA Cup week was filled with lots of excitement - some of it even related to soccer. The team appreciated the family support at Opening Ceremonies and those who could stayed to watch an exciting U17 boys National team game against Canada. Smoooooooooth soccer, especially the 14 year old phenom Freddy Adu. USA won 3-1.

The Bandits game on Monday started off in quite a fashion, playing after lightening & rain delays. As we have been doing all year we played C1 teams and held our own. The first game against Anoka (3rd place C1 in the North) finished in 0-0 tie. Both teams had opportunities but neither team could capitalize. The wet field was also a great equalizer.

On Tuesday, the Bandits played well against a team from suburban Denver but could never mount a serious offensive threat. To our credit the Bandits held Colorado to only one goal. Final 0-1 for Colorado.

On Wednesday, as we looked forward to a picnic with our meet-a-team from Brazil, the Bandits played to a 1-1 final against White Bear Lake. We played very well against this C1 team (3rd in the East) but an unfortunate penalty kick resulted in the tie. The wind also played a significant role in this game, blowing straight down the field so the team with the wind had a clear advantage in possession.

Our picnic with the Brazilian boys was well attended except for the Brazilian boys who could not find us in the softball pavilion. We were sad but ate the food and played kickball on the softball diamonds anyway. It was a good get together for all the families, even without the Brazilian attendance.

Bandits had Thursday off as a result of placing 3rd in the bracket -- this slotted us in the "B" playoff round. The day off gave us a chance to enjoy a chance to watch the Brazilian boys play and to have pictures with their team, especially one cute (Bandits description) goalkeeper named Rodrigo. They won the game over Tonka by hard play and hard shots.

Our final USA Cup game was on Friday against Sibley Sting (3rd C1 in south). We held them the two goals but could not score ourselves.

We had fun for the week, played some good soccer, had great weather after the Monday rains. What more could one ask for at one of the greatest tournaments around.

Ken Reis

Thursday, June 26


Bandits Important Win Over Valley Eagles 2-0



Ken Reis congratulates the girls on the win & C1 status!
Talk about pressure! The girls knew we had to win this last league game in order to advance to C1 status for the 2004 season.

At the beginning we were all afraid that weather conditions would influence the game but in the end weather had little impact. The rain stopped just before the game started -- the wind continued to blow straight across the field so neither team had an advantage.

We knew that Valley wanted to be the "spoiler" so our task was to make sure we had complete control and scored more goals than they did. In the end we scored two goals to Valley's none.

Both our goals came from left footed shots -- very unusual for this team, since we do not have any natural left footers.

We dominated the game from start to finish -- with our goalkeepers having to make only a few saves.

After the game, we stopped at Dairy Queen to celebrate our new status as a C1 team.

WAY TO GO BANDITS!

Coach Reis

Attention Bandits:

Remember to turn in your drawings of corner kicks. So far I only have 7! BRING THEM TO PRACTICE ON MONDAY.

Ken Reis


Click the link below to see final team standings for our district:
Bandits Team Standings-MYSA U12/C2 Girls

Thursday, June 26


Video: Chloe Pops One Over The Goalie



<-- Chloe's Goal

Thursday, June 26


Video: Linsey Sneaks One In The Net



<-- Linsey's Goal

Tuesday, June 24


Bandits Pound Panthers 7-0



Dan Houck: Guest Coach For The Night
The Bandits, having just returned from four intense C1 tournament games in Muscatine, dominated the Lakeville Panthers. It was very evident that their shooting and passing skills were up to speed by scoring seven unanswered goals. The team also managed to pass the ball ten times in a row without the other team ever touching the ball! Dan Houck said he owes the girls a Dairy Queen treat on that one.

Congratulations to Kayla for three goals (one of which was a header goal), to Taylor for two goals, to Rachel for one goal and to Chloe for one goal. ALL TEAM MEMBERS truly showed what they are capable of as they head towards their goal of becoming a C1 division team.

GREAT JOB BANDITS!

Steve Winkelman
Webmaster

Sunday, June 22


Muscatine, Iowa Game Summary



Bandits In Muscatine, Iowa
The Bandits knew the competition would be fierce but they gathered together to do the best they could. There would not be any "laughers" in this tournament.

In our first game on Saturday the Bandits played very well against ISC to manage a 1-1 tie. The scouting report was very accurate so we were able to shut down ISC star player (#99).

In our second game of the day on Saturday, we played SFC who proved to be a very well balanced team with lots of depth. Our defense played awesome in only giving up 2 goals. Final score Bandits 0, SFC 2.

The Bandits rested between games in our very own Board room -- snacking and watching movies. This proved to be a much better alternative to running the halls -- and better on the legs as well.

In our 3rd game on Saturday (yes that is right -- our 3rd game) we played tough until half time -- down only one (1) goal. But at the start of the second half CV Flash put on so much pressure that we began to make mistakes (like putting two goals in our own goal). CV Flash only played two games on Saturday so they were rested and we were tired. They also had a team with lots of player depth. Final score CV Flash 6, Bandits 0

Our only game on Sunday was against the Bettendorf Hotshots, another team with lots of player depth -- especially at the forward position. After a good nights rest we played back near our talent level but the Hotshots were too much for us in the end as we lost 2-0. We put on lots of pressure near the end of the game but were unable to score.

We thoroughly enjoyed the Muscatine complex -- great fields and helpful people. Even the refs were trying to help us in one game by offering constructive help to our players.

The Bandits enjoyed surprising the other teams with "Bandit" buttons after each game.

While our tournament record was not the greatest, the girls played their hearts out, the parents had fun, the weather was great, so what more could you ask from an out of town experience?

Ken Reis

Thursday, June 19


Bandits Edge Out Eagan 1-0



Hah! Now Try And Kick It Out Of Bounds
Our battle with Eagan was the first of 3 games the Bandits must win to advance to C1 status for the 2004 summer season.

As with many of our games this season we dominated the space but could not find the net, except for one finely placed shot over the keeper's head.

Watching the players in the game, it seemed like both teams were running in mud. Of course our recent games against C1 players were much faster, so perhaps it just seemed slow.

Final score: Bandits 1, Eagan 0

Thursday, June 19


Video: Lauren's Game Winning Goal Against Eagan



<-- Lauren's Goal Eagan



Burnsville Tournament Summary


What a weekend -- the weather was perfect -- Father's Day -- and great soccer what more could we ask?

Bandits drew Dakota Rev in the first game of the Burnsville tournament -- this club is a natural neighboring community rival. Bandits played well the first half, enjoying a slight wind advantage but the score at half time was 0-0. In the second half, with wind in our face and a field that sloped up hill we were concerned about negative factors influencing our ability to play. Very pleased to say that we dominated the second half but could not score. Final 0-0.

In our second game we drew Edina, who had beaten us pretty good indoor at the Blast. We played hard but in the end the superior talent of the Edina team prevailed and we lost 4-0.

The best soccer of the year to date was saved for our game against South East. Individually and as a team we stepped forward to play the best total soccer of the year. Everyone stepped it up and after giving up a goal we stormed back with 2 goals to pull out the victory. Linsey made a magnificent save in the first half to keep us in the game. For the entire game, we passed and talked and played as hard as we have on all year. Final 2-1 for the Bandits.

The 1-1-1 bracket record was good enough to get us a chance to play in the 3rd place game against Tsunami-Bangu. While we played hard, the all around total ability of Bangu gave them a 3-0 edge at the end of the first half. We held them scoreless in the second half, which we set as our goal during half time.

Overall for the tournament we played some of our best, most consistent soccer yet. Even the talking is showing improvement.

As a sidelight, the Edina team was coached by Katie Cullen a former Bandit. The Tsunami-Bangu team was coached by Jen Fecke, former Bandit and Burnsville Varsity goalkeeper. It was great seeing both of them, knowing that they are putting something back in to the state soccer program. But both of these girls need to learn a little more about respecting their elders (coach that is).

Great weekend for all the girls!

Ken Reis

Click below to see girls U12 tournament results:

Burnsville Tournament Results






Bandits Blast Northfield In A 4-0 Victory!


Outscoring an opponent 4-0 was great fun after all the close games the Bandits have had in the past couple of weeks.

In the first half, the girls were most proud of the fact that we scored "two in ten". This expression has lingered from some game conversation about scoring 2 goals in the first 10 minutes of a game -- to build up the intensity level in mind and body.

After a lot of pressure on the Northfield defense, we scored two quick ones -- but Northfield never quit so we still had to battle. The most pleasing part of our game effort is that we were able to pass consistently and penetrate the Northfield defense with quick passes rather than long balls.

In the second half, many players were rotated to different positions in order to continue the objective of learning more positions. We scored an additional 2 goals to put the game out of reach for Northfield.

In practice we had worked on corner kick plays (even though a few players were absent), so it was great to see the team execute what we had practiced.

REMINDER: some players still have not turned in their assignment to draw up the corner kick plays. Doesn't need to be fancy, I just want to see if you all get the ideas.

Ken




Bandits Defeat Edina 2-0


Closer and closer -- that's how we are getting at scoring abundantly. Tonite we scored twice with great shots --- but missed a number of goals by the slimmest of margins. We also shot right at the goalkeeper too many times to count.

BUT, the point is we were dominating the territory in front of the goal, AND we were shooting. In spite of the wind in our face the first half, we managed to control the ball --- marching aggressively in to Edina territory.

The passing in the second half was maybe the best I've seen all year -- passing at just the right time to give someone else a better opportunity to shoot. It looked obvious to me that the girls were communicating on the field -- otherwise especially the back passes would not have occurred.

Defensively we also adjusted to the "push up & run" offense that Edina was trying to run. Edina had minimal incursion in our territory in the second half.

Final score: Bandits 2 - Edina 0.

Way to go Bandits!

Coach Ken Reis



Bandits Played A Great Game But Lost 0-1


This is the hardest game summary of the year for me to write. The Bandits played two great halves of soccer against Prior Lake but the final score of Bandits 0, Prior Lake 1 was tough to take.

I was impressed by our ability to move the ball from defense to mids to forwards, either up the middle or around the outside. We frequently had Prior Lake on their heels. Even though we gave up too many corner kicks, most of them were for defensive reasons and appropriate for the moment.

Coach Dan Houck, at half time, urged the girls to win the 50-50 balls more consistently. From my eyes the Bandits did not back off at all in the second half.

We definitely played well enough to win and should feel proud of our efforts and skills, but just a little disappointed in the outcome.

Ken



Bandits Meet Tough Opposition In Apple Valley Tournament


Three & out:

Bandits started all excited to play near home in the Apple Valley tournament, but ended on a down note with two losses and a tie.

The first game, against Eagan Thunder, showed super effort for 50 minutes but a sag in the middle of the first half allowed Eagan to pop in 2 goals. We stormed back but could never quite put the ball in the net. Final: Bandits 0, Eagan 3.

In the Saturday afternoon game, the Bandits were all hyped up and played a solid consistent game for 60 minutes, enjoying many opportunities to score but never quite getting the ball past the Waverly IA goalkeeper. The teams were very evenly matched and the final 0-0 score was truly indicative of how close the two teams were.

On Sunday, the Bandits started very strong against the Cottage Grove Wolf Pack, but our inconsistency of effort and "very little talk" on the field led to a 4-0 defeat. We used the game as an opportunity to test players in different positions which should help in the future as more players get exposed to a multitude of positions.

The Bandits continued to use the transition game effectively, and appear to be grasping the open space and transition concepts. We also played very aggressively (sometimes too much so -- see weakness)
We clearly had two major weaknesses for this weekend: very much a lack of talking (which ultimately leads to hesitation and uncertainty), and a great tendency to be jumping in on the player with the ball (rather than being patient and waiting for the other player to make a dribbling mistake). Jumping in too much and too often is the downside of being aggressive -- we need patience and understanding of when to make the aggressive move.

All in all, the girls played hard and I hope had fun against the stronger bigger teams.

Ken Reis



Bandits Tame Farmington Tigers 6-1



Coach Reis: A Refreshing Victory
"Don't mess around with the Bandits!" I guess that could be the response from our team when we get scored on early, as Farmington did in our 3rd league game. We started very slowly for the first ten minutes, not realizing how big and fast were the Farmington forwards.

After giving up a goal, we stormed back to score two quick goals and the final result was never in doubt from there. I'm glad to see this kind of attitude -- it can be really contagious.

The Bandits are starting to move the ball by working together, and working the ball to all sections of the field. In addition, our quick feet in front of the goal paid some real dividends in the form of goals. Two of the goals came form just redirecting the ball which had been passed by a team mate.

Dominating as we did also gave the coaches a chance to do some further position experimentation, which in this case also led to further excitement in front of the net.

Final score: Bandits 6, Farmington 1.


Ken




Bandits Romp Rochester Rampage 3-0



Coach Reis/New Team Soccer Bags
After all the tough competition of the past 7 games it was great to see that the girls used the skills and techniques they have learned competing against the bigger, faster C1 teams.

Our passing and moving to the ball was the best we've seen this year. I also think they are picking up on the "transition" drills we have been running in practice.

The finishing was a great improvement from our earlier games. Until this game we seemed to be reluctant to shoot. We've been telling the girls that "strange things happen when you shoot -- the ball just might go in the net" --- and it did tonight on two of our goals. The prettiest combination goal came when four players touched the ball before it wound up in the net (Meredith to Rachel to Macey to Taylor). Way to go all you shooters.

Our defense continued to be solid, with a minimum number of shots given to Rochester. One of our motto's is "no shots" -- and the defense has done just that.

Ken



Bandits Third Place Victory In Wings Tournament



Ken Displays Tournament Medals
Wow!! Competing against C1 teams can be thrilling, as well as tough.

For the second tournament in a row, the Bandits have been competing against some of the best C1 teams and doing quite well with the competition.

The Bandits fine effort in our first game was marred by giving up own goals. The Wings have a very good squad offensively but we managed to break thru their defense for a few shots of our own. We did not play our usual aggressive, consistent game, but the Wings had something to do with that since they are so quick to the ball, especially on offense. Final 0-4.

Against Coon Rapids in our second game on Saturday, we played more of our usual style and had many good offensive rushes. With a lot of good defensive play and some luck we kept Coon Rapids from getting on the board with any score. Final 0-0.

On Sunday, for the 3rd place game, we beat NSSA in a 10 shooter sudden death extravaganza. We missed the first 2 shots but then made the next 8. What a comeback ! Rachel made the stop of the shootout against the 10th shooter from NSSA to secure the victory. Rachel also preserved a tie during the game with a fantastic save on very high ball against the wind. Way to go Rachel! The Bandits played very well during the game after a few minutes of slow start. We were moving the ball from mids to forwards in fine fashion, scoring first on a low hard shot by Taylor. Final 1-1 with victory in a shootout.

Lessons for the day: aggressively moving to the ball and talking consistently, puts us in a better position than waiting for the ball and then panicking.

Great job Bandits !!!

Coach Ken Reis



Bandits Tie Lakeville 1 To 1


Bandits played to a 1 to 1 tie against Lakeville's #1 U12 C2 team. Lakeville dominated the first half and had numerous opportunities to score. The Bandits dominated the second half and had numerous opportunities to score. In the end, 1-1 is a reflection of the total game.
We appeared very tentative and disjointed the first half. Our lack of good marking gave Lakeville space to work with.

The Bandits effort in the second half was well above the first half -- our marking improved -- we moved to the ball -- and we were not intimidated by Lakeville's quick passing and speedy forwards.

Ken



Blaine Tournament Summary


Coaches were very pleased with the Bandits first summer season tournament for 2003, especially when you consider that all the teams we played were c1.

Remember that tournaments are for experimenting and having fun first, then winning if we can. (In league we must go with a consistent, strong alignment in order to maximize our chances of winning)

Our 3-2-3-2 system has some kinks to be worked out on transition offense between forwards and midfielders. The defensive portion of the scheme worked very well, since we only allowed 2 goals. Our best offensive pressure came in the 3rd and final game, hopefully a sign of improvement.

Against Eden Prairie, we were able to fly with them but not able to put one in the net. I was particularly impressed with our zone defense on corner kicks. We set up quickly, in the right positions. We do need to go to the ball even better. Final score
0-1

Against Mahtomedi (who had beaten PSA 5-0 on Friday) we had a slight advantage on possession. The battle by Sam for the ball and then giving Macey the perfect pass to set up a one on one track race was beautiful. Macey tucked the ball away past the keeper at just the right moment. Don't know if anyone noticed but their coach made a defensive change at half time by putting #23 as a sweeper, she had played forward the first half. She was clearly the best shooter on the field and I deemed her very dangerous. With his defensive change, it signaled that he was a little afraid of us putting in another goal. Final score 1-1 Way to go Bandits.

Against PSA, we clearly dominated with possession and controlled the territory but could not get one to go in the goal. Had lots of chances set up by individual as well as team effort. Unfortunately, these kind of games happen. With our defensive and offensive pressure we were vulnerable to the breakaway but the back defenders and goalkeepers did a great job of not allowing a goal. Final score 0-0.

Specific things we need to work on: 1. thinking "triangles" for every play (a must if we are to get transition from mids to forwards), 2. communication (getting better but can be much louder and more frequent).

During the next couple of weeks we will work on offensive corner kicks, and offensive walls, plus lots of work on "triangles"

WAY TO GO BANDITS !!!!!

Coach Ken Reis




Mens Team Received New Soccer Bags At USA CUP!



Very stylish aren't they?
What are these guys up to? Enter a caption below.
Look at how teenie tiny the hot dogs are!



What Are Ken & Teri Saying To Each Other???


What are these two people really saying? Now here's your chance to let us know! Please enter your funniest caption for this picture below. Have fun!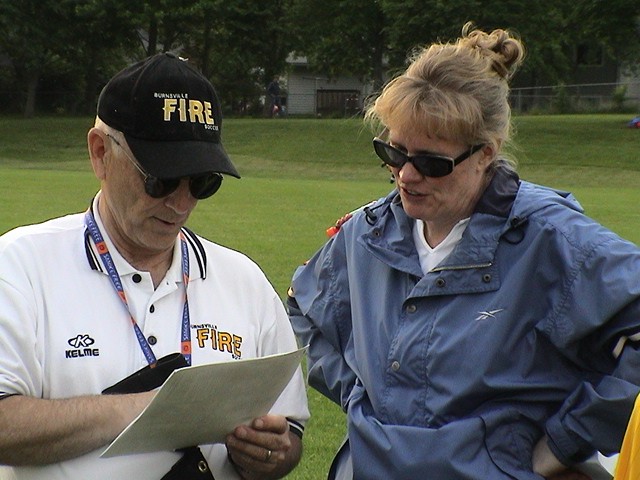 You Loaded HOW MANY Krispy Kremes In The Van?
Video: Papa Murphy's Signature Cheer!
<-- Papa Murphy's "Gooooo Bandits"



Music



We Are the Champions