Mark Berson's Carolina Soccer Camp: Goalkeeper Training

Goalkeeper Training
Available at all sessions. Tuition is the same as corresponding camp session.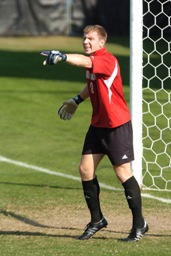 We believe goalkeepers best develop with a blend of specialized training in goalkeeping fundamentals and tactics, mixed with the game experience our league competition provides. Keepers are assigned teams and have the opportunity to put into practice in the evening league games what they have learned in their daily training.
The Carolina performance record for training goalkeepers includes "National Goalkeeper of the Year" awards in 1985 and 1988; 1988 and 2000 and 2004 All-American awards. In 2004, our sophomore goalkeeper became the highest-picked goalkeeper in the history of the MLS,and he is currently playing in the English Premier League.
If you come with your team or individually, you will not be disappointed.