U-6 Storm White: Welcome
WELCOME STORM WHITE !!
Welcome to the Storm Nation !!
Hello everyone. My name is Luis Diaz and I am very proud to be your coach this year. I am looking forward to working
and having fun with your kids.
STAND-OUT PLAYER OF THE WEEKEND:
EMANUEL DIAZ
EMANUEL works very hard during the games. EMANUEL has great hand / eye coordination. Combine with his aggressiveness EMANUEL is a lethal weapon win it comes to soccer. We are very proud of all the hard work that EMANUEL puts into the game. Especially Father and Coach Luis Diaz and Mother Aura Diaz. Keep up the great work and remember to have FUN !! EMANUEL DIAZ is WHITES player of the weekend. Great Job !!
Bring water to practice. We are starting to get some cool nights so be sure to plan ahead.
Thanks,
Coach Luis Diaz
Practice Every Tuesday and Thursday 5:30 to 6:30 Berryville Community Center Field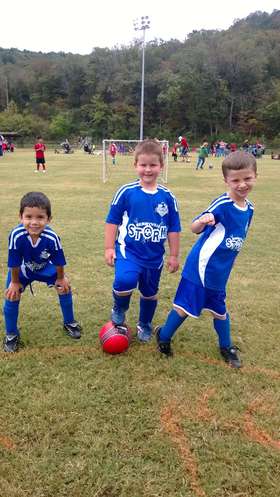 Larry, Curly, and Moe?