Bergenfield LL: Challenger Division
BLL Challenger Division
Bergenfield Little League
Challenger Division Embarks on its 22st Season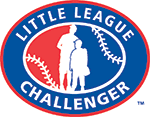 Players learn much more than just baseball skills... it's a time for smilling and having fun!
The Challenger Division was created in 1989 and started in Bergenfield in 1991, as a separate division of Little League Baseball to enable children with special needs to participate in America's national pastime - baseball. Today, more than 30,000 children participate in more than 900 Challenger Divisions worldwide.
It is our goal to teach the children teamwork, fair play, discipline, and to strengthen their self-esteem in a structured environment. This program allows the children the same chance to participate and enjoy the full benefits of little league baseball as their siblings and friends. We are committed to giving these challenged children a chance to develop and learn baseball in a safe enviroment. Our BLL Challenger program is for physically and mentally disabled youth, ages 7-22.
If you have children interested in signing up for the Challenger Baseball programs or would like to volunteer your time to our program, please contact our Player Agent at agent@bergenfieldlittleleague.org for more information.