Bergenfield LL: Welcome
Sunday, January 4
Greetings from Bergenfield Little League!
Hello to all BLL familes,
The annual Bergenfield Little League picnic is THIS SATURDAY, June 13th! The picnic is always a highlight of the season, and it's the league's way of saying "thank you" to all the families and volunteers who participated this year!
The picnic will start at 11 am. Among the many highlights: The Optimist Challenge: A hit-throw-run competition open to all kids aged 4-12! You don't have to be a BLL player to participate, so if you're bringing a friend or relative to the picnic, they can play too! Registration will be at 9:00 am on Saturday, with the events taking place right after that. Trophies will be awarded to the winners in several age brackets.
FOOD! Applebees will be at the picnic, cooking burgers and hot dogs for up to 700 people! We will have popcorn, cotton candy and drinks! The snack stand will be open for Slushies! So get your food tickets when you arrive and be ready to eat all day! Games and Activities: Plans are still being finalized, but there will be lots of fun stuff to do at the picnic. We will definitely have the DUNK TANK back this year -- so look for your favorite coach, manager or board member to dunk! Music: We will have a DJ at the picnic this year, and he will keep things moving all day long! Graduate Trophies: At our awards ceremony, all graduating 12-year-olds will receive their graduate trophies and get their official "graduate" photo taken on Hickey Field.
IMPORTANT: It takes a lot of WORK to make the picnic happen each year! We need lots of HELP to prepare and keep things running on Saturday. A work schedule will go out for the teams (as always), and we'll need helpers on Friday night (during the late game) and Saturday morning (starting at 8:30 am) -- and let's not forget the cleanup at the end of the day! If everyone helps out, it will be easy! So get ready for a full day of fun this Saturday! The Optimist Challenge starts at 9am, the rest of the picnic starts at 11am.
Remember to bring your TABLES & CHAIRS to enjoy the festivities in comfort.
See you there! BLL Board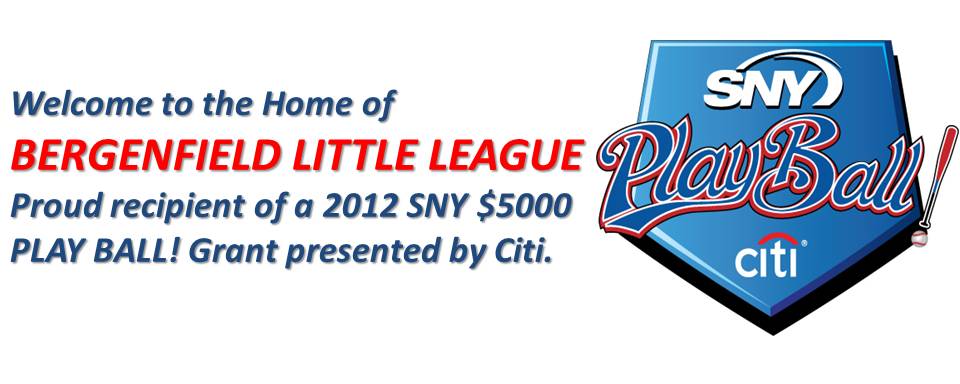 ---
Welcome to the Official Website of the

Bergenfield Little League
Bergenfield Little League Association
PO Box 218 Bergenfield, NJ 07621
Email: info@bergenfieldlittleleague.org
Facebook: https://facebook.com/BergenfieldLL
Twitter: https://twitter.com/BergenfieldLL
---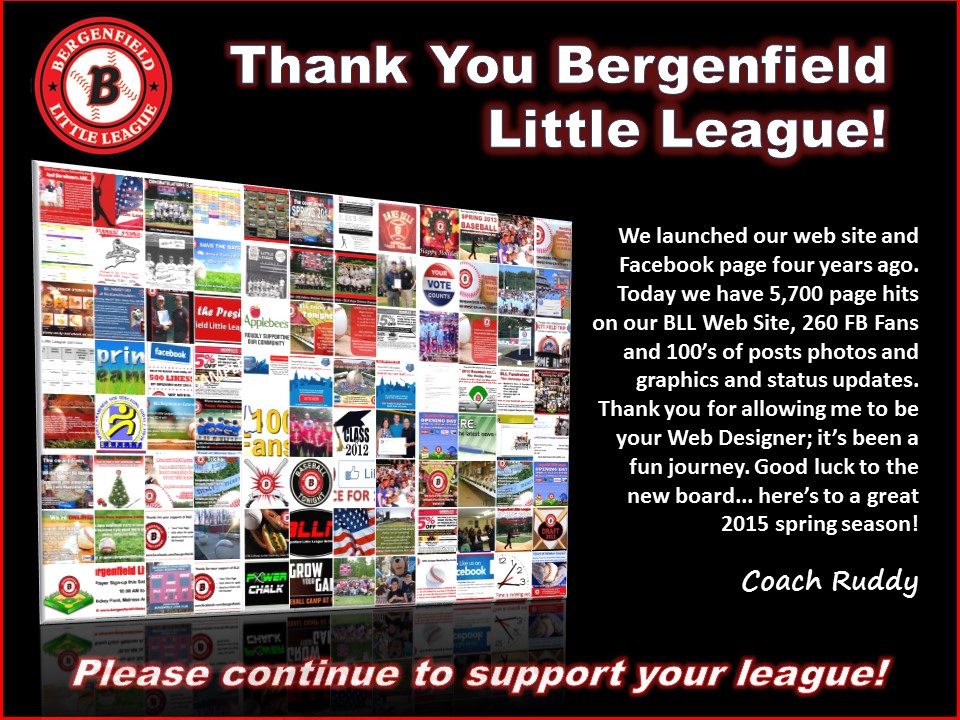 ---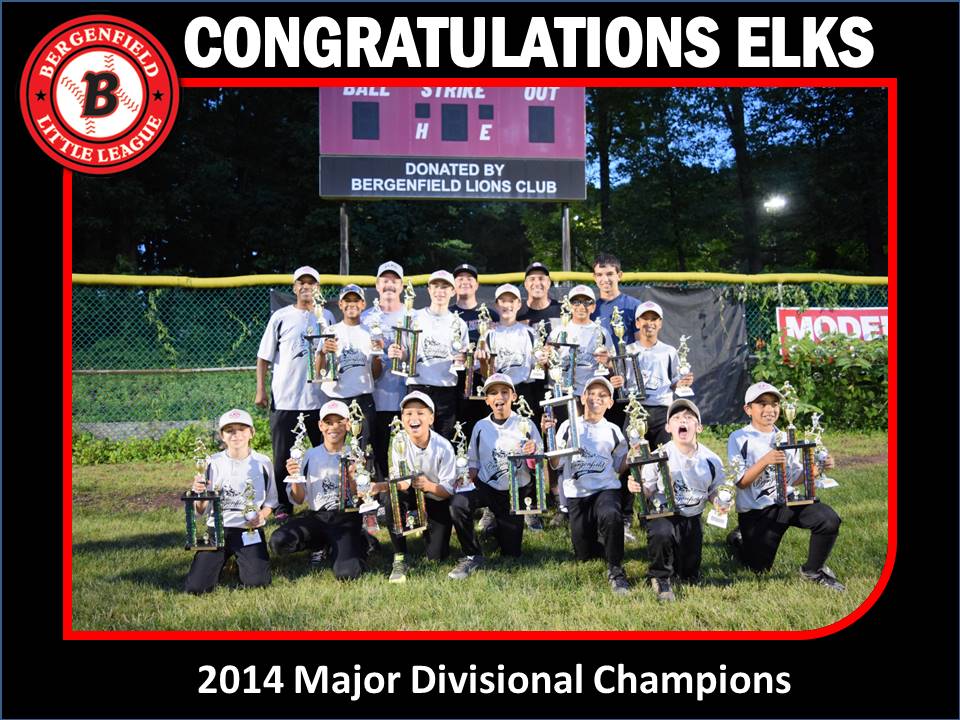 ---
Click below for the latest team standings and game score updates!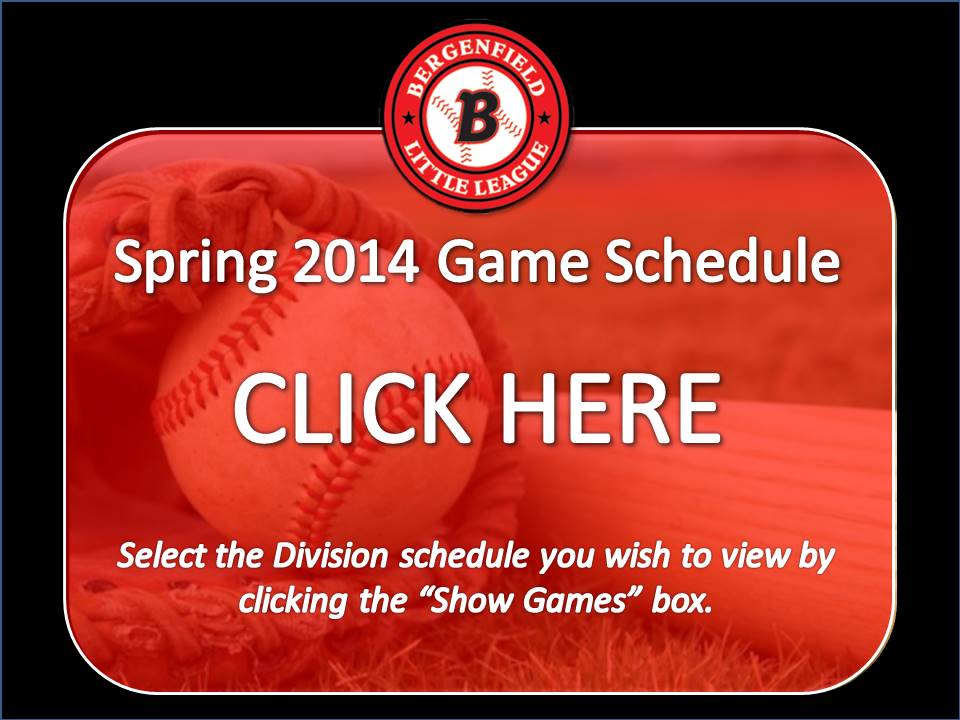 ---
Bergenfield Little League's
Playball! Grant Video featured on SNY Network!
Check out BLL on the SNY PLAYBALL! page... CLICK HERE
---
Hickey Field Complex - Bergenfield NJ
Our field's signature concrete baseball bollards line the front sidewalk. Since 1950, the mission of Bergenfield Little League is to educate and mentor our athletic youth by providing an enriching, family and community-oriented sports program. BLL is a volunteered operated, Nonprofit 501 organization and is recognized as an official charter member of Little League International. We have been part of the NJ State District 4 Little League Division since 1958. BLL also participates in the state run Challenger Program; celebrating 30 years in our borough. Thank you to our all volunteers who annually contribute hours of time and efforts for the betterment of our borough's Little League program!

---
Sunday, January 4
Bergenfield Little League Monthly Meeting
Our Monthly Bergenfield Little League Meeting will be held on th first Monday of the Month at 7:30 pm.
Location is the Elks Lodge at 40 West Church Street, Bergenfield, NJ.
Get involved and help make this a successful 2015 season.
Sunday, March 8
Bergenfield Monthly Meeting
Greetings from Bergenfield Little League!
We are off to a great start this season. We want to thank all those able to participate in the first 2 Coin Toss and also the Cheese Cake Fundraiser.
Our next event we are planning for is the Rockland Boulders Game on June 6th. Please see attached form. That weekend is country-fried weekend and will include 1,500 Mini Bat Giveaway, courtesy of Dave & Buster's; Cow Pie Throwing Contest; Win a Cactus; Scholastic Book Fair; Fireworks Extravaganza

Bergenfield Little League Board
Click Here to visit our NEW Bergenfield Little League Facebook Fan Page!
Wednesday, March 4
Dates for 2015 to remember
Dates for 2015 to Remember
a. Field Clean Up - TBD, probably third week of March (weekend)
b. Opening Day & Picture Day – April 18
c. First Games – April 13 for Major anf Minir division team.
d. Picture Day – April 18
e. Coin Toss – March 28, April 25, May 16 (Fundraising Activity)
f. Rockland Boulder Trip, minir league team – June 6th.(Fundraising Activity)
g. League Picnic - Saturday June 13 with Rain Date of June 14. - League Appreciation day. Optimist Challenge
h. Playoffs – June for Minor and Major divisions