Belchertown Little League: Welcome
Belchertown Little League - Hulmes-Warner Field
Welcome to all from Belchertown Little League!
We here at Belchertown Little League strive to provide a positive, rewarding, and above all, fun baseball experience for all participants and their families. A copy of our league conduct policy is available by clicking on the League Forms link at the bottom left of the page. We are all looking forward to a fantastic 2012 BLL season!
We Have a Brand New and Improved Web Site for 2012!! Please click the link below and bookmark!
http://www.belchertownlittleleague.org/league/
Let's Get 2012 Started!
Belchertown Little League will be conducting our 2012 Registration on Saturdays February 11 and 18, between 9 AM and 1 PM, at the Belchertown Police Station.
Click on the Forms and Green Monster Tab on the left of the page, and go to the registration link to download the 2012 registration form!
We will be launching a brand new website this season, stay tuned for all the details! Also, we have created a survey for parents and players in order to obtain feedback on how to make our great league even better. The survey will be available on-line shortly, and we hope all will participate!
THE 2011 YEAR IN REVIEW!
GREEN MONSTER TOURNAMENT 2011
East Granby Wins 9-10 Green Monster Tournament!
Beat Belchertown 1 to Secure the Title
Sunday's Results Below:
Championship Game: East Granby 14 Belchertown 1 4
Consolation Game: Longmeadow over Springfield
Semi-final 1: East Granby over Springfield
Semi-final 2: Belchertown over Longmeadow
Congratulations on a great run, Belchertown 1 !!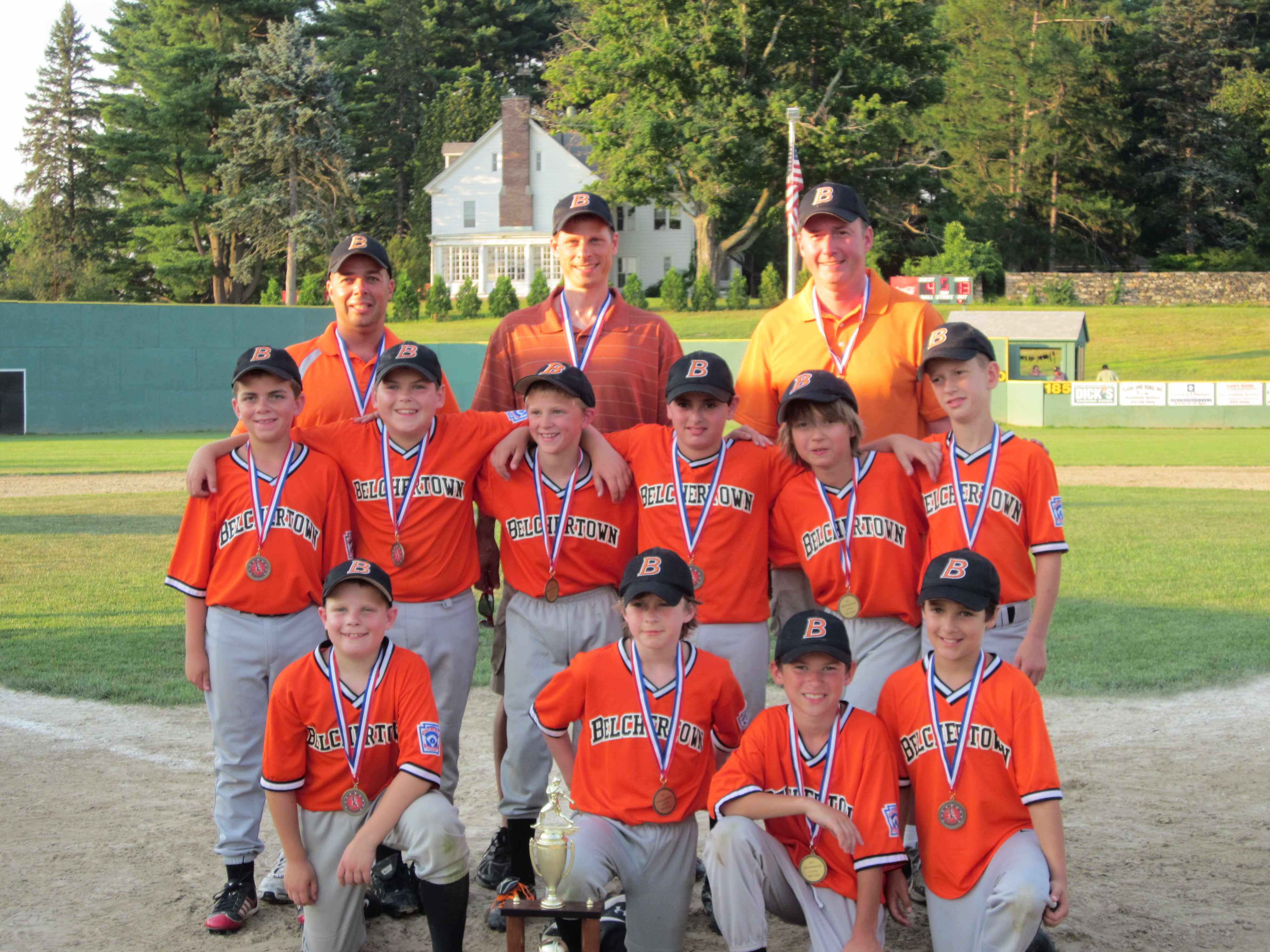 _______________________________________________
BELCHERTOWN 1 WINS 11-12 TOURNEY!
Beats Westfield to Claim the Green Monster Crown!
____________________________________________________________
Don's Auto Wins Minor League Championship!
Cam Barry's No-hitter in Season Finale Seals Title!
Don's Auto 11 Easthampton Savings Bank 0
On Tuesday, June 28, the season finale matched unbeaten Easthampton Savings Bank against Don's Auto who had lost 1 game during the season. Cam Barry was on the mound, and was brilliant, pitching a complete game, no-hit shut out for Don's. Barry had 13 strikeouts, and only allowed 1 baserunner via a two out walk in the 4th.
Along with every no-hitter comes a great play in the field, and this was no exception. In the final inning, Jaron Deich of ESB lined a one hop shot toward third base, and Cam Masse scooped it up & fired to first base to narrowly get the out & preserve the no-hitter. Don's had 9 hits in the game, including multi-hit performances by Jack Mankowsky & Barry.

Alex Morley pitched well for ESB to shut down Don's over the last two innings, and while Don's were crowned the Champs by virtue of the head-to-head tiebreaker, ESB players and coaches should be extremely proud of their awesome season, and hold their heads up high!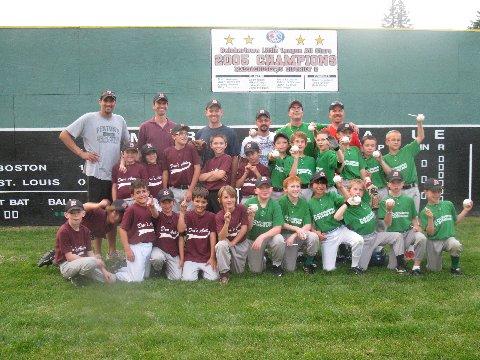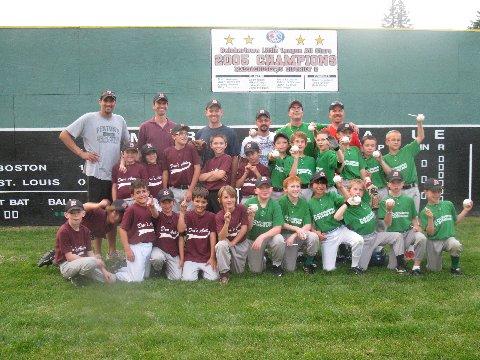 ____________________________________________________________________________
COMMUNITY EVENT!!!
Thanks to all who came out to Alex's Lemonade Stand to fight childhood cancer! If you couldn't attend and would still like to donate, click the link below!
http://www.alexslemonade.org/mypage/70484
ROUTE 9 DINER ARE 2011 BLL CHAMPIONS!!!!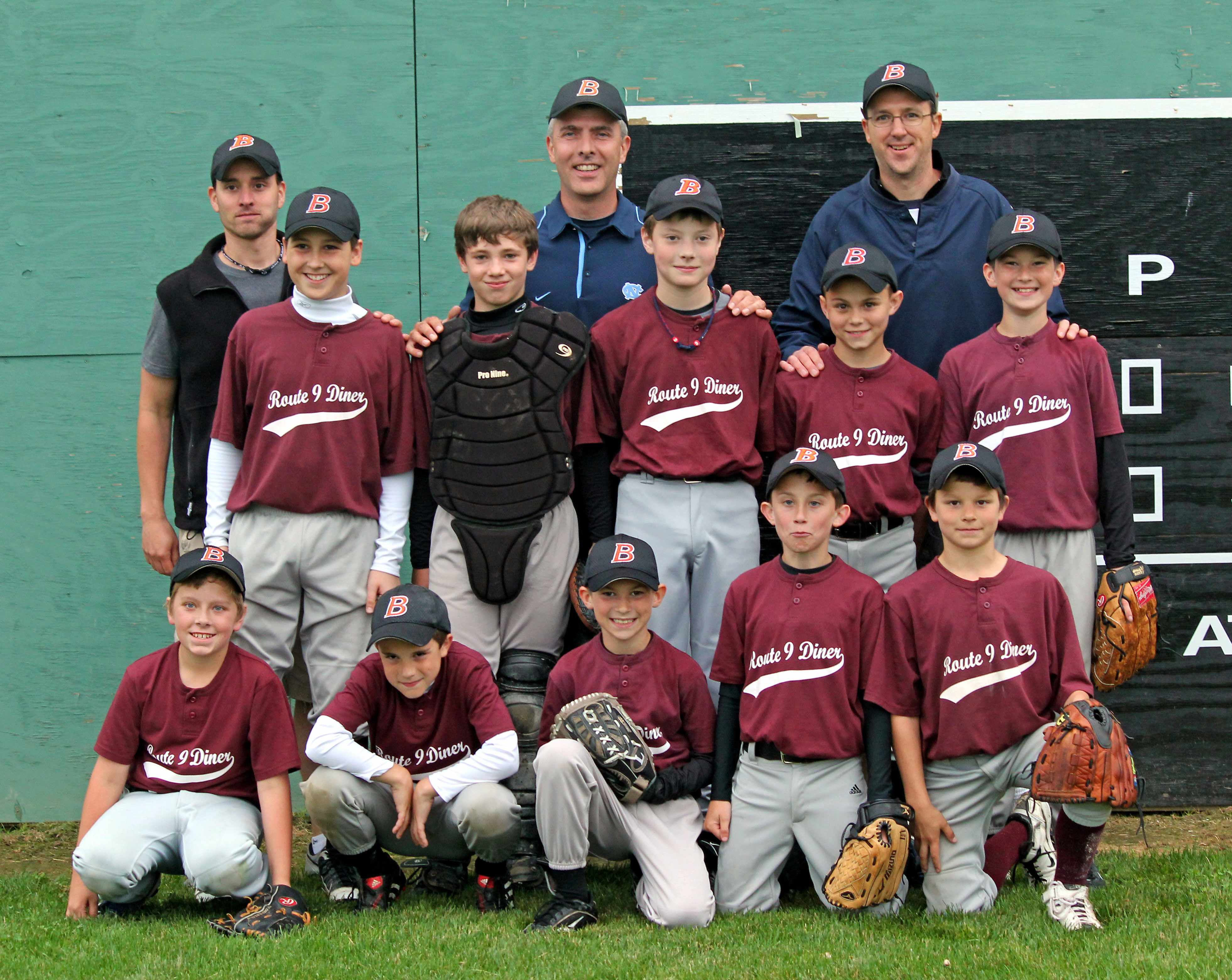 BEAT DF PLUMBING 6-2 TO TAKE THE CROWN!
On a cool and damp Saturday evening at mini-Fenway, # 4 Route 9 Diner upset #2 DF Plumbing, 6-2, to take home the 2011 Belchertown Little League Championship.

DF Plumbing struck early in their half of the first inning, plating a run to take an early 1-0 lead. Dave Fredenburgh led off with a single and scored on consecutive singles from Tanner Clark and Brendan Sullivan. Both teams went quietly in the second and third innings as Route 9s Adam Mattingly and DFs Brendan Sullivan were locked in a pitcher's duel. Then in the top of the fourth inning, the Route 9 Diner offense came alive. Adam Mattingly led off the inning and was hit by a pitch and then Cyrus Raines hit his third homerun of the 2011 season over the center field wall for a 2-1 lead by Route 9. Mitchell Medina walked and eventually scored on a Nathan Bresnehan single, making the score 3-1 through the fourth inning. In the top of the fifth, Route 9 started a one out rally. Adam Mattingly and Cyrus Raines reached on fielder's choices, Mitchell Medina drove in a run with a single and then Ryan Chrabascz singled home two runs to put Route 9 up, 6-1.

Adam Mattingly pitched a great game for Route 9, going 5 2/3 innings and striking out nine before being relieved in the bottom of the sixth inning by Mitchell Medina. With Route 9 leading 6-2, DF had a two out rally going with the bases loaded and the heart of the order coming up. Mitchell Medina got the final out of the game by striking out the final hitter.

Dave Fredenburgh and Tanner Clark led the DF Plumbing offense with two hits each and Brendan Sullivan contributed a single. Brendan Sullivan pitched a solid five innings for DF Plumbing, allowing four hits and striking out 10. Nolan Vogel came on in relief of Brendan and pitched one inning of relief striking out three of the five hitters he faced.

Both teams had some solid defensive plays. Charlie Avery and Jacob Bresnehan for Route 9 and Matt Soja for DF Plumbing made some outstanding catches in the outfield during key moments of the game. In addition, Route 9 received a solid defensive play on a relay throw from Mitchell Medina at shortstop to Ryan Chrabascz at first base and then eventually to Jason Jakubasz at second base to put down a DF Plumbing rally in the bottom of the fourth inning.

Congratulations to Route 9 Diner on a great win, and to all our major league players for a great 2011 season!
2
011 BLL Jamboree a Smashing Success!!!
On Saturday, May 7, which turned out to be an absolutely gorgeous day, Belchertown Little League held its annual Jamboree, and a great time was had by all! The festivities kicked off with our 11 AM opening ceremonies, featuring everyone's favorite mascot, Wally the Green Monster!
Following the ceremonies, Our Challenger team, the Belchertown Red Sox, faced off in a 2 inning exhibition vs. minor league team Stop & Shop, with the first pitch thrown by Wally himself! The game was exciting and fun-filled throughout, leaving fans and players alike with huge smiles that remained on their faces throughout the day!
The day wound down with our Home Run Derby, results of which will be posted shortly! Thanks to all who came out and made this a wonderful day for kids of all ages!!!! See our Jamboree album in our photo albums section for photos!!!
Photo Albums: http://www.eteamz.com/belchertownlittleleague/albums/
Here is a great article from Little League Online that shares our philosophy on youth coaching.
http://www.littleleague.org/learn/newsletters/CBNewsletter/2011/cbapr11/Feature_Story.htm
IMPORTANT NOTICES!!!
ATTENTION ALL PARENTS!!!
ALL TEAMS MUST PROVIDE 2 PARENT VOLUNTEERS TO RUN THE CONCESSION STANDS FOR ALL AWAY GAMES. PLEASE SEE YOUR TEAM'S PARENT REP TO SET UP A SCHEDULE. THIS IS A MANDATORY REQUIREMENT FOR ALL TEAMS, PLEASE DONATE WHATEVER TIME YOU CAN! THERE'S EVEN A GREAT VIEW OF THE GAME AT BOTH OUR HODGEN AND MINI-FENWAY STANDS!
BE SURE TO TAKE ADVANTAGE OF YOUR TEAM PHOTO ALBUM!
Each Belchertown Little League team has its own dedicated photo album, available by clicking on the ALBUMS link on the top left of the page. Parents and coaches, please e-mail your pictures to RileyBtownLLB@gmail.com and they will be added to your team's album!
IMPORTANT INFORMATION REGARDING COMPOSITE BAT RULES
Please see link below for all the details.
http://www.littleleague.org/media/newsarchive/2011/Jan-Apr/LLBBBatInfo-3-18-11.htm
Parents and Coaches, Please Bookmark this site!
This will be the place to come for schedules, standings, game reports, photo galleries, and much more throughout the season!
------------------------------------------------------------------------------------------
See Game Report Archive For all regular season game reports!
Handout:
League Forms