Beckley Little League: Welcome
Welcome to the Beckley Little League website.
This is the site for the Beckley, WV Little League. We will post announcements, schedules and news items here. If you are a parent or coach, please register with the site so we can get you on the email list.
Beckley Little League is proud to be one of the few remaining leagues with no participation fee.
To contact Beckley Little League, call 304-712-1247 or write P.O. Box 1085, Beckley, WV 25802.
If you would like to sign up or have information posted, please email web@winants.org
Little League requires that to post any photos of Little League players, we need prior written approval from a parent or guardian of each player.
Sunday, May 12
Profile: Junior Edward Ewing
Junior has been an umpire for 28 years. He loves it. He loves it so much, he is still umpiring years after his kids have stopped playing.
Junior loves to be a teacher. The best part of umpiring, for him, is to be behind the plate, so he can be "the man" calling the balls and strikes, and teaching young batters and watching them learn. And you can see it when he umpires – coaching the young ones on their position, encouraging batters and pitchers alike.
His youngest son, Dustin, 12, loves to watch his dad umpire. Dustin says his dad is "the best umpire in Beckley!" Junior's other three are grown, but he still loves coming to the ball field and calling games. He calls himself "the biggest kid out there". And he shows it in his love for the game.
Wednesday, May 15
Baseball rule books
For Minor & Major Baseball leagues, Don Parker has one copy of the rule book for each team. He will have them Thursday at the field, so please have your manager find him and pick up your copy. Only one copy per team, please.
Friday, May 10
No Parking in Dr Rahim's Office Parking Lot on Thursday and Fridays
No Parking in Dr Rahim's Office Parking Lot on Thursday and Fridays. You may park there after office hours the rest of the week. Please abide by this restriction or we could lose the use of the lot entirely. Coaches and Managers please notify all players and families.
Thanks!
Saturday, April 27
Miners' Coach Visits BLL Baseball Opening Day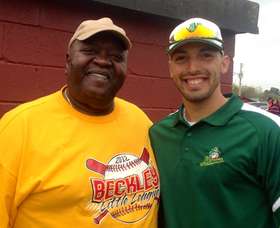 Don Parker and Danny Flores
Don Parker welcomes Danny Flores.
Danny, who is the infield and first base coach for the WV Miners, and the hitting/defensive coach at the Upper Deck, was on hand today for the opening day ceremony for Little League Baseball. Danny has helped train many of our Little League players, and wanted to cheer them all on.
Thursday, April 11
Parents Meeting Notes
Beckley Little League, started in 1958, is one of the largest little leagues in the state. And one of the few remaining leagues anywhere with no participation fees.
We support the league, and keep it free of participation fees, by concession sales, advertising signs at the fields, setups, picture sales, and the Pepsi fundraiser.
Your league officials are:
| | |
| --- | --- |
| Tee Ball / Pony League | Lee Ann Myles |
| Baseball | Don Parker |
| Softball | Charlie Campbell |
| Umpires | Mike Donell |
Opening days are:
| | |
| --- | --- |
| Baseball | April 27th |
| Softball | April 28th |
| Pony League | May 5th |
| Tee Ball | May 4th |
Parents, please be thinking about uniform sizes for your child. If you find safety equipment that is not in good condition, let your coaches know. If your child needs shoes or a glove, talk to your coach or league official.
Parking in the parking lots is at your own risk. Dr. Rahim's lot is available after 6:00pm - please be respectful and considerate of his practice and his patients, and don't leave trash.
There won't be scheduled games on Saturdays, so make-up games can be played on extra fields during the week and on Saturdays.
Rain-outs and schedule changes will be posted on the web site and by email as soon as we know about them.
Thanks, and have a great season.
Friday, May 10
Beckley Little League