Beckley Little League: Welcome
Welcome to the Beckley Little League website.
This is the site for the Beckley, WV Little League. We will post announcements, schedules and news items here. If you are a parent or coach, please register with the site so we can get you on the email list.
Beckley Little League is proud to be one of the few remaining leagues with no participation fee.
To contact Beckley Little League, call 304-712-1247 or write P.O. Box 1085, Beckley, WV 25802.
If you would like to sign up or have information posted, please email web@winants.org
Little League requires that to post any photos of Little League players, we need prior written approval from a parent or guardian of each player.
Monday, April 21
Set-up Changes This Year
To all Little League Coaches & Parents:
In the past set-up tickets have been paid for at the beginning of the year and then handed out at each game, but there are issues that arise every year with that process.
This year set-up tickets will be sold directly to the Parent on Opening Day. This is a cash only sale, so if you need to purchase the tickets on a different Opening Day other than the Opening Day for your child you may do so.
Set-up tickets are $1.00 per ticket. You may purchase 1 ticket for each game (14 games = $14.00) or you can purchase a certain dollar amount of tickets (20 tickets = $20.00). The amount of tickets you purchase will be counted out to you and you will be asked to initial that you did receive that amount of tickets.
The tickets will be sold from the Pepsi Trailer starting at 9:30am on Saturday Opening Days and at 12:00pm on Sunday Opening Days. Please remember that this is a cash only sale and that if you lose or use all of the tickets before the end of the season you may purchase additional tickets in the concession stand, no tickets will be replaced by the league.
Thank you,
Donna Campbell
Thursday, April 17
Tee Ball and Pony League Coaches' Meeting
T-Ball and Pony League Coaches' Meeting
All Pony League and T-Ball coaches, please plan to stop by for a coaches' meeting on Friday, April 18th, between the hours of 6 pm and 7:30pm at the Little League Baseball fields. Please bring uniform requests and sizes.
We are still in need of two Tee Ball coaches. Please contact LeAnn Campbell-Myles if you are willing to coach a team.
Thanks Everyone!
Wednesday, April 16
Tee Ball Update
Tee Ball Update
For anyone that has not been contacted by a coach for Tee Ball, currently, we are in need of three Tee Ball coaches. A Tee Ball coach gets the rewarding experience of introducing the fundamentals of baseball/softball to young eager players. Please respond with your contact information if you are willing to coach a team. Also, Beckley Little League will need the Volunteer Application completed and a copy of your driver's license.
In the meantime, we will have a meeting later in the week concerning uniforms and prospective coaches. We will keep you updated.
Please reply with any questions or if you are willing to coach a Tee Ball team.
Thanks everyone!
Saturday, March 15
Important Dates for 2014
Beckley Little League
2014 Season
Important Dates
| | |
| --- | --- |
| Saturday April 5th 10:00AM | Mandatory Managers Meeting & Players Draft for all league ages except Tee-Ball at the Brier Club Golf Links clubhouse. Managers, Coaches & League Officials Only |
| Monday April 7th 7:30PM | Annual Parents Meeting at the Beckley-Raleigh County Convention Center. Team assignments will be announced. This is a very important meeting. All parents, managers and coaches are requested to attend. |
| Saturday April 26th | Baseball Opening Day |
| Sunday April 27th | Softball Opening Day |
| Saturday May 3rd | Tee-Ball Opening Day |
| Sunday May 4th | Pony League Opening Day |
Saturday, April 27
Miners' Coach Visits BLL Baseball Opening Day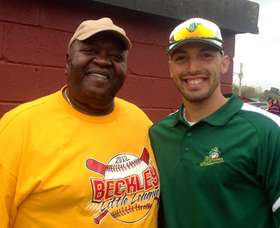 Don Parker and Danny Flores
Don Parker welcomes Danny Flores.
Danny, who is the infield and first base coach for the WV Miners, and the hitting/defensive coach at the Upper Deck, was on hand today for the opening day ceremony for Little League Baseball. Danny has helped train many of our Little League players, and wanted to cheer them all on.
Friday, May 10
Beckley Little League
Monday, February 24
Little League Sign-Up Dates
Beckley Little League signups for 2014 will be as follows:
March 15th, 9:00 am - 12:30 pm at Spartan Sporting Goods
March 29th, 9:00 am - 12:30 pm at Spartan Sporting Goods
March 31st, 6:00 pm - 8:00 pm at the Beckley-Raleigh County Convention Center
April 1st, 6:00 pm - 8:00 pm at the Beckley-Raleigh County Convention Center
Spartan Sporting Goods is located at 113 Appalachian Drive in Beckley.
The Beckley Little League fields are on Eisenhower Drive near the Beckley-Raleigh County Convention Center.
I don't yet have information on age ranges, but as soon as we get that information it will be posted.
(The April 2nd date was removed)