Beaumont Athletics Club: Welcome
Beaumont Athletics Club is a youth organization dedicated to the fulfillment of life long dreams through athletics, education, and community service. We are gearing up for our 2015 campaign, which will be better then ever! Last year our girls and boys competed in several major NCAA certified tournaments which resulted in many of them recieving college scholarship offers! Beaumont Athletics Club was also privledged to have players from the Bahamas and the British Virgin Islands participate in team camps and tournaments this summer.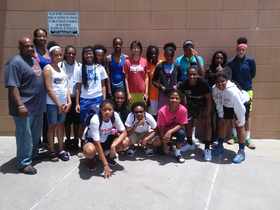 Beaumont Athletic Club is a non-profit 501c youth organization under the AAU umbrella in Southeast Texas. Founded in 2011, we provide athletic and educational opportunities to girls and boys. In 2014 we were privileged to have players from the Bahamas and British Virgin Islands join us for the summer and take advantage of scholarship opportunities. We rely on community support and donations to keep cost low to our players and their families both here and abroad. Every donation will go towards helping our youth accomplish their goal of a college education.
Thank You
Landon Ardoin Sr.
Director-Beaumont Athletics Club