Beaver County Colt League: Welcome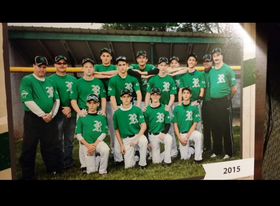 YOUR 2015 BCCL CHAMPIONS!
Thursday, July 23
Western Pennsylvania's Finest Colt Baseball League
BCCL TRAVEL INFO BELOW CHAMPIONSHIP HEADLINES
RIVERSIDE TAKES THE BCCL CROWN!
Riverside won the BCCL Champonship by defeating Moon 6-5 at Moon High School. Moon held a 2 run lead, 5-3 going into the top of the seventh inning. Riverside strung together 5 hits and plated three runs to take the 6-5 lead. Moon was retired in order in the home half of the inning and Coach Boehm was handed the BCCL Championship trophy to share with his team. Riversides path to the Championship and scores are below the BCCL Travel Info.
Congratulations to Riverside and Moon on great seasons!
BCCL TRAVEL INFO
The 16u team lost to the Ohio Longhorns in the Tournament Opener by a score of 4 to 3. They will play at Graham Park tomorrow at 12:30PM and they will meet there at 11:00 AM. If they win they will play at 8:00 PM under the lights at Graham Park in the days final game on Friday. Should the 16U team win two games tomorrow they will have to win at 3:00 PM and 5:30 PM on Saturday to advance to the East Zone Championship in Greensboro NC. The team played well today...Dont count them out. The GPS address for Graham Park is 260 Graham Park Drive, Cranberry PA 16066.
The 15u team plays at Mars High School at 12:30PM tomorrow in the Tournament Opener. All 15U games will be played at the same location. The team will meet at Mars High School at 11:15 AM. The GPS address for Mars High School is 520 Mars Rd. Mars PA 16046. The Team will wear white pants if you have them, if not grey is fine. Coach Rowe will be at Burger King in Chippewa at 10:30 if anyone wants to follow or share rides. We realize that some parents are working, so any help that can be given would be appreciated. If the team wins tomorrow they will play on Saturday at 5:30 PM. If they lose tomorrow they will play at 12:30PM and 3:00PM Saturday.
ANY QUESTIONS CALL COACH ROWE
724-622-4748
CHAMPIONSHIP
RIVERSIDE VS MOON --- REGULAR SEASON (RIVERSIDE WON ONLY MATCHUP)
GAME 1: JULY 21ST AT RIVERSIDE HIGH SCHOOL @ 5:30 RIVERSIDE 9 - MOON 3 (RIVERSIDE LEADS SERIES 1-0)
GAME 2: JULY 23RD AT MOON HIGH SCHOOL @ 5:30 RIVERSIDE 6- MOON 5 (RIVERSIDE WINS THE BCCL CHAMPIONSHIP 2-0)
GAME 3: JULY 25TH AT RIVERSIDE HIGH SCHOOL @5:30 (IF NESSECARY)
2nd ROUND MATCHUPS:
NORTH:
RIVERSIDE VS ELLWOOD CITY (SPLIT REGULAR SEASON SERIES 1-1)
GAME 1: JULY 15TH AT EWING PARK @ 5:30 ELLWOOD CITY 2 - RIVERSIDE 0 (EC LEADS SERIES 1-0)
GAME 2: JULY 16TH AT RIVERSIDE HIGH SCHOOL @ 5:30 RIVERSIDE 3 - ELLWOOD CITY 1 (SERIES TIED 1-1)
GAME 3: JULY 18TH AT EWING PARK @ 5:30 RIVERSIDE 2 - ELLWOOD CITY 0 (RIVERSIDE WINS SERIES 2-0) (ADVANCES TO CHAMPIONSHIP ROUND)
SOUTH:
MOON VS BLACKHAWK 15S (SPLIT REGULAR SEASON SERIES 1-1)
GAME 1: JULY 15TH AT PARK FIELD @ 5:30 MOON 12 - BLACKHAWK 11 (MOON LEADS SERIES 1-0)
GAME 2: JULY 16TH AT MOON HIGH SCHOOL @ 5:30 MOON 6 - BLACKHAWK 3 (MOON WINS SERIES 2-0) (ADVANCES TO CHAMPIONSHIP ROUND)
NORTH
GAME 1: TUESDAY JULY 7TH 5:30 PM
ELLWOOD CITY 4 - CENTRAL VALLEY 15S 1 (ELLWOOD CITY LEADS SERIES 1-0)
RIVERSIDE 2 - BLACKHAWK AIS 8 (BLACKHAWK AIS LEADS SERIES 1-0)
GAME 2: THURSDAY JULY 9TH 5:30 PM
CENTRAL VALLEY 15S 4 - ELLWOOD CITY 7 (ELLWOOD CITY WINS SERIES 2-0, ADVANCES TO SECOND ROUND TO PLAY RIVERSIDE )
BLACKHAWK AIS 7 - RIVERSIDE 10 (SERIES TIED 1-1)
GAME 3: SATURDAY JULY 11TH 5:30PM (IF NESSECARY)
RIVERSIDE 6 - BLACKHAWK AIS 3 (RIVERSIDE WINS SERIES 2-1, ADVANCES TO PLAY ELLWOOD CITY)
SOUTH
GAME 1: TUESDAY JULY 7TH 5:30 PM
ABE 3 - MOON 1 (ABE LEADS SERIES 1-0)
BLACKHAWK 15S 11 - HOPEWELL 16S 3 (BLACKHAWK 15S LEAD SERIES 1-0)
GAME 2: JULY 9TH 5:30 PM
MOON 7 - ABE 3 (SERIES TIED 1-1)
HOPEWELL 16S 8 - BLACKHAWK 15S 0 (SERIES TIED 1-1)
GAME 3: JULY 11TH 5:30 PM (IF NESSECARY)
ABE 0 - MOON 9 (MOON WINS SERIES 2-1, ADVANCES TO SECOND ROUND TO PLAY BLACKHAWK 15S)
BLACKHAWK 15S 14 - HOPEWELL 16S 5 (BLACKHAWK 15S ADVANCE TO SECOND ROUND TO PLAY MOON)