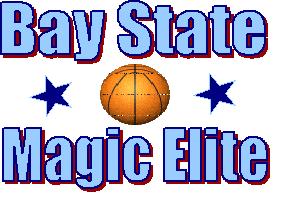 Welcome!
---
MASSACHUSETTS' STATE CHAMPS
2002, 2003, 2004, 2005 & 2006!


Welcome to the web site of the Bay State Magic Elite - 1991s Girl's Basketball Team. BSME is a highly competitive organization that constantly seeks the best players available with the goal of qualifying for the National Championships each year.

BSME is the five-time defending Massachusetts State Champion in the 10U, 11U, 12U, 13U and 14U age groups. BSME participated in the 2003 11U National Championships in Kenner, Louisiana and the 2004 12U Nationals in Kingsport, Tennessee where they finished tied for 13th in the country. In 2005, BSME played in the 13U Nationals in Dayton, Ohio where they won their pool and moved on to the championship bracket.

BSME plays a highly competitive spring schedule in preparation for both State and National Tournaments and competes in a few fall tournaments as well. Our schedule can be found in the Game Schedule tab to the left.

BSME players come from a wide geographic area with participation from the following towns: Braintree, Sharon, Dennis, Falmouth, Stoughton, Walpole, Franklin, Winthrop and Bedford. The team is coached by Mr. Pat Lamb who is also the President of the BSME organization. Mr. Lamb has been coaching AAU basketball for over 12 years and is also the Head Varsity Girls Coach for Cardinal Spellman High School in Brockton, Massachusetts. Mr. Lamb has guided a number of teams to State Championships and trips to the AAU Nationals.

Check the tabs to the left to obtain additional team information. The links tab includes links to the National AAU Organization and New England AAU website.

Be sure to sign our guest book so we'll know you were here. We'd love to hear from you!
---
Boston Globe article on Pat Lamb and the Bay State Magic Elite