BAY STATE FLAG FOOTBALL LEAGUE - Westwood, MA: Welcome

Xaverian High School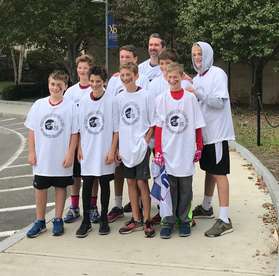 2017 BSSFL D1 Champions Giants
BAY STATE FLAG FOOTBALL LEAGUE
BAY STATE FLAG FOOTBALL LEAGUE is a proud member of NFL FLAG.
This fall, Bay State Flag Football will be running an NFL FLAG League in Westwood. The main site of the games will be Xaverian Brothers High School in Westwood. The majority of games will be played on the field turf.
This is a non-contact version of football where young players can develop their passing, catching and defending skills. Each player who is placed a team will receive a reversible jersey with NFL team colors and logos and a flag belt.
The BSFFL is for BOTH Boys & Girls. The age of groups are from kindergarten through 8th grade.
NEW!!! There will be separate divisions for the different age groups as stated below:
Division 1: 6th - 8th/9th grades
Division 2: 4th & 5th grades
Division 3: 2nd & 3rd grades
Division 4: Kindergarten & 1st grade
The divisions may be adjusted depending on number of players in each division and competitiveness.
BAY STATE FLAG FOOTBALL PRESENTLY IS ALREADY 75% OF Capacity. There is a good possibility on NOT reaching regular registration on January 2018.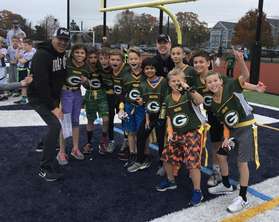 2017 BSFFL Champions Packers
2018 Westwood Bay State Flag Football League Early Registration
INDIVIDUAL PLAYER REGISTRATION
2018 Bay State Flag Football Registration Form is below:
1. To register for the 2018 Bay State Flag Football League, please complete this form and send a non-refundable check in the amount of:
A. $165 early bird due by 01/05/18
B. $190 after 01/05/18 till 03/31/18 (Please Note: NOT EXPECTED to be open after March 31st, as we close once we reach capacity)
Payment should be made out and sent to:
Bay State Flag Football League
PO Box 361
Westwood, MA 02090
2. Every Player must sign up for Mandatory Secondary Insurance at: http://nflflag.com/form/player
All you have to fill in is:
(1) State;
(2) Select Bay State Flag Football;
(3) Fill in info to get child covered
Handout:
2018 BSFFL Early Registration Form