Bay Area Youth Softball: Welcome
Bay Area Youth Softball - Serving our youth age 4-18 in Clear Lake, Webster, Seabrook, and surrounding communities
Fall League Registration is now open!

14U '02 Blitz team is now forming and holding open tryouts!
Contact Chris Borrell Manager/Head Coach for tryout information
330-414-3519 - blitz02softball@gmail.com
12U '03 Blitz is holding open tryouts!
Sunday - Aug 2nd - 2:00pm - 3:30pm BAYS F1
Monday - Aug 10th - 7:30pm - 9:00pm BAYS F1
Sunday - Aug 16th - 2:00pm - 3:30pm BAYS F1
Please contact Coach Kevin Huston for more information: 832-418-9885
10U '06 Blitz newly formed and holding tryouts!
Friday - Aug 7th - 6:30pm - 8:30pm BAYS F2
Tuesday - Aug 11th - 6:30pm - 8:30pm BAYS F2
Please contact Coach Aaron Riley for more information: aariley1@gmail.com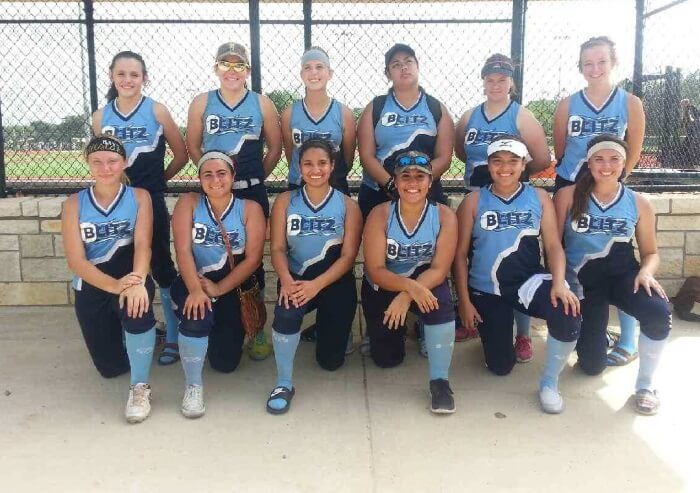 Congratulations 18U Blitz!
These ladies played some tough ball games and took the long road to come back and win the Championship in the Premeir Division of IFA Texas State Championship!!! 6-23-15
Bay Area Teams making a splash this summer!
Work Hard, Play Hard, and Have Fun!
The news is in and all of our summer All-Star teams had a successful season. Reports are that our teams showed up, played hard and competed in every tournament they entered this summer. We are proud to say that each of our teams placed in the top three in at least one tournament each. Congratulations to the girls and coaches on a great summer season.
Thank you for representing Bay Area Youth Softball!
We'd like to give an extra shout out to our 2nd year 8U All-Star team. These girls came to play and demonstrated exactly what hard work and dedication to the sport mean. They placed 1st, 2nd, or 3rd in every tournament they attended. They tied for 9th in the USFA State tournament competing against some much bigger select teams. Their season record for the summer was 52-9. Fantastic effort by all of the players, coaches and their families. We wish these girls continued success as they move up and on in their softball careers.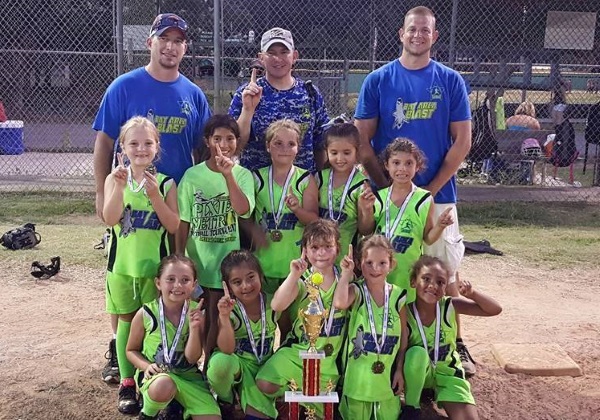 6U Blast played hard and competed all summer long. Hard work payed off when they placed 3rd in the SAYS tournament. 7-12-15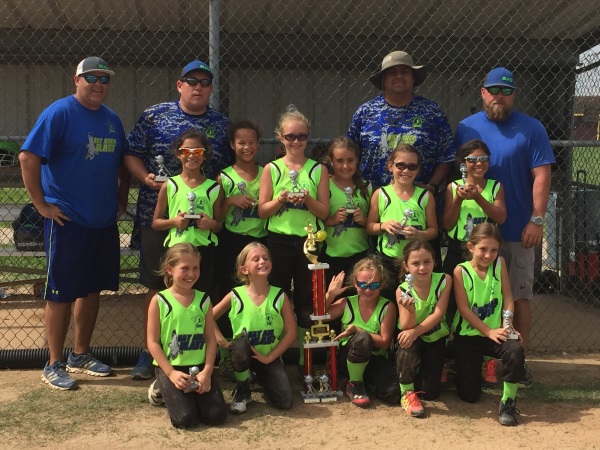 8U Blast battled hard through this tournament that spanned a few weeks thanks to rain delays. They proudly placed 2nd in the ASA Houston Metro tournament. 6-21-15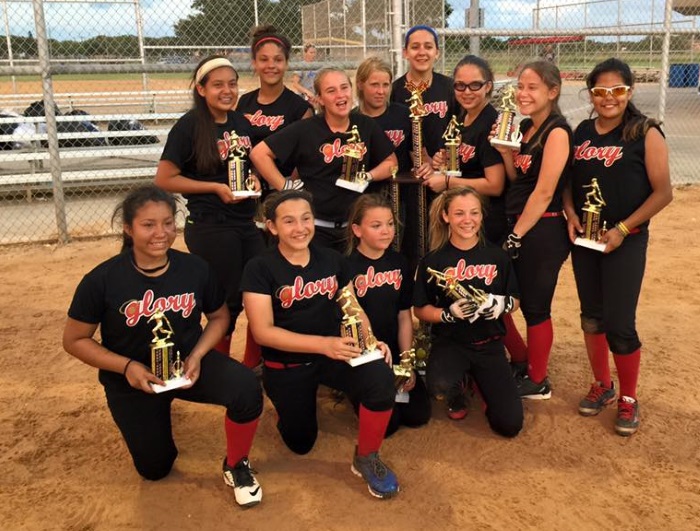 Congratulations to the 12U Texas Glory Adkins - Kelley team for placing 2nd in the USSSA State Tournament in Corpus Christi, June 12th-14th, 2015!
These girls were undefeated in bracket play and just fell a little short in the championship game. Way to go, GLORY!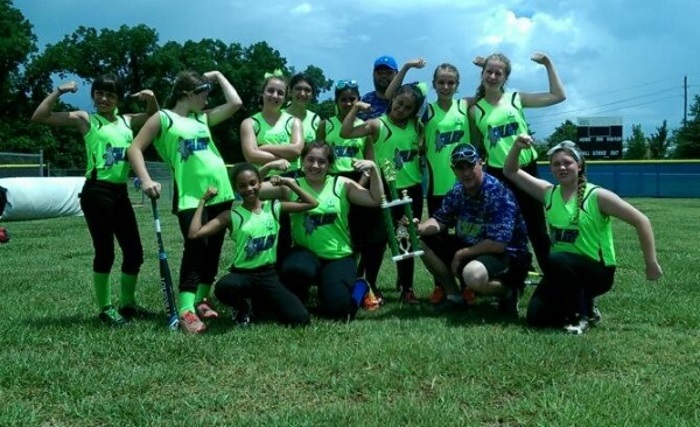 12U Bay Area Blast capture 3rd Place in tournament in Spring, June 13-14, 2015!
12U Blitz place 3rd in the Texas Glory C-Class State Warm UP - May 22nd-23rd, 2015!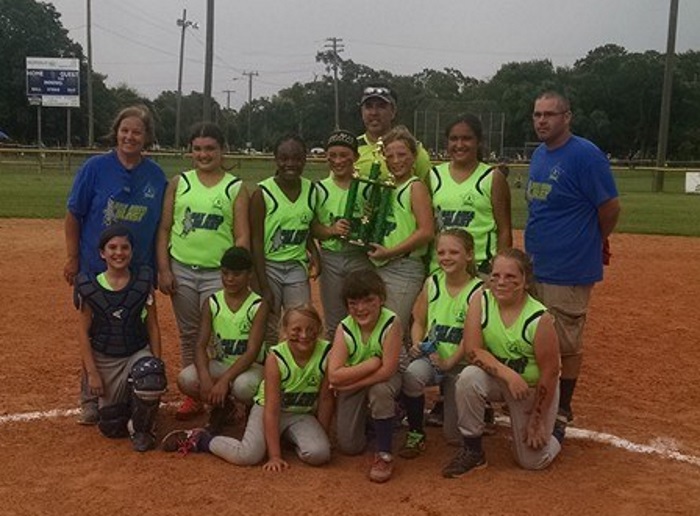 10U Bay Area Blast hold on to 3rd place in the Texas Glory All Star State Warm Up - May 22nd-23rd, 2015!
Blitz teams holding try outs while spots are open!
Please contact the Coach for information:
18U Blitz

Kevin Armstrong

832-758-9109
14U Blitz '02 Chris Borrell 330-414-3519 or blitz02softball@gmail.com
12U Blitz '03 Kevin Huston 832-418-9885 or khuston@bokanyinconsulting.com
10U Blitz '06 Aaron Riley aariley1@gmail.com
THANK YOU TO OUR 2015 SPONSORS!!
Bounce Above
Thank you Bounce Above for providing invlatable fun at Opening Day.
Sante Fe TX - (832) 782-0409
Buffalo Wild Wings
Thank you Buffalo Wild Wings for sponsoring the Roadrunners.
Webster Plaza, Suite 400 528 West Bay Area Blvd. Webster, TX - (281) 338-9464
Channel Door
Thank you Channel Door for sponsoring the Owls.
330 North 11th Street La Porte, TX 77571 - (281) 470-0222
Fuddruckers
Fuddrucker's has provided space for our registration sessions and board meetings.
2040 Nasa Road One, Houston, TX 77058 - (281) 333-1598
Griffin Equipment Co., LLC
Thank you Griffin Equipment Co., LLC for sponsoring the Kit Kats
P.O. Box 925676 Houston, TX 77292-5676 - (713) 681-6550
GSD Demolition
Thank you GSD Demolition for sponsoring the Warheads.
7135 South Lake Houston Parkway, Houston Texas, 77049 - (281) 459-1500
JMD Distributing
Thank you JMD Distributing for sponsoring the Eagles
jimdambra@cornwelltools.com - (409) 256-3464
Kids R Kids
Thank you Kids R Kids for your sponsorship.
170 West Bay Area Blvd., League City, TX 77573 - (281) 332-6611
ODFJELL Terminals/Tankers USA
Thank you ODFJELL Terminals/Tankers USA for sponsoring the Violets and Shocktarts.
13100 Space Center Blvd. Suite 600 Houston, TX 77059 - (713) 844-2300
Plumbers Local Union 68
Thank you Plumbers Local Union 68 for sponsoring the Starburst.
502 Link Road, Houston TX 77249-8746 - (713) 869-3592
Rick Tinker Insurance
Thank you Rick Tinker Insurance for sponsoring the Warriors.
2206 E. Broadway Ste E2 Pearland, TX 77581 - (281) 484-7158
Sugar Land Skeeters
Thank you Sugar Land Skeeters for your sponsorship.
1 Stadium Drive, Sugar Land, Texas 77498 - (281) 240-4487
Star Toyota
Thank you Star Toyota for sponsoring one of our scoreboards.
2112 Gulf Fwy S, League City, TX 77573 - (888) 438-2032
Thunderhead Marketing
Thank you Thunderhead Marketing for sponsoring the Seahawks
11815 Keystone Spring Way Houston, TX 77089 - (800) 815-1419
Weeks Service Company
Thank you Weeks Service Company for sponsoring one of our scoreboards.
1306 S Hwy 3 League City, Texas 77573 - (281) 332-9555
A special thanks to Toni and Micah Stanford for the donation of our two new American Flags.
We really appreciate your Support!!!!