Bay Area Youth Softball: Welcome
Bay Area Youth Softball - Serving our youth age 4-18 in Clear Lake, Webster, Seabrook, and surrounding communities
Congratulations to the Summer All-Star teams!
Work Hard, Play Hard, and Have Fun!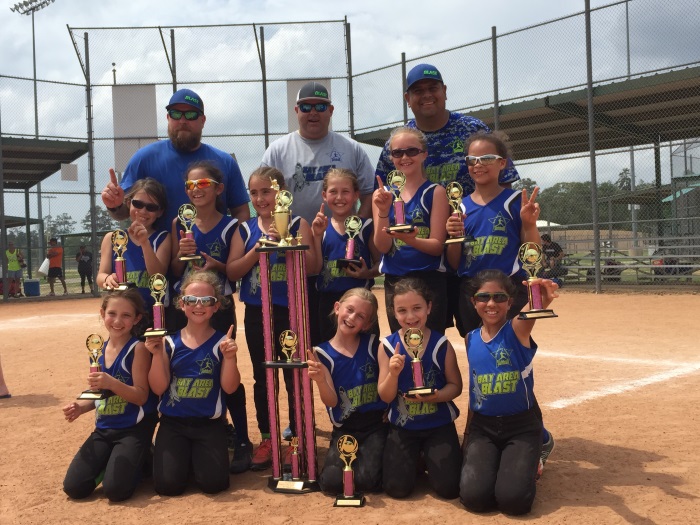 8U Bay Area Blast placed 1st in the CAGSA 2015 Mother's Day All-Star Bash! May 9th-10th, 2015!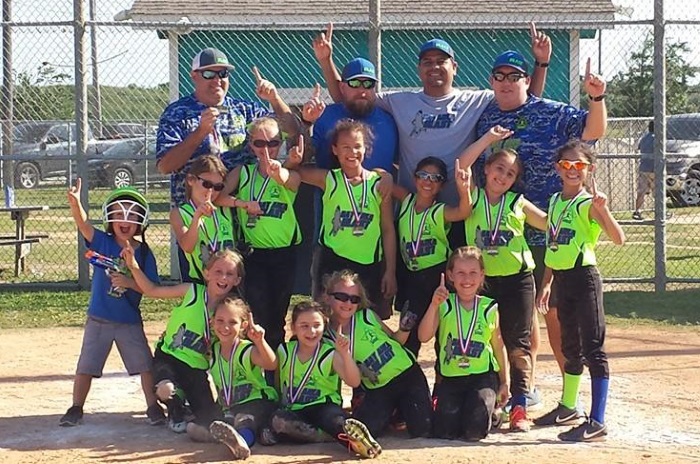 8U Bay Area Blast placed 1st in the Galveston All-Stars Warm Up! May 2nd-3rd, 2015!
Blitz teams holding try outs while spots are open!
Please contact the Coach for information:

18U Kevin Armstrong 832-758-9109
14U Don Bradford 832-423-3319 or donbradford1036@gmail.com
12U Kevin Huston 832-418-9885 or khuston@bokanyinconsulting.com
THANK YOU TO OUR 2015 SPONSORS!!
Bounce Above
Thank you Bounce Above for providing invlatable fun at Opening Day.
Sante Fe TX - (832) 782-0409
Buffalo Wild Wings
Thank you Buffalo Wild Wings for sponsoring the Roadrunners.
Webster Plaza, Suite 400 528 West Bay Area Blvd. Webster, TX - (281) 338-9464
Channel Door
Thank you Channel Door for sponsoring the Owls.
330 North 11th Street La Porte, TX 77571 - (281) 470-0222
Fuddruckers
Fuddrucker's has provided space for our registration sessions and board meetings.
2040 Nasa Road One, Houston, TX 77058 - (281) 333-1598
Griffin Equipment Co., LLC
Thank you Griffin Equipment Co., LLC for sponsoring the Kit Kats
P.O. Box 925676 Houston, TX 77292-5676 - (713) 681-6550
GSD Demolition
Thank you GSD Demolition for sponsoring the Warheads.
7135 South Lake Houston Parkway, Houston Texas, 77049 - (281) 459-1500
JMD Distributing
Thank you JMD Distributing for sponsoring the Eagles
jimdambra@cornwelltools.com - (409) 256-3464
Kids R Kids
Thank you Kids R Kids for your sponsorship.
170 West Bay Area Blvd., League City, TX 77573 - (281) 332-6611
ODFJELL Terminals/Tankers USA
Thank you ODFJELL Terminals/Tankers USA for sponsoring the Violets and Shocktarts.
13100 Space Center Blvd. Suite 600 Houston, TX 77059 - (713) 844-2300
Plumbers Local Union 68
Thank you Plumbers Local Union 68 for sponsoring the Starburst.
502 Link Road, Houston TX 77249-8746 - (713) 869-3592
Rick Tinker Insurance
Thank you Rick Tinker Insurance for sponsoring the Warriors.
2206 E. Broadway Ste E2 Pearland, TX 77581 - (281) 484-7158
Sugar Land Skeeters
Thank you Sugar Land Skeeters for your sponsorship.
1 Stadium Drive, Sugar Land, Texas 77498 - (281) 240-4487
Star Toyota
Thank you Star Toyota for sponsoring one of our scoreboards.
2112 Gulf Fwy S, League City, TX 77573 - (888) 438-2032
Thunderhead Marketing
Thank you Thunderhead Marketing for sponsoring the Seahawks
11815 Keystone Spring Way Houston, TX 77089 - (800) 815-1419
Weeks Service Company
Thank you Weeks Service Company for sponsoring one of our scoreboards.
1306 S Hwy 3 League City, Texas 77573 - (281) 332-9555
A special thanks to Toni and Micah Stanford for the donation of our two new American Flags.
We really appreciate your Support!!!!
YEAR-ROUND BLITZ TEAMS TRYOUTS ARE CONTINUING WHILE SPOTS REMAIN, contact the following people for openings
14U Blitz - Don Bradford (832-423-3319) (donbradford1036@gmail.com)
18U Blitz - Kevin Armstrong (832-758-9109)