Bayside Broncos: Welcome
Thursday, February 16
Welcome to Bayside Pop Warner!
Bayside Broncos Pop Warner Football and Cheer is a non-profit youth football and cheer organization serving Belmont, San Carlos, and Redwood Shores for over 27 years. We are dedicated to teaching the fundamentals of football and cheer to our youth, while focusing on the importance of academics. We are a member of the Peninsula Pop Warner Little Scholars Conference within the National structure of Pop Warner.
Registration is coming soon with early bird pricing!
Please contact your child's coach to express their interest in playing this season or for you to volunteer to join our coaching staff. We will begin forming teams very soon. The head coaches contact information is:
Varsity (12-15yrs) - Duncan Stewart - duncan_stewart2000@yahoo.com
Junior Varsity (10-13yrs) - Rich Smith - lanelecompte@yahoo.com
Pee Wee (9-12yrs) - Jake Messina - gmessina@seq.org
Junior Pee Wee (8-11yrs) - Bob Nessel - bob.nessel@comcast.net
Mitey Mite (7-9yrs) - Rich Smith/Bob Nessel - lanelecompte@yahoo.com bob.nessel@comcast.net
Tiny Mite (5-7yrs) - Bill McCullough - billmccullough5@gmail.com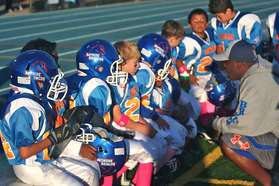 Great coaching!
Tuesday, January 24
Getting ready for the 2017 season!
Greetings Visitors! We are exciting about the new year and we are getting ready for the 2017 season already.
If you live in Belmont, San Carlos, Foster City, Redwood Shores, Millbrae, Hillsborough, San Mateo or Burlingame, you are at the right place! The official paperwork is not ready yet but watch this page or our Facebook page for the latest. And why don't you like us while you are visiting.
https://www.facebook.com/baysidebroncosfootball/
We have exciting plans for the players and fans. If you want to get involve and help out, we are always looking for volunteers. Please send us a message here or on Facebook.
We plan on releasing the 2017 pricing, payment plans, and all the other details before the end of February so stay tuned!