Bayou City Crossfire: Welcome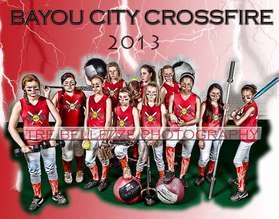 Who are we? I think you know
Crossfire 01' - The Hardest Working Softball Team in Texas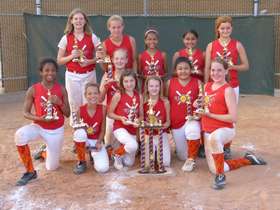 Memorial Day Bash Champs!!!
Welcome to the 12u Bayou City Crossfire softball homepage!
***We are currently looking for 2 more players****Contact Coach Paul at 281-686-8429 or at crossfiresoftball@hotmail.com for more info. All inquires confidential.
***WE HAVE MOVED*** CHECK US OUT AT http://icrossfire.shutterfly.com/
We are a 12u fastpitch softball tournament team, sponsored by Bayou City Cross-Fit and based in the Houston/Cypress area. The team is coached by Paul Martinsen, Monte Conner and former University of Houston star pitcher Donna Bourgeois.
We believe in offering a complete program which includes crossfit training, top-of-the-line practice facilities, professional instruction, nutritional education for athletes, and a positive, fun environment.
It is our goal to take our young ladies as far as they want to go in the sport and strike a balance between life and softball.
Let us know you stopped by and sign our Guestbook!