Thursday, June 27
WORLD CUP THOUGHTS
(Byline: Hannes Sheen) Is anybody still watching the World Cup Games? Was this only the World Cup until the unbelievable run of the US Wonderboys came to a halt? I GUESS NOT!

How could anybody not fall head over heals in love with the sport after watching the 2002 World Cup, where the unknown, smallest and most distant of Soccer Nations, like Senegal, South Korea, Turkey and others struck down Goliath? Adieu France, Hasta Luego Spain, Argentina and Portugal, Ciao Italy and Cheers mate England !! Soccer, Fotbal, Football and Fussball has it ever jumped the international datelines and brought the Soccer World closer. Long gone are the Power houses of Europe and South America we used to see play among themselves in the Finals of each and every past World Cup. I personally had the most fun, and do not regret to live my past month as a vampire, not missing a single game. What a boost this must give to all the soccer organizations in the US and around the world, what an inspiration to young athletes playing a game that still gets snubbed by SportsCenter on ESPN outside the WorldCup. I Love This Game!!
PS. The Fact that Germany will play Brazil (I told you so) in the Final, is not that bad either.



CLAREMONT TOURNAMENT THOUGHTS


(Byline Hannes Sheen) BAYERN placed Fourth in Claremont Tournament!!

This past weekend the GU18 FC BAYERN played the Claremont Stars tournament finishing with a 2:2 record in Fourth Place, among strong GU18/19 Gold and Premier teams. The Field of 9 teams from the Southland and one team from Fresno, CA turned out to be a very competitive Tournament, with a very high level of play, that showed the BAVARIANS what they will face in the upcoming season. As the team will participate in one more tournament this month, the Coaches Hannes and Dudley were very pleased with the performance of the players still trying to make the final roster. The team is composed again with younger players, and a few "Veterans" not only to build a solid team for the upcoming season, but also to look ahead into the future of this team, and establish the program in the highest bracketing of the CSL. The young Ladies of the FC BAYERN Team showed this weekend without a doubt, that there is a new Girls Program among the established Gold/Premier Clubs in the area. Go San Gabriel Valley Soccer Club !

Monday, November 18
2002-03 SEASON RESULTS
#2 GOLD BRACKET! GREAT JOB BAYERN!

Click here or on the heading for the CSL schedule, standings, revisions, game locations (and directions) for our team. You can also access our schedule from the "Schedules" or "Calendar" link at left.

Saturday, September 7
SGVSC FC BAYERN GU18 wins Season Opener
From the Highland Oaks Tribune: The Bayern Team got off to great start, an early 8 o'clock start no less, when they defeated the FYRSC FORCE 3:1 in their opening game for the San Gabriel Valley Soccer Club. An early goal by Erica J. (Katie W. assist) put the team in the lead and the game was never in doubt after that. Brandy Y. (Erica J.) and "Kitty" W. added the other two goals for the final result. Fullerton's team had only a very few scoring opportunities and scored a goal on a failed offside trap by the otherwise solid BAYERN defense, led by Allie B. and a strong performance of Newcomer Whitney D. "We have an excellent midfield this season, and the small field and the slow pitch was not in our favor, however the team dominated for most of the game. We had a little lapse of intensity towards the end of the first half, but the team regrouped and brought the game home. It is very important to get the first game jitters out of the team, as we look forward to improve as the season goes on. We are happy for the team to get off a good start, as they worked very hard the last few weeks," the coaches added after the game. The BAYERN Team will play away, against the Riverside Wildthings, next week.

Monday, September 16


LUCKY 13- Bayern Team Undefeated in 13 League Games


From the HIGHLAND OAKS TRIBUNE: LUCKY 13
BAYERN TEAM UNDEFEATED IN 13 LEAGUE GAMES
With a 2:1 win over the undefeated RUSC Wildthings, and an unlucky 2:2 tie with the First Place SoCal Blues the Bayern team posted it's 13th league game without a loss!! since its first inaugural game in September 2001. "We wanted to win 4 points this weekend, with two very hard games away from home in Riverside and San Juan Capistrano, and we achieved just that. We were very unlucky, to tie on a very late questionable offside goal at the SoCal Blues. We knew that the Blues have a long Tradition and are a first rate Club, and therefore hard to beat on their turf, however we had the right strategy and had them against the wall for most of the game with a 2:0 lead. We were playing the game on Saturday in Riverside in a 110 degrees on the Field and were a little tired towards the end of the game and not as sharp as
usual. The team played very well both days and all players deserve a couple days of rest, as we have another monster game this coming weekend against the Wolves, at home in Victory Park. This Bayern team has the potential to be one of the top teams in SoCal and should not be overlooked anymore as the new kid on the block," Coach Hannes said after the game. Congratulations to all the players, coaches and supporters for a great record and a good start for 2002.

Monday, November 18
LEAGUE CUP
League Cup scores and results (click on heading for full schedule of GU18/19 League Cup Play)

Monday, September 23


BAYERN STILL UNDEFEATED..... But Fall Short on Air Assault!


Highland Oaks Tribune: BAYERN TIES WOLVES & STAY UNDEFEATED..... BUT FALL SHORT ON AIR ASSAULT!
In a well played game the Bavarians had to withstand the scorching heat of the last day of summer and fell short a win to an air assault???? There is no doubt that the BAYERNS are one of the best conditioned teams in the league, as they have proven in the past playing in the hot California sun, and outlasting their opponents. This weekend however, the team was forced to not only give the other team second half water breaks but also to play the better of 18 minutes of the second half. In a bizarre, let's call it "scheduling error," a group of Hang Gliders? were set to land their equipment one by one during the second half of the game. With a scoring opportunity on hand, strange characters (to say the least), running unannounced on the Field and occupying the opposing goal, screaming with
bullhorns into the coaches ears, fueled the tense emotions of the sideline during a hard fought competition. This certainly was a first for everyone. Back to the game of soccer -- The Bayerns will play the next two games as it seems against easier teams, and took care of business in their first four games of the season. While playing the contenders for the championship, the team places in second place and can look forward to enjoy the upcoming games in a more relaxed and less tense atmosphere. "Our schedule made it very tough to play the freshman players, as we had to set the stage for a season showdown with the other top teams. As coaches you have to make sometimes decisions, that are not very popular, however with 2/3 of the season still ahead of us, and with the very competitive starting schedule behind us, we look forward to be able to give our players some well deserved rest. Unfortunately the bizarre circumstances this weekend created unnecessary intensity on the sideline, which spilled over on to the pitch, which should not have happened. The team is in an extremely good position, leading the pack of the top teams in pursuit of 1st place. At this early stage of the season, it is much better to be the hunter, as the pressure of establishing a spot in the top of the standings to be a contender is lifted. We look forward to the next games, and closely follow the other top teams in their quest." The coaches added, "We hope that this last weekend's experience is an isolated event."

Monday, September 30


SOLID DEFENSE and "KITTY" WOODS secure the STREAK


FROM THE HIGHLAND OAKS TRIBUNE

SOLID DEFENSE and "KITTY" WOODS secure the STREAK to continue at 15 !
With a 3:0 win on Sunday at the Los Angeles Galaxy Impact, the BAYERN team continued their unbeaten streak to 15 Games.
A solid Defense that posted their second shutout in two weeks with only 4 goals allowed overall, combined with a strong performance of Erica J. ( 3 assists ) and "Kitty Woods'" two goals, the Bayern Team overcame the horrible Field conditions and outplayed their opponent in a very impressive fashion. "We could have, maybe should have, scored more goals, however you have to give the Galaxy Goalie a lot of credit. We needed to overcome the bad Field condition and a fierce wind and adjust our technical advantage, as the other team played really hard and never let up for the entire 90 minutes. My compliments to them. This Galaxy team will do well the rest of the season, as they had an unfortunate start.
Our team continued their great run and played well, especially the younger players, Courtney W. and Allie T. had a chance to step in and they did what they needed to do. I am happy for Allie T. as she finished the last 15 minutes of the Game very impressive in the offense and had chances to score for us. Our Midfielders, weakened by the ankle injury of Kelly M., and Karyn not 100% fit, played as well as you could expect. Kerry BOOMER F. stepped up big time, and had a great game, aside Brandy Y. who topped her great game with good offensive work in the second half over the right wing. We have a difficult weekend coming up with Saturday's home, and Sunday's away games, and hopefully secure our contention atop the league bracket. We are in charge now, as we can win out the remaining games. This team is capable of doing just that!! We are very proud of them!"

Sunday, October 6


BAYERN'S BELOVED BOOMER BLASTS BOTH!!


From the Highland Oaks Tribune (Oct. 5): BAYERN'S BELOVED BOOMER BLASTS BOTH!!
Two Goals from BOOMER Kerry F. helped the Bayerns to overcome a disappointing first half to find a way to stay unbeaten, and setting a new record with sweet 16. The Bayern team around Coach Hannes seemed tired the first half and found themselves down by a goal early in the first half for the First time this season. The second half a different Bayern team showed up and outplayed the team from Whittier and secured their 16 game winning streak. "We played the first half sluggish, to say the least and made too many mental errors, and the WSC Goldstars deserved the go ahead goal. I was however never in doubt of my team, as we were clearly the better team in the second half, and I know what these girls a capable of. I am happy for Boomer as she has worked so hard all season and as team captain she stepped up big for us today. Her confidence on the PK and that typical Boomer goal gave us the edge today. I also think we must have set a record for hitting the posts today. We hit that thing about six or seven times!! Good news also for the Championship race as the Nemesis tied the Wave today and we are in control of our destiny again. Less than a game out of first! One game at a time, and we have a very hard game on Sunday in San Juan Capistrano, playing the SJSC Wave."

Monday, October 21


BAYERN SHUTS OUT SPARTANS 5:0


In order keep pace in the run for the 2002 GU 18 GOLD Championship the BAYERN Team needs to win their last three games. First up were the Spartans this past weekend, who had posted an impressive run, and had moved ahead of the Bayerns in the standings. With a great 5:0 win, goals by Brandy Y. (2), Katie W., Erica J. and Kerry F., the Bavarians regained the second place in the standings. The shutout could be an important factor in the final standings, leaving the team with the least goals allowed in the standings, a possible tie breaker in their favor. "We played as well, as we are capable of this Sunday. Our fast forwards were always a great threat, and our midfielders played a very intelligent game, executing great passes to put us in constant scoring positions. We usually start slow and need a few scoring opportunities, but today we executed well, giving us an early lead, and we were able to score a few goals to frustrate the other team from the get go. In the past, we let other teams get back into the game, but not today. There was never a doubt we were going to win this game. Let's see what happens during the last two game days. Our goal in pre-season was to finish in the top three, and that's what it looks like we did achieve. Everything else now is icing on the cake! We have two tuff games left, and with a little help, all is possible." The Bayern play next on Sunday Oct. 27, 2002 @ Victory Park, please mark your calendars.

Sunday, October 27


PHOTOS FROM PLAYER & PARENT DINNER


Click on Photos to see full size! (Photos courtesy of Gideon Y.)


| | | | |
| --- | --- | --- | --- |
| Karyn, Brandi, Kerry | Brandi, Kerry, Whitney, Courtney | Dudley, Hannes, Natalie | Nicki, Betsy |


Tuesday, October 29


ANOTHER SHUTOUT FOR THE BAVARIANS


Last Sunday Morning the FC BAYERN met the SBSC Team from Torrance, which turned out to be a Match-up Germany vs. England as the two coaches Hannes (from Germany) and Tony (from Manchester, England) squared off. Both teams seemed well prepared, as the level of play was high for 90 minutes. The Bayern team started slow and needed a little more time to find to their game. Brandy Y., who scored regularly for the past games opened the scoring with a beautiful first touch goal on an assist from Jessica S. "Boomer" Kerry F. scored the second goal of a well placed free kick from Natalie H. "We had a lot of scoring opportunities, but we are satisfied with the second 2:0 shutout in as many games. That tells me, how solid we are on Defense, although we had to replace our rock in the Defense, Allie B., due to a nagging Hamstring injury. We lead the league with the fewest Goals allowed and only one loss, a great achievement. Karyn M., Kelly M., Boomer, and Caroline A. had their best game of the season this Sunday, and Jessica S. has been playing out of this world for the past games. I hope we are all fit for the upcoming League Cup games on Sunday."

Monday, November 4


LEAGUE CUP GAMES -- Two Shut Outs!


Two well deserved shut outs moves the Bavarians into the round of 32. Well played games vs. GU19 Silver Elite Teams showed the progress the Bayern Team has made over the past year. Solid Defense, inspiring Midfielders and the fastest Forwards in the league moves the Bayern Team into the next round of elimination play. "If this team has one area to improve on, it is our execution ratio. We have too many scoring opportunities we fail to put away, and that leaves the other teams with a little hope at times, creating unnecessary tension for our players on the pitch. We are so dominating in ball possession and how we play on defense, however the scores never reflect that. This weekend the team possibly played their best soccer yet, and the defense was able to post two more shut outs. Natalie H. played a very good game, with her outstanding supporting cast: Whitney D. Erin M. Jessica S. and Caroline A., to give our GK Betsy, little to do, however she was there when we needed her with a couple of key saves. We had Allie B. play a key role in Midfield and she stepped up and gave us additional inspiration and power, with great placed passes into the attack. Karyn M. had her best game all season and was rewarded with her first Goal for the Bavarians. Joe scored! Joe scored! Our Forwards did an outstanding job, leaving their defenders behind at will and were always so dangerous, what a luxury to have players like Joe, Kitty W. and Brandy Y. "Boomer" and "Kelly from Soccer", were superb, again leaving never a doubt, the Bayerns would advance. We just did such a great job, however we have to start all over again next weekend! Let's get it done!"



GREAT SEASON, BAVARIANS !!


Best Goals of Season Saved for Last:
Despite the first California Storm and flooded fields all around, the Bayern Team found a dry place to play their last regular season game. The Team around coaches Dudley and Hannes traveled to Victorville this Saturday and beat the Hesperia Express by a score of 5:2. Although the Bayerns were missing key players to injury, the team continued to play their best soccer of the season and dominated all 90 minutes to secure their winning streak. "This was the game to watch this season, as all five goals were something for the highlight show. I cannot decide if Katie W.'s two goals, one from 25 yards out in the upper corner, or the one touch blast of an Erin M. set up, or Brandi Y. taking the roof of the goal with her power shot was the best? Then there was BOOMER!! One of the most spectacular goals of the season, on a direct free kick from 20 yards out. Allie B. and Boomer set up the free kick, with Allie being the decoy, taking the run over the ball, smart play, and Boomer sending a missile into the far corner of the goal, bending the ball slightly around the wall of Express Players. What a Goal!! This was a fitting end to league play and the team secured a second place finish in CSL Gold, with only one loss all season. (@*?#$#)." The team will still continue to play in League Cup next weekend.

Sunday, March 9
SGVSC HOLIDAY PARTY!!
The 3rd Annual SGVSC Holiday Party was held on Sunday, December 8th from 4 p.m. - 8 p.m at the Castle Green in ...

Wednesday, June 18


SPRING LEAGUE 2003



CONGRATULATIONS BAYERN -- SPRING LEAGUE CHAMPIONS Click here for standings; Click here for full schedule.




14 BAVARIANS IN CIF PLAYOFF ROUNDS -- 3 in Finals


An unprecedented number of Bavarians play on high school teams that made it into the 2003 CIF playoffs, including three who will be meeting in the Division IV championship game on March 8. In Division I, Flintridge Sacred Heart, with 6 Bavarians, made it into the first round of the playoffs: Katie W., Courtney W., Natalie H., Whitney D., Erin M., and Betsy M. In Division II, Baverians Allison B. and Jessica S., made it into the first round of the playoffs with their school, Crescenta Valley. In Division V, Erica J., at Arroyo made it to the second round and Nichole D., at LaSalle, made it to the quarterfinal round. Finally, in Division IV, Bavarian Kerry F. at Temple City made it to the quarterfinals, losing in that round to South Pasadena High School whose team includes Bavarians Kelly M. and Brandi Y. Also in Division IV, Karyn M., whose Polytechnic team was the Prep League Champion, and Kelly M. and Brandi Y. at South Pasadena (Rio Hondo League Champion), are meeting in the Division IV championship game on March 8. Great job all Bavarians! Good luck Karyn, Kelly & Brandi!

Sunday, May 11
AWARDS, ETC.
Congratulations to the many GU-18 Bayern players for their recent college acceptances. Good luck to all of these ...

Monday, April 14


SGV BAYERN Wins Spring League Championship


With one more Game to play, the GU18 BAYERN team are assured the Championship after two big wins this weekend, playing their rivals SCU NEMESIS and HESPERIA EXPRESS and beating both teams with a 3:0 shutout thanks to our awesome goal keeper Betsy M. The two new Bavarians, Jamie B. and Genneka F., have had an especially big impact since joining the Team. With Erica J. completing the trio upfront the Bayern have outscored their opponents 12:1 in the last three games, without losing a game in the entire Spring Competition. "We are preparing for a tuff competition in Nationals, where we meet two strong Premier teams right away in the first round. However, the team is working hard on their conditioning, and they play well together. We see ourselves a strong match-up for the Nationals. Boomer F. got hurt in the Nemesis game and was taken to the hospital and is very questionable for the Nationals. You hate to lose not only such a talented player, but even more so, she is our team leader, and very hard to replace. We have to get it done, though, and players need to step up. With Brandi Y., Kelly M., and Courtney W. we have an excellent midfield, and our Defense has been always our strength with veterans Caroline A., Erin M., Whitney D. and Karyn M. providing a very solid back four. We are very impressed with Ali T. who improved her game and has been playing very well in Spring League. With Kitty W. still on the injured list we will be very thin for the National tournament with only 12 players. But there are no excuses, as a championship team we will adjust and step up to the challenge. With our recent success we have sent a message."

Monday, May 5


BAYERN FALLS SHORT on Goal Differentials


From the Highland Oaks Tribune:

The Bayern Team couldn't have run into injury/illness problems at a more inopportune time. Playing their best soccer all season and sending a message during dominant Spring League Play, the team found themselves with only 11 players to compete in the first round of National Competetion.

"The team was devastated with the season ending injury of a torn ACL/MCL Kerry F. suffered, which pretty much took away the experience of our otherwise strong midfield. Add the ankle injury to Katie W., and two players with bad health problems (Erin M. and Jamie B.), and you have not only a list of our injured, but some of our key players. We have to look at the bright side, as we did go out and gave it our best, but when you have to play two games within 17 hours, without substitutes and with exhausted players, you cannot expect to be competitive against squads of 16 healthy players. Nevertheless, we almost advanced, and that is VERY impressive. We will continue to play tournaments, and other competition to prepare for the next season, and follow our quest for premiership soccer. It is now time to focus on our conditioning and strength, add new recruits, and elevate our game even more. We will be practicing at Blair HS, starting this week, and we will write a new and successful chapter in the Bayern 2003/2004 Edition. This was without a doubt a very successful season, as we squared the score with Nemesis in Spring League, and tied the premier Team from San Diego Nomads, running just on Fumes, in National competition."

Hannes

Monday, September 8
WHITTIER SOCCER CLUB TOURNAMENT
3rd Place Finish - Nice job! Click on heading for full story.

Thanks to our loaner players -- Kim Derby; ...

Wednesday, June 18
2003-04 GOLD BRACKET
We will be playing in the CSL U19 Gold Bracket for 2003-04. Click on the link or the heading for all teams in the U19 bracket.

Sunday, July 27
CLAREMONT TOURNAMENT CHAMPIONS!!
Champions! Click on heading for full story and pictures

Final Game: A very tense and closely played ...

Monday, August 25
JUSA TOURNAMENT (Aug. 23-24)
Semifinalists. Click on heading for full story.

Saturday, Aug. 23 -- v. Samba 1-1 Tie.
&n...

Saturday, August 23
JUSA TOURNAMENT First Day Report
In this weekend's JUSA Select Tournament the CCU Bayern team faced the national Champions Samba Premier team on Saturday morning, and without a doubt the competition demanded a great game and superior individual performance by the CCU players. The Game was not only dominated by the CCU Bayern, but only a very suspicious Off - Side goal saved the SAMBA to reach a tie." We did not only dominate the entire game, but considering that we played with 11 players Vs 18, I am very delighted with the outcome. It is hard to play with no substitution, the entire Tournament, but this Bayern Team is just great and "tuff as nails". Brandi Young is probably the best player in this tournament, as there is no doubt in my mind, that you cannot play better soccer mentally and physically than she is playing right now, and it is very nice for a coach, to have referees, players and other coaches compliment you on her performance. The team gets a lot of confidence from her game and players like Mackenzie Paxton, Whitney Davis, Shannon Dority and others play better because of her. Up front Jamie Bell and Kimmie Derby did her job extremely well to put us in the Semi Finals with a shutout 4:0 win over the CSCU team. The solid Defense with Erin Marshall and Kate (wow) Holman shut down our opponents to only have a very few chances and opportunities. The whole team was just a delight to watch and play, Courtney West, and Erica Joe played phenomenal soccer, and not a single player of the CCU Eleven had a bad day, but rather played superb. Especially, GK Betsy Mc Govern and Fwd. Erica Joe , who played with a nagging injury, showed what this team is all about..... We love you Bets! ........This is a tight group of soccer players that have what it takes to win it all.......
The Staff
Lynne, Steve, Eric and Hannes

BRANDI YOUNG - ROSE COURT FINALIST
Congratulations Brandi! The story can be seen by clicking on the headline. Brandi is one of 37 finalists (from 1,036 original contestants) -- the finalists will be chosen Monday, October 13. Go Brandi! (Click on picture for article with list of finalists' names)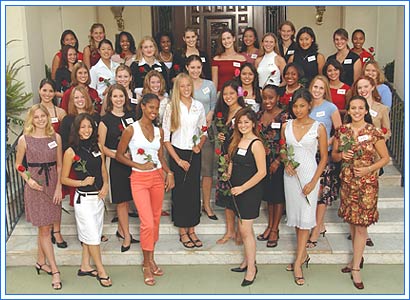 4th Row Down/4th From Right




2003 WOMENS' WORLD CUP THOUGHTS


Women's World Cup

Individual Talent or Team Effort.................
For those who have followed the Women's World Cup Games, it was obvious that we saw familiar faces of the WUSA League on almost every team, that made it to the final Tournament this year, to play for the World Champion Trophy. Surprisingly enough, against all odds, the favorite teams, such as China, Norway and the US Team, exited earlier than expected, to make room for the new generation of Women's National teams, Canada, Sweden and of course Germany. As it is true for many countries, most European Teams do not have the luxury of College Teams, or a large number of organized women's and girl's clubs. Many countries are also denied the financial support to train, or even play in a professional environment. So what happened this year? In my humble opinion, the favorite teams were just plain and simple out-coached. If there is anything that the European Countries have, it is a long list of experienced Soccer teachers and coaches with an enormous amount of experience and tactical wit. If you add the opportunity to have key players play in a league, with and against, the likes of Mia Hamm, Brandi Chastain and Julie Fowdy, you will see a German Team with Players like Meinert (WUSA MVP) and Birgit Prinz (best forward, most goals World Cup 03) and others dominate this year in their games, with no loss, no tie and an impressive goal difference.
In order to win such an exclusive and highly competitive Tournament, any team obviously need to play their best, sometimes get the lucky bounces, have players to step up their game. But most of all you need to be mentally and tactically prepared for every game, especially when you play Teams from different countries, as styles and tactics change from game to game. There is no question, that the players of all teams deserve credit for their hard work, however, it is important to understand that the trainers and coaches deserve all the respect for preparing their teams and players, making the right adjustments and leading their teams to success. Soccer, Fussball, Football or Fotebal, never has, nor will be a game that is won or lost by individual player's performances, nor will a team of 11 great players automatically be a great team. Eleven players, that are willing to sacrifice, work hard, play for the team, and not themselves, and strive to make other players on his or her team better players, will always come out on top. Just a thought................
Hannes

LA Times Article re FSHA Team Members (1/16/04)!
Click here for great article featuring our Flintridge Sacred Heart team members!



FSHA News Article


A class by themselves
The Flintridge Sacred Heart Academy soccer team is enjoying its best start ever, thanks to its record-setting seniors

A class by themselves

By Erik Boal, News-Press


LA CAÑADA FLINTRIDGE — Frank Pace is a firm believer that high school teams reflect the personalities of their senior class.

And nowhere is that belief more evident than with his Flintridge Sacred Heart Academy soccer team.

Even though Pace and Co-coach Kathy Desmond boast a junior as their leading scorer, rely on a sophomore to be their top defender, and have three freshmen who start or play significant minutes, the main reason the Tologs are off to their best start in program history is because of their five seniors.

"These seniors are proof of what hard work and commitment means," said Pace, referring to the efforts of Whitney Davis, Erin Marshall, Betsy McGovern, Katrina Payne and Katie Woods, who have led the Tologs to a 12-2-2 record, 1-0-1 in the Mission League, entering a 5 p.m. showdown today at Mission Hills Alemany.

"[They] never quit, just like our team."

But despite being the all-time winningest senior class in program history — amassing a 43-27-3 career record (.610) — or the fact the quintet has never lost to local rivals Crescenta Valley, Flintridge Prep and La Cañada, ask any of the five girls, and they'll tell you their work is far from done.

"We're not satisfied with [what we've accomplished in the past], we want to start a trend," said McGovern, a 17-year-old goalkeeper, who has 41 shutouts in 76 career starts, including 24 in 40 matches on junior varsity.

"I've seen a major change in [the program during the past four years], and it's really kind of amazing."

Said Payne, a 17-year-old midfielder, who is the only member of the group to have played her entire career at the varsity level: "Our improvement the past three years has been amazing.

"And now that we're seniors, we don't want to deal with [losing to North Hollywood Harvard-Westlake or West Hills Chaminade] anymore. For us, it's all about proving that we're every bit as good as they are.

"I've always [thought] we could win league. But this year is the first year I actually believe it."

•



The Tologs' chances of earning at least a share of their first league championship became much more realistic Jan. 9, when they beat Chaminade for the first time in program history, snapping an 18-match losing streak to the Eagles with their 2-1 overtime victory.

"We've wanted to beat Chaminade for so many years, but it seemed like they've always been one step ahead of us," said Davis, an 18-year-old defender, who tied the contest with less than 15 seconds left in regulation, scoring off a Payne corner kick.

"And those are the kind of goals you dream about."

Said Marshall, an 17-year-old sweeper, who played 12 JV matches as a freshman before joining the varsity: "The time had come, and we knew we earned it.

"But bringing it together was just amazing. I have a lot of faith in my teammates, and I'm proud of how everyone stepped up."

Stepping up to the task has been one of the defining characteristics of this group, which surpassed the class of 2003 for most career victories with the win against Chaminade.

That, and exceptional team chemistry, which is keyed by the leadership of co-captains Davis, Marshall and Payne.

"There's something kind of special about this class," said McGovern, who, along with Davis, Marshall and Woods, competes for Crown City United's girls' Under-19 Bayern team, which also features Tolog junior Courtney West and La Cañada's Mackenzie Paxton.

"This year, there isn't a class distinction because we all want the same thing. I've never been this close with a team before."

Said Woods, a 17-year-old forward, who is second on the team with six goals and 16 points: "We all have really good personalities that mesh together.

"We understand each other and the freshmen look up to us [for guidance and direction]. I'm just hoping that we're sharing our knowledge and leading our team in the correct way."

Leading this year's Tolog team to greatness didn't happen overnight, as Davis, McGovern and Woods paid their dues for two years on JV — posting a combined record of 28-9-3 — before joining the varsity.

But since the quintet has been together, Flintridge Sacred Heart boasts a 25-11-4 record, including an unbeaten streak of seven consecutive matches entering today's contest.

"You learn a lot when you have to work your way up," said Davis, who boasts a 1,340 SAT score, a main factor in the quintet averaging 1,250 on the exam, with Marshall leading the way at 1,390.

"And even when you're on varsity, your starting position could change from [match] to [match]."

•



As the lineups have changed, and the amount of depth has improved over the years, so has the fitness level of the quintet.

Thanks to a conditioning drill known as "the wall" — which involves running end line to end line 24 times in less than 12 minutes on the Tologs' Crane Field — Flintridge Sacred Heart has been able to outlast and outwill many of its opponents, scoring five goals this season in the final 10 minutes of contests.

"I can tell you honestly, I hate 'the wall,' but I know it helps a lot," said Payne, who, in addition to dropping 25 seconds off her wall time in the past three years, leads the team with nine assists.

"When you get it done, you feel good about yourself."

Said Woods: "It's not just the physical [aspect] of it, it's the mental [edge] that it puts inside of you. And that's the drive we need to succeed, and the will we have to [possess] to get better."

And progress they have, as Marshall has dropped 58 seconds, McGovern 1:46 and Davis 3:20 since they ran the drill in the fall of 2001.

"When we go into overtime, we call it our 'wall,'" McGovern said.

Said Davis: "Frank and Kathy have emphasized how much heart we have, and our conditioning is a big part of that.

"The last two [matches] we've gone into overtime, and both times, we've outran the other team."

Added Desmond: "This is the first group to really buy into that. And all of the [underclassmen] look up to them. They're just good kids, and they're all super contributors to this team."

A team that, thanks to its five seniors, has embraced a winning personality.