Bay Area Vintage Base Ball: Welcome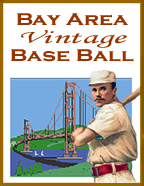 ---
Welcome to Bay Area Vintage Base Ball
We are the first and longest running vintage base ball league in the Bay Area. BAVBB applies the strict rules of 1886 and strives for historical accuracy. In fact, we are a California non-profit organization which has registered itself has an educational entity. We play the game the way it was meant to be played before $50M contracts, shoe sponsorships, and 25 man rosters. We don't allow in nefarioius players who aim to start fights or win games at any cost. In addition, we have presented to local groups and worked to spread the gospel on vintage base ball and wholesome fun.
BAVBB uses 12-member clubs to play 12-15 games a season in a fun, relaxed atmosphere where true grit is displayed and sportsmanship is the holy grail. Each team is outfitted in reproduction uniforms from the 1880's, and the equipment consists of reproduction balls, gloves, bases etc that are made to look, feel, and perform as they did when the game was still home-grown. Please see the rest of the site for information on playing rules and difference between baseball now and "base ball" then.
---
A Typical Big League Game in 1887 (click to enlarge)

(Note the umpire in full dress)
For more information on what we do, check out our site for a history of the game and then send us an e-mail if you would like to be involved. We are accepting requests from players all around the Bay Area.
Do you bleed baseball? This may be the place for you!
---
E-mail us now with your questions and we'll try to assist. Season is from March to mid August, 2 games per month on Sundays. Current teams are in San Jose, Oakland, Fremont, Berkeley & San Francisco(2). Don't live in these cities? Contact us anyway! Please read the FAQ in the News section to your left for the most common questions about 1886 ball.

HEY! Made up your mind you want to play? Send us an e-mail to say hi and ask your questions.


Click Here for a Video (3MB) to see what we are all about.


Click Here for a Video (10MB) of BAVBB from Associated Press.
---
The Player Handbook is online in the "
Forms & Rules
" section. Find out more about our rules, background,and history.
---
CONGRATULATIONS TO THE ALMADEN CINNABARS
2013 BAVBB CHAMPIONS
Huzzah!!
We are always looking for new players. Contact us to get involved.
---

Want information about our specific league, ask the webmaster.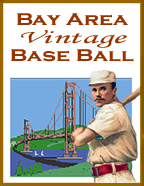 doodle-dee-doo
BAVBB Makes National News
Wednesday, February 2
Local 'base ball' club looks to turn back the clock
Sunday, June 12
Vintage brand of baseball finally arrives in Bay Area