Bassett Bengal Baseball: Welcome

2012 Piedmont District Tournament Champions and Region IV Semi-Finalists
Tuesday, January 22
Welcome to the home site of the Bassett Bengals Baseball Team
Jonah McReynolds receives scholarship
PREP BASEBALL
Bassett shortstop wins National Athleadership Grant
Jonah McReynolds, a student at Bassett High School and shortstop for the Bengals' baseball team won a National Athleadership Grant sponsored by NCSA Athletic Recruiting and the NFLPA.
The award was given to a select number of student-athletes across the county competing in different sports. Qualification for the the Athleadership Grant is based on leadership in their community, academic achievement, athletics and a required essay written by the student athlete.
"We are very pleased to be involved with NCSA in assisting in the recognition and the selection of young qualified student athletes to receive scholarship opportunities," NFLPA Executive Director DeMaurice Smith said in a release. "Anytime you can identify, help and reward future leaders to further their education and athletic pursuits, it's a win-win and we are pleased to contribute to this worthy effort with NCSA."
As a recipient of a National Athleadership Grant, NCSA Athletic Recruiting will work with McReynolds and his family throughout his high school career and assist him in finding a collegiate institution that best matches his academic and athletic achievements.
"Our passionate team of 300 former athletes will personally guide and educate Jonah throughout the entire recruiting process, giving him the tools that he needs to be successful in recruiting and in life." CEO and founder of NCSA Athletic Recruiting Chris Krause said in a release. "Picking the right college is a life changing decision. It's important for student-athletes to recognize that the choice of a college or university is not just a 4-year decision; it is a 40-year decision that will impact their professional future and personal success in life."
http://www.wintercornholeshowdown.com/
Next tournament is this Saturday, January 12th. Come on out and support the Virginia Baseball Association and the Horsepasture Volunteer Fire Department.
Former Bengal Justin Hall re-signs with the Washington Wild Things
BHS SR catcher signs to play for PHCC (Juco)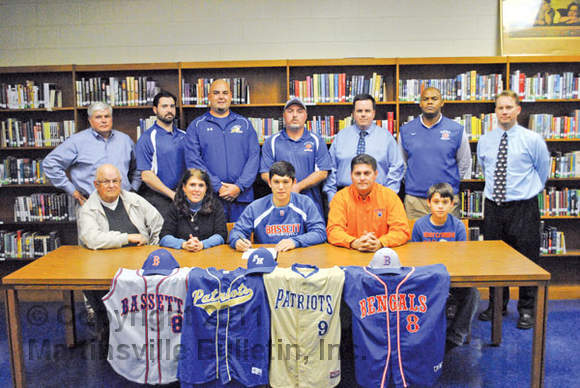 VBA fund raiser "Winter Cornhole Showdown"
Five Things You Need to Know About College Baseball Recruiting
Former Bengals Playing in College and Professionally
Keep up with the Bengals on Facebook http://www.facebook.com/media/set/?set=a.244018898978744.55376.244003428980291&type=3&saved#!/pages/Bassett-Bengal-Baseball/244003428980291
Virginia Baseball Association (VBA) next meeting Tuesday, January 29th @ 6:00 pm
Load up the bases