Barnstable Youth Basketball: Welcome
Thank you for attending and playing in the 2017 Barnstable March tournament!
4B Monomoy over King Phillip 38-34 5G D-Y over Westport 18-15
5B Dartmouth over Wareham 53-49 6G Dartmouth over Nauset 22-12
6B Westport over Plymouth North 56-54 7G Wareham over Sandwich 43-17
7B Nauset over Plymouth North 44-34 8G Nauset over Rochester 44-11
8B St.Joes over Sandwich 65-35
Barnstable, MA is competing in its 17th year in the Cape Cod Youth Basketball League, www.capehoops.com, which is made up of 90+ boys and girls teams from 18 towns.
Teams play a 14 game regular season schedule with playoffs thru CCYBL. Teams will also compete in pre and post season tournaments. Certain teams will play in the KSC winter league in Kingston The season runs early November thru late March.
BYBL's mission is to stay competitive with on and off-cape leagues and players, teach fundamental skills and sportsmanship, and prepare players for high school programs.
We also hold 2 tournaments a year. The 1st is a season warm-up tournament the weekend prior to Thanksgiving. The 2nd is our VERY popular March tournament which draws over 100 teams from multiple New England states each year!!
BYBL PO Box 329 Centerville, MA 02632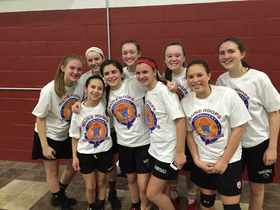 2016 7th Grade Maine Hoops Champions