Barnstable Little League: Welcome
Friday, April 20


For Current and Updated Information on the
2012 Barnstable Little League Season
Please Visit our new website at
---
ATTENTION Instructional / AA Coaches and Volunteers
Joe Scott is holding a coaches/volunteer meeting
Wednesday March 21st at 7 PM
at Joyce Landscaping
upstairs in the conference room.
Open to anyone interested in helping with instructional this year.
---
LITTLE LEAGUE UPDATE 3/25/2012
Season is Fast Approaching!
We are working dilgently putting together teams,
preparing fields and organizing all the other items that make up Barnstable Little League.
All Major League players should have been contacted by their coaches by now.
Minor League, AA and Instructional players will soon be contacted.
If you have any questions, please click
HERE
to contact us.
We are very excited about this season as we're sure you are as well.
Stay tuned for more information and we'll see you shortly on the ball fields!
---
MAJOR LEAGUE UPDATE 1/11/2012
The Barnstable Little League Board voted tonight to contract to 10 teams. One team from the American League and one team from the National League have been chosen to be removed. Returning players from the 2011 teams of Mass Bay and Cape Cod Times will be entered into a special lottery and dispersed onto existing other teams.
Each year, registration numbers and the quality of play must be considered to ensure the program progresses. This year, our existing registered field of players requires changes to be made. Leading up to the 2012 draft, the Board has been diligently researching the best approach to maintain a fair and competitive program. The decisions have been challenging and difficult, however the Board is confident that these changes position Barnstable Little League to offer it's youth a tremendous experience in 2012 as well as future years.
The 2012 Major League draft will be held on Thursday January 26th.
Players will be contacted by their coaches shortly after the rosters are set.
Stay tuned for more updates as Opening Day awaits on the other side of winter!
---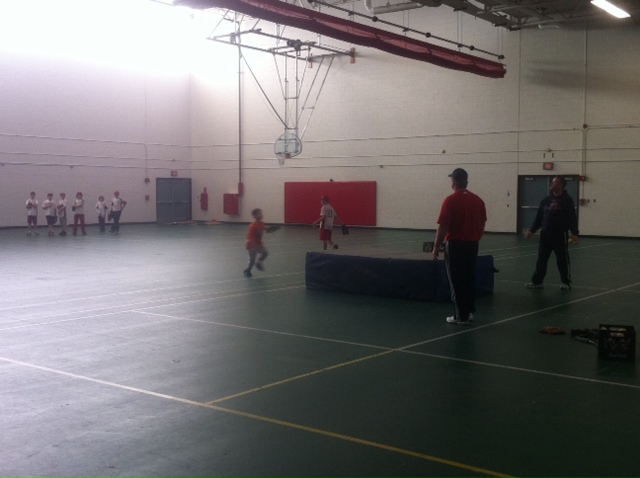 Special Thanks to ALL who participated in the
Barnstable Little League FREE Clinic on 12/28/11!
There were over 50 kids in attendance and it was a fun day had by all!
A very special thanks to Ryan and TJ of the Dugout and their team for making the event so successful. Barnstable Little League looks forward to offering more events like this in the future!
---
FREE Barnstable Little League Baseball Clinic
Barnstable Little League is running a FREE baseball clinic for
Barnstable kids ages 5-9
Wednesday, December 28th from 12 pm - 4 pm
at the Barnstable High School Field House.
Ryan Kinski of the Dugout and Tony Colesano of Crescendo Sport and Fitness along with the coaches of Barnstable Little League are offering a fun program working with athletes on the fundamentals of baseball. Athletes can start any hour (12, 1, 2 or 3) or stay for the full clinic.
Stations will be set up for hitting, throwing, fielding, fitness, and more. Please direct any questions to Tony at
---
OPEN REGISTRATION FOR EVERYONE INTERESTED IN PLAYING BASEBALL FOR THE 2012 SEASON

Wednesday, November 30th 6-8 pm at Barnstable Intermediate School
and again on
Thursday, December 15th 6-8 pm at Barnstable Intermediate School
Barnstable LL is open to children in the Town of Barnstable ages 6-12. There will be BLL committee members available to answer any questions.
**The draft for the 2012 season has not taken place yet. If you tried out already, that's great! We hope to run another tryout before the draft takes place. Thanks for being patient!**
---
SECOND CHANCE TO TRYOUT FOR THE MAJOR LEAGUES
Saturday, September 17th at 4:00 pm at Lorusso Field in Hyannis (behind the Hy East school)
All 10-12 year olds are welcome, encouraged, and eligible to tryout
The major league is a competitive league with 12 teams divided into two divisions: Tom Wallace American and National
Here is some of the GREAT reasons to play for the major league:
Playing time: Rules state that every player must play at least 6 defensive outs and 1 at bat or be the DH. This means that no one rides the pine...
No one can be the DH twice unless ALL players on the team have been DH once.
Major Leagues play some games under the lights at Lorusso.
There are playoffs for the American League and the National League with the chance to win great trophies.
The chance to be on a team that makes it to the Town Championship!! More trophies!!
Learn baseball from some great coaches and players.
So if you thought the Major Leagues were not for you, think again! Come and tryout!!
---
Annual Meeting Date has been changed
Thursday, September 29th at 7:00 pm at the Hyannis Elks
Everyone is welcome to the meeting. New officers will be voted on and the 2012 season will be discussed. Come and meet some of the volunteers that contribute their talents to make youth baseball possible in Barnstable. Do you have ideas you'd like to share? or a skill or talent you think might improve the organization? We won't know unless you come to the meeting! See you there...
I've learned that you shouldn't go through life with a catchers mitt on both hands. You need to be able to throw something back. ~Maya Angelou


---
Major League Tryouts and Registration
Saturday, September 10, 2011 at 8:30 am Lorusso Field, Hyannis If you are 10, 11, 12 and you are NOT already on a major league team and would like to tryout, please be at Lorusso Field at 9:00 am on Saturday. You must be registered.

There are two options: Online by midnight Friday the 9th ($200) or at Lorusso Saturday morning($215)
---
Registration for the 2012 Season is underway now. Please click on the link above to register online.
---
Major League Banquet, Tuesday, August 30th 6:00 pm Hyannis Elks

Cost is $10/pp with your choice of Chicken Parmesan or Spaghetti with Meatballs
Make a plan to come with your team! Trophies will be awarded and the Frank Finn winners will be honored.



---

2012 REGISTRATION INFORMATION
You can register one of two ways:
1. Online registration. Link is on the menu bar.
2. In person on Saturday, September 10th beginning at 8:30 am at Lorusso Field

Fees are as follows:
Major League - Online $200 OnSite $215
Minor League - Online $180 OnSite $195
Double A (8's) - Online $100 OnSite $100
Instructional - Onine $100 OnSite $100
Major League Managers Wanted
Please contact Mitch Holmes at mholmes@premiercommercial.biz before August 28th. Major League manager interviews will be held on Thursday, September 1st. Times will be issued on an individual basis.

Major League Tryouts and Draft Information

TRYOUTS - Saturday, September 10, 2011 at 9:00 am at Lorusso Field
Please make sure you are registered before you attend tryouts.
Registration desk will be open at 8:30 am.
DRAFT - Wednesday, September 21, 2011 at 6:30 pm (for team managers only)
Team managers please be ready to go at 6:30 at the Hyannis Elks front room
BARNSTABLE LITTLE LEAGUE ANNUAL MEETING
Tuesday, September 27, 2011 7:00 pm at Hyannis Elks
A very important annual meeting which determines the board for the 2012 season. Please be sure to attend.
---
Barnstable 10's All Stars Overwhelm Bridgewater 10-3 To Win Jimmy Fund Tournament Title

10 year old National All Stars beat Bridgewater last night (28th) at Lorusso Field. Corey Partin pitched for Barnstable allowing only 1 hit and was followed by relief pitcher Andrew Abraham to close the game. Click on the Barnstable Enterprise link below for more details of the game.
Congrats Barnstable 10's! http://www.capenews.net/sports/news/1231
Barnstable 10's Playing in the John Steele Tournament in Dartmouth this weekend
Link to the brackets (pdf)
---
Barnstable Tom Wallace American 12's All-Star team loses the Final Game
It was a nail biter Sunday night at Lorusso as the boys played Braintree for the Sectional Title and opportunity to advance to the MA State Tourny next week. The score was 0-0 in the bottom of the 6th until Braintree hit a homerun to win the game. It was Barnstable's first loss since they began the "Road to Williamsport" back in June. Congratulations boys for a very successful All-Star season!
---
Sectionals Game 3: Barnstable Beats Dist. 5 Winner Grafton 12-1 in the 4th
Friday, July 22 - Legions Field, Bridgewater 7:00 pm
12 year old All Star Update:
Chris Holcomb started the game on the mound for Barnstable allowing no runs. Jackson Badot relieved him and threw 2 innings allowing 1 run.
Griffin Burke had 2 homeruns, Chris Weber had a 3-run homerun, followed by Dan Remie's GRAND SLAM to end the game in the 4th inning per the 10 run rule.
Barnstable advances as the top seed to the Championship game on Sunday, July 24th. The game will be played at Lorusso Field. Check back for game time.
---
Sectionals Game 2: Barnstable Beats Dist. 6 Winner Fairhaven 4-3
Thursday, July 21 - Lorusso Field, Hyannis 7:00 pm
12 year old All Star Update:
Some highlights: Chris Weber pitched for Barnstable followed by relief pitcher Andrew Atsalis. Jackson Badot had a homerun. See the game recap in the Barnstable Enterprise article http://www.capenews.net/sports/news/1223
The boys play in Bridgewater tomorrow night against District 5 Champion Grafton.
---
Sectionals Game 1: Barnstable Beats Dist. 8 Winner Braintree American 3-1
Wednesday, July 20th - Hollingsworth Field, Braintree, MA 8:00 pm
12 year old All Star Update:
Tonights game against Braintree American was a solid defensive effort.Griffin Burke pitched 3 solid innings with no runs allowed. Chris Holcomb came in and pitched inning 4 and 5 followed by Chris Weber in the 6th allowing one run. In right field, Andrew Atsalis had an phenomenal sliding catch to end the 3rd inning.
Offensively, Will O'Day led the charge with a 2 run homerun in the 2nd inning. Followed by Ben Floren in the 4th knocking CJ McCabe in for the third run.
Barnstable is now 1-0 in the 3 game playoff. Their next game is tomorrow, Thursday, July 21st at 7:00 pm at Lorusso Field.
Please visit the unofficial MA State Website for Sectional Standings or the Official MA Little League site here
---
Barnstable National 10 y.o. All Stars Advance to the District 7 Championship

The boys have advanced to the Championship round of the D7 Tournament. They play Thursday, July 28th at 7:00pm at Lorusso Field in Hyannis. Please come and cheer on the boys as they go for the title!
---
Barnstable American 11/12 y.o. All Star Section 2 Tournament

This is the 2nd part of the ladder of tournaments leading up to the MA State Tournament. There are now 16 teams left in MA divided into 4 sections. Barnstable is in Section 2. Below is the upcoming schedule for the boys. There is a home game, this Thursday July 21st 7:00 pm at Lorusso.

Come and cheer the boys on! Please visit the unoffical tournament website for more details.

Section 2 Tournament
D5 - Grafton
D6 - Fairhaven
D7 - Barnstable Tom Wallace American
D8 - Braintree American
The Section 2 tournament is using a round-robin format.
Tournament Schedule/Results:
1 - Grafton versus Fairhaven (7/20 - at District 6) Fairhaven 7 - Grafton 2
2 - Barnstable Tom Wallace American versus Braintree American (7/20 8:00 pm, Hollingsworth Park, Braintree) Barn 3 - Braintree 1
3 - Fairhaven versus Barnstable Tom Wallace American (7/21 7:00 pm - Lorusso Field, Hyannis)
4 - Grafton versus Braintree American (7/21 - at District 5)
5 - Grafton versus Barnstable Tom Wallace American (7/22 7:00 pm - Bridgewater)
6 - Fairhaven versus Braintree American (7/22 - at District 8)

The top two teams advance to the championship game. Standard Little League Baseball tiebreakers apply.
Section 2 Championship Game (Sunday, July 24) (place TBD)
7 - First Place Team versus Second Place Team (TITLE) (at higher seed)

---
BARNSTABLE AMERICAN 12 Y.O. ALL STARS WIN THE DISTRICT 7 TITLE Undefeated in the series, the boys beat Sandwich 3-2 in the final game on Monday, July 11 in Wareham. Catcher Tyler Jones had a 3 run homer to clinch the win for Barnstable. The boys are now headed to the Sectional Tournament beginning July 20th in Braintree, MA. This group of boys also won this title last year.
L to R: Ben Stacy, Jackson Badot, Lucus Atsalis, CJ McCabe, Will O'Day, Ben Floren, Tyler Jones, Griffin Burke, Chris Holcomb, Andrew Atsalis, Bobby Harrington, Chris Weber, Dan Remie
---
Major League Banquet POSTPONED

Due to the success of the All Star teams, the MAJOR league banquet will NOT be held this Thursday the 30th due to scheduling conflicts. It has not been re-scheduled yet, but check back soon for more information.
GO BARNSTABLE ALL STARS!
See the links on the left for All Star news and scores.
---
Minor League Banquet June 28th 6:00 pm Hyannis Elks Don't miss it! Come and hang out with all your friends!
$10.00 per person Spaghetti Dinner with meatballs or chicken parmesan
There is a Sportsman Award given to the player on each team who has demonstrated the greatest love for the game.
---
POSTPONED: Major League Banquet Schedule Change:
Due to 11 yr old All Star Teams scheduled games on Wednesday, June 29th the Major League Banquet is moved to:
Thursday, June 30th
6:00 pm at the Hyannis Elks
$10.00/per person for spaghetti & chicken parmesan dinner
---
| | |
| --- | --- |
| Winners, Barnstable Little League Raffle, 2011 | Drawing held, Saturday, June 18 |
| THANKS TO ALL WHO PARTICIPATED! | |
| Grand Prize – Yankees-Sox at Yankee Stadium | M. DiBuono, Centerville, MA |
| Second Prize – Apple iPad | M. Smith, Centerville, MA |
| Third Prize – 4 Sox tickets | K. Aspden, Marstons Mills, MA |
| Fourth Prize – Pair of Sox tickets | J. Waskiesicz, Centerville, MA |
| Other prizes: | |
| Apple iTouch | J. DiPilato, Marstons Mills, MA |
| Big Screen HDTV | B. Morrison, E. Harwich, MA |
| Small Screen HDTV | B. Fraser, Marstons Mills, MA |
| Golf Outing, Ridge Club | M. Kleinus, Marstons Mills |
| Golf Outing, Hyannisport | P. Caprio, Centerville, MA |
---
---
Congratulations to Cape Cod Times
Tom Wallace American League Champions and
WINNER OF THE TOWN CHAMPIONSHIP GAME
---
2011 National League Champions - East Coast Trophy
They advance to play for the Town Championship Title versus the winner of Friday nights game between Cape Cod Times and Wynn & Wynn. Great job East Coast! Check back soon for pictures.
---
Saturday, June 18th 12 - 5pm BLL Family Day Celebration
BLL's end of season celebration at Lorusso Field. The celebration will be followed by the Majors Town Championship game @ 6:00 pm.
Cookout (hamburger and hot dog platters, ice cream, etc.)
Games (kickball tournaments, tug of war, potato sack races)
Foam truck from the fire department
and much more
The raffle winners will be selected at 5:00 PM.
---
MAJOR LEAGUE PLAYOFF ACTION - All games at Lorusso Field
Wednesday, July 15
American League: 5:30 Cape Cod Times (1) v. Wynn & Wynn (2) Final Score: CCT 5 Wynn 1
National League: 7:00 Rotary (1) v. East Coast (2) Final Score: East Coast 9 Rotary 2
Thursday, July 16
National League: 5:30 Rotary (1) v. East Coast (2) Final Score: East Coast 11 Rotary 7
American League: 7:00 Cape Cod Times (1) v. Wynn & Wynn (2) Final Score: Wynn 7 CCT 3
Friday, July 17
American League: 5:30 Cape Cod Times v. Wynn & Wynn Final Score: CCT 12 Wynn 8
Game 3 of the series for the title of Tom Wallace American League Champion
---
American League semi-finals: Wynn and Wynn 4 Marjon 0
Congrats to Wynn and Wynn for a win tonight moving them on to play Cape Cod Times tomorrow in a 3 game series for the battle to win the title of Tom Wallace American League Champions. Griffin Burke pitched a great game and Cole Therrien for a home run!
Congrats also to Marjon for a great game against Wynn and Wynn tonight. Chris Holcomb and Jack Thompson were great on the mound, Sam Hicks made a great outfield catch and threw out a runner heading home. 7-2 Double play. Great season to the entire team and manager Todd Wardwell.
National League semi-finals: East Coast with a win over Centerville Dental
---
Saturday, June 18th, noon-5 pm @ Lorusso Field
Family Day Fun - Everyone invited -
join your friends and family for a kickball tourny and other fun activities! RAFFLE WINNERS WILL BE ANNOUNCED!
Saturday, June 18th, 6:00 pm @ Lorusso Field
Town Championship Game between American and National League Winners
Tuesday, June 28th, 6:00 pm @ Hyannis Elks
Minor League Banquet
Wednesday, June 29th, 6:00 pm @ Hyannis Elks $10/pp
Major League Banquet and Frank Finn Trophy Presentation
---
RAFFLE TICKETS ARE ON SALE NOW!
All players should be selling as many tickets as they can. This is the leagues annual fundraiser.
Grand Prize: Tickets and travel package to NYC for a Red Sox v. Yankees Game!
Other Prizes: iPad, Best Buy Gift Cards, local merchant gift cards, and so much more!
---
6/9/2011 Letter from the League President. Please click here to read.
---
Week of 6/5/11 Update

Majors
The regular season schedule is winding down this weekend. With only a few games left to play, here is how it looks:
National League
The number one spot is locked up by Rotary Collision with a record of 16 and 4. They have one regular season game left to play against Mass Bay on Saturday the 11th at 3 pm. The number two spot is also a lock by Centerville Dental with a record of 14 and 6. They also have one game left to play on Saturday the 11th at 11 am agains Butler's. East Coast Trophy gets the third spot, win or lose in their last game. A potential tie in standings with Hy-Line is decided by team v team record which gives the spot to EC for defeating Hy-Line in their 3 matchups this season. Close standings for the season though and a great job by all the National Teams.

American League
There are no spots locked up yet. Cape Cod Times at 14 wins and 5 losses, has 2 games remaining vs Advanced Embroidery on Friday at 7pm and John's Collision on Saturday. Wynn and Wynn at 13 wins and 6 losses for the season has 2 games remaining vs Marjon Thursday at 5:30 and Saturday at 9 am vs Play it Again Sports. Marjon also has 2 games remaining with a record so far of 12 wins and 7 losses. These three teams will be battling it out this weekend for spots 1, 2, and 3.

Click here to view the playoff schedule
Minors
The 10 minors teams, continue their season until the 15th of June. They have a 16 game schedule with no playoffs. It looks like the Rangers will be the regular season top spot holder with the Diamond Backs, Cubs, and Blue Jays tied up right behind them.
Rookie AA
The 6 teams that make up the AA league are wrapping up their season this weekend with 3 games to play on Saturday.
Farm - Instructional
The Mets and the Muckdogs face each other Saturday at 10 am and the Hotrods and Bees at noon on the Stone Dust Field next to Lorusso. That wraps up the season for these kids.

---
Can you believe BLL season is almost over? Down to the final games this week. Check back for playoff information, Raffle and Family Day updates, and All-Star Teams
---
Some minor league action
between the Dodgers and the
Red Sox.
Great Picture uploaded to the
album section of the website.
Thank you!!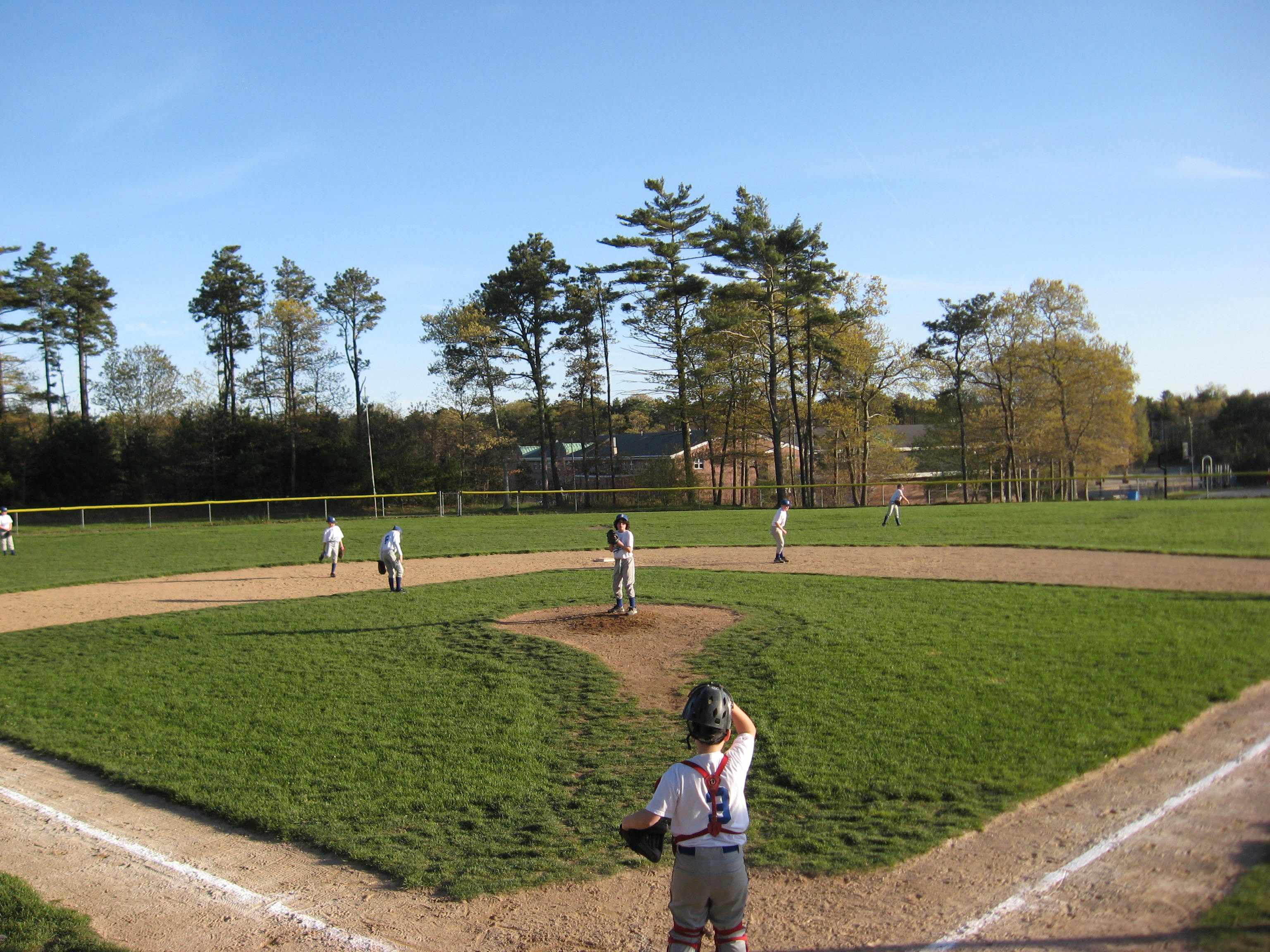 ---
Barnstable "National" Little League 10 year old All Star team wins Falmouth Tournament this weekend.
We lost to Plymouth South on Friday night then beat Marthas Vinyard and Falmouth on Saturday and Barnstable "American", Wareham, and Falmouth again in the Championship on Sunday. Great five game winning streak to win it all. Players are (back row L-R): Ryan Proto (Tournament MVP), Joseph Yalmokas, Cory Partin – winning pitcher against Barnstable :American: and Wareham, Shaun Dooley, Kevin Craig, Andrew Abraham – winning pitcher against MV and Falmouth in championship game, (Bottom row L-R) Pat Armstrong, Chris Kenney, Bryson Bergal, Matthew Turner, RJ Hicks, Nolan Turner – batboy, Stone Johnson.Coaches L-R Stone Johnson, Kevin Turner – Manager, Rich Abraham, Kevin Yalmokas.
---
10 year old All Star teams in action. American League v. National League
---
SATURDAY JUNE 4 - SCHEDULE CHANGE FOR MAJORS
9 am Game - Rotary v. Advanced Pictures: 8:00 am Rotary, 8:30 am Advanced
11 am Game - Mass Bay v. Wynn Pictures: 10 am Mass Bay, 10:30 am Wynn
1:00 pm Game - Johns v. Dental Pictures: 12 pm Dental, 12:30 pm Johns
3:00 pm Game - Butlers v CCT Pictures: 2 pm Butlers, 2:30 pm CCT
5:00 pm Game - PIAS v Hy-Line Pictures: 3:30 pm Hy-Line, 4:00 pm PIAS
7:00 pm Game - EC v. Marjon Pictures: 4:30 EC, 5:00 Marjon

---
Photo day at MME for Minors and Rookie AA
**NEWS FROM ROOKIE AA LEAGUE**
TRIPLE PLAY - 5/31 The River Dogs, Managed by Phil Fratantonic, a team of up and coming ball players in the 8-9 yr old group, had a stunning play over the weekend against the Bulls. Luke Valerio was pitching with runners on first and second when the batter popped one up to Luke who made a good catch. He then tagged 1st base and ran toward second base and flipped it to the short stop to complete the triple play.Congratulations Luke!
---
SENIOR LEAGUE INFORMATION AND UPDATED SCHEDULE
6/3/11 Updated Senior League Schedule
---
Letter to all BLL families from President Mike LeBlanc

Please click
here
to read about important news from the League.
---
FACEBOOK and TWITTER
In an ongoing effort to improve communication, please join BLL Facebook page and follow us on Twitter. We hope to utilize these forums to update everyone on schedule changes, rain-outs, and other BLL happenings. Links are above.
SENIOR LEAGUE
Games start May 21.

RAFFLE
All players should have their raffle tickets. Please sell and help support BLL!
---
WEEK OF MAY 15-21
If you want to see your team highlighted on the homepage or mentioned on the website, send game info, re-caps, photos, etc to bllscores@gmail.com
Minors
The Rangers have had a great week, pulling into the lead after high scoring wins over the Blue Jays and Reds this week. Their record of 7-2 includes 4 shutouts, the only shutouts recorded thus far in the Minor League.
Majors- National League
The much anticipated game of Rotary v Dental was played Wednesday night under the lights. Jonathan Harrington and Bobby Higgins pitched great games. Rotary was the winner though with a score of 3-2. This puts Rotary in the lead by a win in the National League.
Majors- American League
Wynn and Cape Cod Times delivered a great game Tuesday night. With the on-again off-again rain, pitchers Griffin Burke and Chris Weber dueled it out in less than desirable conditions. Wynn took the lead in the 3rd inning and never backed down, beating CCT 5-2. The two teams are now tied for 1st place in the League with records of 7-3.
---
WEEK OF MAY 8-14
Scores are coming in pretty quick so be sure to check the website often. If coaches send in Game Recaps, they are also posted. Just click on the game scored below.
Minors
The Diamond Backs have taken the lead. It is a pretty tight competition in this league with 4 of the teams tied for 3rd place. There are still a few games to be scored to finish the week, that could shake it up!
Majors- National League
Manager Lance Chavalier has guided his team, Rotary Collision, to one of the lead spots in this league at the end of 7 games. With an impressive total of only 20 runs against them, they are 6-1.
Centerville Dental, led by manager Carey Grover is sharing the lead spot with Rotary. They are also 6-1 with only 21 runs against.
These two teams square up on Wednesday, May 18th at 7:00 pm at Lorusso.
Majors- American League
Cape Cod Times, led by manager Mitch McCabe, has had a great run with 4 shutouts and leads this league with 7 wins and 1 loss.
Manager Joe Burke and his team, Wynn and Wynn, are in 2nd place in the American League. They have the 7:00 pm game time on Saturday under the lights against Centerville Dental. It should be a great game.
Wynn and CCT are matched up to play on Tuesday, May 17th at 7:00 pm at Lorusso.
---
Do you take pictures at the game?
You can upload them easily, just click on the albums page. Each game can have a recap and pictures. It only takes a minute! We need pictures of minors, Farm, and AA.
---
Sydney Hicks - Mud Cats CJ McCabe + Chris Weber CCT Farm Action - Bees v. Mets
---
Visit the Albums page to see if there are pictures of your game. Have some great game pictures? Send them to us at bllscores@gmail.com
---
The Week Ahead May 1- May 7:
Farm: Kicked off their season with a game between the Muckdogs vs. the Bees on Tuesday, May 3.
Rookie AA: Also kicked off their season on Tuesday, May 3 at the Bay Lane Field with a game between the Threshers vs. Bulls.
Minors: Blue Jays in the lead 3 wins and no losses. Check out all the minors scores under Team Standings. 10 teams face each other on Saturday, May 7th behind West Villages Eleme