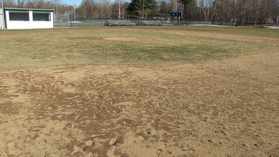 APRIL 15TH & NO SNOW!!!!

WELCOME TO THE 2015 BELL SEASON
>UPDATE: Great work done by many volunteers on Saturday! Thank you all! More needed to be done on Sunday...Please give BELL a hour or two and get us ready for Opening Day!
> 9am This Saturday & Sunday: Taylor Fields Fix-Up Days...We need all hands on deck to get our fields ready for play! Please bring rakes, shovels, wheel barrows, etc. It is crucial we get as much help as possible. Even if you can come only for an hour or two! Our field super Eric Cowperthwaite will have plenty of projects for you!
> Coaches Meeting Tuesday April 28th 6pm at Mary Snow School. Should be about 90 minutes. Anyone who wants to coach at BELL should attend!
> Majors Division rosters are set(see below). Farm & Minors have not yet been set but please plan on a special day of clinics and practice at Taylor Field on Saturday May 2nd. Details/times coming soon!
2015 BELL Majors Division Team Rosters
VARNEY: Mgr Jeff Courtney 356-9974 / jcourtney@midmaine.com
Trevor King, Garrett Courtney, Griffin Erb, Andrew Brook, Cooper Khoury, Tyler Reilly, Caleb Boutot, Nathan Tardy, George Socolow, Justin Hobson, Caleb Irish, Gavin Stewart, Ellis Spaulding
ELCO: Mgr Jason Cyr 570-6499 / jasoncyr9@gmail.com
Gordon Doore, Ethan Grover, Nikolas Bates, Quinn McCaffrey, Riley Bickford, Jake Hirsch, Collin McCaffrey, Keegan Cyr, Gage Stewart, Jadrian Sandia, Marcel Sandia, Billy Barron, Owen Conner Self
ROTARY: Mgr Mike Missbrenner 659-9270 / mmissbrenner@gmail.com
Aiden Giles, Alex Sewall, Miles Tuttle, Luke Missbrenner, Quinn D'Alessio, Cooper Ireland, Parker Noyes, Camron Clay, Benjamin Hunter, Quentin Gabe, Seamus Hagerty, Daniel Levesque, Roman Johnson
HARLEY: Mgr Tony Libby 478-5547 / budsher45@gmail.com
Austin Conway, Austin Cook, James Neel, Brandon Sargent, Tyler Libby, AJ Trembly, Kameryn Matheson, Ryan Libby, Jason Libby, Brady Sargent, Trent Douglas, Blake Robbins, Colton Emerson
> Still time to sign up for all divisions 2015 BELL...Please contact Dale Duff at dduffbangor@gmail.com or 745-3763 / 942-7759
> 2015 BELL registration form can be downloaded by clicking on 'HANDOUTS' tab
> A reminder that BELL is an all-volunteer youth sports organization! We need your volunteer time and expertise! Please contact Beth Grant at ebmd@roadrunner.com
>Follow BELL at Facebook.com/BangorEastLL
On opening day in early May of 2003, Bangor East Little League awarded the first annual Bower Cup to Rotary for their first place finish the year before and then again in late July to Harleys for their victory in the championship game over ELCO. The Bower Cup reminds us all of the principles and ideals that Dave Bower brought to Little League on the eastside for so many years. Each year, although we have only one championship team, we hope all the players feel like winners! Bower Cup Champions 2002 Rotary - 2003 Harley - 2004 Rotary - 2005 Varneys - 2006 Webber - 2007 Millers- 2008 Millers - 2009 Rotary - 2010 Webber - 2011 Varneys - 2012 Varneys - 2013 Harley - 2014 Rotary
Click here for more information about the Bower Cup

Our local web site is at www.bangoreast.us. This web site has our bylaws, policies, local rules, etc.
Saturday, August 14
Little League Scoreboard Honors Young Outfielder
Monday, March 3
Parent Information
Pitching Machine Rules
Parents Coached on Sports