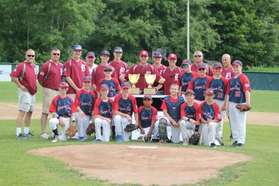 2015 BELL ALL STARS WITH FORMER BELL ALL STARS 2015 BANGOR HS STATE CHAMPS

WELCOME TO THE 2015 BELL SEASON
UPDATE ON FALL BALL: Tony Libby is coordinating any player who would like to play some baseball in the fall. Games will be played on weekends in Hampden starting in late August. It is open to any player who is Little League age eligible for 2016 ( 9 thru 12 for 2016). Please email Tony at budsher45@gmail.com. NOTE: This is not a BELL sponsored team.
UPDATE ON 50-70 BASEBALL AT BELL: We are doing some field work at Taylor Field in an attempt to try a new LL program called 50-70 Intermediate League. Pitching mound is 50-feet, the bases are 70-feet. When field is ready we want kids age 11 thru 13 to give it a try. We will organize some pickup games to try it out. We want feedback from kids. Keep checking back here for more info and be looking for emails from the league soon!
____________________________________________________________________________
Thank you players/coaches/families/volunteers/fans for a great All Star season!!!
BELL 11/12s All Star Team: Our Bangor East team finished with a 3-2 District #3 Tournament record, good for a 4th place finish in the district. Way to go Beast!
BELL 9/10s All Star Team: Our BELL team finished with a 3-2 record and 4th place finish in the 12-team district tourney. Great job guys!
____________________________________________________________________________________
>Follow BELL at Facebook.com/BangorEastLL
___________________________________________________________________________________
On opening day in early May of 2003, Bangor East Little League awarded the first annual Bower Cup to Rotary for their first place finish the year before and then again in late July to Harleys for their victory in the championship game over ELCO. The Bower Cup reminds us all of the principles and ideals that Dave Bower brought to Little League on the eastside for so many years. Each year, although we have only one championship team, we hope all the players feel like winners! Bower Cup Champions 2002 Rotary - 2003 Harley - 2004 Rotary - 2005 Varneys - 2006 Webber - 2007 Millers- 2008 Millers - 2009 Rotary - 2010 Webber - 2011 Varneys - 2012 Varneys - 2013 Harley - 2014 Rotary
Click here for more information about the Bower Cup
_____________________________________________________________________________________
Saturday, August 14
Little League Scoreboard Honors Young Outfielder
Monday, March 3
Parent Information
Pitching Machine Rules
Parents Coached on Sports