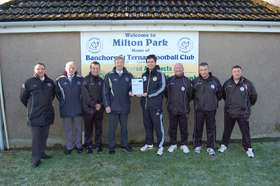 Mark Slater (centre right) handing over Award to Gordon Humble (Secretary)
Wednesday, December 5
SAINTS ACHIEVE SFA QUALITY MARK ACCREDITATION
On Saturday 1st December Saints were awarded the SFA Quality Mark Accreditation by SFA Club Development Manager Mark Slater at Milton Park. In the picture above are:
l/r: Gordon Annand (Physio), John Watson (President), Sandy Carrol (Manager), Gordon Humble (Secretary), Mark Slater (SFA), Raymond Gorski (Asst Manager), Grant Colligan (Youth Development Coach), Kevin "Pops" Smith (Coach).
SFA STATEMENT
Banchory St Ternan FC have been recognised for their valuable contribution to grassroots football.
The Quality Mark Accreditation Scheme, run by the Scottish FA in partnership with McDonald's and sportscotland, recognises proactive clubs working to increase youth and community participation.
There are four Quality Mark categories - Standard, Development, Community and Legacy. The club were recognised through the scheme after demonstrating outstanding performances in areas such as coach and player development, management, administration, welfare and planning.
Mark Slater, Scottish FA Club Development Manager said: "We are delighted to have been able to recognise all the fantastic work that the club do for local football. Banchory St Ternan FC are only the third Junior club in the North Region to gain the award. Well done to them for achieving the high standards required to gain a Quality Mark Award and many thanks to McDonald's and sportscotland for their continued support of the programme."
McDonald's, Scottish FA's community partner since 2002, are committed to helping young footballers shine by attracting 13,000 new volunteers and 10,000 new coaches by 2014, as well as supporting 600 clubs and 52,000 players through new and existing football networks.
Through the Quality Mark Awards scheme, McDonald's and the Scottish FA aim to provide support to grassroots clubs and schools across Scotland as they strive to broaden youth and community participation and to enhance player, coach and volunteer development.
CLUB STATEMENT
Club President John Watson and Secretary Gordon Humble along with the Managemnet and Coaching staff were delighted to receive the award after several weeks of effort to achieve this distinction and had this to say:
"To achieve the Quality Mark we had to prove among other things that we had qualified coaches in place. The club has probably the highest qualified coaches in Scottish Junior football, including some senior clubs in the North of Scotland. We have two Level 4 coaches (Sandy Carrol and Grant Colligan) and two with the C Licence badges. Sandy is now looking to attain the "B" Licence Coaching qualification"
"The club have invested in coach Grant Colligan to specifically scout for local talent in the Deeside area and he has and will be watching various Banchory Boys Club matches, with the intention of spotting youngsters who will come along to the Banchory St.Ternan training and get involved at an earlier stage".
"The club have met with Banchory Boys Club and Banchory Amateurs to forge much closer links between all three clubs, and an outline agreement has been put in place. With the help of Mark Slater we intend to have further meetings in the near future and include other footballing organisations who use the Milton Park facilities".
The Milton Park complex with its two pitches has been heavily used by Banchory Boys Club and Deeside Girls for several years, and between the two organisations, there was a total of 80 games played on the two pitches in season 2011/12.
"The Club see youth as a way forward and this season two players from the very successful BBC 17's from last season and two from the BBC 19's have forced their way into the team. The Quality Mark Award also required the Club to have a Football Development Plan, and the essence of this is to promote and foster football in the area and provide a pathway for the local talent, ensuring consistency of coaching."
"The plan is to review what needs to be done to achieve the next Quality Mark "Development" level. This will be a project for 2013 with a view to perhaps achieving this in 2014."