Seven games left until we finish the season and they are all important ...

Sunday, April 24
Hall Russell United 0 v 2 SAINTS


Three well deserved points that lifts the pressure of relegation worries. We dominated the first half with Hall Russell hardly any threat at all and any moves they did have breaking down outside the 18 yard box. Despite the wind assistance and several missed scoring opportunities, it was 0-0 at half time.

However, the second half was a different story. With the wind against it helped us to keep the ball on the ground and play our usual passing game. Jack Henderson scored the opener with a header from substitute Fraser Mackie's cross. And 6 minutes later it was 2-0 when Henderson struck again with a close range angles shot that squeezed under the Hall's keeper at his near post.

Several other chances were passed up, before the home side did start to make some headway and as long as it stayed at 2-0 there was always the chance of the lead being reduced. It looked like there would be a third goal when Henderson was brought down inside the box, but the striker's penalty was well saved low to his left.

Despirte a couple of periods of pressure and a series of corners for the home side, the Saints defence stood firm to keep a clean sheet for the first time in nine games.

Full report to follow.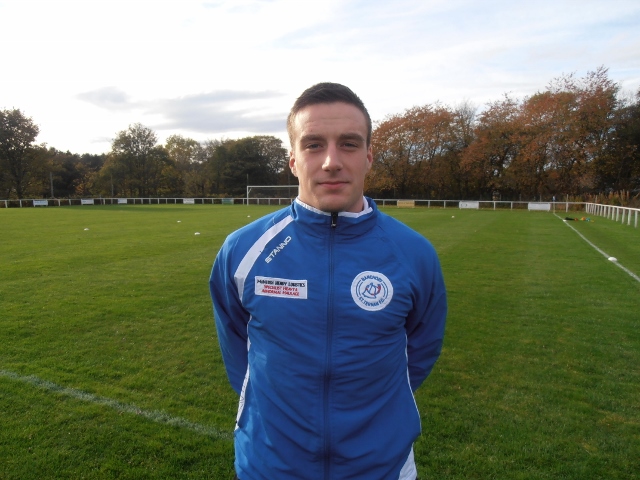 JACK HENDERSON - TWO GOALS AND A PENALTY MISS
Sunday, April 10
Fixtures to 26th April
Mid-week games start on Tuesday 19th ...

Sunday, April 10
Dyce Juniors 3 v 1 SAINTS

A second 3-1 defeat in a row puts us right in the relegation mix even ...

Sunday, April 3
New Signing


With Devin Colbert recalled by Cove, we managed to beat the signing ...

Sunday, April 3
Colbert Recalled by Cove Rangers


Last week striker Devin Colbert who was on a season long loan, ...

Sunday, April 3
SAINTS 1 v 2 Deveronside




Sunday, March 27
Hermes 3 v 1 SAINTS




Wednesday, March 23
Fixtures to April 16th


The fixtures for April were published yesterday, so including this ...

Monday, March 21
Team of the Month


Congratulations to all the players and management team, we've managed ...

Wednesday, March 23
Jeanfield Swifts Match Report




Monday, March 21
SAINTS 2 v 2 Jeanfiled Swifts (Jeanfiled win 4-3 on Pens)


A cruel end to a great GA Engineering Cup run, the best for some time. ...

Wednesday, March 16
Grapes to the Ready


Getting beat 4-1 by Banks O'Dee wasn't ...

Wednesday, March 16
Banks O'Dee Match Report




Sunday, March 13
SAINTS 1 v 4 Banks O'Dee


According to the Sunday Mail, Banks O'Dee "battered" Banchory ...

Sunday, March 6
GA Engineering Cup Quarter Final Opponents Decided


We now know who are opponents will ...

Sunday, March 6
Dyce Match Off - But Saints of the Future??


Saturday's McBookie.com Superleague match against Dyce was postponed ...

Friday, March 4
New Addition to Coaching Team


The Saints Management & Coaching staff have been actively looking ...

Wednesday, March 2
Fixtures for March


Fixtures to the end of March have now been scheduled as follows:

Tuesday, March 1
Update on Dyce Game Venue


Saturday's game versus Dyce Juniors has been scheduled to be played ...

Monday, February 29
Dyce Game Venue
Next Saturday's 5th March McBookie.com Superleague game against Dyce Juniors ...

Monday, February 29
Dufftown Match Report




Sunday, February 28
SAINTS 4 v 1 Dufftown


Very good three points yesterday with some excellent football particularly ...

Friday, February 26
Dufftown Game
At the moment tomorrow's game at Milton Park is on, but it is all dependent on how much frost there is overnight. Frost is forecast so there will be an early 8am inspection by head groundsman Ally Sharp.

Friday, February 26
GA Engineering Cup Quarter Final Draw


The Quarter Final draw was made yesterday and we have a home tie for ...

Sunday, February 21
Fixtures to Mid March


Fixtures are now out for the next few weeks. The draw for the GA Engineering ...

Sunday, February 21
Lochee Harp 1 v 2 SAINTS




Saturday, February 13
Deveronside Game OFF


Today's McBookie.com Superleague ...

Wednesday, February 10
February Fixtures


The fixtures for 27th February have been published so our next two ...

Saturday, February 6
Maud 2 v 8 SAINTS


With no game for 8 weeks ...

Sunday, January 31
Fixture Next Saturday 6th February


Hermes Scottish Junior Cup tie was postponed this week-end, so as they ...

Sunday, January 24
Fixtures For February


Fixtures up to 20th February:



Thursday, January 21
Ellon Game in Doubt
Not looking good for the McBookie.com Superleague match going ahead this Saturday, as the pitch is still rock hard. Update tomorrow.

Thursday, January 21
GA Inter Region Cup 3rd Round Date Confirmed


Sunday, January 17
Fixture Change for Next Saturday


Next Saturday's fixture has been changed due to original opponents Hermes having to play their postponed Scottish Junior Cup 4th Round tie against Glenrothes. Instead Saints will play Ellon United at home kick off 1.30pm.

Back on 3rd October we lost 3-2 at Ellon in a game which saw us have enough chances to win the game, but you have to put away these chances if you want to get the three points. Points are going to be precious, as we move into the second half of the League. Ellon are just one point ahead with the same games played so this indeed is a 6 pointer.



Monday, December 21
Fixtures for the New Year


The fixture list for January 2016 have been published and we have some ...

Tuesday, December 15
GA Engineering Cup 3rd Round Draw


The draw for the 3rd Round of the GA Cup was made yesterday and we ...

Sunday, December 13
Culter 0 v 6 SAINTS


The Banchory players were applauded off the park by both sets of supporters after demolishing neighbours Culter in this GA Inter Region Cup 2nd Round tie. And they were well worthy of the plaudits, as Culter could not compete in any department with the game virtually over by half-time.

Banchory's management team of Neil Findlay, Graeme Davidson and Paul Law have been saying for a few weeks now that we would give someone a hiding and although it was never thought it would be against the likes of Culter, it shows how much this bunch of lads have progressed since the new regime began in mid September.

The players have a different attitude now, expecting to win every game, renewed confidence which in turn brings enjoyment in what they are doing. The new players that Neil Findlay has taken in took time to get used to Junior football, but they have now found their "Junior" feet and are fitting in very well into a happy squad.

Three players shared the six goals and first to strike on 7 minutes was Devin Colbert from the penalty spot after Jack Henderson had been crudely scythed down by Fettes as he homed in on goal. The Culter player amazingly received no punishment whatsoever. The second arrived 9 minutes later with Jack Henderson making a big effort to block the home keeper's clearance and when the ball broke wide he turned and chipped the ball over the keepers head into the far corner of the net.

On the half hour mark it was Sam Smith who broke down the left cut inside and made no mistake with a left foot drive the whizzed past the keeper. And within a minute it was 4-0 with Jack Henderson getting his second after being set up by a neat Colbert pass.

Into the second half and Culter had been instructed during their half time talk to get an early goal, but a clumsy tackle on Henderson in the very first minute gave Devin Colbert his second chance to score from the penalty spot. The last of the six goals arrived on 75 minutes with Sam Smith cutting in from the left to send a low bullet past the bewildered Culter keeper.

Manager Findlay sent on his three substitutes over the course of the last 20 minutes, Sam Smith feeling a twinge in his groin after scoring was replaced by Mike Bruce, Steve Travers replaced by James Flaherty after another hard working performance in midfield and Devin Colbert making way for Stuart Rogie.

The whole team played their hearts out and each department did their job superbly. Nico Berton in goal made some vital saves in the second half to keep a clean sheet. The defence were very solid nullifying anything that Culter threw at them ably assisted by a hard working midfield that did not let Culter settle in the middle of the park, and finally the forwards who caused problems all day and when the chances came along executed them clincially.

The boys have now set their standard for the remainder of the season and although we are now into the 3rd Round of this Cup for the first time since Season 2011/12 and await our opponents from Tayside, the priority is to get more points in the League to ensure we do not get dragged down into any relegation battle. That will have to wait three weeks now though, as the Xmas and New Year break means there is no fixture until Saturday 9th January 2016.

Team: Nico Berton, Conran Wilson, Ryan Whelan, Jack Mitchell, Josh Robertson, Steve Travers (James Flaherty), Jamie Buglass, Darryn Pyper, Devin Colbert (Stuart Rogie), Jack Henderson, Sam Smith (Mike Bruce). Subs: Murray Buchan.



Monday, December 7
SAINTS 2 v 4 Maud


Ex Banchory Manager Steve Scott was in charge of his first game for ...

Sunday, November 29
Culter 4 v 4 SAINTS


It's been a while since we took anything ...

Monday, November 23
Deveronside Match Report




Sunday, November 22
Deveronside 3 v 2 SAINTS


Canal Park Banff is ceratainly not a favourite hunting ground for us. ...

Sunday, November 15
FC Stoneywood Match Report




Saturday, November 14
SAINTS 3 v 2 FC Stoneywood


Three League wins on the trot pushes us up to 6th place in the Superleague, ...

Friday, November 13
Fixtures to End of 2015


Fixtures for the remainder of the ...

Sunday, November 8
Inverness Match Report




Sunday, November 8
Inverness City 2 v 5 SAINTS


Five different scorers for Saints ...

Monday, November 2
SAINTS 1 v 4 Culter




Tuesday, October 27
Lottery Tickets
Lottery Tickets are once again available for download in the Handouts page ...

Monday, October 26
November Fixtures


Fixtures for the first two Saturdays in November are:



Sunday, October 25
SAINTS 4 v 2 Bridge of Don Thistle




Sunday, October 25
Hat Trick Henderson


Jack Henderson scored his first hat trick for the club yesterday in ...

Monday, October 19
CUP DRAWS


Cup competitions draws out today...

Monday, October 19
Show Racism the Red Card


Monday, October 19


Hermes Match Report




Sunday, October 18
SAINTS 1 v 2 Hermes


Saints entertained Hermes at Milton ...

Sunday, October 18
Jack Henderson Receives Trophy
Striker Jack Henderson was presented with last seasons Player ...

Sunday, October 18
McIntosh Plant Kit Presentation


New kit sponsors McIntosh Plant Hire, were at Milton Park on Saturday ...

Thursday, October 15
McIntosh Plant Hire - Kit Sponsor


The club are delighted to announce that local business, McIntosh Plant ...

Thursday, October 15
Match Reports & Kitchen Update


We are conscious that there has been a lack of match reports this season, ...

Monday, October 12
NEWS UPDATE


Due to memory problems on the website, we have been unable to publsih news items, these have now been resolved and some retrospective news bulletins will be published shortly.



Monday, October 12
New Management Team


After the resignation of previous Manager Sandy Carrol and his entire ...