Baltimore Finest Boys Basketball Team: Team News
Tuesday, March 4
Tryouts! Tryouts! Tryouts!
BALTIMORE FINEST TRYOUTS
SUNDAY, MARCH 9, 2014 AT 10AM-12PM
Tryouts will take place at the Woodstock Job Corps Center, 10900 Old Court Road, Woodstock, MD. 21163.
Please bring your $25 tryout fee and completed registration packet. If you are unable to print the packet, copies will be available at tryouts.
Community Service News
Players planting trees at Frederick Douglas.
Last Saturday, the Baltimore Finest Boys Basketball Team participated in a community service day. Players and Coaches spent the day planting trees at Frederick Douglas High School in partnership with the Parks & People Foundation and Blue Water Baltimore volunteers.
For more pictures, visit our Facebook page.
"Service to Others is the rent you pay for your room here on earth." - Muhammad Ali
COACHES:
Dion Cartwright, Head Coach
Travis Miller, Assistant Coach
Ian Zimmerman, Assistant Coach
If you have any questions, feel free to contact:
CONTACT COACH DION CARTWRIGHT
OR 443-854-1939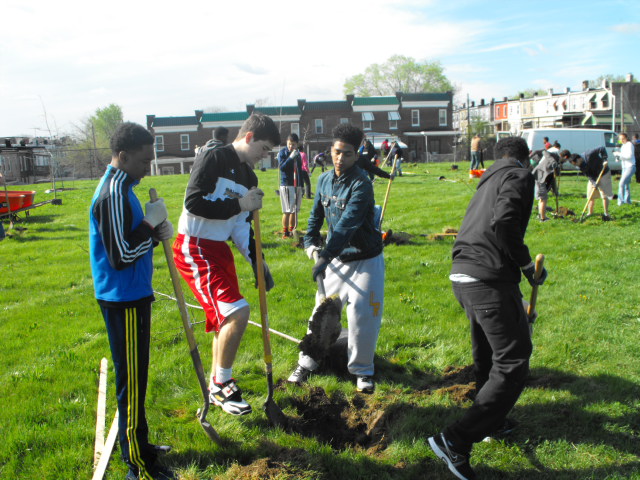 Players planting trees at Frederick Douglas.