Baldwin City Blues: Welcome
Facebook Site: To access the Baldwin City Blues Facebook site go to Facebook and type Baldwin City Blues in the "Search Box." It will come up as an "open group." Ask to join and you will be approved to view everything contained on the site.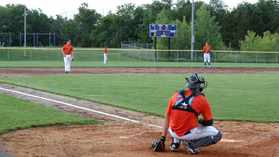 Friday Night Against the A's
Sunday, June 4
Baldwin City Blues Split with Midwest A's
After an opening night rainout on Thursday, the Baldwin City Blues managed to split with the Midwest A's in games contested on Friday and Saturday night. The Blues utilized strong starting pitching in both contests however could not capitalize on Brayden Nelson's stellar start on Friday night. "Brayden pitched very well on Friday and he did not allow an earned run to the A's" noted Blues GM Michael Moore. "He absolutely had command during his 6 innings of work. I can see why he was 5-0 at Oklahoma Wesleyan this Spring" commented Moore. In his 6 innings of work Nelson allowed 2 unearned runs while striking out 4 A's hitters and walking just 2. "Brayden competes" said Moore. The Blues also got a strong relief effort from Ty Bushyhead (Coffeyville CC) who did not allow a run in his inning of work. "Ty is a young man who is learning to pitch. He has very good velocity and was able to get outs against the A's" expressed Moore. "Ty is going to be very good for us this summer."
Offensively the Blues were led by Jacob Pool (Our Lady of the Lake University) and Mason Fast (Cloud County Community College) who both recorded multiple hit games. In addition to his 3 hits Pool knocked in the Blues lone run on a line drive single to center field. "Jacob is a player that knows how to compete. He hits well and can field his position. He is also a very cerebral player who is not going to be out thought on the field" noted Moore. Mason Fast collected 2 hits on the evening while calling a strong game for his pitching staff. "Mason is a season player who is pretty good behind the dish" expressed Moore. "It's also pretty good that he can hit as well. Mason is going to perform this summer." Although the Blues dropped the opener 8-1 GM Moore stated he liked what he saw. "It's the first game in and we are learning each other. I'm not too worried about the loss because I know our players will compete."
On a night that saw former Baldwin City Blues great, Conner Taylor's jersey and number retired the Blues picked up their 1st win on the season on Saturday night. "We started off by honoring Conner. We then went out and beat the A's 8-4" stated Moore. On the mound returning starting pitcher Jackson Markham (Ottawa University) used a strong fastball and slider to keep the A's at bay. "We know what Jackson can do" said Moore. "He won us some big ball games last summer and he is one of the top arms in the league." During his 5 innings Markham surrendered only 1 earned run while allowing just 4 hits to the strong hitting A's. Markham also struck out 2 batters and showed very good command of his fastball and slider. "Jackson just knows how to pitch" expressed Moore. Strong relief performances were also turned in by Luke Rachwal (University of St. Thomas), Clint Cole (Cloud County CC) and Will Edwards (Baker University). "All of our pitchers threw well tonight" noted Moore. "If we get the effort like we saw tonight we will be very successful this summer."
Offensively the Blues tallied 13 hits on the night. Led by Derek Ripp (Arkansas), Alex Hansen (Oklahoma Christian University) and Jacob Pool (Our Lady of the Lake University) the trio's multiple hits powered the Blues. "We seemed to get the hits at good times tonight" noted Moore. "The guys can play. They just need to come out each night and relax. Hits will follow."
The Blues next travel to Sabetha, Kansas on Monday evening to take on the Lobos.
Friday, April 21
Nice story on the Baldwin City Blues
The Baldwin City Blues were the subject in the Spring/Summer edition of the Baldwin City Living Magazine. The story highlights why the Baldwin City Blues were founded and the impact the team has had on young men continuing to pursue their dream of playing such a great game. The story also highlights how the Baldwin City Blues have impacted the Community and ways the team intends to continue doing such. Get your copy from Sunflower Publishing or if you would like a copy sent to you email Michael Moore, General Manager (mmooreblues@hotmail.com). Baldwin City Blues...where the finest collegiate baseball players spend their summer.
Friday, February 24
2017 Baldwin City Blues
Friday, February 24
Baldwin City, Kansas
Sunday, February 26
First Mid Plains All Star Game
Monday, June 13
Blues Youth Camp 2016