Baldwin City Blues: Welcome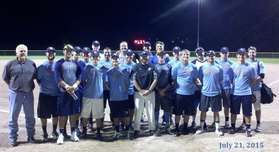 2015 Baldwin City Blues. Back for More in 2016.
Facebook Site: To access the Baldwin City Blues Facebook site go to Facebook and type Baldwin City Blues in the "Search Box." It will come up as an "open group." Ask to join and you will be approved to view everything contained on the site.
Blues Split with Lobos Again
The Baldwin City Blues likely thought Deja' Vu was part of the mix on Tuesday evening as they again managed to split their double header with the Sabetha Lobos. The outcome marked the second night in a row that the Blues would lose Game One and then come back strong in the nightcap to split the series. "This team competes and that's what makes them so exciting" explained Blues GM Michael Moore. "We have a bunch of really good and really competitive ball players."
Game 1 saw the Blues struggle at the plate as the Lobos utilized a very strong performance from their left handed starter who threw a complete game. Although the Blues would routinely put runners in scoring position, four turned double plays by the Lobos erased each threat. "Their guy had our number tonight. We would get guys on and then he would throw something nasty and get us to hit into a double play."
Blues starter, Sean Laughlin (University of Nebraska-Kearney) was as equally effective, giving up only one run in his 4+ innings of work. "I thought Sean was really good tonight. We just didn't give him much support offensively." Although the Blues would continue to battle, the Lobos would claim the first game by a score of 7-0.
Game 2 saw the Blues rebound from their opening game woes with a 9-4 win. John Dokolas (Black Hawk College) started for the Blues and showed very good control of the strike zone in helping the Blues build an early 6-0 lead after Blues hitters batted around in the 1st inning. Dokolas' command continued through the game and he carried a no hitter into the 5th inning. "I was shaking off some fastballs that Landon was calling. We were working really well together" stated Dokolas. Catcher Landon Hay (Washburn University) agreed with Dokolas and felt that his ability to get off speed pitches over the plate was key. "We mixed his pitches up pretty well" noted Hay.
After 2 outs in the 5th Dokolas finally surrendered a bloop single to left field. After a base on balls and hit batter Dokolas was relieved by Ryan Wetzel (Pittsburg State University). With the count full Wetzel threw a fastball that the Lobos batter hit into the LCF gap. Center Fielder Reily Martin (McPherson College) got a good jump on the ball that was tailing away from him. Then as if he had channeled the Man of Steele, Martin went airborne to snag a potential bases clearing hit. "That was one of the best catches I have ever seen; at any level" noted GM Michael Moore. The catch appeared to ignite the Blues again leading to 2 more runs and an 8-0 lead. Clay Collison (University of Nebraska-Kearney) then entered and struck out 4 Lobo hitters in the 6th inning. "My ball had nice movement to it tonight" stated Collison. "My command was there and I had decent velocity." Quintin Daugherty (Southwestern Oklahoma State University) completed the game for the Blues as he pitched the 7th inning.
The Blues victory moves the Blues to 4-3 on the season, 1 game behind Division Leading Liberty Monarchs.
Pardon Our Scoring Meltdown
The Baldwin City Blues want to apologize to our fan base as we continue to work on our live scoring. "The system is there, we just have to do a better job of getting it right" proclaimed Blues GM Michael Moore. "It is our and the Mid Plains League desire to give our fans the best live scoring in summer baseball. This will get worked out" noted Moore. It is anticipated that the live scoring will be available by Friday's double header against the Independence Veterans.
Baldwin City Blues Split Double Header in Sabetha
The Baldwin City Blues traveled to Sabetha, Kansas on Monday to take on the newest member of the Mid Plains Leage, Sabetha Lobos. The Blues were able to build an early 4-1 lead on the Lobos as strong pitching, good defense and timely hitting were the rule of the evening. "I thought we looked good early and did a nice job most of the evening" stated Blues GM Michael Moore. "Our starting pitcher Caleb Huffman (Coffeyville Community College) did well at locating and keeping the Lobos off balance." The Blues continued to lead through most of the contest and carried a 7-5 lead into the final frame. Then, as if the Lobos refused to disappoint the ever growing home crowd the home team utilized a key hitting to score 3 runs in the bottom half of the 7th to claim the 8-7 win. "The Lobos kept scrapping and then got that key hit up the middle for the walk off" stated Moore. "I was proud of how our guys competed and applaud the Lobos for the win" noted Moore.
A different outcome was evident during the nightcap. Behind strong pitching by Tyler Buss (Emporia State Univesity) the Blues showed a strong desire to exit the beautiful Somerset Ballpark with a win. "Buss was nasty on the hill" stated Blues Manager Jason LaRocque. "He comanded the zone and was better than their hitters." The Blues also utilized strong defense and an outstanding offensive attack, led by Kaden Shaffer (Emporia State University) as he hit his first homerun of the summer. "Kaden got a hold of a pitch and deposited over the 365 mark in left center" noted Michael Moore, Blues General Manager. The Blues continued to score throughout the game and eventually left Sabetha with a game two win by the score of 11-2. "Jack Mayes (Baker University) also did a really nice job throwing tonight" noted LaRocque.
Baldwin City Blues Earn Series Victory vs. Liberty Monarchs
The Baldwin City Blues earned their first series win of the young season when they took game three over the Monarchs by a score of 10-6. Using timely hitting, heads up defense and key offensive at bats, the Blues were able to secure the win and open the 2016 campaign 2-1. "I thought that we competed really well tonight" stated Blues GM Michael Moore. "We got behind early but kept battling and that kind of effort wins games." Moore noted that starting pitcher Chase Miller (Benedictine University) was one Blues player that showed the competitive attitude that was evident during Friday's game. "Chase had some early control issues but he hung in there and got through it. He kept us competitive early on." Afterwards, Blues hurlers Haydon Yancy (Coffeyville CC), Laken Straub (Baker University) and Quintin Daugherty (Southwestern Oklahoma State University) did not allow a Monarch player to score. "Our pitching was really strong tonight, we really limited what Liberty was able to do offensively" noted Moore. "Landon Hay (Washburn University) was also very solid behind the plate. He managed our staff well and shut down the Monarch running game (2 CS)." Offensively the Blues were led by Noah Huston (Rockhurst University) 1B, 2B, RBI; Jack Kalina (University of Nebraska-Omaha) 1B, 2B, three BB, HP, RBI; Weston Ward (Hillsdale Baptist University) 1B, 1B, HP and Tyler Olson (Coffeyville CC) 1B, 1B, 2 RBI's. Hits were also recorded by Kaden Shaffer (Emporia State University), Max Taulbee (Baker University), Landon Hay (Washburn University) and Colby Smith (Rockhurst University). "This team is scrappy, I really like teams that can find ways to win in different ways" stated Blues Manager Jason LaRocque. "It's fun learning what the guys are able to do." The Blues will be in action again on Monday with two games against the Sabetha Lobos in Sabetha, Kansas. The Blues open at home next Tuesday against the Lobos.
Baldwin City Blues Open 2016 with Split
The Baldwin City Blues opened the 2016 campaign with a double header split with the Liberty Monarchs on Thursday. After securing a 2-1 victory in the opening game, the Blues fell in the nightcap by a score of 8-3. "We are going to hit the ball" stated Blues INF Jack Kalina (University of Nebraska-Omaha) "We should be pretty good when we get used to each other." Pitching also looks to be a strong part of the Blues game plan. "I really feel that our pitching is going to be strong. We just have to avoid that one bad inning" noted RHP Clay Collison (University of Nebraska-Kearney)
GAME ONE: Baldwin City Blues 2 Liberty Monarchs 1
The Baldwin City Blues used strong pitching from Sean Laughlin (University of Nebraska-Kearney), Caleb Huffman (Coffeyville Community College) and Quintin Daugherty (Southwestern Oklahoma State University) to secure the 2-1 decision. Weston Ward INF (Hillsdale Baptist University) singled home the Blues first run. Kaden Shaffer UTL (Emporia State University) accounted for the Blues other run with a bases loaded ground out. Catcher Landon Hay (Washburn University) also accounted for a Blues hit. Sean Laughlin earned the win and Quintin Daugherty picked up the save as the Blues moved to 1-0 on the season.
GAME TWO: Liberty Monarchs 8 Baldwin City Blues 3
The Liberty Monarchs captured game two of the Thursday double header by scoring 8 runs in the first two innings, placing the Blues at an immediate 8-0 disadvantage. To their credit, the boys from Baldwin City did not quit and manage to quell the tide, holding the Monarchs scoreless through the remaining 5 innings. Great pitching performances were noted by Tyler Buss LHP (Emporia State) who pitched 3.1 scoreless innings. Clay Collison RHP (University of Nebraska-Kearney) also pitched well recording 1.1 scoreless innings while striking out 2 Monarch batters. "My arm felt good. It's kind of a rehab assignment for me and I noticed my velocity was up" noted Clay. Offensively the Blues were led by Jack Kalina UTL (University of Nebraska-Omaha) who recorded the teams' first extra base hit when he hit a ground rule double to CF. "The ball looked to be out for a second" stated GM Michael Moore. "Jack has great power to all fields." With the loss the Blues drop to 1-1 on the young season.
Baldwin City Blues Schedule
The Baldwin City Blues are pleased to release the 2016 Summer Schedule. Make note of our Special Dates and come out to the Ballpark and see why the finest collegiate baseball players call the Baldwin City Blues home.
27 Conner Taylor
The Baldwin City Blues family is extremely saddened today to learn of the tragic passing of Conner Taylor. Conner, a hard throwing RHP was a vital member of the Blues inaugural season in Baldwin City. "Conner was our opening day starter; the first game ever played by the Blues in Baldwin City. He was the one who set the tone for our success that summer" stated Blues GM Michael Moore. Conner played collegiately at Coffeyville Community College and was a member of Red Raven teams that set school records for wins and qualified for Super Regional Play in 2014 and 2015. "Conner was a friend, loyal team mate and someone you could count on. He will be missed by everyone who knew him."
Blues Sign All State Outfielder
The Baldwin City Blues managed to sign another outstanding ball player for Summer 2016 when the inked Rockhurst University OF Noah Huston. Noah, a 2015 All Topeka, All League and All State performer was a key member of the 2015 Topeka Hayden State Championship Baseball Team. On the season Noah batter .413 and posted an outstanding .438 OBP. Noah's offensive stats included collecting 38 hits with 13 RBI's. Noah also scored 26 Runs and had a superior 1.000 Fielding %. "Noah is a proven winner and comes to the Blues with an outstanding baseball pedigree. He knows how to win big games and we are lucky to have his mindset in Baldwin City this summer" explained Blues General Manager Michael Moore.
Blues Nab Perfect Game All American
Thomas Elms, OF from Olathe, Kansas has signed to play this summer in Baldwin City. Thomas, a current member of 2007 NJCAA World Series Champion. Longview Community College Lakers joins the Blues after playing with the Maxbat National Team and the Midwest Regional Team of USA Baseball. Elms also has experience on the Oklahoma Area Code Team and was named to the Perfect Game 2014 WWBA All-Tournament Team after batting .417 in the World Wood Bat Championships in Iowa.
Thomas comes to the Blues with outstanding credentials and was honored with being named a 2015 Perfect Game All American (Central Region). Thomas was ranked as the #4 OF in Kansas and the #23 ranked player in the State. Thomas was also chosen to the Perfect Game Top Prospect Team in 2014 and was ranked as the #72 in Kansas by Prep Baseball Report.
"Again, the Blues show that they can land the best talent in the Mid Plains League" noted General Manager Michael Moore. "Thomas Elms is an impact type player that has gotten better every year. The Blues are very fortunate that Thomas decided to spend his summer in Baldwin City" noted Moore.
The Baldwin City Blues look to make a run for the Mid Plains League Cowdin Cup against the finest summer collegiate teams in the Midwest.
Blues Pick Up University of Nebraska-Omaha Star Jack Kalina
Jack Kalina, a 2015 Nebraska All State Utility Player from La Vista, Nebraska is the newest member of the Baldwin City Blues. Kalina, a career .398 hitter for Papillion-La Vista High School carried a .416 average his Senior season with 4 HR's and 36 RBI's. "Landing a player of Jack's caliber is a real coup" proclaimed Blues General Manager Michael Moore. "Jack was highly recommended by Coach Herold at UNO. He is a terrific competitor and can really hit" stated Moore. This past summer Kalina earned the opportunity to participate in the MiLB AAA All-Star Game Home Run Derby at Werner Park, home of the Omaha Storm Chasers. Kalina earned his spot by hitting 6 homeruns in a May 2015 qualifier and then answered with 2 more dingers in the main event in July. "It says a lot about Jack that he can go up against professional ball players and not be intimidated. Blues fans will see a first class hitter when they come out this summer" Moore noted.
Blues Sign Colby Smith, Infielder, Rockhurst University
Colby Smith, a former Kansas All State Infielder has signed to play with the Baldwin City Blues for the upcoming Summer Season. A current Rockhurst University Hawk, Smith was a 2015 Kansas 4A First Team All State selection after a stellar season with Topeka Hayden. "We are extremely fortunate to sign Colby for the summer. He will be an immediate impact player for us" noted Blues General Manager Michael Moore. Colby's brother (Skylar) patrolled the infield for the Blues in 2015. He was later named the Blues Defensive Player of the Year. "Good baseball runs in the family. Colby will take up where Skylar left off" remarked Moore.
Blues Announce Newest Team Signing
The Baldwin City Blues announced this morning that they had acquired the services of "Blue" beginning the 2016 Season. "Blue," a Blue Tip, Blue Blood, True Blue, Blues Loving bundle of high energy "pawed" on the dotted line after several long negotiations. The holdup? It appears "Blue" wanted bacon flavored Scooby Snacks between games. General Manager Michael Moore quickly met "Blue's" request and secured the highly sought after Captivating Canine. "There was no way I was going to let "Blue" get away from us. My job as General Manager is to identify and sign the best personnel out there. "Blue" certainly gives us a leg, or 4 legs up on our competition." stated Moore.
"Blue" was introduced to Baldwin City during the Annual Christmas Parade on December 5. "Blue" immediately got the large crowd excited as he pranced along the parade route slapping high fives and giving out hugs to children in attendance with their parents. Blues take on the night? "Woof, woof, arf, woof, bark, arf, woof!" Blue, we counldn't have said it better. Welcome to the team.
Sunday, January 24
Player Action Photos
Monday, May 9
Our Sponsors
Monday, June 13
Blues Youth Camp 2016