Baker Area Youth Association: Welcome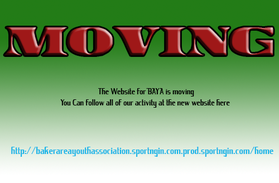 August 1st
Welcome to the Baker Area Youth Association (BAYA)
Here at the BAYA we are committed to building a community, one child at a time. Our mission is to provide a place where families can come and enjoy themselves, watch their children learn and play ball...all while we do our best to promote "FAMILY" back into the community!
Interested in Coaching? Want to help the park and not sure how? Volunteer, click the button below and sign up today.
Tuesday, July 26
BAYA Website Moving!!
The BAYA main website will be moving to another site beginning August 1st. please follow the link provided and join us there.