Azle Little League: Welcome
WELCOME TO THE AZLE LITTLE LEAGUE'S WEBSITE !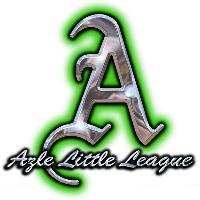 Azle Little League is a chartered member of Little League Baseball, Inc. and is a
non profit youth organization providing local youth the opportunity
to participate in a competitive baseball and softball program.
For Health and Safety reasons please no pets at Stinger Field
AGES
BASEBALL - 3 yrs - 18yrs
SOFTBALL - 3 yrs - 18yrs
Girls Birth date December 31, 2013
Boys Birth dates April 30, 2014
Look at the approved little league equipment at
http://www.littleleague.org/learn/equipment/approvedcompbatssmall.htm
Message Board is open to all eteamz members sign up today for your eteamz account.
Azle Little league would like to thank All of the sponsors for supporting the kids in our community and making the Fall 2013 season a success.
Telephone number at stinger field 817 237 7680
---
Wednesday, September 4
Fall 2013 Schedules
Here are the Offical Fall 2013 Schedules.
Handout:
Fall 2013 Schedules
Friday, July 26
Fall Registration now open
AZLE LITTLE
LEAGUE
SOFTBALL BASEBALL
2013 FALL SEASON
REGISTRATION
GIRLS AND BOYS AGES 3 – 14
STINGER FIELD 9980 Ten Mile Bridge Rd.
Saturday August 3rd 10 AM – 2 PM
Sunday August 4th 1 PM – 4 PM
Saturday August 10th 10 AM – 2 PM
Sunday August 11th 1 PM – 4 PM
LATE REGISTRATION ($15 Extra Charge)
Saturday August 17th 10 AM – 2 PM
Sunday August 18th 1 PM – 4 PM
ONLINE REGISTRATION STARTS JULY 15TH
@azlelittleleague.com
Registration Fees:
T-BALL - $65
COACH PITCH/MINOR/MAJOR/JUNIOR BASEBALL/SOFTBALL -
$85
Search for us on Facebook at Azle Baseball-Softball for registration
details and information during the season.
CASH, CHECK, OR CREDIT CARDS will be accepted (Fee for credit card)
Parents' please bring drivers license and child's ORIGINAL birth certificate.
NOTE: Not all coach and ride share requests can be accommodated. Each request will be reviewed by
Azle Little League Board.
FOR LITTLE LEAGUE SPONSORSHIP INFORMATION, PLEASE EMAIL azlelittleleague@yahoo.com
Handout:
fall registration now open
Saturday, December 24
Little League Announces Bat Rules for 2012
Thursday, March 1
Rule changes 2012
Click the link above for a list of the New Rule Changes for 2012
Tuesday, September 25
Azle Little League receives grant
Azle Little League was selected to receive a $7500 grant from the Texas Rangers for field improvements. The Azle Little League Board would like to thank the Texas Rangers for their generosity and support for the continued development of players.