Azle Little League: Welcome
WELCOME TO THE AZLE LITTLE LEAGUE'S WEBSITE !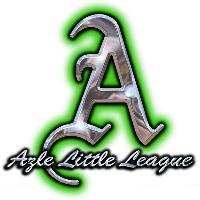 Azle Little League is a chartered member of Little League Baseball, Inc. and is a
non profit youth organization providing local youth the opportunity
to participate in a competitive baseball and softball program.
For Health and Safety reasons please no pets at Stinger Field
AGES
BASEBALL - 3 yrs - 18yrs
SOFTBALL - 3 yrs - 18yrs
Girls Birth date December 31, 2014
Boys Birth dates April 30, 2015
Look at the approved little league equipment at
Click for Approved Composite Bats 2014
Attention All Parents in the Major Baseball Division
Ages 11-12

The Major Baseball Division is now called the Intermediate (50/70) division.
The Bat rules have changed for you!
Please read the link 2014 Bat Rules before purchasing a bat.
You cannot use 2 1/4 composite bats in the division!

Azle Little league would like to thank All of the sponsors for supporting the kids in our community and making the Spring 2014 season a success.
Telephone number at stinger field 817 237 7680
---
Tuesday, September 23
Clay Shoot 2014
Tuesday, May 13
2014 Tournament Brackets
Please Click 2014 Spring Tournament Brackets to see your Division Tournament date and times.
Handout:
2014 Spring Tournament Brackets (updated 5/19/2014)
Friday, February 21
Baseball/Softball equipment sale
Baseball/Softball equipment sale!
Azle Little League will be hosting a sale of new/used bats, gloves, cleats, etc. If you have equipment that your child has outgrown or you don't use anymore and would like to donate please bring them up to stinger Friday Feb 21 from 5-8. All equipment you donate is tax deductible!
The sell will be on Saturday Feb 22 at stinger field from 10am to 12pm.
All proceeds go to Azle Little League.
Thursday, April 10
2014 Golf Tournament Information
Handout:
2014 Golf Tournament