AZ Extreme Speed: Welcome
Starting June 8th 5:30pm-6:45PM
Extreme Speed Athletic Performance Training.
Extreme Speed!!!
Welcome to Extreme Speed training where we provide effective athletic performance enhancement training. Extreme Speed training is a collaboration of different types of training methods. We have implemented proven training programs created by Nike Spark as well as the compiled training experience of our former professional athlete staff. At Extreme Speed we understand that each sport has its own unique movements, we help to enhance the athleticism and performance in those movements by increasing strength, speed, explosiveness, and mobility. No matter what the sport, Extreme Speed can make you a stronger, faster more explosive athlete. Extreme Speed training staff are knowledgeable professional athletes with over 20 years of experience in coaching and training both youth and adult athletes. We help athletes to develop there abilities to acheive there performance goals.
Reggie McGill a former running back out of U of A played professional football with the San Diego Chargers and Michael Richmond a former wide receiver out of New Mexico State University played several years professional Arena football with the Arizona Rattlers. Reggie Mc Gill and Michael Richmond both have 20yrs experience in athletic performance training. Together they provide a high impact type of training for all those athletes wanting to improve on their game. Reggie and Michael have trained various athletes that have gone on to attain athletic scholarships at various colleges as well as collegiate athletes that have gone on to play professional level sports.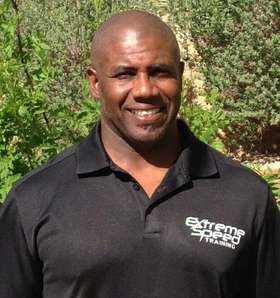 Reggie McGIll