AYSO Region 117: Welcome

AYSO Region 117
Everyone Plays-Balanced Teams-Open Registation-Positive Coaching-Good Sportmanship-Player Development
"It is with a heavy heart that I pass along the news that the Area K,

AYSO Region 55 Regional Commissioner, Butch Ducharme, passed away on Friday at 6pm from a heart Attack.

Butch was a great Regional Comissioner and volunteer, may our prayers be with him and his family."
Alan Gandall, Region 117 Commissioner,
Area K Assistant Director
Please go to the
Ducharme GoFundMe
page to learn how you can help support the Ducharme family.
---
Player Clinics, Talbert Middle School
No registration required. Please contact
David Fiduccia
with questions.
Goalie Clinics
10/9 - U8 & U10 from 4:30 pm to 6:00 pm
10/9 - U12 & U14 from 6:00 pm to 7:30 pm
---
Region 117 Proudly Congratulates…… U12 Boys
1st Place Champion Orange County Kickoff Classic. Coaches Nicola & Chad Weiss, "Champions over Other OC Club Teams"
AYSO The Biggest Club in Town!!!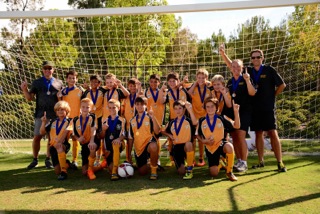 ---
Unicorn Sports, Soccer Equipment Discount
Unicorn Sports Center offers a 20% discount on your players gear when you buy any shoe, any shinguard and any ball in one purchase. Click here for flier:
Unicorn Sports
. Tell them AYSO 117 sent you! Unicorn sports is located at 6488 Edinger Ave in Huntington Beach.
---
Contact AYSO Region 117
By Phone/Voice Mail: Hot Line 714-925-0072
By E-Mail:
registrar117soccer@gmail.com
By Mail: 9114 Adams Ave #150, Huntington Beach CA 92646
---