: Welcome
Welcome to the home of the 2009 - 2010
Aurora Panthers PEEWEE 'AA' Rep Team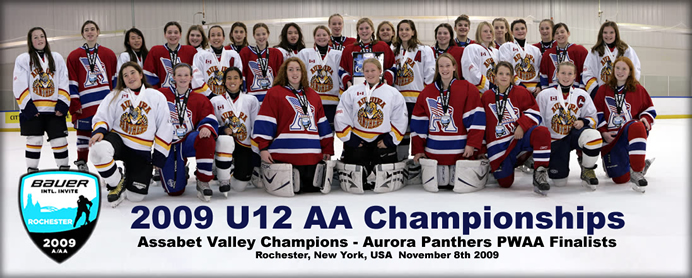 I want to tell you about 16 remarkable kids.
Each one of them is special and unique. Each one of them makes contributions to this team. Each one of them believes in themselves and trusts each other. Each one of them is willing to do the little things players on other teams are not. These are the things that separate our team from the competition.
They choose to be excellent in everything they do, every day.
They don't just show up for big games. They put the same level of effort, whether it's the Championship Finals or a weekday practice. They finish every single drill as hard as they can and push their teammates to go faster and harder.
We did not win every battle, but we were stronger and smarter every time we stepped on the ice. We did not concern ourselves about what other teams were doing. We chose to focus on ourselves and our team mates. In the end, we gave quite a few teams a run for their money!
GO PANTHERS GO!