Attack Volleyball Club: Welcome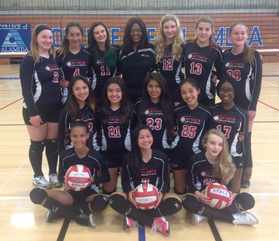 ATTACK 13U
WELCOME TO
ATTACK VOLLEYBALL CLUB!

Our goal is to provide a fun, competitive atmosphere.
Our coaching staff will emphasize fundamentals and
advanced skills, while working hard to help each
athlete reach her full potential. Our coaching
philosophy is to teach each young athlete to be
committed, to have discipline, to be competitive,
and to be team player all the time.

TRYOUT DATES:
SATURDAY, NOVEMBER 1, 2014

13U-14U 1:00PM-3:00PM
15U-16U 3:00PM-5:00PM


SUNDAY, NOVEMBER 2, 2014

17U-18U 3:00PM-5:00PM

MAKE-UP DATE:
SATURDAY, NOVEMBER 8, 2014

13U-16U 1:00PM-2:30PM
17U-18U 3:00PM-4:30PM

Email: attackvolleyball@yahoo.com
Contact Phone: (510) 388-6185

! NO SOLICITORS !




NOTE: BEFORE YOU CAN TRYOUT FOR ATTACK VBC, YOUR DAUGHTER MUST REGISTER AS A NEW MEMBER OR RENEW YOUR MEMBERSHIP. Register your daughter now at the NCVA (Northern California Volleyball Association): www.ncva.com/register-as-a-member/, stroll down to bottom and click on "New Member Registration" or "Renewing Member Registration". Complete form and pay the NCVA registration fee. If you only pay the "$15 NCVA Tryout fee", you will need to pay the registration fee balance before you will be accepted to our club. The NCVA registration fee is separate from Attack Volleyball Club fees.
Why should I choose Attack Volleyball Club?
Attack Volleyball Club philosophy is to provide a competitive, fun and learning environment for athletes who want to compete at a competitive level of volleyball in high school, club and eventually college. We strive to instill in our athletes the belief that competitiveness, hard work and fun can and should co-exist. We believe in positive attitude, leadership, athletic ability and continuous improvement. We encourage our players to learn the game of volleyball, compete at the highest level, develop a positive view of themselves, their teammates and their coaches and always maintain respect for the game of volleyball itself.


What is the contact information for your club?
Attack Volleyball Club
Attn: Linda Thompson, Club Administrator
Email: attackvolleyball@yahoo.com
Contact #: (510) 388-6185


Attack Volleyball Club Memberships
ATTACK is a member of USA Volleyball and NCVA. ATTACK can participate in any tournament within California sanctioned by the NCVA and in any tournament nationwide that is sanctioned by USA Volleyball.

How does Attack Volleyball Club structure its coaching staff?
ATTACK believes in a co-coaching philosophy, which enables our coaches to be able to provide their specific expertise to all of our players. Our co-coaching philosophy provides for the assistant coaches to be equal in responsibility and supervision so that they can both enhance the team with their individual talents while providing a united front in dealing with and coaching our players. We will also have our assistant coaches provide an additional level of expertise for our players. All of our coaches have played or coached at the collegiate level and/or have prior club level experience.

How long is the season and how many tournaments will Attack Volleyball Club participate in?
Tournament Season will begin in January, 2015 and run thru June, 2015. Click on Calendar for practice dates once teams are formed. For NCVA (Northern California Volleyball Association) information, member registration, tournaments, etc.) check out the premier league at the NCVA website:
http://www.ncva.com/premierleague/
What are your club fees and what do they cover?
ATTACK understands that participation in club volleyball is a major personal and financial commitment for all players and their parents. We believe in keeping costs as low as possible while providing our players with the highest quality in personnel, equipment, uniforms and apparel.

Club fees will be set on November 1st. Fees will cover all local tournament team entry fees, team liability insurance, club operating costs, coaching fees and attire, equipment, jersey, spandex, socks, practice t-shirt, warm-up, and a sports bag. NOTE: Fees do not cover travel/hotel/food.
When are Attack Volleyball Club fees due?

Pay the FULL AMOUNT (TBA) at the time of SIGNING or if paying in installments the total is (TBA). Installment plans will be set at time of SIGNING. If you are signing late (and paying installments) you will need to pay for November and December. PAY BY CASH/DEBIT/CREDIT. NO CHECKS! FEES ARE NON-REFUNDABLE & ARE NOT TAX DEDUCTIBLE.

.



SIGNING DAY


Signing will be held on Monday, November 10, 2014 at 6:00pm (in the gymnasium).

When and where do you practice?
Practices begins TBA........... (unless otherwise noted on calendar).
We practice exclusively in the gymnasium at the College of Alameda, located at 555 Ralph Appezzato Memorial Pkwy., Alameda, CA

94501


Does every player get to play?
ATTACK uses college level rotations, which allow for substantial and consistent substitutions. ATTACK believes in giving every player an opportunity to play in every tournament as long as each player fulfills their obligation to the team, which includes practice and game attendance, a positive attitude, on time payments, enthusiasm and effort at all times. Playing time is not automatic or guaranteed and each player must earn her position.




Can I go to tournaments with my child?


Yes!! We encourage parents and family attendance at all tournaments. ATTACK encourages parents to help provide snacks and drinks for the players at the tournament sites. For travelling to local tournaments, parents will be responsible for providing transportation and meals for their daughter(s). When our team travels out of town, all players and coaches will travel as a team, stay together as a team and eat meals as a team.


What is your policy regarding parent involvement?
ATTACK encourages and welcomes parents to be involved and show the same level of commitment to the club as expected from the players. Getting your daughters to practices and tournaments on time, being supportive and upbeat as spectators for both wins and losses, helping with snacks, etc. is important to the success of any club and helps to make the club volleyball experience special. At the same time, helping your daughters understand the importance of following club rules and policies and allowing the coaches to do their jobs, make decisions and develop the team into a successful winning team, both on and off the court, is equally as important. If a concern ever arises regarding practice or game issues with your daughter, please make an appointment to meet with us at an appropriate time. Due to the nature of everyone's enthusiasm and emotions at tournaments, parents will not be allowed to discuss an issue immediately prior to or directly after any game or tournament. The club administrator or head coach will be more than happy to discuss any concerns or issues you may have at almost any time, other than at games or tournaments.
Revised 09/10/2014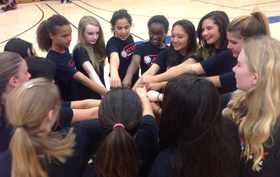 Team Cheer