Ashland Barracudas: Awards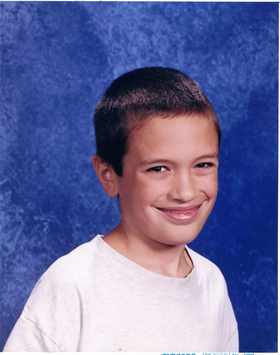 Jamie Hess in 2001
Jamie Hess Memorial Sportsmanship Award
The Jamie Hess Award is given each year to one deserving boy and one deserving girl swimmer. The award is named in memory of Jamie Hess, a swimmer on our team during the late 1990s and early 2000s who lost a long and brave battle with leukemia in 2002. The award is intended to recognize swimmers who exhibit Jamie's qualities of enthusiasm, team spirit, work effort, and fair play. The coaching staff selects the Jamie Hess Award winners each year.
The Jamie Hess Award is the only special award our team presents to its athletes, and winning the Jamie Hess Award is the highest honor a Barracuda can earn.
Past winners of the Jamie Hess Award have been:
2002 Caleb Wade and Martha Fowler
2003 Jimmy Foley and Ellie Shea
2004 Nick Ford and Lexi Wiles
2005 Clark Serfass and Caroline Haupt
2006 Stephen Belyea and Taylor Smith
2007 Jermaine Gaines and Meade Reihl
2008 Shane Henry and Sabrina Lacoss
2009 Jesse Artiglia and Shea Burch
2010 Josh Winston and Hannah Herbert
2011 Ian Miller and Kristina Woomer
2012 Jacob Davis and Logan Harrington
2013 Zach Topich and Carleigh Luck
2014 Luke Bliley and Libby Klinger
2015 Larson Flanagan and Jillian Allen
2016 Baxter Dingman and Addy Klinger
2017 Quin Smith and Rosie Morris
2018 Thomas Senfield and Maggie Sharp
Ron DesRoches Parent Volunteer Award
The Ron DesRoches Parent Volunteer Award is presented each year to a parent who has dedicated years of service to our team. It is named in memory of Ron DesRoches, a parent volunteer during our team's formative years, who set an example of service and support to the Barracudas prior to his death in 1998. For the first three years of the award's existence, the swim team board selected its recipient. Since 2005, the former winners of the award have selected each year's recipient.
Winners of the Ron DesRoches Award are:
2002 Ron Lefever
2003 Ray Williams
2004 Mark Rosenberg
2005 Jan Ernst
2006 Anne Friesen
2007 Janis Rosenberg
2008 Richard Taylor
2009 Rene Bailey
2010 Bill Artiglia
2011 Julie Lefever
2012 Veronica Wiles
2013 Meg Pienkowski
2014 Kristin and Jeff Reihl
2015 Russ Boyle
2016 Nina Henry
2017 Tom Grant
2018 Stuart Flinn
Len Everett Sportsmanship Award
The Len Everett Sportsmanship Award was established in 1984 by the Greater Richmond Aquatic League (GRAL) to honor the memory of a man who was instrumental in the founding and structuring of the League. Leonard Everett, from Hungary Creek Recreation Association, stood for the highest ideals of fair competition and good sportsmanship. A plaque is awarded every year to one club in each division whose swimmers, coaches, and parents have best exhibited these qualities.
Since entering the league in 1995, Ashland has won the Len Everett Award seven times:
1995, 1997, 1998, 2002, 2003, 2007, and 2008
Len Everett Scholarship Award
In 2012, the Len Everett Scholarship was established. Graduating seniors who have participated in GRAL for no less than five (5) consecutive years, and demonstrate dedication to the sport of swimming and loyalty to his/her GRAL club are encouraged to apply.
Ashland recipients of the Len Everett Scholarship:
2013 Hannah Herbert (Christopher Newport University)
2015 Carleigh Luck (High Point University)
2016 Shea Burch (James Madison University)
2017 Madeline Enderle (University of Mary Washington)
2018 Andrew Datovech (University of Maryland)
GRAL Video Contest
2014 Producers: Annika Cline, Johnny Edelman, Allyson Flinn
https://www.youtube.com/watch?v=BcqCmHBccGQ
2015 Producers: Annika Cline, Johnny Edelman, Allyson Flinn
https://www.youtube.com/watch?list=PLZ28HXNYd0BzTmJrQ2Qggv0F6ebDuBcZp&v=z2IM1sNn2Nw
2017 Producers: Phoebe McLaughlin, Jack Morgan, Olivia Taylor
https://www.dropbox.com/s/0cvxwdwver8s5ir/AshlandBarracudas-2017.mp4?dl=0
2018 Producers: Phoebe McLaughlin, Jack Morgan
https://drive.google.com/open?id=1KBJh7Q45-t2v4a_iiAbfIGrfR9lQ7gd7