Ashland Barracudas: Welcome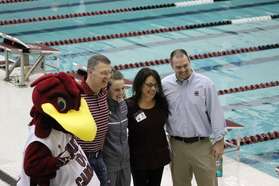 Elisa with her parents, Dan and Beth, coach McGee Moody, and USC mascot, Cocky.
Legendary Ashland swimmer Elisa Worrell celebrates her Senior Night at the University of South Carolina.
Click below to see Ted Schubert place in the Top 8 at the 2014 USA Swimming Winter National Championship Meet held in Greensboro.
(If your browswer will not open the site directly, right click and open in a new tab.)
See you this summer!