Ash-Carleton Little League: Links

Click on the image to sign up.
Concession Stand Sign-Up
For your convenience if you would like to sign up to work the concession stand at Unity Park fields on Ready Rd. One shift in the concession stand fulfills your volunteer obligation.

Click here to view Approved Bat List
2018 Updated BASEBALL Bat Standard
Effective January 1, 2018, Little League Baseball® will adhere to the new USABat standard. No bats previously approved for use in Little League Play will be permitted to be used in any Little League game or practice, or other Little League function, event, or activity. All bats must be marked with the USABat label in order to be used in Little League Baseball®. All bats marked with the BFP 1.15 will not be permitted to be used in any Little League activities, including practices or games. For more information on the USABat standard and a complete list of bats approved through the USABat Standard, visit usabat.com for more details.

Click on Link to Begin Heads Up Concussion Training
Michigan Sports Concussion Law-On Line Training
All Coaches, Volunteers and Employees affiliated with Little League must complete the On-Line Heads Up Concussion Training. Please click on link and print your completion certificate for submission to ACLL.
NOCSAE Helmet Information
Click on the link for clarification on the National Operating Committee on Standards for Athletic Equipment (NOCSAE).

Click on Images or Text to Join Us on Facebook
Ash Carleton Little League on Facebook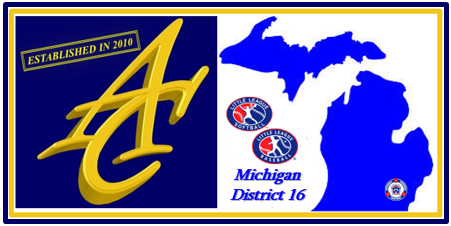 Click on Images or Text to Join Us on Facebook
Please visit Ash-Carleton Little League's Facebook page. Click "Like" to receive updates and information for the upcoming season.

Importance of Youth Sports-Click on Image to Learn More
Changing the Game Project
Our children are bombarded with pop culture values that most of would probably deem negative ones (popularity, fame, self centeredness, conceitedness, materialism). Sports is among the few places where they can learn positive core values, engage in healthy risk taking, and learn life lessons in a safe environment. At a time when nearly 2/3 of all Americans are already considered 'overweight', and some studies project that by 2030 nearly half of Americans will be obese, children need to build the basic skills and confidence to become life long athletes, and learn about the benefits of activity and good nutrition. Yet 70% of kids are dropping out of organized sports by age 13! We need to do more to reverse these alarming, and dangerous trends.

Click on Image or Text to Visit District 16 Web Site
Michigan District 16
Thank you for all your support District 16. Check out the other teams in our District.
Michigan State Little League
Michigan's Little League Baseball & Softball Tournament Information.

Click on the image or text to learn more about the Central Region
Little League-Central Region
ACLL, District 16, and Michigan Little League are proud to be a part of Little League's Central Region. Click on the image or text to learn more.

Click on the Image to View Little League's Web Site
LIttle League-On Line
Learn more about Little League. Check out the latest in Little League T-Ball, Baseball and Softball

Click on the Image to View Little League Coaching Tips
Little League Coaches
Thank you coaches for your dedication to making Ash-Carleton Little League a success. Your time volunteered is appreciated by Parents, Sponsors, Board Members, and Players.
Use this link to view expert advice from renowned players and coaches; video demonstrations; skills development drills and exercises: Little League managers and coaches can get all the tools they need to start their season right or build on what they already have in place.