Ash-Carleton Little League: Welcome
Wednesday, January 27
Click on CALENDAR for Important Dates. Please visit the SPONSORS Tab and consider utlizing their services. Thank you sponsors.
If your interested in becoming a Volunteer or Participating on the 2015 Ash Carleton Little League Board please contact
Marcee Nye at 734-634-1417.
---
CONGRATULATIONS to Coach Mieden
and Ash-Carleton's
2014 14U Juniors District 16 Champions.
---
Congratulations to Coach Tuttle and the 2014 Michigan State Big League Champions
3rd Consecutive Michigan State Title for District 16
Go Gettem at Regionals.
The Ash-Carleton LL/Monroe County connection on the Big League State Championship Squad.
Pictured from Left to Right: Kyle Schrader (Milan), Cam Ernest (Flat Rock), Jacob Jones (Airport), Matt Jones (Asst. Coach-Airport), Larry Fix (D16 Administrator), Jared Richardson (Airport), Jacob Maas (Milan), Dylan Williamson (Dundee). Not Pictured: Jim Kohn (Asst Coach-Airport), Joe Jones (Airport), Ritchie Dubke (Airport)..
---
Congratulations to Coach Colpaert and the
Ash-Carleton Intermediate All Stars
2014 District 16 Champions
---
Congratulations Ash-Carleton Little League's
2014 Division Champions
12U Boys Majors
Kozbial-Mark of Excellence
10U Boys Minors
Jones-Carleton Motorcycle Club
8U Machine Pitch
Mills-Monroe Aluminum
2014 T-Ball Participants
Lechy-KC Transportation
Palmer-Homrich
Cousino-Carleton Country Day
Zajac-Masserants Feed & Grain
Pfeiffer-Schafer Agency
Gurganus-Carleton VFW Post 4093
Pool-PC Accounting
Sisler-Gail Meyer/Howard Hanna Real Estate
(Thanks to Mark of Excellence & Chris Walcyzbock for supplying the Trophies and Medals for all Divisions)
---
Coach Villareal-Faline Trailer Repairs Team (Cubs) 8U Machine Pitch Team in Action
---
8U Machine Pitch
Coach Elliot's Ash Township Fire & Rescue Team with their
GAME FACES ON....
---
Thanks to all the Parents, Players, Coaches, and ACLL Board Members who participated in this years Players Clinic. Special Thanks to Lauren French, Josh Gannon, Bryce Colpaert, Joe Jones, Brendan Fitzpatrick, Tyler Blankenship, Jake Jones, & Jared Richardson of the Airport Baseball and Softball Program's for taking time to provide instruction during the clinic.
---
Special Thanks to the All Star Coaches, Assistant Coaches, Parents, Board Members & Players for committing their time to participate in the 2014 District & State Tournaments. They committed their time to extend their season and enjoy the Little League Experience and Competition throughout Michigan and the Central Region. Check Back for Updates on ACLL's Road in the State Tournaments.
Click on the "2014 All-Star" Tab to view Ash-Carleton Little League's 2014 Accomplishments.
---
---

Please be sure to click on the "Sponsors Tab" or click on any of the sponsors logo's to view more information about this years Little League National and ACLL's Local Sponsors information.


Coaches & Parents please consider either visiting or utilizing this years local sponsors services. Be sure to let them know your involvement with Ash-Carleton Little League and we all appreciate their sponsorship.
If you know of anyone who might interested in sponsoring one of ACLL's District or Travel All-Star Teams, please contact Marcee Nye (jmcnye@sbcglobal.net). The sponsorships helps reduce the increased cost to the participating players parents.
---
Thanks to Ash Township for allowing ACLL to utilize the Concession Stand at Unity Park. Special Thanks to Tim & Pat Stokes who volunteered their time as ACLL's Concession Managers. If your interested in becoming or involved or helping Tim and Pat, email them at
redneck.rowdy@gmail.com
.
---
Click on the facebook logo above to visit Ash-Carleton Little League's facebook page. "Like" to receive updates throughout the year.
---
For the latest Little League News Click on the Link Tab
or click on this link http://www.eteamz.com/ashcarletonlittleleague/links/
---
---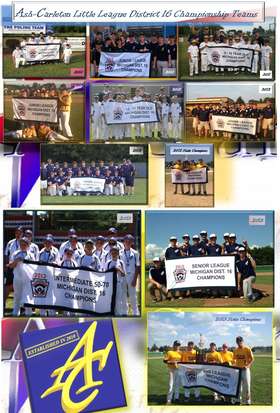 Click on Picture to view all 2013 All Star Teams
MLB All Star Intro
Monday, April 19
Please let us know your thoughts.
Monday, April 19
One more question. Your opinion is important to us.