Ash-Carleton Little League: Welcome
Click on CALENDAR for Important Dates. Please visit the SPONSORS Tab and consider utlizing their services. Thank you sponsors.
Coach Busen's-Busen Appliance Team getting their defense ready against Coach McGlaughlin's-Carleton Subway Team. Way to go "T-Baller's".
CLICK ON THE FORM ABOVE TO PRINT Tournament Info, Rules and Sign-Up Sheet
CLICK ON THE FORM ABOVE TO PRINT Tournament Info, Rules and Sign-Up Sheet
The 2013 Season is off to great start. Don't forget our ACLL Umpires are former HS Baseball and Softball players participating so they can give back our to community youth. Be sure to be kind to them regardless of the calls made during the contest.
Coach Sizemore's Gail Meyer/Howard Hanna Realty 12U Girls at the Opening Day Parade.
Kylie takes the mound as Coach McGlaughlin & Coach Moczydlowsky's Carleton Subway team practices preparing for their 2013 Season.
T-Baller Landon ready for the 2013 Season Opener.
Coach Elliott's Schafer Agency Insurance 8U Machine Pitch Team enjoying the parade and fired up for their 2013 Season Opener.
---
All Divisions Regular Season Games are posted on the Calendar Tab.
---
Please be sure to click on the "Sponsors Tab" or click on any of the sponsors logo's to view more information about this years Little League National and ACLL's Local Sponsors information. Please consider visiting their place of business or utilizing their services. Our local sponsors and their continued support help keep league fees one of the lowest in SE Michigan. THANK YOU SPONSORS.


Coaches & Parents Please be sure to contact your team Sponsor and invite them to one of your remaining games or schedule a visit to their place of business.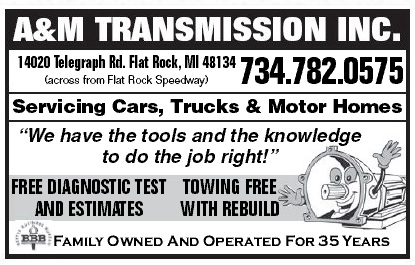 A&M Transmission is one of the 2013 District All-Star Team Sponsors. If you know of anyone who might interested in sponsoring one of ACLL's District or Travel All-Star Teams, please contact Patti Finnerty 734-777-3227. The sponsorships helps reduce the increased cost to the participating players parents.
---
Thanks to the Airport Baseball & Softball Players (Grades 8-12) for assisting in this years Players Clinic.
---
Thanks to Ash Township we are able to utilize the Concession Stand at Unity Park. To continue to keep operational we need volunteers to work the concession stand this year. Sign Up Sheets are available at the concession stand while open. The Concession Stand proved to be an incredible success during the '12 Season, lets all do our best to keep it operational and keep Unity Park one of the Best in SE Michigan.
---
Click on the facebook logo above to visit Ash-Carleton Little League's facebook page. "Like" to receive updates throughout the year.
---

For the latest Little League News Click on the Link Tab
or click on this link http://www.eteamz.com/ashcarletonlittleleague/links/
---
---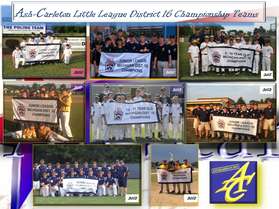 Click on Picture to view 2012 All Star Rosters
Cheap Seats by Alabama
Monday, April 19
Please let us know your thoughts.
Monday, April 19
One more question. Your opinion is important to us.